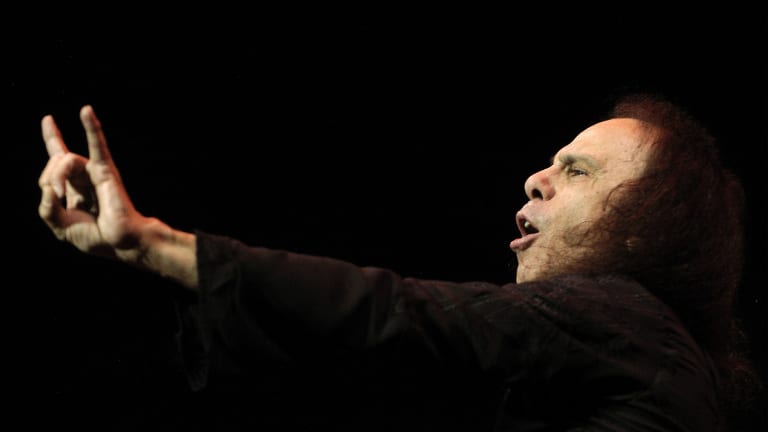 Wendy Dio on Ronnie James Dio versus Ozzy, how the vinyl revival helped Dio legacy, more
As Wendy Dio continues to promote her husband's legacy, she makes peer comparisons, expresses the importance of Dio's albums on vinyl and more
Get Dio vinyl and more in the Goldmine shop! [10 percent off for first-time customers!]
By Andrew Daly
As metal's greatest mistress, Wendy Dio, dialed in for an interview, two things were immediately apparent: her energy was infectious, and each word she uttered exuded happiness and contentment.
And why shouldn't she be happy? Basking in the glow of two successful mega premieres in support of her latest Dio-related venture, the Dreamers Never Die documentary, Wendy Dio couldn't help but glow with enthusiasm considering the film's success.
"It was so much fun," recollected Dio. "Just about anyone you could think of was on the red carpet, and it was just great to see all the faces turn out. And the documentary was very well received, and as far as I know, it's received a 100% rating on Rotten Tomatoes. And we capped off a fantastic evening by all heading to the Rainbow in L.A. to celebrate with some old friends afterward."
Some 50 years after entering the pantheon of hard rock and heavy metal, in the modern age, Wendy Dio's self-imposed task is simple: preserve the legacy of her late husband, Ronnie James Dio. And to that end, she's accomplished her goal beyond her wildest dreams.
In the spring of 2022, Dio unleashed the expansive 40th-anniversary package of her late husband's iconic Holy Diver. A bundle that included remastered versions of the record, live tracks, incredible artwork, and more, leaving fans salivating over what could be next. But for Wendy Dio, success is fleeting, and her work painting the great legacy of her fallen husband is never done.
"It goes back to when Ronnie passed away," Dio reminisced. "I said, 'I won't lay down, and let his music fade away. I want to keep Ronnie's music and memory alive for as long as I'm alive.' And I've tried to do that as much as possible, and I hope I've succeeded."
In an age where many elder statesmen are packing it in and seemingly giving up, for Wendy Dio, no time is like the present. Moreover, her relentless drive to expose new generations to Ronnie James Dio's timeless music finds the now 77-year-old road warrior running circles around her contemporaries.
"I can't take the idea that rock is dead seriously," scoffed Dio. "Just look at Ronnie's music, right? He's been gone 12 years now, and we still have two and a half million people following our Facebook. People loved the documentary and couldn't get enough of the reissues. And that's not just old guard; that's new fans, young minds being exposed to the world of rock and metal music. So, I don't think rock is dead — I know it's not — and I know Ronnie would never entertain that either."
With little time to relish her success and already moving toward her next project, Wendy Dio took a few moments to dig into the legacy of Ronnie James Dio, the vinyl revival, the endless comparisons to Ozzy Osbourne, and what's in store for 2023, and beyond.
GOLDMINE: Starting with the Dreamers Never Die documentary, which premiered at the TCL Chinese Theater in September. It appeared to be a memorable evening, Wendy.
WENDY DIO: Oh, it was fantastic. We had two premieres, one in L.A. and one in London, but the L.A. one was fantastic. Everybody who's anybody was there — so many people from Ronnie's life — and it was so wonderful. Lita Ford flew in, Doug Aldrich, Joey Belladonna, Oni Logan, Craig Goldy and Eddie Trunk were all there; there were so many faces that were important to Ronnie and who supported his music. And then, two days later, I flew to London, and we did the second premiere, and Tony Iommi was there. And I must say, that was special, having Tony there, it made for an amazing evening. I had such a good time, and during both evenings, I was full of such elation. We've done an amazing job honoring Ronnie's life, and I am so very proud of it.
GM: To what do you attribute the revival of Ronnie's music?
WENDY: I think the young kids are starting to listen to the innovators. They're going back and listening to Ronnie, Deep Purple, Ozzy Osbourne, Black Sabbath and Judas Priest. But it's not just metal; it's also The Beatles, The Kinks, the Stones, and all that types of music that influenced metal. You can even see it on the T-shirts that stores are selling, and of course, the kids are wearing them, and maybe they're getting curious. Regardless of the reason, I think that young kids are now listening to their parent's music, which wasn't always the case in the past.
GM: A lot of the young people are also listening to vinyl, too. What are your thoughts on the vinyl revival?
WENDY: Well, I think it's wonderful for a lot of reasons, and it has certainly helped my cause of spreading awareness of Ronnie's music. Because, these days, that's my goal in life, to keep the legacy of Ronnie's music alive and show people what he's done. I think it's wonderful that vinyl shows like Stranger Things and all sorts of other things have helped me do what I've set out to do. I think the vinyl resurgence is fantastic, although I can't say I saw it coming, and I believe many would agree with me on that. But for me personally, it's helped me keep Ronnie's music alive. As for music overall, it's helped spread awareness for '70s and '80s metal, which I think is fantastic, and a much-needed thing.
GM: To expand on that, would you say the vinyl revival is directly responsible for the resurgence in '80s metal?
WENDY: Yes, I think I would say that. I've always thought vinyl was great, and I remember Ronnie was always wanting to buy vinyl, and buy it, he did. Ronnie would bring records home all the time because he loved to listen to new music. He'd bring a record home, and we'd both look at the album cover and go, "Oh, wow, look at that. Let's see what's inside there,"and we found so much music that we fell in love with. And now, kids are doing that again, with that same music, only it's all these years later, which is crazy to think about, really.
It's interesting to think how kids used to do that, and now they're doing it again, and I believe it's been very important to the resurgence of heavy metal that we're seeing. Because when CDs and cassette tapes came in, one notable thing was that the artwork was reduced to almost nothing, and you couldn't even see it, which took away from the experience. I think that the resurgence of vinyl is fantastic, and I think it's brought the real album experience back to the forefront in many ways.
GM: You alluded to this a bit, but did Ronnie collect records while he was alive?
WENDY: Oh, absolutely. He had hundreds, maybe thousands of records. He was very into music, and he listened to everything. As I was saying, Ronnie was into all the new and up-and-coming bands. He'd also listen to the old stuff, and he loved all different sorts of genres and artists. One of the things that Ronnie always said is, "Wendy, there's no bad music. Somebody created this and put their heart into making it. There's no bad music."
GM: In the spring, we saw the outstanding reissue of Holy Diver. Will there be future reissues featuring other portions of Ronnie's career?
WENDY: Well, they just three issued the Donington '83 and '87 shows, which turned out amazing. We have Angry Machines due out in May of next year. Well, I should say that we're working on putting out a 1996 through 2004 box set with beautiful designs and with remastered versions of Angry Machines, Magica, Killing the Dragon, Master of the Moon, and some other wonderful goodies. That's all due out in May of 2023. Beyond that, I'm working with Rhino and Warner Bros. Records on a soundtrack for Dreamers Never Die, which I am very excited about. We plan to have it out on several formats, with many great extras that I can't divulge just yet. But hopefully, it will come out before Christmas.
GM: Are there any of Ronnie's earlier records that you'd like to reissue in vinyl?
WENDY: It's a hard question, and honestly, I don't know. Ronnie had such a large catalog, so are there things that I'd like to reissue? Yes. But we also have to do the things that are most associated with the legacy and that people want most. But to decide, I think I'd have to go back and listen to a lot of them. I do think that it was a big deal to get Sabbath's Dehumanizer reissued because, for a long time, that record got pushed under the rug because it came out in the '90s. I loved that record, and I know Ronnie did, too, so it hurt to have it buried when Grunge came in. But we're always finding special things and many unreleased live tracks in the vault. So, I think there's a lot of stuff in the vault that we're working on getting out there for the fans to hear, and we'll try and make it unique each time out.
GM: Dehumanizer is noteworthy as this year marked 30 years since its release. Did Ronnie have any trepidation going into his reunion with Sabbath?
WENDY: Well, he might have. It was unexpected and happened quickly, as a lot of things tended to back then. And you have to remember, Sabbath had endured so many setbacks after Ronnie left, and they had some trouble finding their footing. But I think that started because Ronnie was playing in St. Louis, where Geezer Butler was at the time, and so Geezer called Ronnie up and said he wanted him to come down to the show. And Ronnie hadn't seen Geezer in years, and after the show, they got to talking, they got on well, and they decided, "Let's just do something." And I think that's how that came about, or that's how it started, at least.
GM: Can you describe Ronnie's disappointment with things falling apart again in the wake of Dehumanizer?
WENDY: Oh, it was very disappointing, obviously. Going in, Ronnie wanted it to work, and he fully intended to make it work, but Ronnie was a doer, and he was a fighter, and when things started to go wrong, he had to pull himself out. And yes, he was disappointed, very much so, but he just picked himself up and carried on again with Dio. In fact, that's what Dreamers Never Die is about, never give up and never allow your dreams to be deterred. I am so happy that Ronnie reunited with the Sabbath guys again for Heaven and Hell before he passed away because he loved those guys and adored making music with them.
If you look at it objectively, you can't deny the connection they established or the amazing music that they created. A lot of people talk about the struggles, but Sabbath was one of his favorite bands to play with, and it was because of those amazing players. I mean, Tony Iommi is the riff master, Geezer Butler is the most incredible bass player, and Vinnie Appice is the drum monster. And the four of them were just dynamite together, and I think the music he made with those chaps was the highest point in his life, I really do.
GM: If Ronnie were alive today, would he still be touring and making new music?
WENDY: Well, I think he would, but perhaps not at the rate that he was. I think he would be producing young bands because Ronnie was very good at arranging and getting the best out of people. One person who always said that was Doug Aldrich. When he was in Ronnie's band, Doug always said that Ronnie was very hard on him and pushing him, and that drove him crazy and made working with him a tough task. But that's because Ronnie was a perfectionist, and he wanted the best out of everyone around him, himself included. And you can ask Doug, and he's told me so many times, "It was hard working with Ronnie, and I wanted to quit at times. But afterward, I realized that it was worth it because his pushing me made me a better player." So, I think if Ronnie were here, yes, he'd be making music, but he'd certainly be producing young bands.
GM: Given his perfectionism and devotion to his craft, would Ronnie approve of the use of backing tracks in the live setting?
WENDY: Absolutely not. Ronnie would think it's rubbish. I know he would think it to be absolute rubbish. Oh, my, he would have absolutely hated it. Ronnie worked so hard, and he expected the best from himself and everyone around him. Be it the drummer, bassist, guitarist, soundman — all of it — Ronnie wanted to put forth a supreme product for the fans. Ronnie felt each show was about the fans because he understood that he would not be there without them. He'd never lie to his fans in that way; it just wasn't in him to pretend or fake it. Ronnie would have aged gracefully because musicians are there to play their instruments, not to play along to pre-recorded tracks. No, absolutely not.
GM: To that end, will we see a return of the Ronnie James Dio hologram during tribute shows?
WENDY: No, no. We tried it. It was an experiment. Some people loved it, and some people hated it. We did it for the fans, but technology is changing so much all the time, and you just can't keep up with it. It's also a very expensive venture, and while I think the hologram is great in some ways, it's not something we want to pursue again. From a special effects perspective, it's great, but for Ronnie, no, I'm not going to do that anymore.
GM: Invariably, Ronnie will always be compared to Ozzy Osbourne. How do you compare their respective tenures with Sabbath?
WENDY: Well, I think that Ozzy was obviously the early innovator and architect of Black Sabbath. In Ozzy's day, he was an amazing frontman, but just like David Lee Roth, Ozzy was never a great singer. But keep in mind, Ozzy was a great frontman and could captivate an audience. And, of course, those early records that Ozzy made with Sabbath in the '70s are iconic. But I think that when Ronnie came into Sabbath, he made it more melodic, and he was a real singer and a better singer, certainly. But having said that, I don't think you can pit one against the other, and I think that both Ozzy and Ronnie are ultimately both as good as each other. I think fans buy records by both, and they often love them equally.
GM: Did Ronnie and Ozzy resent each other?
WENDY: After Ronnie joined Sabbath, he changed the band entirely. Sabbath couldn't have made Heaven and Hell, or Mob Rules with Ozzy, because Ozzy couldn't sing those sorts of things. But Ronnie could sing the Ozzy stuff, but differently, of course. And I think a lot of fans latched on to the idea that the two of them didn't like each other or that they hated one another, but I can't say it was that way. You have to understand, Ozzy, after he left Sabbath, he went out and he had his own career, which he still has. And as we all know, Ozzy has had a tremendous amount of success; he's proven that he's able to make his own music and that he can run his own career with help, as we all need.
And, of course, Ronnie did Rainbow before Sabbath, and he had massive success with Dio after Sabbath and was always successful until he passed away. My point is both Ronnie and Ozzy made Sabbath better and were important in their own ways. People try to make it out to be that Ronnie and Ozzy were fighting and that they hated each other. Well, I can say that it wasn't true at all. If they saw each other, honestly, they'd be cordial. Did they hang out together? No. Were they friends? Not really. But if they saw each other out and about, there was no fighting or anger. It was more like, "Oh, hi, Ozzy. How are you doing?"… "I'm alright, Ronnie. What's going on with you?" Honestly, that was it!
GM: What would Ronnie say to those who feel that rock is dead?
WENDY: Ronnie combated those types for his whole life. This new wave of people who feel rock is dead is just that, a wave. It's perplexing that people who have been there, done that, and seen it all would say that, but it is what it is, I suppose. Because the truth is rock and metal music have been written off many times before, and each time, they've remained. Ronnie would always say, "There are always going to be diehard fans who will always be there, and those fans will pass the torch down to the newer generation after them." And I do agree with that because there's always been pop music, and there have always been other forms of music, rock being one of them, but it's not going to die, and it's not dead. It goes in circles like any music does. It has its time; it goes away for a while, and then it comes back. But you will always find those diehard fans who are always there.
GM: You seem to always have new and exciting things in the works. Can you give us the inside scoop as to what's next?
WENDY: Well, now that we've had the documentary premiere, there will be DVDs coming out later, and as I said, I'm working on the soundtrack. And I think that Warner Bros. is working on a Last in Line box set, which probably won't be out until later 2023, but they're working on it. And, of course, I'm involved, and I'm digging around the vault, trying to find extras. With the holiday season coming up, we're happy to have the complete limited edition of the Donington box set, with two LPs, colored vinyl, and loads of 12-inch pictures.
So, there's a lot of stuff going on and tons in the works with BMG and Warner Bros. working very hard with me to keep Ronnie's music and memory alive. And while I'm very happy about that, we don't want to flood the market. We have to be tasteful about putting things out and not put too much out because Ronnie would not like that. And we have to be very careful with what we put out because if it's not up to Ronnie's standard, then we don't want to put it out. I won't do that because I don't want to do anything that would have embarrassed Ronnie if he were here. I take that seriously, and it's up to me to ensure it stays that way.
GM: Ronnie's influence seems limitless. Can you put your finger on the magic of his music?
WENDY: I think it's because he cared about his fans. Ronnie absolutely loved his fans, and he loved what he did. The music he wrote was for his fans, and each song can be interpreted by any one person one way and have an entirely different meaning to another, which was intentional. Ronnie wrote about never giving up, following your dreams, and never being put down. And I know that resonated with his fans because he wrote for the downtrodden. He wrote for the person sitting there wondering, "God, what should I do with my life?" His music was a message to his fans, and to have the charisma onstage to deliver that message was special. He recognized that each night he had a whole bunch of people in front of him who felt as if he was singing directly to them, and in truth, in so many ways, he was.