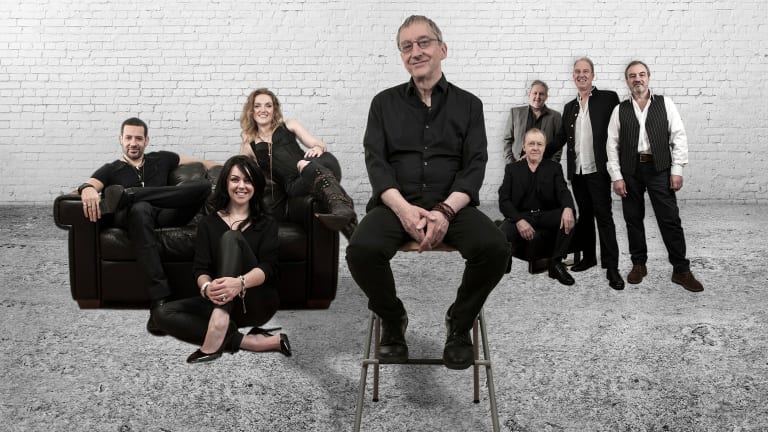 Where Are They Now? – The Korgis
The Korgis released their first new album in 32 years, called "Kartoon World," and Goldmine sat down with singer-songwriter and bassist James Warren to look over the Korgis legacy.
By Joe Matera
With influences ranging from The Beatles to The Beach Boys and beyond, British synth-pop group The Korgis garnered their first of three U.K. hits in 1979 with "If I Had You," which appeared on the band's self-titled debut album issued by Warner Bros. Records in the U.S. Though failing to chart in the U.S., the group signed to Asylum Records for their second album Dumb Waiters which was issued the following year. "Everybody's Got to Learn Sometime" was released as a single from the album and finally the band had their American breakthrough with the worldwide hit. But lack of touring in support of the album and with inner band relationships causing havoc, the group split soon after releasing their third album Sticky George in 1981. The outfit eventually regrouped on and off on several occasions albeit with various lineups during the ensuing decades with main singer-songwriter and bassist James Warren as the constant anchor. Thirty years after having released their last record, 2021 saw The Korgis back in the spotlight with the release of their latest outing, Kartoon World. Goldmine sat down with James Warren to look back over the Korgis legacy.
GOLDMINE: Between 1968 and 1976, and before you formed The Korgis in 1978, you had already been making records with a British prog-rock quartet called Stackridge.
JAMES WARREN: We were an eccentric prog-rock outfit, and probably too eccentric for our own good. We never really stood much of a chance breaking into the mainstream because we couldn't really be pigeon-holed. The music was very, very eclectic and we thought nothing of doing anything from 10-minute long instrumentals and then follow it by a two-minute folk tune. When the band folded there was a couple of years' hiatus before I got in touch with Andy Davis who was in Stackridge with me and we started to exchange demos of songs we'd written. Eventually we decided to record some really good sounding demos and also to try something different, like radio-friendly, three-minute tunes as we wanted to see where that could take us. And from that came the birth of The Korgis.
GM: Stackridge's third album 1974's, The Man in the Bowler Hat (which reached No. 23 on the U.K. album charts) was produced by legendary Beatles producer George Martin. What did you learn the most from having worked with George?
JW: It was his tastefulness with regard to arranging, and never sort of overdoing things, like knowing when to bring things in at certain times in a song. For example, when strings would be a good addition to a song and when it wouldn't be, all those kinds of things. It was effortless working with George and at the time he was still working with Geoff Emerick, his engineer too, and so the two of them were a really great team.
GM: Sire Records released The Man in the Bowler Hat under the title Pinafore Days in the U.S. which garnered the group their only U.S. chart entry, peaking at No. 191 on the Billboard 200 albums chart. The U.S. version featured a different track listing, too, which included two songs from the U.K. version of the group's 1975 follow-up album Extravaganza. Why was this so?
JW: As soon as we finished recording the album, tensions had been accumulating for quite some time and eventually got too much for everyone, so we kind of splintered and fell apart. The American label was aware of what was going on at the time and so they wanted a couple of other tracks that reflected what was going to be the next phase of Stackridge as opposed to the original band, so things got a bit complicated with it all.
GM: "Everybody's Got to Learn Sometime" was The Korgis only U.S. hit peaking at No. 18 in the U.S. It's a great example of the perfect pop song, with simplicity at its core, from the chord structure right through to the lyrics.
JW: It was a very deliberate attempt to come up with something incredibly simple, because simple songs are the hardest to write. I always loved songs such as "Imagine" for example, which is so simple, yet so powerful. So I was trying to come up with something like that.
GM: Surprisingly the song only features a four line verse throughout, which on closer inspection reveals a strong leaning towards Buddhist spiritual philosophy.
JW: You're absolutely right, as I was very heavily into Buddhism at the time. It was exactly that. I think luckily the song has different possible layers of meaning to different people and many people have presumed it was a kind of love song. But to me the original intent of the lyric was to be this universal Buddhist sort way of looking at relationships in life.
GM: Was there ever any intention of writing another verse?
JW: The original demo had the line, 'Change your heart/Look around you/ Change your heart/It will astound you…' verse that everyone is familiar with now, but I always intended to write another verse as I thought you could not really have a one verse lyric. But when our record label heard the demo, they went, "Yeah that's the one. That's the song you've got to work on as it's really got potential." And they also wanted to release it as soon as possible too. So I did a version with a new second verse — which is included on a 40th anniversary version that was recorded in 2020 — and sent it to them and they went, "Hmm, I don't know. I don't think it has the same magic." So they suggested I just keep the first verse and repeat it as it just sounded magical. And that's what we did and what came out as the record.
GM: "Everybody's Got to Learn Sometime" has been covered by many other artists over the years, with everyone from The Dream Academy and Yazz and even Beck. Is there any cover in particular that you favor the most?
JW: There have been at least 50 covers, which is incredible as I think it must be one of the most covered songs of the 1980s. I like a couple of really obscure versions which have never been in the public domain really. There is this string quartet called Vitamin String Quartet and they did this really obscure instrumental version of the song which is really tasty. And I love the Beck cover, too, that appeared in the movie Eternal Sunshine of the Spotless Mind (2004). It's very dark and a completely different interpretation, but I grew to love that.
GM: The 7-inch single to "Everybody's Got to Learn Sometime" has a different B-side, "Perfect Hostess," for the USA compared to the 7-inch, which was issued for other countries where "Dirty Postcards" was the B-side.
JW: I didn't know that, so I really don't know why that was the case. We had signed a deal with Asylum Records in the States to release "Everybody's Got to Learn Sometime" there, but then they very much sort of handled everything totally as they wanted to and so they didn't consult us. They just told us they would release songs and to leave it to them. And that was it. We were just thrilled that it managed to get into the American Top 20 chart.
GM: The song peaked at No. 18 on the U.S. charts, yet the band never toured America. Do you think if you had done so, The Korgis would have met with more commercial success there?
JW: Definitely, yes, it was a big mistake on our part. In fact, we didn't tour anywhere would you believe. Because at the time, there was a new trend in the U.K. of acts being just studio acts that would just turn out singles but never appear live. We thought that was a great idea as with Stackridge we had been touring heavily for years and so we thought we could just stay in the studio, make new recordings and we didn't have to go on the road anymore.
GM: What memories do you have of the making of the Dumb Waiters album?
JW: Dumb Waiters was a tricky album for me because Andy Davis, who I was still working with at the time, he and I always had this fractious relationship, where we were like chalk and cheese as people. And after a while we pissed each other off and that's what happened during the making of that album. He walked out leaving me to re-sing the songs that he was meant to have sung, which were kind of too low for my register. Songs such as "Perfect Hostess" is an example; it was a song he was meant to sing and in fact had recorded with him singing, but then he walked out. So I had to rerecord it as I was the only one left in the band, so to speak.
GM: You've released the album Kartoon World, which is the first new Korgis album in 32 years.
JW: Yes, that's right, the last proper Korgis album was This World's For Everyone which came out in 1992 and it's got some really good tracks on it. But then as usual, we sort of drifted apart as a band and everyone did different things. Around that same time I got to meet this Australian born musician Al Steele who was living in Wales and he was interested in playing in a live band and we thought, now's the time belatedly to start doing a live Korgis band. So we did a few gigs with Al on guitar as The Korgis but then it fizzled out again for various reasons. Al and I kept in touch though. Then about seven years ago I discovered Al had a studio near Cardiff, Wales, so got in touch with him and met up again, and we got on really well together that we started writing some stuff together. And that was the birth of this new Korgis album.
Editor's Note: The latest single by The Korgis, "Always A Sunny Day" (above), is out on March 4th and has author/musician Joe Matera teaming up with British pop legends.
Listen to a sample of the single here