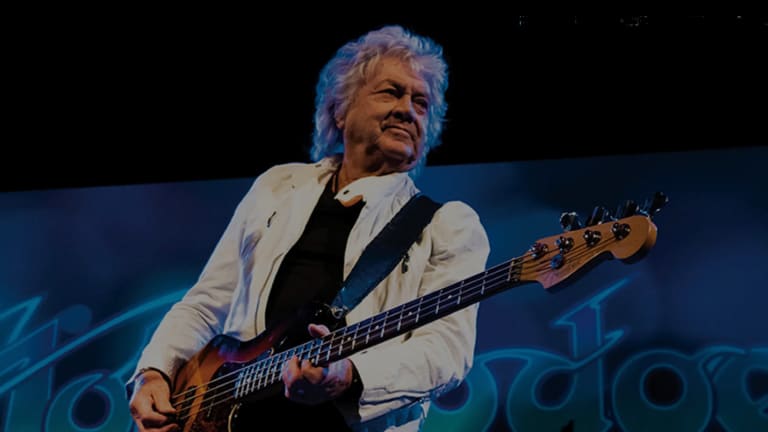 With a new live album, John Lodge keeps the Moody Blues' legacy alive
In a wide-ranging interview with Goldmine, the band's erstwhile bassist, singer and songwriter John Lodge reflects on the Moody Blues, his late friend Graeme Edge and what the future might hold.
By Lee Zimmerman
If there was ever an artist that could safely rest on his laurels, it would have to be John Lodge. One of the prime movers in the second coming of the Moody Blues — the trajectory that began with Days of Future Passed and continuing through their swasong album December in 2003 — Lodge contributed many of the most essential songs in the band's canon, among them, and in no particular order, "Ride My Seesaw," "Send Me No Wine," "Peak Hour," "I'm Just a Singer in a Rock and Roll Band," (Evening) Time To Get Away," "House of Four Doors," and "Send Me No Wine," among the many. In addition to his many accolades, he's been recognized as one of the most influential bass players in modern musical history, certainly no small accomplishment in an of itself.

Somewhat surprisingly then, Lodge's solo output has been modest at best. In 1975, he made his first broke away from the band alongside Moodies guitarist and singer Justin Hayward courtesy of their pairing in the Blue Jays, resulting a sole self-titled album. Lodge released his own solo album Natural Avenue in 1977, but it would be nearly 40 years until he'd again venture out on his own, this time with the album 10,000 Light Years Ago, recorded under the aegis of his band of the same name, the 10,000 Light Years Band. A greatest hits, B Yond-The Very Best Of followed in 2019, and more recently a pair of one-off singles, including "The Sun Will Shine" and last year's "In These Crazy Times," recorded with his son Kristian on lead guitar, his wife Kirsten on backing vocals, and Yes singer Jon Davison on backing vocals.

While the future of the Moody Blues remains very much in doubt — especially given the recent passing of drummer Graeme Edge, who was the band's sole remaining original member from the very beginning — Lodge still remains firmly tied to their legacy. A concert collection, Live from Birmingham: The 10000 Light Years Tour, was released in 2017 and leaned heavily on Moody Blues classics. A new album, The Royal Affair and After, recorded while sharing a live touring bill with Yes and ELP's Carl Palmer, goes a step further by replaying classic songs from the Moodys catalog, not only his own, but those of his bandmates as well. It's a heartfelt homage, one meant to give the band's fans a musical memento that can carry on for the future.
"I wasn't thinking about a live album, or recording that particular show," Lodge admits when asked about the album's origins. "I went on tour with my own band and recorded my show, which is slightly different, because there's more Moody Blues songs in my show. But then, when the pandemic happened last year, I thought, 'let's revisit this live recording to see what it was like.' I listened to the rough mixes and I became really excited. So it developed from that, and that's how this came about."

While Lodge says he's already in rehearsals for a tour set to take place on the East Coast in March — an outing which will culminate in his participation on the popular Flower Power Cruise in spring 2022 — he's hoping the new album will fill a void in-between.

"I made a conscious decision that I want to keep the Moody Blues music alive," Lodge maintains. "So I thought about which songs I really needed to do to do just that. I looked at all the songs and I thought that the best thing to do would be to do a song from each of the guys.
Graeme was a great supporter of my solo efforts, and he contributed a reading of his poem 'Late Lament' from Days of Future Passed. I very much wanted him to voice his own poem. So he recorded it for me and I filmed him recording it. I do that on stage prior to 'Nights in White Satin.' I didn't want to do that one myself, so Jon Davidson from Yes joined me onstage and sang the lead on that one. His voice was superb. His version is fantastic. He and my daughter Emily have been together three years, and it really is fantastic for me, because musically we get along very well. We've been playing together when we're not on the road, and we've also written some songs together as well. We're both really pleased. In fact, we just finished a new song, which I'm really excited about. So, yeah, it's been a fun time."

A fun time made all the more meaningful by virtue of the fact that Lodge is clearly on a mission to keep the Moodys' music front and center.
"With what's going on in the world, in radio and everything else, it's very difficult to find the music you want to listen to," he suggests. "I feel that not only as a musician, but also as a listener who loves music. I personally find it really difficult. I really want to keep the Moody Blues' music alive, and the way to do that is through live concerts. And for people who can't get to the concerts, a live album is perfect. I remember when I was growing up, I really enjoyed hearing live records from artists I had never seen. That was the only way I could be part of the music, by listening to live recordings. So I thought, well, perhaps the circle's really completed itself. Let's get live music back out there in some way. I'm really pleased, because on the streaming services, the live versions of my songs are out there now."
Still, for Lodge, it seems to go even deeper than that. "We need to get back to some harmony," he suggests. "We need to get back to some place in our minds where we feel safe. Let's get back to what I think of as the music of the '60s, sounds which transported us to another place that was safe and secure."
Oddly enough, Lodge insists that he's not what one would call a nostalgic individual.
"I'm not," he maintains. "I never was. It's strange to say this, but I never look to the past. It's always the future. I'm not trying to create nostalgia. I'm trying to get this music out there today, as today's music. I really think the Moody Blues'music has got a lot of relevance today. If you read the lyrics to some of the songs, they could be referring to things that are pertinent even now."
As a result, Lodge says he's careful not only to maintain not only the sound of the songs, but the sentiment as well.
"When I listen to a Moody Blues record, what I want to do today is recreate that same feeling, that same emotion of the song," he muses. "I know it's an old adage, but it's still true — you've got to get that shiver down your neck. That twinge is your emotion. So what I'm trying to do today is exactly that. Probably the only difference is that today, the sound we create is slightly different because of the equipment we have available. I remember being on the Isle of Wight stage in 1970 and there were all these massive, massive speaker cabinets. There were twelve speakers at least. Like 1000 watts of power in your face. We always tried to get the right sound on stage, because you could do it on a record…you could turn a vinyl record up really loud and still hear everything and you could get the energy out of it. That's what I'm trying to replicate on stage now with my 10,000 Years band."
These days Lodge spends most of his time in the States, specifically Florida where he's happily ensconced. "My son, his wife and my grandsons live here," he explains. "And my band basically, are all in this neck of the woods. My sound engineer lives like five miles from where I am, so I'm always in his studio. It really works well for me. There's a lot of great live music in America, which is fantastic. You can go to bars and restaurants and always hear a live band playing. And that's what I love."

He also likes mingling with real people. On the music cruises where he performs, he can frequently be seen strolling about on the deck or venturing ashore, further affirmation of the fact that he considers himself a man of the people. "We're all just singers in a rock and roll band," he insists, namedropping the title of one of his more famous songs. "I want to relate to people. I don't want to be put on a pedestal. I just want to be with everyone else. We're all in this world together. And we're all sharing the same space. I think it's really important for all of us to remember that. I remember seeing Buddy Holly onstage when I was 12, or 13, on his only tour of England. I remember having the tickets and waiting, waiting, waiting for that moment when I was going to see him. It was so special. And if you can think of that moment in your own life, or that same moment in someone else's life, coming to see the Moody Blues, or maybe coming to see me, then you know how important it is. And that should never be diminished."
Of course the passing of Graeme Edge weighs heavily on all Moody Blues fans. Lodge mentions that he was close with him up until the end.
"I was speaking with Graeme all the while, and I spent an afternoon with him (recently)" he reflects. "My wife and I went to see him, along with my daughter Emily and Jon Davison. It was lovely. We talked about old times and about the future, and I gave him my new CD, and he was just tickled pink to have that. So it was a really nice time with him. And he was great. He still had the twinkle in his eyes. So yes, it's very sad, but I'm so pleased I was with him near the end. The important thing is that we had 50 years of real friendship."
Asked about any plans for a special tribute, Lodge mentions one particular wish his friend had in mind.
"Graeme told his daughter he wanted to be sent into space," Lodge reveals. "Hopefully his wish will come true."
Inevitably though, the question arises about the future of the Moody Blues. Asked about his relationship with Justin Hayward, Lodge is intentionally vague.
"I never work on the hypothetical level," he says. "I'm always working on the positive aspect of what I'm doing next. And what happens, happens. I wrote this song called 'House of Four Doors,' and really, to me, it's about that. When you open a door, you never know what's gonna come in. You've got to be positive enough to open the door. If you don't know what door you're opening, you're never gonna find out. So I never work in the hypothetical. We've still got our Threshold Records label, and the same people still look up to Justin and myself. We're obviously in touch, making sure that the Moody Blues record are done correctly. We are in touch that way. But who knows what the future holds. I have no idea. I know how it was at the beginning. It was never hypothetical, and it won't be for me today."
It's mentioned that Hayward had said that when Edge announced he was retiring from the road, he considered that the end of the Moody Blues.
"When Graeme came to me and said 'John, I don't want to tour anymore, but you've got my blessing to carry on as the Moody Blues,' I thought that was a beautiful sentiment and an example of the kind of sentiment that Graeme always shared," Lodge reflects. "He said we had his blessing. It was exactly the same as when I asked him to record his poem for my stage show. 'John, you've got my blessing.' That was Graeme. He probably thought that the Moody's would just carry on."
As for the actual future, Lodge lays it out as best he can. "I never say never," he suggests. In that regard, he remains eternally optimistic. There's certainly the possibility of a new solo album. "I released two singles last year," he notes. "These days, it just seems to be about singles on streaming platforms. When I released 'In These Crazy Times' last year. I don't know what the significance was in America, but in the U.K., it did very well for me. So I am getting into the recording mode. And I'm writing. I've been writing a lot of songs. At the moment though, I'm just concentrating on rehearsals for the upcoming tour. Next year, I'll be concentrating on sharing the new album."