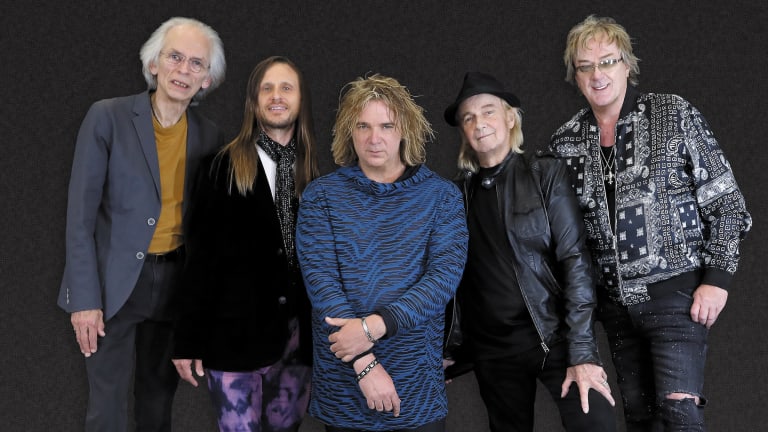 Yes' new "Quest"
The new Yes album by the current lineup, "The Quest," has a positive vibe throughout but it is creating its share of controversy with fans of the band. In an interview, longtime Yes drummer Alan White rather stick with positivity.
By Howard Whitman 
For a band that have always sung about positivity, Yes have certainly stirred up their share of negativity.
Check out virtually any Yes-oriented social media page, and odds are you'll find posts about how the current official lineup of the pioneering progressive rock band are an illegitimate "tribute band" that should just hang it up.
Much of this ire comes from the absence of two members of what's come to be recognized as the "classic" lineup of Yes: keyboardist Rick Wakeman and, especially, founding vocalist Jon Anderson.
It's no surprise that the new album by the current lineup, The Quest, which features vocalist Jon Davison and keyboardist Geoff Downes along with Steve Howe (guitar), Alan White (drums) and Billy Sherwood (bass), is creating some controversy.
YES VS. YES
Yes have certainly experienced drama (pun intended) in recent years. Anderson and Wakeman teamed up with former Yes guitarist Trevor Rabin for Anderson/Rabin/Wakeman (ARW), a band that morphed into Yes Featuring ARW halfway through their short lifetime (the band toured from 2016 through 2018). As a result, for a time there were two bands called Yes on the road. It was confusing for promoters (who often ran promos with photos of the wrong version) and casual fans, and divisive for diehard Yes fans, some of whom felt they had to choose one "side" over the other.
The situation was equally confusing from a legal standpoint. Howe and White reportedly owned majority shares of the name, but Anderson reportedly owned a portion as well. Rather than fight it out in court (which happened when Anderson, Wakeman and Howe teamed with original drummer Bill Bruford for ABWH, and the then-current Yes sued them for trading on the Yes legacy), Yes "official" refrained from warring with the ARW version.
As Steve Howe stated in my 2018 Goldmine interview about the situation, "We don't talk about it. We don't talk them up or talk them down. They can do this, and they can mess with the names and all that stuff. There's things they can't (do), but we don't really comment a whole bunch and let them get them on with it."
The confusion ended when the ARW version folded in 2018 following successful tours and one live album. There was one Yes still standing: the iteration led by Howe following the 2015 death of founding bassist and figurehead Chris Squire.
One of the major sticking points that online pundits have with the current lineup (and they have many) is that it does not include any original members. Of the founders, Squire and guitarist Peter Banks are deceased, Bruford has retired, keyboardist Tony Kaye has retired from touring (although he occasionally appears live with Yes, records with Sherwood in the band CIRCA, and recently released a long-in-the-works solo album, End of Innocence), and only Anderson is still active as a solo artist.
Anderson left (or was removed, depending on whom you ask) Yes in 2008 and was quickly replaced by Yes tribute band singer Benoit David, who was replaced by Davison in 2012.
So it's true that this version has no original members. But with their long tenures in the band, Howe and White certainly give this lineup legacy and legitimacy. Think of it this way: Howe was not on the first two Yes albums, but can anyone else be called the definitive Yes guitarist?
ONWARD
Since Squire's passing, Yes have consisted of Howe (guitarist on-and-off since 1970), White (who joined the band in 1972), Downes (who originally joined in 1980 for the short-lived Drama lineup and rejoined in 2011), Squire's handpicked replacement Sherwood (who has worked with Yes since 1994) on bass, and Davison. Drummer Jay Schellen also tours with the band, trading off with White, who plays partial shows since having back surgery.
This version of Yes have toured regularly — that is, until the global pandemic shut down the live music business in 2020. As for many artists, the lockdown provided the opportunity for Yes to create new music, resulting in The Quest.
THE QUEST
Produced by Steve Howe, the new album finds Davison front and center in the vocalist role, Sherwood effectively channeling the style of his bass mentor, and Downes, Howe and White bringing their unique instrumental styles to an album that is very much in the Yes tradition while also sounding fresh and new. The band also revisits orchestral accompaniment, previously explored on Time and a Word (1970) and Magnification (2001). And it's all wrapped up in a beautiful new cover by iconic Yes cover artist Roger Dean.
Of course, "haters gonna hate," so some consumers will dislike the new album, and they will be in a hurry to loudly express that on the internet. Some fans will love it. Yes fans will continue to pack arenas and ampitheaters to see the band. So it goes.
If nothing else, the members of Yes are survivors. And no one is more fitting of that description than Alan White, who joined the band three years after its 1969 formation, replacing Bruford following the recording of what many consider to be the ultimate Yes album, Close to the Edge.
"It was just about time," White said about the new album in a recent interview with Goldmine. "(The Quest) is a culmination of different material from different people in the band that we just wanted to get out. And still being Yes, it's a perfect vehicle for that. You build up material in your system and you have to find an outlet."
The pandemic situation certainly created challenges for the band in recording the new songs. "It was difficult," White recalled, "especially for myself and Billy, because we're in America. The rest were in England. We did this album differently — more virtual.
"Jon and Steve have been writing a lot of music together over the past couple of years, and they just hooked up together again. And of course, Geoff is in England and so he contributed to the whole thing. A lot of the concepts of the songs came from over there."
While Howe, Davison and Downes wrote and recorded their parts in England, White and Sherwood cut bass and drum tracks in Los Angeles, adding, White said, "input to a few different suggestions on the material." Sherwood also contributed to the writing. And while it was rumored that Schellen played drums on the album, it has been confirmed that White played all of its drum tracks. Schellen is credited with "additional percussion."
While The Quest is the first album of new material from the band since 2014's not-so-well-received Heaven & Earth release, it also represents another significant milestone: it's the first Yes studio album made without Chris Squire, and the first to feature Sherwood as bassist.
That was a powerful factor for White, who was Squire's rhythm-section partner in all Yes lineups for 43 years.
"There will never be anybody like Chris, really," White said. "He was a magnificent bass player and a trendsetter in many styles in that department within the band. So, yeah, (our partnership) was great. But Chris was Billy's mentor, so Billy Sherwood is a great replacement for Chris. I've played with Billy for over 15 years so I know his playing pretty well. And we know each other real well. He lives down in L.A., I live up here (in the Seattle area). We're both on the west coast.
"We worked together in a studio in Los Angeles to put the drums and the bass on. I think Billy did the bass over a period of time, because he's got his own studio. But then we went into a place called Uncle Studios in L.A. and we cut the bass and drums in about 10 days."
White added that he and Sherwood recorded most of their bass and drum parts separately, but occasionally played together on the tracks. And although the band members recorded their parts at different times (and on different continents), the album sounds organic and unified, as if the musicians were playing together in one studio.
Reflecting on how the band achieved that "live" feel, White said, "We've been doing it for so long that you use the things that you learned from being a seasoned musician. It's pretty professional, and you learn how to work in the studio like that and make it sound like we're all in the same room."
With such a long history as a Yes member, White is very protective of the band's legacy and admits he gave the new songs serious scrutiny before moving forward with recording the album. "I was skeptical of the material at first," he recalled, "and then I started to go over it more and get more into it. I really love the album now. It's really great. It turned out incredible."
White also gave high praise to Dean's contribution to The Quest: "The cover is spectacular. Roger always does a great job. And he's really like the sixth member of the band."
PERPETUAL CHANGE
White realized that this album may defy the expectations of Yes fans, but felt that's the norm with new work from the band. "How many times have you put a Yes album on and been surprised that it's in another direction yet again?" he asked. "Every Yes album has sounded different in a certain way, going from one to the other. I don't think this is any different. But I do enjoy the vibe of the material. It's got a good sense about it, the whole thing."
It's true that Yes are a band that strives to avoid repeating creativity. It's hard to think that the same band made, say, the sprawling, spiritual Tales from Topographic Oceans in 1973 and the streamlined, commercially oriented 90125, 10 years later, but both albums are credited to Yes. That's partially a result of multiple personnel shifts, but "perpetual change" is the nature of this band.
"We all grow and we learn, and the good thing about Yes is it's always that feeling in the band of trying to produce something different," White said. "It's always been a band that tries to see over the horizon instead of look at it to see what they want to do in the future."
MYSTERY TOUR
Yes actually looks to the past for one track on the new album, "Mystery Tour." As the title implies, it's an homage to The Beatles, complete with lyrical references to the Fab Four's catalog and personnel.
White certainly brings authenticity to any Beatles references in Yes-land, as he played a major part in John Lennon's post-Beatles output, playing in the Plastic Ono Band (in a lineup that included Eric Clapton) at the legendary 1969 Live Peace in Toronto concert, and on such classics as "Imagine" and "Instant Karma!" White was also one of three drummers who played on All Things Must Pass, the George Harrison masterpiece that recently received a major remix and re-release for its 50th anniversary.
To White, all of the current Beatles activity and interest makes perfect sense. "I think there is a retro-type movement going on within the music industry, and I really can understand why, because it keeps happening through the history of music," he said. "Everybody dives into the past a little bit to get farther forward. I think maybe sometimes it's because there's a lack of new material to keep people happy."
White spoke with fondness of his work with the ex-Beatles, recalling how "I did Imagine, pretty much the whole album — except Jim Keltner played on one track and I played vibraphone in the bathroom. For All Things Must Pass I got to meet George, we got on well, and he invited me to all of the album sessions. I played on two-thirds of that as well."
When asked about the new All Things Must Pass set, White said, "I've listened to it. I've got the box set, which is absolutely, really great. It's a well-done package. They did a great job of repackaging the whole thing. I'm just proud to be a part of it. It's a joy to listen to, especially today. Modern technology definitely helps."
THE TOPOGRAPHIC DEEP END
White recalled his early days with Yes, when he was recruited in 1972 to replace Bruford, who had just left to join King Crimson. White's induction into the band showed how strong — and adaptable — a musician he is.
"I had only three days to prepare for my first gig," he recalled. "They said, 'You're going to join the band or else we're going to throw you out that window. And by the way, you've got a gig on Monday.' And I said, 'Thanks a lot!'"
White recounted how he mastered such challenging music in so short a time. "A lot of listening, 24 hours a day, I think, I was listening, thinking the music, trying to prepare myself. But we never really did any rehearsals. We just got into it and I played the show. Everybody was sweating buckets, of course, including me. And we finished the whole show that night and we looked at each other. 'Well, I guess he did it!' I said, 'I'll try the band out for three months and you can try me for three months.' Now it's almost 50 years later."
His first recording with the band soon followed — a triple-LP live set. "I did perform on Yessongs, and I'd only been in the band three months! So I was just getting used to playing that kind of material and adjusting my style."
Then he embarked on his debut studio album as a Yes member — the complex Topographic Oceans double album. "It was my first studio album (with them), and quite an experience. It's called jumping in the deep end."
Topographic was controversial when it was released in 1973. Critics were not necessarily kind. Its songs were too long to gain much radio airplay; each one took up an album side. It was long and involved and way ahead of its time. Even Rick Wakeman criticized it when he left the band (for the first of many times) in 1974.
But White agrees with many Yes fans that Topographic has gained luster over time. "Absolutely. It just shows for me how good, adventurous music stands the test of time, really. And Topographic was a great album at the time, but it got a lot of criticism because nobody had ever done a double album with four songs on it."
YESSHOWS
While Yes has a long history of studio albums (The Quest is No. 22), they are also a legendary live band. Yes plans to resume touring (COVID permitting) in 2022. Resuming their tradition of focusing on a particular Yes album (or two) per tour, the plan for the next round of concerts is to revisit another challenging LP, Relayer (1974).
"On the new tour, we plan to perform some of the material from Relayer, which is not an easy album to play by any means," White said. "When I look back at those days when we made that, I keep thinking to myself, 'We were crazy for doing this music. Who thought that we'd be doing it this far into the future?'"
Relayer was the only Yes album to feature keyboardist Patrick Moraz, who replaced Wakeman from 1974 to 1976. It has only three songs, and found Yes exploring the fusion styles that were gaining popularity in the mid-1970s. "There was a slight element of jazz (on Relayer), because Patrick did have that influence," White said.
The band also plans to play some of the Quest material in the upcoming tour as well. "I'm pretty sure we will be," White said. "Some of it is well worthy of playing onstage."
Another possibility is that the band could do another package tour along the lines of the 2019 Royal Affair Tour, which also featured Asia, John Lodge of The Moody Blues, and Carl Palmer's ELP Legacy with Arthur Brown.
"There's a possibility that could happen again," White speculated. "We keep our minds open to new experience all the time, and enjoy working with different people, too. Yes has always been like that since day one for me, working with other people and just taking inspiration from a lot of musicians."
JUST SAY YES
According to White, the band is undaunted by online trolls and their questioning of the authenticity and quality of the current Yes lineup.
"I've said this for a few years: I joined a band in 1972 and I never left and I never came back and I'm still in the same band. I'm just carrying on the message for Yes, to just keep it going," he said.
"That's what the name of the band is all about," he continued. "It's the most positive word in the English language. That's why Yes came about in the first place. There's always a sense of that being in the band. It's an uplifting positive sense. 'Yes' is a lot better than 'Maybe' or 'No.'"
That positivity is reflected in White's outlook for the band and its plans for the future. "I know that we've still got a positive frame of mind to move forward," he said. "You really don't know. Of course, age comes into it, because Steve and myself are getting up there (Howe is 74, and White recently turned 72). But at the same time, we still keep moving forward. So it's a question of that, really."
Squire wanted Yes to continue, and White feels he and his bandmates are carrying out his wishes.
"I think he would like the direction we're moving in," White said. "One of the last things he said to me was, 'Alan, whatever happens to me, please keep this going.' And so we are."