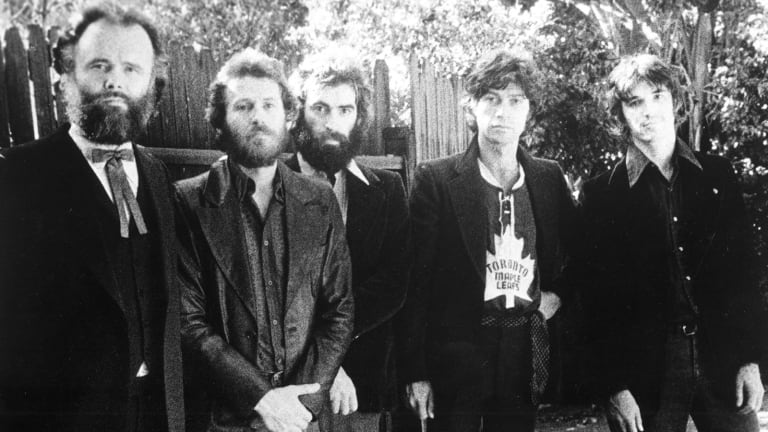 12 albums that defined Americana, from The Band to Hank Williams
Here are a dozen albums that defined the origins of this essential American genre
Get Americana vinyl and collectibles in the Goldmine shop
By Lee Zimmerman
"Americana" has become a byword in the past couple of decades, one that attempts to sum up a sound at the juncture of roots and rock, but still remains quite broad for all practical purposes. Country, folk, blues, and bluegrass all find a fit within that large umbrella, which is one reason why thre were sio many examples of Americana music welll before the term came into prominence.
We start at the beginning, by naming and describing a dozen albums that can be called the forerunners of it all.

Hank Williams, Hank Williams Sings (1951)
Although he died on the precipice of a modern music breakthrough, Hank Williams remains a an iconic influence on the trajectory that took so-called hillbilly music into the modern musical mainstream. Williams spawned an endless array of contemporary country classics ("Cold, Cold Heart," "Hey Good Lookin'"), but with his debut — essentially a hodge-podge of orphan tracks assembled by his label — he made his mark as one of the most essential American songwriters of all time. Several of those timeless tracks are included here — among them, pair of originals ("I Saw the Light" and "A Mansion on a Hill") and one he made his own ("Lost Highway"). As an indication of what was to come, consider this among his most essential offerings.
The Everly Brothers, Songs Our Daddy Taught Us (1958)
Although they're rightfully hailed as being among the prime architects of rock and roll, the Everlys origins lay in the rural reaches of Kentucky and East Tennessee. With this, their second album, they reclaimed their roots and covered classic songs that were essential to their musical upbringing. Given their exacting harmonies and an obvious dedication to the cause, this album remains among the best examples of their craft and creativity.
Ray Charles, Modern Sounds in Country and Western (1962)
Despite its disparity and break from the R&B and soul sounds that brought Ray Charles fame and acclaim during his tenure with Atlantic Records throughout the '50s, this album proved Charles was clearly capable of breaking boundaries and defying expectations when it came to making the music that moved him. In thee process, he sharttered racial stereotypes at a t ime when that effort was needed most, specifically, during the early years of the Civil Rights Movement. Consider this album revolutionary in every regard.
The Byrds, Sweetheart of the Rodeo (1968)
No single album did more to breach the divide between rock and roll and classic country than Sweetheart of the Rodeo. Having already served a role as forerunners of folk rock, Roger McGuinn and Chris Hillman effectively rebooted their band after the departures of former primemovers David Crosby and Chris Hillman, adding Gram Parsons, formerly of another seminal country crossover outfit, the International Submarine Band, to their ranks. Given the eclectic nature of the material — covers of Dylan songs and originals by Parsons resided alongside classic material by Merle Haggard, The Louvin Brothers and Gospel standards — it effectively elevated awareness for American tradition and brought The Bryds to an equally high peak as before.
The Flying Burrito Brothers, Gilded Palace of Sin (1969)
Born from the ashes of the latter-day Byrds, the new band founded by Chris Hillman, Gram Parsons and Michael Clarke, along with pedal steel player "Sneaky" Pete Kleinow and bassist Chris Etheridge leaped feet first into the burgeoning country crossover divide. It boasted a number of songs that were destined to become classics of the form — "Sin City, "Christine's Tune," Wheels," and "Hot Burrito #1" and "Hot Burrito #2" — while making it clear that hippies harbored affection for redneck ways as well. Other great albums would follow from this outfit — Burrito Deluxe and their eponymous third album in particular — but this is the one that allowed the Burritos to get rolling.
Poco, Picking Up the Pieces (1969)
Here again, it was left to the survivors of a short-lived but exceptional outfit, in this case Buffalo Springfield, to do as the title suggested and pick up the pieces after the Springfield disintegrated in the wake of its third, fully fragmented album, Last Time Around. Richie Furay, one of that band's early architects, was often overshadowed by Stephen Stills and Neil Young, but with Poco, he gained the prominence he deserved. Joined by another Springfiled associate, Jim Messina, drummer George Grantham and pedal steel player Rusty Young, Poco's debut album created a sound that fully expressed the joys and exuberance that the title track expressed so admirably. "Well, there's just a little bit of magic in the country music we're singin', So let's begin, We're bringin' you back down home, where the folks are happy, Sittin', pickin' and a-grinnin', casually, you and me…"
The Band, The Band (1969)
With their second album, The Band effectively slid their way out from under Bob Dylan's shadow and created a set of songs that established the very notion of abject, archival Americana. Several of the songs drew on historic themes, but given the essential arrangements, t here's not a single song that doesn't find its place within The Band's timeless tapestry. "The Night They Drove Old Dixie Down," "King Harvest Has Surely Come," "The Unfaithful Servant," "Up On Cripple Creek," "Whispering Pines," and "Rag Mama Rag" still rank among the greatest songs ever produced by any American outfit, bar none.
The Nitty Gritty Dirt Band, Will the Circle Be Unbroken (1972)
Although it drew on the traditional roots of America's heartland, Will the Circle Be Unbroken was deamed a revolutionary album for its time and it remains so today, a half century after it initially appeared. Never before had a rock band — even one that delved so deeply into folk and other arcane forms of American music — crossed the broad divide separating classic and contemporary influences. The band invited an amazing array of iconic artists to join them in the studio — Roy Acuff, Mother Maybelle Carter, Earl Scruggs, Merle Travis and Norman Blake, among them, and the results easily avoided any culture clash and found mutual respect without any reservations. Best described in one word, it was revolutionary.

Bob Dylan, Nashville Skyline (1969)
When Dylan enlisted an all-star group of Nashville's finest pickers and players and lowered his voice by several octaves to sing in a smooth croon, it marked one of the most remarkable transformations in American music history. He had ventured in that direction before; both Blonde On Blonde and John Wesley Harding found him dablling with the forma nd using the musical resources Nashville provided, but this time around, there's no reserve when it came ot banking on country collateral. An intriguing diversion in a career marked by unlikley excursions, this album indicated that a return to the roots was putting rock on its path towards the future.
Grateful Dead, Workingman's Dead (1970)
When the Dead segued out of psychedelia and into the realms of heartland happenstance. At the time, it seemed an unlikley vehicle to bridge the cutural divide — after all, hippies and hillbillies had never mingled much in the same circles. Nevertheless, lead-off track "Uncle John's Band" reafirmed their populist precepts, while the closing number, "Casey Jones" asserted the fact that they were still as essentially insurgent as ever. Its successor, American Beauty, is equally embracing.
Eagles, Eagles (1972)
And just like that, country rock arrived! Although they owed much of their success — and commercial credence — to their predecessors, such as The Byrds, Burritos, Poco, and Linda Ronstadt, with whom any of the musicians had served — the Eagles brought this essential style of Americana to the musical mainstream, ensuring their success and that of many others that would follow. So too, when they checked into Hotel California, they left as one of the biggest bands in the world and remains so today.
Willie Nelson, Red Headed Stranger (1975)
Though Willie Nelson had made his mark as a prodicious writer of country classics ("Crazy," "Funny How Time Slips Away," "Hello Walls" et. al), Red Headed Stranger was the album that found him establishing himself as an artist flush with imagination and ingenuity. It marked his departure from Atlantic Records where he had attained his intiail success and his transition to Columbia Records, which provided him with full artisitc incentive. A concept album about an outlaw on the run, it contained another signature song, "Blue Eyes Crying in the Rain," and the impetus for his later banding with fellow outlaws and insurgents Waylon Jennings, Jessi Colter and Tompall Glaser for the album Wanted! The Outlaws and with Waylon, Johnny Cash and Kris Kristofferson as The Highwaymen. All served the influx of Americana equally as well.

Other essential early examples of Americana: Elvis Presley (Elvis Presley) Bradley's Barn (Beau Brummels), At Folsom Prison (Johnny Cash), Bright Lights and Country Music (Rick Nelson), Born on a Bayou (Creedence Clearwater Revival), Our Mother the Mountain (Townes Van Zandt), Linda Ronstadt (Linda Ronstadt), Magnetic South (Michael Nesmith and the First National Band), Seven Bridges Road (Steve Young), After the Gold Rush (Neil Young), Aereo-Plain (John Hartford), John Prine (John Prine), Maria Muldaur (Maria Muldaur), Despite It All (Brinsley Schwarz), New Riders of the Purple Sage (New Riders of the Purple Sage), Bustin' Out (Pure Prairie League
Lee Zimmerman is a longtime Goldmine contributor and author of the book Americana Music — Voices, Visionaries and Pioneers of an Honest Sound.