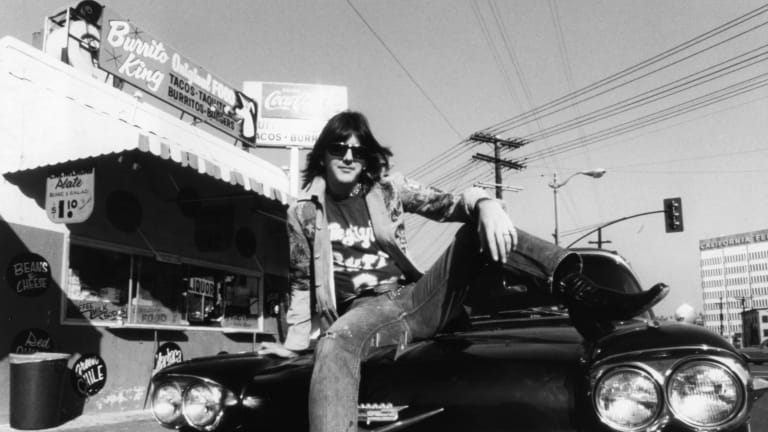 12 essential landmark songs by cosmic cowboy Gram Parsons
Here are the songs that form the largess of Parsons' lingering legacy
Get Americana vinyl and more in the Goldmine shop
By Lee Zimmerman
In a very real way, Gram Parsons still stands out as the godfather of modern Americana. More than any other individual, he helped bridge the divide between roots, rock and iconic country music. He was a reverent outlaw in terms of attitude and interest, but it was his tattered perspective that found him leaving a lingering influence on The Rolling Stones, the Grateful Dead, New Riders of the Purple Sage, Wilco and so many other Americana auteurs that followed in his footsteps.
Parsons' efforts and intent began with his seminal outfit, the International Submarine Band, and eventually gained greater attention after he was drafted by the Byrds. They then reached full flourish with the Flying Burrito Brothers before he ventured out on his own. That's when he partnered with Emmylou Harris as she was transitioning from unassuming folkie to her future status as a superstar. Here, then, are the songs that form the largess of Parsons' lingering legacy…
"Hickory Wind"
Originally written with his International Submarine Band bandmate Bob Buchanan on a train ride from Florida to Los Angeles in 1968 and later recorded by the Byrds on their landmark album Sweetheart of the Rodeo, "Hickory Wind" evokes the nostalgia of a simpler time while creating the aural equivalent of a postcard from the past. It's an evocative expression of abject nostalgia shared from a personal perspective, one that marks the passage of time from then til now, and forward to the future where the bright lights of the city outshine the memories that once meant so much.
"Christine's Tune (A.K.A. "Devil in Disguise)"
The lead-off track to the Burritos' landmark debut, The Guided Palace of Sin, and written by Parsons and fellow Byrds alumni Chris Hillman, the song pulls no punches, even at the outset. "She's a devil in disguise, You can see it in her eyes, She's telling dirty lies, She's a devil in disguise." In that regard, it's a rough and rowdy denunciation of one of the band's hanger-ons, but after she died in a car crash, the name was changed so as not to dishonor her memory.
"Sin City"
This Parsons-Hillman cowrite also graced that initial Burrito Brothers album. A twang-filled, pedal steel plied lament, it details the trials and temptations encountered by an otherwise innocent country cavalier during his first encounter with the pitfalls of big city life. "This old town is filled with sin, It will swallow you in," the singer warns, more or less foretelling the downward slide Parsons himself would take in the not-too-distant future.
"Hot Burrito # 1"
An aching ballad penned by the Parsons-Hillman partnership, it remains one of the best-known of all Parsons' signature songs. Granted, Parsons was an insurgent in the eyes of many — his friendship with Keith Richards was indicative of the rebellious streak he harbored from early on — but he clearly had a sentimental streak that could not be denied. Covered numerous times, this barren break-up ballad remains a county-rock staple even now.

"Older Guys"
Written with Chris Hillman and Bernie Leadon, "Older Guys" comes across as an earnest rocker in praise of… well, older guys, who presumably possess the wisdom to make the right choices and offer signposts for the future. The "woo-woos" the Burritos share in the song's compelling chorus reinforces the power and passion echoed throughout. Given his reckless choices, it's sad that Parsons opted not to follow his own advice. 
"Cody, Cody"
Another heart-wrenching ballad from the Parsons-Hillman songwriting team and taken from the Burritos' the superb sophomore album, 1970's Burrito Deluxe, it suggests a sense of longing within the need for comfort and inclusion. It also indicates that the singer isn't sure of his direction, or even where he resides in present circumstances. Nevertheless, it's both haunting and harrowing all at the same time and another example of Parsons' balladry at its best.
"She"
Taken from his first proper solo album, G.P., "She" is an example of what Parsons called "Country Soul." It clearly fits the bill, with Parsons' pining, emotive vocals offering praise to a mysterious muse. The setting is unclear, but it's irrelevant, although for those seeking specifics, it does reference the South as its evocative soundscape. "Oh, but she sure could sing." Coming from Mr. Parsons, that's clearly a complement.
"A Song For You"
A song flush with unmitigated sadness, its parched vocal reflects its theme of remorse and regret. Emmylou Harris' backing vocal adds a gentle tone and timbre, the initial seeds of a partnership that sadly wouldn't have opportunity to reach full flourish given to the fact that Parsons' demise was only a few short months away. Nevertheless, it's not necessarily fair to expect perfection to remain indefinite. Consequently, "A Song For You" offers a glimpse of a place and time that made an indelible impression, one that lingers with a largess practically half a century after its original inception. 
"The New Soft Shoe"
Seeped in nostalgia, "The New Soft Shoe" Parsons taking a sentimental turn about one "Mr. Walker," who either called a dance, became a carney barker, made music, or sold used cars. It's hard to say, but clearly he got the crowd's attention in the old new south. Here again, the sentiment is obvious. 
In My Hour of Darkness"
Sung in the style of an old time gospel hymn, and with sympathetic backing vocals from Emmylou Harris, this seemingly sincere ballad appears autobiographical in every detail. "Another young man safely strummed his silver string guitar, And he played to people everywhere, Some say he was a star, But he was just a country boy, His simple songs confess, And the music he had in him, So very few posses." Obviously concerned about the road he was taking, Parsons makes it quite clear that divine guidance is desperately needed. Sadly, it never appeared to arrive.
"Return of the Grievous Angel"
The title track of his second and final album, the song is a tell-all of sorts, a litany of the pitfalls he encountered while etching his star in the far horizon. Nevertheless, it seems to share the realization that stardom has its demands, and all too often, they're difficult to assess. A country classic in every regard, it's candid and confessional in equal measure.
"Ooh Las Vegas"
Continuing the theme first visited on the Flying Burrito Brothers' "Sin City," this standout selection from Grievous Angel— released posthumously after his death — deals once again about an unsuspecting country boy's encounter with the evil intents of urban existence. Of course, Las Vegas boasts a reputation for sin and scandal, making it the perfect setting when it comes to narrowing the divide between innocence and indulgence. Obviously, Gram didn't believe that whatever happens in Vegas should stay in Vegas, making this confessional song all the more convincing.
Lee Zimmerman is the author of Americana Music: Voices, Visionaries, and Pioneers of an Honest Sound, available in the Goldmine shop HERE