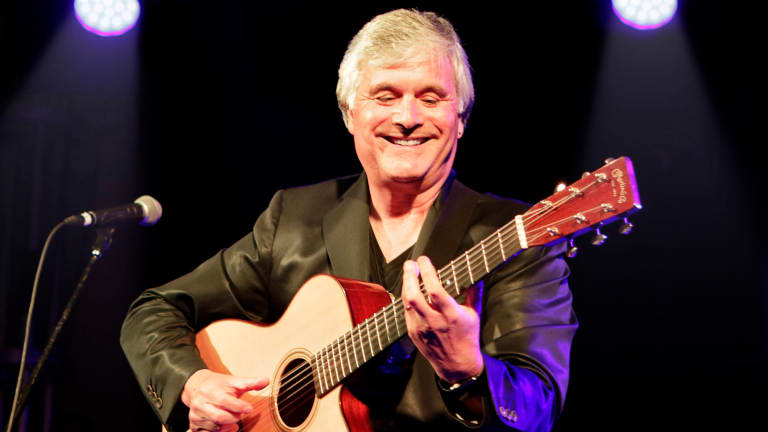 Guitarist Laurence Juber picks his Top 5 Wings songs
Ex-Wings guitarist picks music from his past as he moves forward with his own projects, like his recent TV series soundtrack album, 'Journey to My Heartland.'
By Ken Sharp
Ex-Wings guitarist Laurence Juber has issued in excess of 28 solo albums, His latest, Journey to My Heartland is "all music that came from a TV show that ran for 11 years called '7th Heaven,'" explains Juber. "Dan Foliart, the composer of the show's musical score, is a guitarist who wrote some of most challenging, but musically satisfying, guitar parts I've seen in my 50-plus years as a studio musician. His altered tuning, fingerstyle guitar cues melded roots, jazz and infectious grooves into an Americana style that gave the score a uniquely identifiable tone. The cold open of the show very heavily featured me on finger style guitar along with drums, bass, piano and soprano sax. This is an archival collection because during the sessions, which ran from '96 to 2007, at the end of the session we would do an actual performance of kind of a key composition from the show and those were all collected on this album, which is very much kind of an Americana roots album with elements of New Orleans, jazz and groove." 
While discussing his current endeavor, Goldmine asked Laurence Juber to look back at his wonderful career with Paul McCartney & Wings and choose his Top 5 Wings tracks. Take it away, Laurence...
"SPIN IT ON"
That's from the Back to the Egg album and it has a very cool punk rockabilly kind of vibe about it. I'm particularly fond of that one because when I did the solo, I was sitting in the control room eyeball to eyeball with Paul and that was the first time I had that experience and it just kind of resonated with me. It was really the moment where I understood how good he is as a record producer.
DAYTIME NIGHTTIME SUFFERING
My next pick is "Daytime Nighttime Suffering." That was one that Paul had written over a weekend and we recorded it on the Monday in the studio that it's set up in the basement of MPL, his office in Soho Square, London, because we were only supposed to be in there to mix. I think that song has kind of a bookend to his song "Another Day" in terms of being about a similar kind of single woman subject matter. But it's just a cool song. I think it's one of his coolest songs from that period. It never made an album officially but it was the B-side of "Goodnight Tonight." Some radio stations played it because they wouldn't play "Goodnight Tonight" because they thought it was too disco, even though it really wasn't a disco. It had a life and it didn't fit on Back to the Egg. It could have if the album had a different configuration. I mean, there are always tracks that you do that where you can't quite find a home for. But when you think of all those Beatles B-sides that are just so cool and they may have been on American albums, but they were never on the English album.
GOODNIGHT TONIGHT
"Goodnight Tonight" was the first Wings hit that I played on and I thought that was a cool record. Interestingly enough, the live version, the one from Glasgow on the "Last Flight" bootleg, I played the flamenco bit on electric guitar and it had more of a rock vibe. And to be honest, even the studio version, while it was a dance record, it wasn't a disco record.
COMING UP
My next choice is "Coming Up," which existed in two forms. There was the McCartney II version and then there was, again, the live Wings one, which was definitely a dance rock record. It was also recorded in Glasgow. That last night of the tour in Glasgow was recorded by Geoff Emerick on multi-track. I like "Coming Up" because it's a very simple song, but with a message and it has a very cool kind of rock dance piece to it. I think it's interesting that the last two Wings hits were both dance records. The riff in "Coming Up" has almost a Meters or James Brown kind of vibe to it. The groove is a little different, but it's that kind of thing.
ARROW THROUGH ME
"Arrow Through Me" is just an amazing composition musically. It's a very cool one. When we were working on it, we were doing the horns on it at Abbey Road, and Paul Simon came in to visit and was marveling at the low end because there's no bass on that record. It's all the left hand of the Fender Rhodes electric piano. That song is a very spare track. The only thing that's really kind of built on top of it is the fact that there's a double-speed drum track. It's actually two drum tracks on that record, which of course is a technique that goes back to Beatle records, where they would do stuff like that. I did my book, Guitar with Wings, and I figured in the absence of any Back to the Egg reissue, I had all these photographs that deserved to see the light of day. So I was offered a book deal and did that, what I call the photo memoir. It's available on my online store.
.