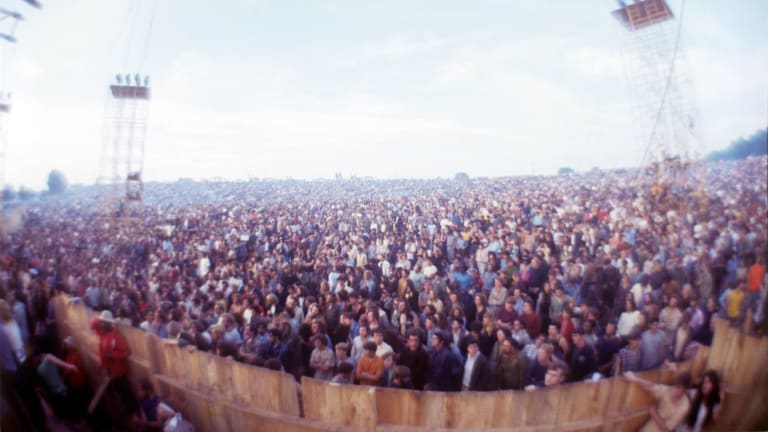 Henry Diltz says his assignment to photograph Woodstock felt like "summer camp"
The renowned rock photographer had a positive experience at Woodstock in 1969 even with a challenging photo assignment
Check out Woodstock-related vinyl and collectibles in the Goldmine shop.
In Goldmine's Aug-Sept 2022 issue, photographer Henry Diltz claimed that the assignment to visually document Woodstock was challenging, yet from set-up to aftermath, it felt like summer camp.
"I just remember the two weeks before the concert, and the days after, it was very much like a summer camp," says Diltz.
"People slept right in the field, you know," the photographer continued, "where they sat, and eventually in the mud and everything. People had little tents for sleeping or a tarp over them. They woke up in the morning and The Hog Farm said, 'We're gonna serve breakfast for 400,000 people!' It was probably just oatmeal and coffee or something; they were making huge vats. 
"My job was just to look at everything and photograph what looked interesting." 
And not once did the enormity of the event get to Diltz. "I relax with the camera. I think it's my way of addressing the world. It's my way of dealing with the world. I like to frame things; it makes me relax. Even if it's a dog or something, I frame it really good and it fills the frame perfectly. And I go 'click' and then I think to myself, 'That felt good.' You know, it feels good physically to take a good picture that fits."
Curious what Henry Diltz's exact thoughts were during the time he spent at Woodstock? Well, he was kind enough to let the Goldmine staff duplicate an image of his actual Woodstock diary and then transcribe it for our Woodstock cover story in the Aug/Sept 2022 issue (see below). The issue also contains Diltz' iconic images of the 1969 event, including the cover.
Pick up the issue at select newsstands, Barnes & Noble and Books A Million bookstores. Or get it a copy in the Goldmine shop.
Or get the Collector's Edition bundle in the Goldmine shop with an alternate cover shot from Henry Diltz, a sleek slipcase for the issue, and two additional professional photo prints exclusively from Diltz! (See below)