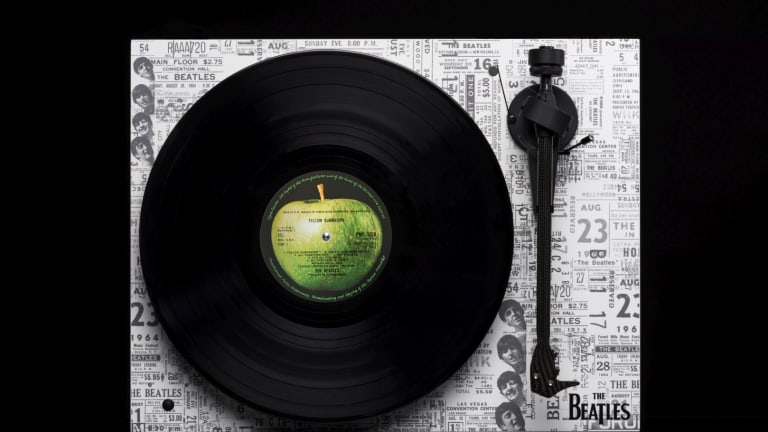 Quality Beatles turntables that go beyond novelty
Beatles columnist John "Jay Jay" French talks to Pro-Ject Audio Systems CEO, Heinz Lichtenegger, about the company's Beatles-themed turntables.
By John "Jay Jay" French
Goldmine has been trying to figure out a way for me to review low-cost, entry-level turntables without making you want to turn the page and run.
Last May, I attended the Munich hi-fi show (High End Munich) where turntables were priced at a starting price of $200 and went up to $450,000 (yes, you read that correctly). Walking down one of the aisles at the show, I came across the Pro-Ject Audio Systems booth ... and what did I see? Several record players with designs based around The Beatles. There was a turntable simply called "Beatles 1964" (pictured above), a Yellow Submarine-themed turntable, a Ringo inspired "Peace & Love" model and a George Harrison model. There were no Paul or John designs, per se.
The prices ranged, along with the higher quality features that go along with it, from $399 all the way $1,700 for the top of the line "White Album" model.
Since I write this Beatles column I decided to begin looking at low-cost vinyl spinners through The Beatles "looking glass."
Low cost can mean different things to different people. I know that one can find record players for $100 at Best Buy. My suggestion is to stay away from that kind of product.
There is a reason for a product to be priced commensurate with the kind of quality that one needs in order to appreciate the format.
I will, over time, explain why this all matters and why, if you are not already, wondering why people are returning to the joys of listening to music on vinyl again.
Pro-Ject, along with Rega and a small group of other companies, knows what they are doing. Pro-Ject are the world's largest manufacturer of high quality (and relatively low-priced) turntables and other audio products.
In the future I will report on turntables that sell in the range of $350 to $700.
As a point of information, I bought my first turntable in 1967 for $78 which is about $750 in today's money. What you get for $750 is a much better turntable than I bought. That, however, is for another day.
At the Munich show I sat down with the CEO of Pro-Ject, Heinz Lichtenegger, to get the quick lowdown on these Beatles turntables in particular.
GOLDMINE: How did you get the rights to produce a Beatles line of turntables?
HEINZ LICHTENEGGER: I got a call from Apple music (Beatles Apple). They said, "We hear that you are the best in affordable, high-end turntables and we have an anniversary coming up for 1964 and can you make us a (themed) turntable in two months?. Without thinking if I was able to do it, I said "Sure!"
I put together a design, made the agreements and I produced the table. The design has press stories of The Beatles from around the world laminated of the base and top of the turntable.
GM: Did they give you instructions as to how much the table would sell for?
HL: No. but they were so happy with the results — the design and sound quality — that they wanted us to do more.
GM: And the next design was for Sgt. Pepper?
HL: The next one was Sgt. Pepper and the design was stunning! We made about 2,000 of them and they sold for about $500-$600, depending on the country. We then made a higher end Sgt. Pepper model that was more subdued — the base was natural wood and a Sgt. Pepper logo was on one corner and a Beatles logo on the other, as opposed to the platter having the Sgt. Pepper drum head screaming at you. The actual table was a much higher model in the Pro-Ject food chain. About 1,000 were made and sold for $1,500-$2,000 price range.
GM: And then?
HL: The George Harrison model. We received the artwork and, working with Olivia Harrison, she finally approved the design. This model also sells for about $500.
GM: And Ringo was next?
HL: Ringo had supplied all the artwork. His face is not on it.
GM: The next one seemed to be a real challenge: the Yellow Submarine model.
HL: This was not a pre-existing model. It was a whole new mechanical design. I think the result is quite astonishing.
GM: All of these tables are based around pre-existing designs, except Yellow Submarine?
HL: Yes. These are not toys, they are serious turntables and they satisfy serious audiophile demands.
GM: And then..."The White Album" turntable.
HL: This one is really something special, like the high-quality, special Sgt. Pepper limited edition. From an aesthetic point of view, it's the most elegant turntable we have at the moment. It's more expensive, in Europe around 1500 to 1600 Euros. It's a real high-end turntable — meaning better motor, better tone arm, heavier platter, better phono cartridge. [Ed.Note: This model gives you a real taste of what makes a high-end table a high-end table!]
GM: Lastly, has Apple Music given you any indication about an Abbey Road or Let It Be model?
HL: Yes!
To be continued…
----
Goldmine picks six...
1. George Harrison record player
Limited to 2,500 worldwide, this turntable's artwork was created by respected street artist Shepard Fairey. It boasts an acrylic platter, an Ortofon OM10 cartridge, a precision diamond-cut aluminium pulley, top-notch MDF chassis and a completely redesigned motor control. A dust cover is included.
2. Sgt. Pepper's Drum turntable (Essential III model)
A special edition turntable with a low tolerance acrylic platter bearing with strainless steel spindle, an integrated DC-powered motor control that minimizes motor vibration and guarantees speed stability and more. Dust cover included.
3. Sgt. Pepper Limited Edition (2Xperience SB model)
Special version of 2Xperience SB, limited run of only 1,000 turntables worldwide. An electronic speed control with 33/45 rpm speed change, which acts as a "Speed Box" with ultimate speed stability, a precision balanced sandwich-platter with vinyl mat, a record clamp to tighten record to platter, an audiophile grade 9" carbon tonearm and a natural wood base. Acrylic dust cover included.
4. The Beatles 1964
Special edition of Debut Carbon Esprit SB model. Limited to 2,500 worldwide, 33/45 & 78rpm out of the box. Heavy non-resonant acrylic platter and built-in precision Speed Box with switch on upper side. Dust cover included.
5. The Beatles Yellow Submarine
Glass platter. Belt-drive with synchronous motor and a special-edition yellow Concorde cartridge, S-shaped aluminium arm and anti-vibration decoupling feet. Especially for this edition, Ortofon created a yellow Concorde cartridge, called Sonar. The S-shaped aluminium arm adds a touch of harmony to the sound. Hand-made in Europe.
6. The Beatles "White Album" (2Xperience SB)
Special version of the 2Xperience SB model. Limited run of only 500 pieces worldwide. Top-grade limited edition turntable with 9" tonearm and special 2M white cartridge. Electronic speed control with 33/45 rpm speed change, which acts as "Speed Box"with ultimate speed stability. Included record clamp tightens record to platter. Resonance optimised MDF chassis in white mat. A true collector's item.
Go to www.project-audio.com for more information.
***