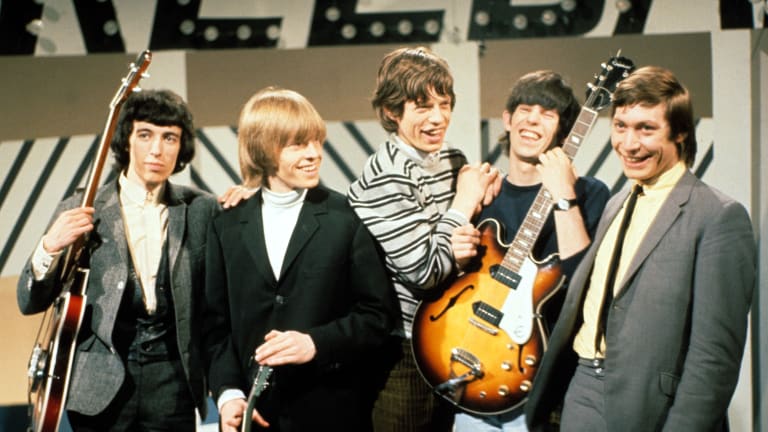 Rolling Stones songs: The Good, The Bad and The Underrated
Let's go through the Stones wealth of songs and sort them out!
Get Rolling Stones vinyl, box sets, collectibles and more in the Goldmine shop!
By Dave Thompson
The best Stones song? More or less all of them. The worst? There aren't any. And the most underrated? All the ones you especially like; but, because they aren't the ones that get cited every time the band's name is mentioned, a lot of folk look a little unsure when you mention them.
Ummm… you forgot to mention Super-Satis-Straycat-Jackflash-Honky-Breakdown-Docious.
Of course, five's never going to be enough. Wherefore "The Last Time"? "We Love You" and "Dandelion"? "She's a Rainbow"? "Mother's Little Helper"? "Sympathy for the Devil"? "Jigsaw Puzzle"? "Hot Stuff"? "Miss You"? "Undercover (of the Night)"? Another time, a longer list.
For now, some ground rules. Ideally, the Stones were at their strutting imperious best through the 1960s and 1970s, with the '80s dedicated more to in-fighting than out-reaching. And, while the "comeback" marked by Steel Wheels has produced three subsequent albums, be quick. Without peeking, name half a dozen songs from each? Even better, sing them.
What else? No cover versions — anyone can make a hash of someone else's composition (ask The Beatles), especially if it wasn't that great a song to begin with. Nothing post-Tattoo You, released in 1981 but largely drawn from earlier outtakes. And nothing written by Bill Wyman, because that would just be mean. He kept most of his best songs for his solo career.
One last thing: A Goldmine Podcast episode will soon follow on this very subject. (Editor Pat Prince strongly disagreed with "Street Fighting Man" being in the "bad" section. He believes it's possibly one of the best rock songs ever written) But, for now, here's the list of The Rolling Stones' The Good, The Bad and The Underrated... 
THE GOOD
5. "Where the Boys Go."
Emotional Rescue has never been given a fair shake in the Stones stakes, though pound for pound, it's probably the closest they ever came to recapturing their mid-'60s pop peak, especially if you ignore Mick's falsetto.
"She's So Cold," "Let Me Go," "Send It To Me," "Summer Romance," any one of them could have spun off a less baroque Between the Buttons. But it's the raucous teenaged Bacchanalia of "Where the Boys Go" that truly crowns the affair, the band roaring hell for leopard-print trousers behind one of Jagger's all-time most insouciant vocals, breakneck humor and, wait for it… but here come the girls to show that they go there, too. Play loud and love it.
4. "Sittin' On a Fence"
An inconsequential trifle, an Aftermath outtake that was initially offered to Twice As Much for a single, before being scraped out of the vault for inclusion on Flowers, the Stones' final US-only collection of waifs and strays.
But is it really inconsequential? Musically "Sittin' On a Fence" is as rich as any period Stones song, with the addition of harpsichord to make it glisten even brighter. And lyrically, though the three four-lines verses really don't have much to say to one another, it rejoices in at least two of the Stones' most thoughtful conclusions. And one, perhaps, of their most personally revealing.
3. "Sister Morphine"
Co-written with Marianne Faithfull, and a single for her before the Stones got round to releasing it, "Sister Morphine" is probably the best commentary on drug addiction of its age — maybe the Velvets' "Heroin" shades it in places, but there's a darkness to "Sister Morphine" that overwhelms regardless.
In truth, Faithful's original 1969 take is probably superior in the vocal stakes, and her 1979 remake is bleak and harrowing, too. But Jagger pulls it off well enough, and Sticky Fingers is all the better for its inclusion.
2. "Memory Motel"
Closing out side one of Black and Blue, "Memory Motel" is the crowning glory of the Stones' long line of stately ballads, as emotive as it is grandiose, as though Jagger really means what he's singing (which isn't always the case).
Of course it doesn't really say much that the equally lovely "Angie' forgot to mention, in terms of great break-up breakdowns, but there's a bitter tinge to the memories here, and what better keepsake could you ask for than an entire motel?
1. "Let It Bleed"
The Stones' first ever title track (and their last for five years), "Let It Bleed" is often overlooked in favor of either the album's opener, "Gimme Shelter," or the closing "You Can't Always Get The Song to End When You Want It To"!
On both, however , the real stars are the guests, Merry Clayton and the choir respectively. "Let It Bleed," on the other hand, is the Stones at their down-home country bluesy best, a lyric as lascivious as the landscape around it, and some of the band's best one-liners as well.
THE UNDERRATED
5. "Shattered"
It was between this and the American 45's flip, the pulsating "Everything's Turning to Gold"; "Shattered" won out (a) because it's one of the best closing numbers to a Stones album (Some Girls) ever… or, at least since "Something Happened To Me Yesterday"… and (b) because it captures a place (New York) and a time (before they cleaned it up) with a brutality that is almost punk rock in its vitality.
4. "Dancing With Mr D"
Kicking off the sublime Goats Head Soup with a slab of suburban paganism, the titular Mr D sashays into view via sinuous guitar and awe-stricken vocal… it may or may not be coincidental that the album appeared the same summer as James Bond went all voodoo on us in Live and Let Die, but Mr D captures a similar vibe (minus the speedboats), and establishes a mood for the remainder of the album.
3. "Through the Lonely Nights"
Thrown away on the B-side of "It's Only Rock'n'Roll," another of those shimmering ballads that trace back to "As Tears Go By," and linger still in the band's affections. It does, in its released form, sound a little under-produced, and maybe it goes on just a tad too long. But the vocal is spot on, and Mick Taylor's guitar solo shines so bright that you know you'll miss him when he's gone. (This was his final LP with the Stones). And don't you just wish you knew who it was about?
2. "Down in the Hole"
You want the blues? Here you go, and not even the hint of an apology for returning to Emotional Rescue to find them. Set in an unspecified warzone where even the rich are "begging for nylons in the American zone"… "digging the trenches," it's a song of such hopeless despair that even the guitars are weeping.
1. "Ventilator Blues"
Two things about "Ventilator Blues." One — it rarely gets mentioned when Exile On Main St.'s on the agenda. And two, it segues so exquisitely into the free form "I Just Want To See His Face" that they could be two halves of the same song; a lurching, leering, dance shuffle that is so lazy that it finally collapses in on itself, a discombobulated rhythm, an abandoned backing chorus, and Jagger staggering around the smoking ruins of the studio, mumbling whatever comes to mind.
It's sloppy, it's messy; the whole thing sounds like it was taped at four in the morning, and fell onto the album by accident. Sometimes, though, that's how the greatest records are made.
THE BAD
Well, that was easy — there aren't any. From "Come On" (1963) to "Living in a Ghost Town" (2020), the Glimmer Twins have been responsible for the single most storied songwriting sequence in rock and roll history. No Frog Chorus' for the Stones… no mama's got a brand new squeezebox or "Jump They Say." When the Stones write a song, they write it.
Although…. When they forget to write one, they do it in monumental style. Undercover, for example, is a great album to listen to, but isolate its finest moments (beyond the title track, of course) and they'd never make a fan's favorites list. Likewise Dirty Work, whose only killer cut is that take on "Harlem Shuffle" that a lot of Stones fans hate with a passion.
Nevertheless… the "5 worst" songs? Impossible. How about "the 5 Stones songs that it's okay to skip when listening to the album"? Yeah, that works.
5. "Sing This All Together (See What Happens"
Closing side one of Their Satanic Majesties Request, a reprise of the really rather good opening number (or, at least, its title) is somehow protracted to almost eight minutes of meandering jam and posturing marmalade. No matter its reputation for over-indulgence and post-Pepper envy, Satanic Majesties actually includes some jolly sparkling songs, from "She's A Rainbow" on down. This track, probably, is the reason that reputation existed in the first place.
4. "If You Can't Rock Me"
It's not that the opening cut from 1974's It's Only Rock'n'Roll is bad per se. Just that… well, what does it say that the Stones hadn't already said a dozen times before, and what does that title even mean?
Even worse was the decision to drag it out on their next tour. Imagine how the audience must have felt! "Excuse me, I thought you were meant to be rocking us?"
3. "Start Me Up"
When Keith Richards first came up with this, he saw it as a reggae song. And he continued seeing it as a reggae song through some 40 unsuccessful takes, until someone suggested he try it as a rocker. So he did.
He hated it, fought against its eventual release, and could probably think of 50 other songs he'd preferred to have played at every Stones gig since 1981. The fact it was so huge just rubbed salt into the wounds.
But compared with every other anthemic rocker in the kitbag, what is "Start Me Up" but a pedestrian riff, a bombastic sound and a lyric that must have made even Mick Jagger cringe a little, "If you start me up," he declares, "I'll never stop.." Well, thank you for clearing that up, Michael. I'll know not to do it again. (Oh, and the reggae version itself? It's terrific. Find it on the Tattoo You box set.)
2. "Street Fighting Man"
The Beatles had "Revolution," the Stones had this, but really, their very existence said more for anti-establishment turmoil and strife than any cack-handed doggerel about how cross people were getting these days.
In terms of the spirit of the age, it was a well-placed sentiment. But it also felt as though the words were dashed off between … whatever it was Mick'n'Keef got up to in their spare time in those dark and dangerous days; and the possibility that they callously sat down to write a song that the kids could relate to, maaaaanm, never feels far away.
1. "Little T&A"
One hates to return to Tattoo You… for goodness sake, Goldmine, it was an outtakes collection! You might as well cast aspersions at Metamorphosis. But here's one that should have remained that way, an unheard legend whose content we could forever speculate over. 
"What," we'd ask, wide-eyed and curious, "what could 'T' and 'A" actually stand for?" And the experts among us would fling out their suggestions. An old girlfriend's initials. A secret drug cocktail. A prototype car that Charlie stole when the Stones played a secret gig in Detroit. Anything, in fact, but the lazy, baiting reality of beeeeeep and beeeeeep, as it became when MTV aired the Let's Spend the Night Together movie back in the early '90s.  
Gosh, if we didn't know better, we might think that's the only reason those words were used in the first place.
Get The Rolling Stones deluxe collector's issue, click below.