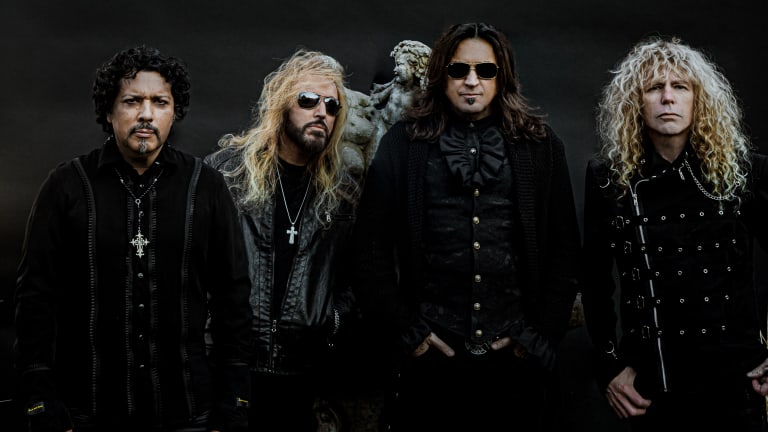 Stryper's Michael Sweet picks his Top 5 go-to classic rock albums
Christian metal frontman picks non-metal albums that are his Top 5 go-to records.
Get vinyl, CDs, box sets, collectibles and Goldmine-only exclusives in the Goldmine shop! 
Christian metallers Stryper are on their 14th album titled The Final Battle. [You can order Stryper's latest album direct from the Goldmine shop HERE.] The album has a metallic message about the band's evangelical beliefs. 
But it doesn't matter if the listener is religious or not, there's no denying the band's perfection of a true metal sound with a touch of class — classic rock, that is.
And so, we asked frontman Michael Sweet to pick his top non-metal full-length albums that influenced him throughout his music career (don't forget, Sweet fronted classic rockers Boston for awhile). Sweet came back with some great ones, listed below.
Creedence Clearwater Revival, Cosmo's Factory
The album that started my love for hooks and riffs. Simple yet timeless. I was only seven when this one came out, yet it had a huge impact on me as a young, aspiring musician.
Bread, The Best of Bread
Songwriting. This album taught me the importance of songwriting. It made me want to be a better writer. Amazing!
Bad Company, Bad Company
This was probably the album I listened to the most growing up. 1974, I was 11. I was blown away the first time I heard it and it still hits me the same way today.
Boston, Boston
This one changed my world as a guitar player, singer, writer and producer. To this day it's probably one of the best sounding albums to ever be released. Oddly enough, I became a member in 2007.
Van Halen, Van Halen
This album was like an explosion for me. Everything about it had such an impact on me. It truly helped make me who I am today as a musician. Life changing!
Take care of your record collection! Get record collecting supplies in the Goldmine shop!