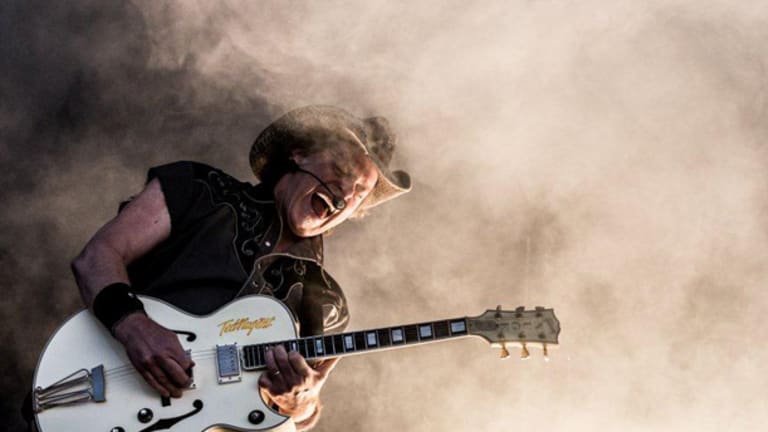 Ted Nugent: Jimi Hendrix discovered new "species" with 'Are You Experienced'
"Even though I was doing it before Hendrix, he was doing it in a more outrageous way."
The Jimi Hendrix Experience's 1967 album Are You Experienced is one of the greatest and most influential debuts in all of rock and roll history. Led by Hendrix's innovative, otherworldly guitar playing and locked down by the killer rhythm section of bassist Noel Redding and drummer Mitch Mitchell, the album was a critical and commercial success thanks to its now iconic songs including "Foxey Lady," "Manic Depression," "Fire" and more.
Are You Experienced was a total game-changer that became a late-'60s cultural touchstone and expanded people's ideas of what could be achieved with just six strings, a bass and drums. Its impact cannot be calculated; countless artists consider the album to be a key influence on their own musical expressions, including guitarist Ted Nugent.
The Motor City Madman confirmed this fact when we interviewed him about the 10 albums that shaped him as an artist. Below, Nugent reveals the profound impact that Are You Experienced made on him.
"Jimi, obviously, was an explosion of unprecedented creativity, the next outrageous, defiance of the electric guitar via Les Paul. The bending of the strings, and the noises and the feedback, the experiment with sound, distortion pedals: He was what I would call the frontman for Lewis and Clark. He was days ahead of the expedition (laughs). He was the first guy to see an antelope. He's the first guy to see this black and white, prong-horned antelope and was taking notes on the newly discovered species."
"And in the world of Jimi Hendrix, the newly discovered species was dissonant overtone, sonic bombast and feedback. Even though I was doing it before Hendrix, Hendrix was doing it in a more outrageous way. Plus, the song craftsmanship of 'Foxey Lady,' 'Fire,' 'Purple Haze' — are you kidding me? ... He did to the guitar what James Brown did to rhythm and blues, and what Little Richard did to honky-tonk ... Thank God in heaven for those guys."
Listen to Ted Nugent equate hunting with the rock 'n' roll tradition