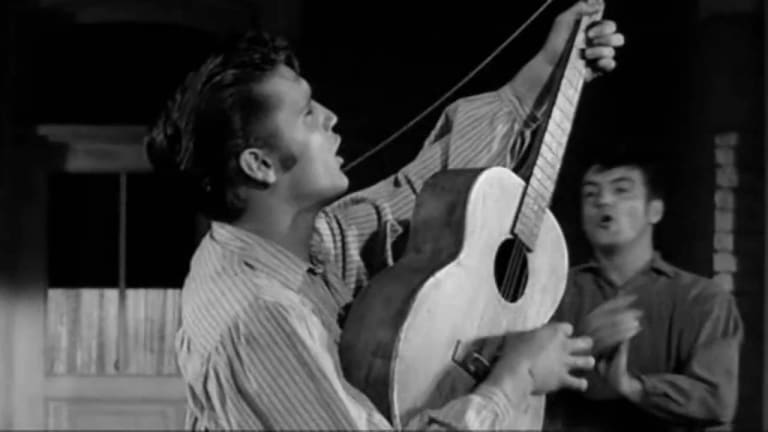 The 10 best, worst and weirdest Elvis Presley movies
Movies that show the good, the bad and the awful of Elvis Presley's film career.
Gillian G. Gaar
Baz Luhrmann's new film, Elvis, condenses the King's movie career to a quick montage. Actually, Presley made 31 feature films between 1956 and 1969, of admittedly varying quality, as Elvis himself would likely agree. The mid-'60s was a particularly rocky period, and you're advised to stay far, far away from the likes of Tickle Me (the worst film title of any Presley picture), Easy Come, Easy Go ("Yoga Is as Yoga Does" anyone?), and Double Trouble (Elvis visits Swinging London; he doesn't swing).
But though many of Presley's film outings proved disappointing to him, there's also some quite watchable fare mixed in, as well as a few bonafide classics. Here's a sampling of his output, from the highs, to the lows, and points in between.
Love Me Tender (1956)
Elvis is Clint Reno, excited when his brother, Vance (Richard Egan), a Confederate soldier, returns home from the Civil War, safe and sound. His wife Cathy (Deborah Paget) is less thrilled; she was Vance's girlfriend and only married Clint because everyone thought Vance had been killed in battle. Complications ensue. Elvis is sweetly vulnerable, and the songs they stuck into the movie aren't too anachronistic; they actually help liven up what would otherwise be a dull B-picture, a poor choice for Elvis' feature film debut.
Jailhouse Rock (1957)
Now, this is more like it; Elvis is actually surly and mean in this one. He's Vince Everett, a hotheaded young man who accidentally kills a man in a street fight, doesn't care who he's rude to, and is aggressive with women (after forcibly kissing his manager, he tells her, "That's just the beast in me"). As cynical about the music biz as that other great rock and roll film of the era, The Girl Can't Help It, and featuring the best production number (the title song, with Elvis dancing his way around a mock prison set) of any Elvis movie.
King Creole (1958)
This was Elvis' favorite film — and no wonder. Set in the seedy side of New Orleans, Elvis is Danny Fisher, another hotheaded, aspiring singer who trades double entendres with Carolyn Jones (the future Morticia Addams), shows his sensitive side to the local Nice Girl (Dolores Hart, who'd also co-starred with Elvis in the excellent Loving You) and struggles to stay out of the clutches of shady nightclub owner Maxie Fields (Walter Matthau). "Crawfish" is the best opening song of any Elvis film, plus you get "Trouble," "New Orleans," and the title song. It's Elvis' version of Rebel Without a Cause.
Wild in the Country (1961)
A more literate script, by playwright Clifford Odets, makes this film a cut above other Elvis fare, though the idea of Elvis wanting to be a writer isn't entirely believable. But there's a good cast, as Elvis is pulled between the virginal Millie Perkins, the hot-to-trot Tuesday Weld (the only one who's really "wild"), and the sympathetic older woman, Hope Lange. Would've been even stronger had they not shoved in the totally unnecessary songs.
Blue Hawaii (1961)
Here's where the "Elvis movie formula" starts to solidify; Elvis as an independent guy determined to make his own way, in a picturesque setting, surrounded by pretty young women. Elvis plays Chad Gates, a soldier fresh out of the army, and if his career goal is a little tame (he wants to be a travel guide) this is nonetheless a rom-com that's pleasant to watch. This film is stuffed with songs — fourteen of them — that are also enjoyable; as Albert Goldman summed up nicely in his biography, Elvis, "Blue Hawaii is the best of the post-army Presley film scores; of the worst, one is not obliged to speak, if only out of respect for the dead."
Kissin' Cousins (1964)
When the average person hears the words "Elvis movie," this is the type of film that most likely comes to mind; a thoroughly synthetic creation with a mindless plot and inane songs (certainly in this case, after the title song plays over the opening credits, it's all downhill). Elvis, a lieutenant in the Air Force, is sent to Tennessee to persuade a family of moonshiners to sell their mountain territory for a missile base. The family includes his lookalike cousin (played by Elvis in a blond wig), and the area's also infested by the "Kittyhawks," a group of sex-starved young women lookin' to lasso themselves a man. To some, it's the nadir of Elvis' film career; to others, it's camp enough to be considered a parody of an Elvis movie.
Viva Las Vegas (1964)
Elvis plays Lucky Jackson, a race car driver forced to work at a Las Vegas casino when he loses his winnings. In addition to the terrific theme song, he also got a truly exciting co-star to work with, Ann-Margret. On screen, the two playfully spar in numbers like "The Lady Loves Me" and later tear up the dance floor together in "C'mon Everybody." Off screen, they had an intense affair that threatened his relationship with his future wife Priscilla Beaulieu, who had just moved into Graceland three months before Viva Las Vegas' filming began.
Live a Little, Love a Little (1968)
After Roustabout, Elvis' films earned less and less money, so attempts were made to modernize his image; ultimately unsuccessful, but they did produce some strange, offbeat results. Elvis is a fashion photographer, pursued by an eccentric woman (Michele Carey) who takes over his life. He actually gets to (discreetly) sleep with his leading lady in this one, and there's a bizarre dream sequence with a man in a dog suit, while Elvis tries to go psychedelic, singing "Edge of Reality." That song didn't make quite make it, but 34 years later, a remixed version of another movie song, "A Little Less Conversation," became a worldwide hit.
The Trouble With Girls (And How to Get Into It) (1969)
The peculiar title has nothing to do with the film, which is set in turn of the 20th century America, with Elvis heading up a Chautauqua troupe (a traveling show). Subplots involve union organizing, a murder, and fleeting cameos by the likes of Vincent Price and John Carradine, plus Dabney Coleman as (what else?) the bad guy. Rather like a cut-rate Nashville.
Change of Habit (1969)
Elvis' final feature film (two more documentaries would follow while he was alive), feels like a made-for-TV movie tackling an Important Issue Of The Day. That would be poverty, with Elvis playing a doctor working at a free clinic in a low income neighborhood. Little does he know that the three comely volunteers who've newly arrived at the clinic are actually novitiates, sent to work in the outside world before taking their final vows. He falls in love with one of them (Mary Tyler Moore); complications ensue. "Rubberneckin'" is placed in the film somewhat clumsily, but at least it's a decent song.
Get ELVIS PRESLEY vinyl and collectibles in the Goldmine store