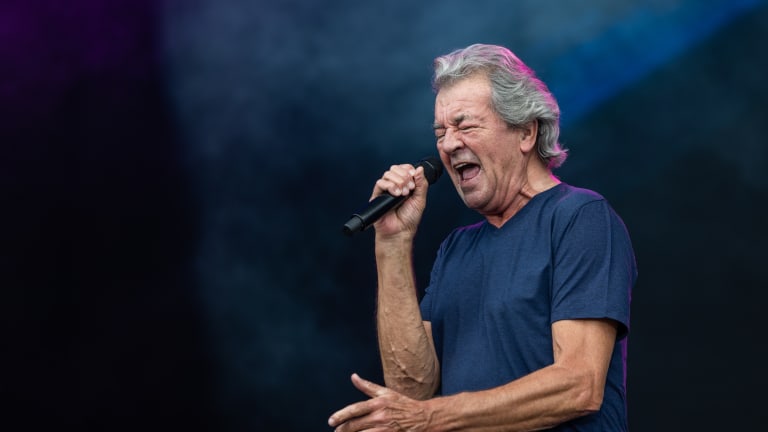 The 3 things Deep Purple's Ian Gillan would like you to know
Still rockin' in his 70s, there's a lot to learn from this rock and roll veteran vocalist
Get Deep Purple vinyl and collectibles in the Goldmine shop
Ian Gillan is one of the forefathers of heavy rock, fronting the band Deep Purple during the mightiest parts of the band's history. He knows a little something about the life of a rock and roll star, joining Deep Purple in 1969 and currently leading the band's charge with the same vigor of his youth. As he once told Goldmine author Martin Popoff, "1970 seems like yesterday." You can learn a lot from Ian Gillan, and the following are some tidbits from his talks with Goldmine.
On Steve Morse's guitar playing
"There's a solo on a song called "Dancing in My Sleep" (on the Deep Purple album Whoosh!) where he plays a baritone guitar, an old Danelectro, and it's one of the greatest guitar solos I've ever heard in my life. He also plays a brilliant solo on a song called "We're All the Same in the Dark." But in general, I guess you wouldn't have recognized it as Steve's style 10 years or 20 years ago. It's more, I don't know, laid back. Steve's a kind of frenetic guy. He's pretty intense with his personality, but he has a lovely, lovely nature. But this sort of slightly more laid-back style seems to suit him." 
On Deep Purple bassist Roger Glover's songwriting versus his own
"Roger and I have worked together since '65. And it's like the odd couple, I suppose (laughs), in that sense. I think Roger's style is more romantic. He's a much nicer person than I am. In fact, I complain about it all the time: "I hate you Roger, 'cos you're just too nice." And, well, he's the nearest thing I ever had to a brother. He's more poetic. And he's very good at narratives. I'm probably more aggressive than Roger, and probably more cryptic. Roger is much more straightforward when he's telling a story. I tend to bury meanings in two or three layers. Of the songs we've written, over the years… I mean, I've written 500 or more songs now, and probably half of them are with Roger. Of the songs we've written, you know, he's probably written 30% and I've written 30% on my own and the rest we've written together. We don't actually count. If somebody has a good idea, we go with that."
On aging
"When we're 20 years old, the world is a different place. But when you reach middle age, you start becoming a little more philosophical about things. Your experiences are different. You can do things you couldn't do when you were 20. In my first band, in my first interview with the local newspaper, he wanted an anecdote and I didn't have any. I hadn't done anything. I hadn't been anywhere. I could do the pole vault and I could do sports and play football, but I do other things now — and it's just as satisfying."
RELATED CONTENT: Roger Glover on Deep Purple's unique performances
Get the Feb/March 2022 print edition with Deep Purple on the cover (below)!