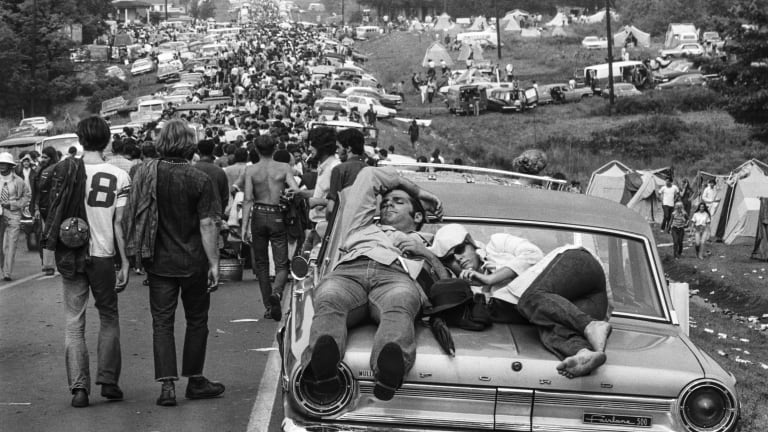 The best/worst things about Woodstock '69
It's another Woodstock anniversary. But as you begin to reminisce it's time to hear the best and worst experiences from someone who was (actually) there for the once-in-a-lifetime event in 1969.
Check out Woodstock-related vinyl and collectibles in the Goldmine shop
By Mike Greenblatt
I was 18 in 1969. My friend Neil and I were planning to go see Led Zeppelin down the shore in Asbury Park, New Jersey, that weekend, but the constant advertisements on WNEW-FM with the names of all our favorite bands in one weekend on one stage helped us change our minds.
So we bought two three-day passes at The Last Straw, a head shop in Bloomfield, for $17.50 each. My mother made sandwiches. We loaded up my 1964 Chevy Nova with two canteens of water, clothing, pot, soap, towels, a tent, books, Monopoly, toothpaste (we forgot toothbrushes) and sleeping bags. 
We had no idea what we were in for. We also had no idea that everything we brought would stay in the car for the next four days untouched.
I've always said Woodstock was the best and worst weekend of my life.
Forty-eight years later, Goldmine Editor Pat Prince persuaded me to write a book about it.
Best things about Woodstock
CAMARADERIE
There was a palpable sense of camaraderie. We were all in this together. We knew the world was watching. That long-haired dude next to you was your brother. He had the same politics, liked the same music, and shared his stash. That bare-breasted girl within reach was nurturing, philosophical, friendly, gorgeous and — despite it being hard to believe after the sh*t shows of Woodstock '94 and '99 — we treated them with respect.
PEACE & LOVE
I'm still amazed 53 years later that 500,000-plus people could be in one place at one time with not enough food, water or shelter from the storm — AND NOT ONE INSTANCE OF VIOLENCE WAS REPORTED. Sure, a hot dog stand was burned down. People died. People were born. That happens in every city, and for that weekend, we were one of the largest cities in the state. 
I fell in love twice: once with the laughing girl and once with the crying girl. I met the former in the lake. I met the latter after Friday's music had ended. It was almost three in the morning and there was nowhere to go. Joan Baez had us in tears at the plight of her husband, David, in jail for resisting the draft that loomed large over all of us. That's when I noticed the crying girl and went to console her. We basically solved all the world's problems in the next two hours. She was so understanding. For a second or two, I thought I had found the girl of my dreams. She was intelligent, profound, beautiful and instructed me on the ways to show up for my draft physical so I wouldn't be drafted. We watched the sunrise together. 
The next day I went swimming. It was noon and the band that was playing — Quill — was awful. So I went exploring and when I found the lake filled with naked people of both genders, I stripped down and waded in. That's when I saw her. It was right there and then that I knew that this time, I had really found the girl of my dreams. Our eyes locked. I swam up to her. Usually, in the course of human events, when you meet a girl for the first time, you're usually not both naked. I asked her to join us, bragging about our spot so close to the stage. She almost acquiesced but told me her boyfriend was waiting for her. Still, we kissed before she swam away and broke my heart.
SLY AND THE FAMILY STONE
It was four in the morning. Janis Joplin had just finished. We were all talking about how her new group, The Kozmic Blues Band, sucked. I was telling my new best friends about how great she was in Jersey City recently when our reveries were interrupted by easily the greatest set of live music I had ever heard in my life up to that point. Sly and the Family Stone were so powerful, so soulful, so loud and joyous, that we were all dancing and doing whatever he told us to do: flashing the peace sign and yelling "HIGHER!" at the top of our lungs. The set ended after five in the morning and, try as I might, I fell into a deep sleep that not even The Who, at 5:30 a.m. could wake. Truth be told, I slept soundly throughout The Who and Jefferson Airplane, who went on at the ungodly hour of seven in the morning.
THE FISH CHEER
I was still in the lake mourning the absence of the laughing girl when the stage went silent and I knew the next band, Santana, would blow us all away. Nobody had ever even heard of Santana. Their debut album wasn't even out yet. But I had just seen them a week earlier on the site of the 1964 World's Fair in Flushing, Queens, New York, opening for Buddy Miles, and I knew they'd be great. I got back to our spot and there was trusty old Neil reading a book. Thank goodness a neighbor had erected a huge flag with a peace sign on it real close to us or I would never have found my way back. Neil and I had an agreement. One of us had to stay on the spot at all times. 
BUT SANTANA WAS LATE
To entertain us as we waited, Country Joe McDonald, the lead singer of Country Joe and the Fish, who would go on to write the forward of my book, walked out on the stage alone on a moment's notice to give us the ultimate Woodstock moment. He was singing some country songs that we ignored, and he seemed perturbed and left the stage. When he came back, he said, "Give me an F!" And we shouted out "F!" Then he said, "Give me a U." And we shouted out "U!" "Give me a C!" And we shouted out "C!" "Give me a K!" And we shouted out "K!" "What's that spell?" And we shouted out, at the top of our lungs, "F*CK!" "WHAT'S THAT SPELL?" And we shouted out "F*CK!" again. Seven times he asked us, "What's that spell?" and seven times we said that glorious word that represented total and complete freedom when uttered aloud with tens of thousands of others. It was hilarious. It was revolutionary. It was profound. It was, upon reflection, one of the greatest moments of my teenage years. To shout that particular word, to see others laughing and shouting out that word right along with you, was a cosmic event of pioneering proportions. And to this day, I have a special place in my heart for the man who gave us that opportunity.
THE BROWN ACID
I sometimes reminisce about how the LSD I took on Sunday right before Joe Cocker's set got me through the monsoon. It was hot and sunny. An older woman was handing out loaves of bread and little brown pills. I devoured the bread with Neil and popped a pill. Neil stayed straight the entire weekend. I stayed stoned, mostly on OPD (Other People's Dope) since the ounce of pot I brought was, of course, still in the car, and who the hell even knew where the damn car was. It came on strong during Joe Cocker's set, and his versions of Bob Dylan, Ray Charles and The Beatles were just so damn good. But then the skies darkened, the wind whipped up, the music stopped, and, man, did it pour! Had I not been tripping so heavily, there was no way I would have wanted to stay.
TEN YEARS AFTER, THE BAND AND JOHNNY WINTER
Still maybe the greatest back-to-back-to-back performances of my whole life. Madly tripping, it didn't matter that we were wet, cold, hungry, thirsty and had to go to the bathroom. Neil was a champ. A good sport. A good friend. He wanted to leave so badly. I can't even imagine how horrible it would've been had I also been straight. But I wasn't. And it was a kaleidoscopic pinwheel of psychedelic proportions. Those three bands in a row made me forget my surroundings and taught me a valuable lesson, a lesson I still adhere to today: As long as the music is playing, everything is all right.
FINDING THE CAR
It was almost two in the morning on the last day of music. The brown acid wouldn't let up. When Blood Sweat & Tears went into that stupid "Spinning Wheel," I gave in to Neil's protestations, and we made the pilgrimage back to the parking lot. The woods were festooned with Christmas lights. People were friendly, flashing the peace sign. When we opened the car, it was like finding the holy grail, and we devoured the soggy sandwiches, drank the warm water, and, of course, I had to smoke one last joint.
MAX
The farmer whose land we were on, Max Yasgur, will always be a hero. He fought for our right to party. He fought the local resistance against our looks, our pot-smoking, our nudity and our politics. A lifelong conservative Republican, he still realized the concept of freedom and allowed us the luxury to be ourselves.
THE LEGACY
Woodstock changed my life as when I got home, I wouldn't stop talking to anyone and everyone about what I had just experienced. This turned into a lifetime of listening to music and telling people about it. That's all I've ever done. I'm looking 72 square in the face and still doing the same thing. 
Worst things about Woodstock
THE SUNDAY MONSOON
It wasn't just rain. It had rained Friday night, too, but that was a warm, light summer rain. What happened after Joe Cocker's opening Sunday set stopped the whole festival dead in its tracks and left in its wake a stunning three hours of silence as the heavens opened up and pissed down on us.
THE BIG FREEZE
Sure, it was August, but when the monsoon ended, the cold set in. Maybe because my clothes were soaked through, my teeth chattering, my hunger gnawing at me, but my sense of displacement was multiplied tenfold because I was trapped. Neil went missing. The LSD was kicking my ass. The faces of the people around me seemed to be melting off. It wasn't fun anymore. I was in a disaster movie.
GRATEFUL DEAD
I had just finished thrilling to the totally awesome Mountain when Grateful Dead were announced as next. It was close to 11 on Saturday night. Prime time. One of my new friends told me, "You gotta really be stoned to like these guys." With that, he offered me a hit on what he described as "opiated hash." I wound up having three hits. It wasn't enough. They were so bad that the people around me were yelling "YOU SUCK" at the stage and throwing garbage. They were right. The Dead ruined Bobby Blue Bland's 1961 "Turn on Your Love Light" with endless noodling that served no purpose, offkey vocals and clunky rhythms — and it went on and on for 45 minutes. It sounded like they were just tuning up. I couldn't wait for their set to end. Boy, did they stink!
THE TRAFFIC
We set out in the morning Thursday, August 14. When we got to Route 17-B to get to the site in Bethel, New York, we were stopped dead. So dead we turned off the car and played a game of Monopoly on its roof. When we finished, we still weren't moving. But we were in it to win it, so we waited it out. And waited. And waited. Eventually, the line of cars snaked its way to the festival area, and we were directed to a parking lot at the top of the hill.
ALL OUR STUFF WAS IN THE CAR
As previously noted, we figured to scope out the scene and then come back for our stuff. We found the stage, planted ourselves right in front of it, but, for some reason, we didn't feel like traipsing all the way back to the car on the night before it started. Big mistake. Dry clothing and my mom's sandwiches would've made it so much more enjoyable.
HUNGER
I spent most of Woodstock being really hungry. I bought hot dogs on Friday, but by Saturday, all the food at the concession stands was gone. Nobody told me about how the Hog Farm was feeding people for free. In fact, I didn't learn about them until I saw the movie a year later.
THE INCREDIBLE STRING BAND
It's amazing that these four mopes even enjoyed a few minutes of international stardom. Their delicate sound of avant-garde European folk music tinged with ersatz jazz and wobbly vocals was actually considered hip in the late '60s.
THE WAIT
We got there Thursday afternoon. We were led to believe the music was to start Friday morning. Friday morning came and went, and it seemed as if they were still constructing the stage. Friday afternoon came and went while we entertained ourselves with our new friends at what had to be considered the granddaddy of all tailgate parties. The first note of the festival, from Richie Havens, was eight hours late.
TIM HARDIN
I had been so excited to see singer-songwriter Tim Hardin. His compositions — especially "If I Were a Carpenter," "Reason to Believe," "The Lady Came From Baltimore," "You Upset the Grace of Living When You Lie" and his interpretation of Bobby Darin's protest song "Simple Song of Freedom" — were all brilliant. Little did I know he was a junkie and his set fell apart right quick.
THE MUD
I was not one of those people who played in the mud. In fact, I spent way too much time bemoaning the fact that I had enough dry clean clothing back at the car to last a week. But when the rain made our spot into a muddy lake, it was impossible to sit back down.
To read Mike Greenblatt's complete firsthand experience at Woodstock (and all the facts and logistics), you can get his book, Woodstock: Back to Yasgur's Farm, in the Goldmine shop
Get the Collector's Edition Bundle of the Aug/Sept 2022 issue of Goldmine (above), with alternate cover in a slipcase and numbered professional prints by famed photographer Henry Diltz, in the Goldmine shop.