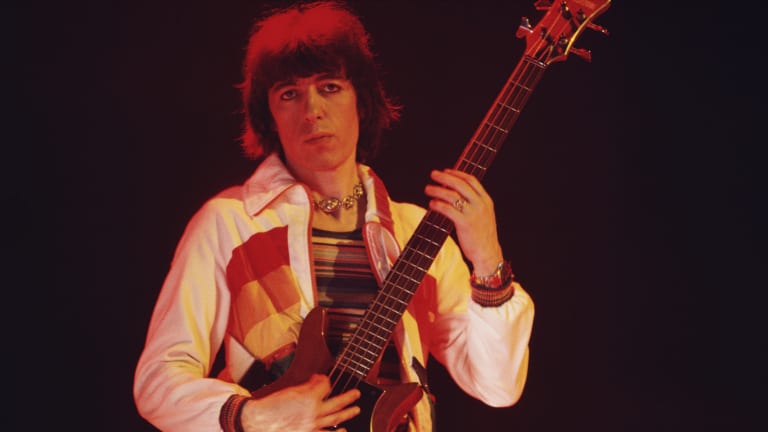 The Top 20 Bill Wyman Rolling Stones songs, ranked
These are The Rolling Stones studio songs that emphasize Bill Wyman's best contribution to the world's greatest rock and roll band.
Get Stones and Classic Rock vinyl, collectibles and more in the Goldmine shop
We've always been big Rolling Stones fans here around the Goldmine offices, so I thought we'd commission longtime Goldmine contributor Martin Popoff to do one of his always hotly debated top 20s — but with a twist. Celebrating Bill Wyman's birthday— the bass legend is 86 today, October 24th — I challenged Martin to take us on a tour of some of the great Stones songs that feature Bill's skills prominently. Does he succeed with this mission? You be the judge. —Patrick Prince
By Martin Popoff
Challenge accepted! And what makes it more daunting, is that one has to be careful to make sure it's Bill on bass and not one of the other guys — that's Ron Wood on "Emotional Rescue" and "Shattered," Mick Taylor on "Fingerprint File" and "Dancing with Mr. D." and Keith Richards on "Live With Me" as well as "Before They Make Me Run" and "Sympathy for the Devil." But that still leaves dozens of iconic bass parts from Bill to consider, and in fact, the cup runneth over. Here's our whittled-down list, sticking with studio Stones, excepting live albums and solo material.
20. "19th Nervous Breakdown"
A hit song from early 1966, "19th Nervous Breakdown" features Bill playing a walking, wandering, bobbing bass line that competes for the root melody of the song against the rhythm guitar-type timekeeping coming from Keith and Brian Jones. But it's famed for the closing signature, where Mick Jagger says, "Here comes your 19th nervous breakdown" and Bill responds with a dive-bombing flurry of notes, five times.
19. "Too Much Blood"
Arguably a repellent style for many Stones fans, "Too Much Blood" (Undercover, 1984) gets better at the verse, where the melody blossoms and the rhythmic emphasis shifts for the bass player but not the drummer. This is a somewhat spontaneous composition largely from Mick, but it's Bill who is most lyrical, with guitars keeping chicken scratch time and Charlie Watts also essentially doing chick scratch on drums. Bill gets to frame the song's sophisticated melodic sense, darting in and out of the profuse horns, while also dancing between funk, disco and reggae.
18. "Under My Thumb"
We go back to April of '66 for this classic Stones single. Perhaps Bill is overshadowed by Brian Jones' marimba line, but he's certainly next in mind and in line when it comes to the melodic frame of the song, his non-obvious notes put high in the mix (fat and wallowed, without much articulation) and supporting Mick's vocal more so than the guitars, which take on a supporting rhythmic role.
17. "Waiting on a Friend"
This dreamy Tattoo You song goes back to 1972, and had it been recorded then, Mick Taylor might have done the bass. But here it's Bill playing old school '60s octave-jumping lines rife with pregnant pauses, locking in with Charlie. He's a crucial part of the melody, with everybody contributing to the totality. As a bonus to the song's meandering beauty, Sonny Rollins provides a tenor sax solo. Behind it, Bill creates even greater space but then when he picks his notes, they are regularly new licks and figures, gently hinting at the idea of echoing Sonny's soloing.
16. "Downtown Suzie"
This gem from the retrospective rarities compilation Metamorphosis serves a number of masters. First, it's a beautifully recorded song from the Let It Bleed sessions, featuring Ry Cooder on guitar. Second, it's the only song on the 16-track album written by Bill — I wanted to make sure Bill gets celebrated as a writer. Third, in the drum-less verses, Bill harmonizes on bass innovatively with Mick's vocals. Fourth, along with representing Bill the songwriter, this one's going to represent what Bill does in pure boogie mode, even if the arrangement is Exile-light. Turns out it's a lot, with periodic challenging counter-melody and regularly scheduled quick circular licks.
15. "Rock and a Hard Place"
Here's a moderate hit single from a pretty successful late-period Stones album, with Steel Wheels being celebrated more as the name of a tour than a record. In any event, I wanted something here from Bill's last record with the band, before his famous retirement in 1993. To be sure, there's a similarity with "Too Much Blood" further down the list, but songs like this really push the bass to the fore, and Bill doesn't disappoint, playing funky, with some nice grace notes and pull-offs.
14. "Can't You Hear Me Knocking"
It was between this one and "Dead Flowers" for something off of Sticky Fingers, with both under-stated but still wandering enough to impress. But at 7:17, "Can't You Hear Me Knocking" goes to some interesting places, like the first raucous break and then the jammy, psychedelic extended remainder, where there's virtually no drums but there is bass, dominated by a Bobby Keys sax solo and then a guitar solo, at which time Bill switches to jazz, rising in intensity to match when the band (and Keys) re-enter the fray.
13. "Respectable"
Bill provides the bass on seven of the 10 Some Girls tracks, including all of the raucous boogie numbers, namely "When the Whip Comes Down," Lies" and "Respectable." On the present number, he turns in a spare old rock and  roll pattern that is more gingerly stepping than walking, but come chorus time, he gets weird, up the fret board, almost disco. All told, it's a performance that contributes much to the melody of the song with one smart, unexpected note after another, with the omissions — the rests — meaning just as much, allowing the song to breathe.
12. "Jigsaw Puzzle"
Dylan-esque Beggars Banquet track "Jigsaw Puzzle" might be dominated by loud slide guitar (Keith) and Mellotron (Brian) but in terms of singular performance, most exciting is either Mick and his psychedelic observations or Bill with his ethereal flugelhorn-like bass, glancing at jazz, aloof and bemused, mirroring in a sense what Mick is seeing and remarking upon.
11. "Slipping Away"
I've always been a sucker for a ballad sung by Keith — see "Make No Mistake" from his Talk Is Cheap album — and "Slipping Away" is more poignant because it's the last song on Bill's last album with the band — still to come is 1991's Flashpoint live record, which in fact includes two new studio songs, technically Bill's last two Stones songs. And what do we hear from the retiring Wyman? Perfect, sympathetic ballad support, smart and spare and as polished as a session musician with a fretless, holding his own in a mix that is filled with sound, including horns, keyboards and layered backing vocals.
10. "Midnight Rambler"
Here's one for tone more than anything, with Bill getting a gnarly articulation somewhere still to the left of Geddy Lee, Chris Squire and Lemmy, but fuzzy and intrusive all the same. As bonus, we get to hear Bill operate across three types of blues rhythms and he plays it straight in most spots, whilst fiddling a bit during the middle fast section. Oddly, leaving the studio version on Let It Bleed for the extended live blow from Get Yer Ya-Ya's Out!, the buzz and clack is gone, replaced by a decisively fatter, more high fidelity tone.
9. "Black Limousine"
Ron Wood gets a rare credit on this traditional rocking blues, first recorded during the Some Girls sessions. But here it is on the well-regarded Tattoo You album, with Bill providing inventive bass lines amusing enough to brighten what is a decisively un-showy song at the writing end. The smooth performance enhances the little circular forms rolling through the thing, but then Bill drops out at unexpected times, creating a halting effect so exacting that it sounds like portions were deleted from the tape after the fact.
8. "Rocks Off"
This one's pure rocking joy, with Bill representing the foundation and even for short bursts playing what Roger Glover might call "teenaged eighth notes" (which we also hear in "Gimme Shelter"). It's rare that even on the more uptempo numbers that Mick and Keith ask for "driving," preferring Bill and Charlie to serve as a rhythm section metaphor of the band's famous Ron-and-Keith guitar "weave." But "Rocks Off" is a nice exception, with Bill collared to singlehandedly make the song muscular.
7. "Paint It Black"
Bill was a pioneer of the fretless bass, having the frets removed on his famed homemade short-scale bass (a modified Dallas Tuxedo) used on many early Stones recordings. "Paint It Black" features the fretless and also Bill pumping an organ pedal on the floor with his fist to get the throbbing, hypnotic bad trip feel at the verses. Come chorus time, Bill is all business, keeping it dark. "Paint It Black" has always been a contentious song, with the sitar line from Brian derided as a nick from The Beatles. Still, after many years and really no more songs like it in the catalog, it's considered a top Stones classic, and even something of a landmark in the invention of Gothic Rock.

6. "Hang Fire"
One of the band's most charmed boogies from a highly esteemed second-wind album, "Hang Fire" is so much dominated by Bill's happy humpy bass that it's easy to forget that there's any guitars on the song. It's one of those performances that reminds you why bass players love what they do, with Bill essentially personalizing a pre-written song by giving it a new melody of his own right under the noses of Jagger and Richards.
5. "(I Can't Get No) Satisfaction"
Speaking of wrangling a melody into his own camp, "Satisfaction" is probably the prime example of just that, with Bill's strangely independent and untuneful bass lick — served loud in the mix — bearing little resemblance to Keith's distinct early-days fuzz guitar riff. They cooperate more at the verse though, and even more at the pre-chorus, moving the song from cold to warm and warmer and back to cold again. What he does is essentially a challenging harmony but whatever the case, what we have here is bass being a huge deciding factor in the biggest song the Stones ever had.
4. "Honky Tonk Women"
What's incredible about this one is how welcoming we are of Bill when he finally joins the party. The brilliance here is in waiting it out and not playing anything until the chorus, at which point he still comes in spare, sympathetic with the shambling drum beat, which is augmented by producer Jimmy Miller on cowbell. As well, this is about the fattest and warmest Bill would ever sound on a Stones record, which is reinforced by the best bass drum sound anybody would ever dial in for Charlie.
3. "Hot Stuff"
Man, Black and Blue is way up my list of favorite Stones albums, and a big part of that is how crisp and high-fidelity it sounds. "Hot Stuff" is an audio tour de force, featuring additional percussion by Ollie E. Brown and funky wah-wah guitar by Canned Heat's Harvey Mandel, who was considered as a replacement for Mick Taylor before the guys settled on Ron. Recorded in the spring of '75, "Hot Stuff" finds Bill recorded hard and well, with articulation but at the high end of the low frequencies. His riff is central to this pure funk track and even though it's designed as a hypnotic, repetitive groove, he regularly manages to add or subtract notes. There's further freedom at the guitar solo and modulation sections and Wyman avails himself of those liberties, but sensibly.
2. "Miss You"
"Miss You" was written by Mick as he jammed with Billy Preston in preparation for the Toronto El Mocambo club shows the band was going to perform to make Love You Live. As a result, Bill took Preston's original line and reworked it to arrive at the masterpiece we hear in the end — amusingly, as the story goes, Bill had to go to a lot of disco clubs to create the part. What we get is a casual, slinky, low-key disco song where the most interesting music takes place at the bass.
1. "Start Me Up"
If there are statistically more famous Stones songs and more deeply beloved Stones songs, there are none that have a robust dose of both qualities, and much of that admiration comes from how the bass sits in this song, even if for a portion of listeners it's happening somewhere in the subconscious. Fact is, Bill's broad, bold and burly bass, playfully harmonizing against Keith, is every bit part and parcel of what constitutes "Start Me Up'"s riff as are Keith's watery intro chords. Then at the chorus, Bill becomes part of Charlie's end-of-bar emphasis, pounding along with the bass drum. But again, the main charm comes from how it takes both Bill and Keith to complete the riff, similar to what we hear with "Satisfaction," which happens to be the only Stones song that might be a bigger deal than "Start Me Up."
Get Goldmine's limited-edition (only 200 made!) of The Rolling Stones at 60 issue! This Collector's Edition bundle includes an alternate cover from the newsstand edition, a slipcover for archiving and a hand-numbered print suitable for framing! Click on the banner below!