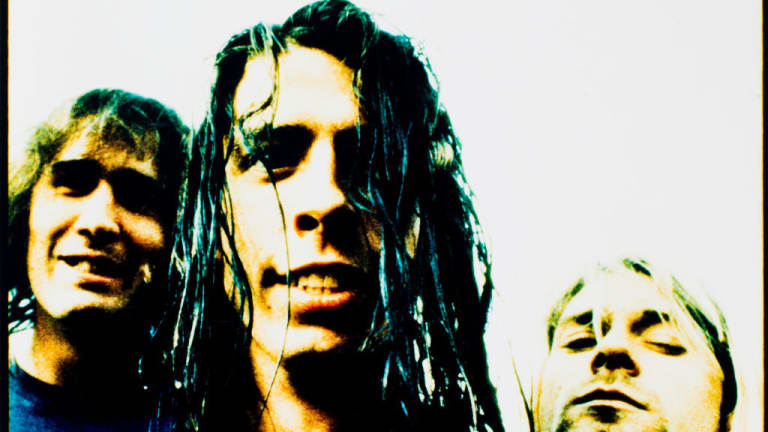 The Top 5 Nirvana box set tracks that deserve extra attention
Nirvana author Gillian G. Gaar lists the box set tracks that deserve some extra attention, picked from the compilation set 'With the Lights Out'  — and one from its sequel, 'Sliver: The Best of the Box.'
Get Nirvana vinyl and collectibles in the Goldmine shop
By Gillian G. Gaar
Nirvana's 2004 box set With the Lights Out (a line from the band's signature song, "Smells Like Teen Spirit") both celebrated the band's legacy and gave even hardcore fans a clutch of very welcome rarities that hadn't managed to escape to that twilight zone known as the "collector's circuit." As well as early/alternate versions of well-known songs like "Teen Spirit" and "Heart-Shaped Box," the box (and the 2005 compilation Sliver: The Best of the Box) has a number of other tracks that definitely deserve some extra attention. Here's a selection:
With the Lights Out
1. "White Lace and Strange"
May 6, 1987, radio session, Olympia, Washington
Even when they were first starting out, Nirvana never did many covers. And when they made their first ever radio appearance on Evergreen State College radio station KAOS, they picked a doozy of an obscure cover: Thunder and Roses' "White Lace and Strange." It's safe to say the world at large would never have been aware of this Philadelphia power trio had someone in Nirvana not got hold of the band's sole album, King of the Black Sunrise, which features the song. Nirvana (whose lineup then consisted of Kurt Cobain, guitar and vocals, Krist Novoselic, bass, and Aaron Burckhard, drums) put their own rollicking spin to it, as they'd later do with "Love Buzz." Songwriter (and Thunder and Roses' singer and guitarist) must've been pleased at the size of the royalty check.
2. "Mrs. Butterworth"
Summer 1987, rehearsal, Aberdeen, Washington
With Burckhard still on drums, the only time Nirvana was known to have played this song was at this rehearsal. It's a wild and abrasive number that unexpectedly drops in a spoken word recitation from Cobain in the middle, where he fantasizes about life as a flea market seller, a theme he'd later explore in the song "Swap Meet." The song was originally untitled, and given the name "Mrs. Butterworth" when it was added to the box set, in reference to Cobain's mention of Mrs. Butterworth syrup jars in the song.
3. "Ain't It a Shame"
August 20 and 28, 1989, studio session, Seattle, Washington
Enamored of blues legend Huddie "Leadbelly" Ledbetter, Cobain and Novoselic teamed up with singer Mark Lanegan and drummer Mark Pickerel of Screaming Trees to form a blues band, provisionally dubbed the Jury, as a side project. Cobain took the lead vocal on this track; it's a spirited, and hilarious, reinterpretation of a song, with what Sub Pop co-founder Jonathan Poneman called "One of Kurt's greatest vocal performances."
4. "Scentless Apprentice"
Late 1992, rehearsal, Seattle, Washington
Nirvana's final drummer Dave Grohl showed up at rehearsal one day with a crunchy riff he wanted the band to jam on. Cobain obliged him, even though he found it a "cliché grunge TAD riff" (TAD the band, that is), and what you hear from that point on is how one of In Utero's most lacerating tracks came together. At 3:35, the moment when Cobain hits upon the song's distinctive upwards spiraling riff, gives you chills.
5. "Jesus Doesn't Want Me For a Sunbeam"
February 5, 1994, rehearsal, Cascais, Portugal
Prior to their final European tour, which began on February 6, Nirvana rehearsed with their new cellist Melora Creager, of the band Rasputina. Nirvana had previously performed "Jesus…" in concert, as well as during their 1993 appearance on MTV's Unplugged. This version has a substantially different, more prominent cello line, which greatly enhances the song's underlying melancholy. The band played the song for the last time at the February 21 show in Modena, Italy. The tour's final performance was March 1 in Munich, Germany.
Sliver
6. "Spank Thru"
Spring 1986, home recording, Burien, Washington
During Easter break in 1986, Cobain traveled to his aunt's house in Burien to make a recording on her four-track tape deck. With the Melvins' Dale Crover on drums bass, Cobain recorded this early version of a song he'd later record with Nirvana, drawling his way through the verses, and adopting an over-the-top parody of a "classic rock" vocal on the chorus. Cobain released the songs he recorded that day on a cassette called Illiteracy Will Prevail, credited to his short-lived band Fecal Matter.
Gillian G. Gaar's first book on Nirvana was In Utero, for the well-known 33 1/3 series. She is also the author of Entertain Us: The Rise of Nirvana and The Rough Guide to Nirvana, among others. She was a project consultant/photographer for Nirvana's With the Lights Out box set, and edited Krist Novoselic's book Of Grunge and Government.