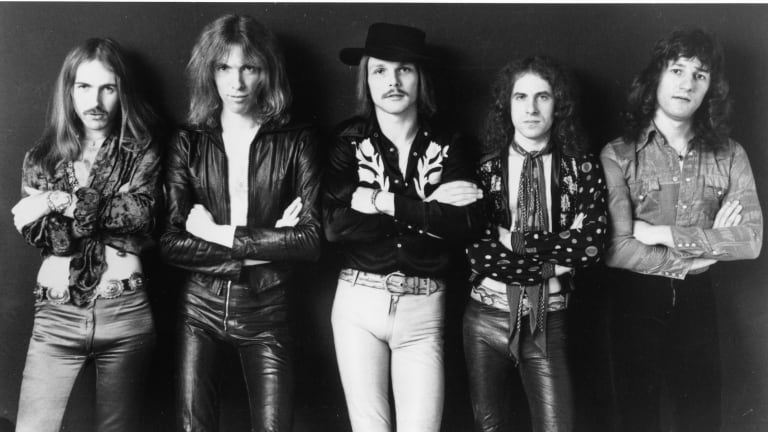 10 greatest Scorpions songs of the '70s
Go beyond "Wind of Change" and "Rock You Like a Hurricane" and discover the 1970s songs that boldly built the German rock giants' reputation
For Scorpions vinyl and more, go to the Goldmine shop
By Martin Popoff
Whereas most of the attention across the years has been on Scorpions' 1980s output, here's a reminder that their reputation was boldly built in the 1970s. What's also cool about the narrative is that the Matthias Jabs era begins right at the end of the decade, which provides a through-line not only to the smash hit albums of the '80s, but also to the band's fetching new Rock Believer album in 2022. And in that light, we present to you, in reverse order, 10 bangers from the boys from long, long ago (quotes culled from my book Wind of Change: The Scorpions Story).
10. "I've Got to Be Free" (Taken by Force, December 1977)
The grooviest song on the peaks-and-valleys record that usually polls Top 3. There's rare clean guitar and it's even funky, with "I've Got to Be Free" arguably representing the best arrangement on the album.
Herman Rarebell (drummer): "When you listen to those lyrics, you could tell (lead guitarist) Uli (Jon Roth) had already made up his mind, then and there, that he was going to leave the band. He was not very happy with the direction that I wanted the band to go in. I wanted us to have songs that had hooks, but he wanted to do his Jimi Hendrix-type stuff, which I thought had already been done by Hendrix. So, he left and did his solo thing, like he always wanted to do. As my mother always said, 'If a train is rolling, then let it roll. Don't jump on it because you could get hurt.'"
9. "Catch Your Train" (Virgin Killer, October 1976)
This one features a novel stop/start structure, but it's also driving and has a gorgeous chord change. This is Scorpions discovering their arena-rock future.
Rudolf Schenker: "I noticed already that this is a very special song, when I started to write it. And I remember, I had a conversation with Uli, because when I put the solo background together, this (sings it), Uli said, 'No, no, do something else. I can't do anything on top of it!' And I said, 'Uli, try, please.' He said, 'No, look, why are we not going this way through it?' 'It's boring. Let's try, let's make one try.' And now, he's happy that I really forced him to do it. He comes up so often to me and says, 'Rudolf, the best song you guys ever did — "Catch Your Train." ' His solo inspired many guitar players, because it's really outstanding. Uli rose to the challenge and put some fantastic great stuff on it."
8. "Speedy's Coming" (Fly to the Rainbow, November 1974)
"Speedy's Coming" represents the Scorpions emerging from their Krautrock past, hitting the listener right between the eyes with hooky chords, aggressive, tight rhythms and clear, direct vocals and lyrics. There's even cowbell.
Rudolf Schenker: "I had really liked the first Van Halen album. I think it is still their best, and I have always liked how they went from a small club band to one of the biggest bands in the world. One day, when I first met Eddie, he introduced himself by coming over, singing the guitar part of 'Speedy's Coming,' and saying, 'Man, we used to play that song all the time, and every time we did it, the people went mad.' "
7. "Steamrock Fever" (Taken by Force, December 1977)
Featuring one of the most Teutonic (or Spanish?) chordal melodies of the band's catalog, "Steamrock Fever" is a steamroller of an early metal-muncher. Come chorus time, things get American and happy and all is well with the world. A bridge track from the Roth era to the Jabs era.
Rudolf Schenker: "'Steamrock Fever' was maybe influenced a little bit by the punk generation in England because we had seen a lot of that on tour that year. I think punk was similar to the Seattle thing, but the timing was different because in England at the time, the country is much smaller, and word travels faster. But anyway, we were in a position where we said we wanted to do everything different."
6. "Dark Lady" (In Trance, September 1975)
Crazy-heavy and anarchic, "Dark Lady" is the Scorpions' coming-out part in terms of absolute front-edge heavy metal dominance. It's a shuffle like "Doctor Doctor," but it's also so much more, into a Queen and Judas Priest zone, with crunching Brian May and K.K. Downing and Glenn Tipton guitars aplenty.
Uli Jon Roth: "'Dark Lady' was more like a jam-band kind of thing, which wasn't even really like a song. It was more thrown together like a jam, I guess. Originally, I wanted Klaus to sing it, but in the studio, I don't think it was really that suitable for Klaus to sing. But Dieter (Dierks, producer) pointed that out. He said, 'No, Uli, sings that one' because it's more kind of free flow, that kind of style. And I guess he was right. My early songs weren't really suitable for Klaus to sing, because the vocals were more Hendrix/Dylan kind of vibe, and that's not a classic, melodic rock singer's vibe. Klaus always needed some very definite melody to get his teeth into."
5. "Can't Get Enough" (Lovedrive, February 1979)
There's a novel rhythm structure to this hugely aggressive metal classic, issued within a quiet year for heavy metal. Lovedrive is the first album of the Jabs era, and it's the riffiest, a transitional proposal from technicality to smooth drinking, like Hell Bent for Leather from Judas Priest.
Herman Rarebell: "'Can't Get Enough' is simply by the end of the show, that we couldn't get enough of the music and we wanted to continue. That's what the song's about. And I think Klaus wrote some great lyrics there."
4. "Top of the Bill" (In Trance, September 1975)
Tribal and irresistible, this one sounds like classic early Michael Schenker-era UFO, not surprising of course, given that Rudolf and Michael are competing brothers of German metal.
Uli Jon Roth: "'Top of the Bill' was very much Rudolf's riff, a very typical Rudolf. It's almost like a German oak, totally clear-cut, power chords — nobody can do that like Rudolf (laughs). And it's incredibly Germanic, but it's also international, in a strange way. There's something compelling about it. Nobody can write these riffs like Rudolf."
3. "Lovedrive" (Lovedrive, February 1979)
Dense, tense, galloping, riffy and epic, "Lovedrive" is the substantive anchor track on this thrilling rock ride of an album. The guys are learning to lighten up on the choruses to be sure, but the rest is all guitar-charged business.
Francis Buchholz (bassist): "Regarding the title 'Lovedrive,' we were a little unsure if this word existed in the English language. But our German tour promoter, the famous Fritz Rau, who promoted The Rolling Stones at that time, liked the title, and we decided to go for it."
2. "Virgin Killer" (Virgin Killer, October 1976)
I'll never forget hearing this as a new release in 1976 at 13 years old. Bottom line, I thought it was the heaviest song ever, topping Black Sabbath, Judas Priest, Deep Purple and indeed anything from Rising or Sad Wings of Destiny. From this point forward, Scorpions held a special place in the blackened and angry metal hearts of me and my buds.
Uli Jon Roth: "It was basically me trying to be funny in the rehearsal room. Because we had just done the Kiss tour. We supported Kiss on their first tour in Germany, and we didn't know anything about Kiss (laughs). It was funny to watch them every other night because they were so, well, out there and outrageous. And their lyrics were also outrageous. So, in the rehearsal room I just jammed the riff, and I started singing to it in front of the band just basically making fun of Kiss in a way, 'He's a virgin killer.' And Klaus went, 'Hey, that's a great line; you should do something with that.' So, then I had the added trouble of trying to make a meaningful lyric out of that line, and it was quite a big challenge, actually; it gave me no end of trouble and headaches. But in the end, I was quite satisfied with the solution I came up with. Sure, the title was obscene, but the lyric is just the opposite of that. Virgin killer basically means the demon of our time, all the negative influences that come toward people when they grow up in society nowadays, and how people get corrupted by it. We're born in a pristine condition with a clear conscience, and then something happens and we get corrupted by the pressures of everyday life and society. And nobody escapes that. Nobody dies in a pristine condition. The virgin killer is the demon of the zeitgeist that kills people's innocence."
1. "The Sails of Charon" (Taken by Force, December 1977)
Quite simply, this is the band's "Stairway to Heaven," and everybody I respect is on the same (P)age with that assessment. It's the solemn and anchoring reason Taken by Force is considered by Scorpions purists as the greatest record the band ever crafted.
Uli Jon Roth: "Well, that was really my only venture into, I would say, the metal field. You know, a little bit of a Zeppelin touch there. And that's probably why it's such a favorite in the States, apart from the guitar solo. I mean, it's an interesting song. It's also been covered quite a bit. But it's not a piece that is close to my heart. It is, perhaps, more experimental. I was experimenting with those modes, and with the sheer heaviness of it. But it wasn't really... as I say, I don't think it really came out of my heart, you know? I don't want to disown it; don't get me wrong, but it's never been a song that's been all that close to me. The message of the lyric is simply an anti-black magic lyric; that's what it is. Like with all the stuff that I'm writing, I'm always trying to do something new, and then once I've done it, I'm done with it. It's part of the journey. So, I've never written another song like 'Sails of Charon.' I don't even know if it's a song. It's kind of like a theme and it's a little story. It was never really quite finished, I thought. But the thing that was new, if there was anything new, I think the guitar solo was maybe pointing to that fast Phrygian thing that was new in rock. To me, it was like taking a flamenco kind of approach to electric guitar playing. That's what it was: a flamenco rhythm. Yeah, it's basically metal flamenco. People don't know that, but I knew it."
Get Goldmine's Scorpions issue and its collector's edition bundle with alternate cover, slipcase and exclusive photo print (click below) as well!