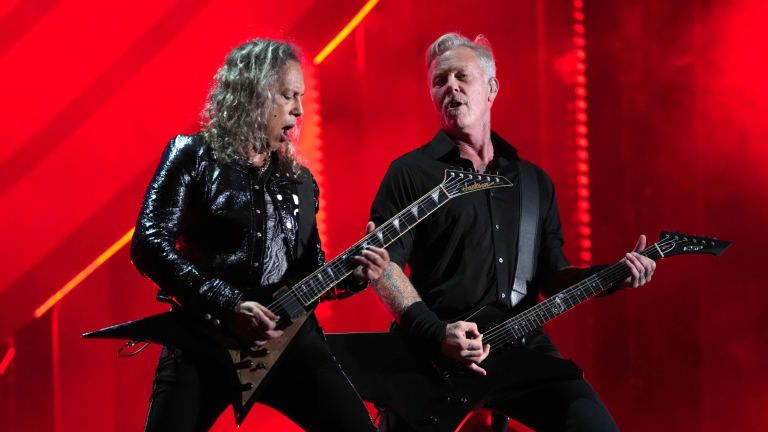 The Top 20 Metallica songs, ranked
Martin Popoff considers and then ranks the top Metallica tunes.
Get Goldmine Magazine's Kirk Hammett Collector's Edition Bundle of the June-July 2022 issue (seen below)! 
Goldmine created a limited-edition (only 200 made), deluxe collector's bundle for the issue featuring a hand-numbered slipcase that includes an alternate magazine cover of Kirk Hammett — only available in this package — and an 8x10" professional photo print EXCLUSIVE TO GOLDMINE of Kirk Hammett from August 1983 — a rare shot of the Metallica guitarist jamming in a small club in New York City, exclusively from photographer Frank White. Cover photograph by Frank White, too. Inside Hammett talks in detail about his debut solo album Portals, and his newfound love for progressive rock (and Jethro Tull!). That alone is a must read. But the collector's edition bundle is a must have for any Metallica fan! There are still some left, so order yours today! CLICK HERE
In recognition of Goldmine writer Martin Popoff's book Metallica: The Complete Illustrated History, we asked him to weigh in on Metallica, specifically what he considers to be the Top 20 songs of the band's crushing catalog that will most certainly give you 'whiplash." Surprisingly, the band hasn't made a ton of records, but they're long, and there's quite the bevy of EP and otherwise non-LP tracks along the way — in other words, lots to choose from. —Pat Prince
Hey folks, this was a ton of fun, because I'd weirdly never come close to going through this exercise ever before, whether it was a podcast episode, a video show or indeed in writing. As well, it's gratifying that without forcing the issue, I've come up with a list that mixes the old classics and many recent songs. Bottom line: this is a band both with superlative songwriting talent from day one plus an ongoing and celebrated desire to work hard, resulting in a lot of top-shelf thrashing for over 40 years at this point.—Martin Popoff
By Martin Popoff
Before we get into the top 20, here's what nets out as my 10 honorable mentions, in order from No. 30 through No. 21: "Leper Messiah," "Sweet Amber," "Disposable Heroes," "Hate Train," "Escape," "Wasting My Hate," "Metal Militia," "The Thing That Should Not Be," "Cyanide" and "That Was Just Your Life." Also of note, other than the non-guitar solo "Invisible Kid" and the first solo in "Master of Puppets," pretty sure all the guitar solos in these songs are birthday boy Kirk (metal's Mick Box!) and not James.
And here we go...
20. "Invisible Kid"
Other than a little too much sharing from James, I was never a hater of St. Anger. Even the famed oil drum snare sound, although distracting, is laudable along the lines of the narrative that Metallica was always looking for interesting productions. "Invisible Kid," due to the nu-metal brief, most notably the guitar sound, is a different kind of heavy and groovy for Metallica but I'm essentially glad it exists in the catalog. This song has a strange sort of Goth part in it that I can do without, but the rest of its eight-minute-plus duration sounds to me like a catchy headbanger of a Metallica song.
19. "Fuel"
Same kind of story here, with "Fuel" being a perfectly serviceable headbanger from a somewhat maligned album, Reload. Love the riff, love the production, love the chords and the switch-up in speed at the verse and the way it gets going immediately, memorably, with a vocal. Thoughtful, melodic late-breaking break too, and it's all over and done in under five minutes.
18. "Hardwired"
Here's a no-nonsense D-beat hardcore thrasher from the band's last album to date, now six years ago. It's the shortest song on the album, but commendably, nothing on Hardwired… To Self-Destruct is crazy-long. But yeah, it's just an exquisitely recorded rhythmic metal storm that takes us back to "Metal Militia" and "Battery," arguably a little too adjacent, but welcome all the same.
17. "Confusion"
Strength to strength, Metallica's most recent album demonstrates how these guys are simply the best at coming up with riffs that are pure heavy metal, yet accessible and melodic. Although, as is complained about most notably with the last two albums as well as …And Justice for All, there are a lot of riffs coming at you in all directions like Chinese throwing darts. But it's kept in check on this track, and they are stacked logically. And then there's James' succinct, effective and believable lyrics about a soldier returning home with PTSD.
16. "All Nightmare Long"
Sure, it's eight minutes long, but again there is a part you remember after you put your slide rule away, and that's the groovy, hooky, chorus, driven into the memory circuits by Lars' driving beat, topped by cymbals that sound like either a quick decaying crash or very open high-hats — or, given Metallica's meticulousness at recording, possibly a mix of both. Also adding to the excitement is lots of manic Kirk soloing, some speed metal bits and James "Quick Right Hand" Hetfield demonstrating his famous machined-tooled precision at rhythm guitarin'.
15. "Eye of the Beholder"
It's a labyrinth of a record, but Justice reveals sturdy logic after multiple listens. Perhaps most effortlessly deconstructed is "Eye of the Beholder," which, for the most part, trundles along at a comfortable speed with nicely structured vocal phrasing and choppy, rhythmic riffing that ascends and descends until it's stuck in your brain forever, amen. Late in the sequence, Kirk goes crazy with one of his ear-piercing CC Deville solos. I might be paraphrasing, but as Yngwie Malmsteen told my boss Sam Dunn when we were doing Metal Evolution, "How can less be more? Only more is more." Also of note is the sort of polyrhythmic slow section which sounds like three-four time even though it's regular ol' four-four, but with some math to it.
14. "Spit Out the Bone"
Man, this is a whole crazy-long debate, and even after I rant about it for 20 minutes, folks still might not buy into what I'm selling. But late-career songs like this by so many bands… I often put forth this argument that it's as good as anything from the classic era. But given that the context is all wrong, that it's not the glory years, no one cares. "Spit Out the Bone," like many examples I cite for this argument, is just an expertly crafted speed metal epic, not too, too fast, flexed with licks and supporting riffs, and then a signature wah-wah-crazy solo from Kirk, and even some of his Maiden-referencing stuff. Talk about remote: this is the last track on the band's last album to date, and the last seven minutes of a 77-minute metal journey that is just too challenging for many Metallica fans.
13. "Better Than You"
Who ever thinks about this song? Maybe everybody else is right and I'm wrong, but I've long confessed that all my favorite Pantera is the most commercial Pantera, all the groovy stuff. And it's the same thing going on here for me, from the whole black album through to Reload era, where I can't stand almost all the slow stuff but I dig this groovy, butt-shaking Metallica material. I just love the verse riff on "Better Than You," especially that little chug after James finishes with his lines. Then we get a little grinding, tribal respite for the chorus to break things up. Yeah, I don't like Metallica doom and I don't like Metallica ballads, but the sort of mid-paced melodic rockers, sure, give me more. And Kirk's solo at the mid-mark is tasteful, simple, composed and super-musical.
12. "Atlas, Rise!"
Dammit if we're not back to the most recent album for another guilty pleasure of a selection, the second track on the album, another comfortable and squarely mid-paced old-school heavy metal rocker. Marbled throughout "Atlas, Rise!" are parts and licks that prompt those arguments that later-years Metallica is like later-years Iron Maiden. But then there's also an exquisite recurring half-time section that demonstrate this band's ability to write what are essentially conservative heavy metal riffs that evoke a sense of quality that the listener might not feel when confronted with something similar from "the next four."
11. "Battery"
Here's the most old school thing on the immense Master of Puppets album, with songwriting so intuitive and comfortable now that one can just marvel at the absolutely locked-down performance and the uncompromising concrete-on-steel grind of the production. The frantic chord changes and James' staccato bark almost take this one away from signature thrash to the evolved punk that is hardcore, and we're all better for it. As Metallica gets more epic, it's good to see they can still get in the pit.
10. "Ain't My Bitch"
Hard to believe Bob Rock could improve upon the production job of the black album, but here comes Load and it's as powerful and pristine as the diamond-certified wonder but with an added bonus of freshness and eccentricity. This is all laid clear on Load's opening track, a mid-temperature hard rocker called "Ain't My Bitch." The bass wallows, Lars' cymbals and high-hats are piercing, and the guitars sit inside this with a sort of machine-like, industrial tone. Then the song takes over and it's happily mainstream. The bonus is Kirk's solo, where he utilizes a slide, although in his creative hands, this is no rote slide guitar solo, but rather something loopy and disorientingly wonderful.
9. "Jump in the Fire"
The Kill 'Em All album was all about these rich dopamine riffs. James was a little shouty, the production was fully competent but not interesting, and the songwriting was not what it became one short record later. "Jump in the Fire" is one of the songs that showed off the band's predilection for a glorious headbang of a riff, and not thrash, something closer to a combination of NWOBHM and the heaviest things we knew from the '70s. Again, butt-shaking Metallica.
8. "Seek and Destroy"
It's always a good thing when you can describe a riff as "marauding," and "Seek and Destroy" is just that, across a verse and chorus that are kinda the same thing. The Sabbath-like half-time bit is also marauding, but not the pre-chorus, which nonetheless gives the song contrast. In fact that contrast provides one of the first clues that Metallica have the potentially to write some really well-structured songs.
7. "Here Comes Revenge"
"Here Comes Revenge" is another example of a song where we get to see why Metallica albums emerge so far apart: it's hard to come up with riffs this good. But there's a surprise: it all drops away for a tribal, crouching verse upon which James croons quite clean. Then we're back to the majestic riffing and underpinning rhythm. Killer solo too, where he hear the Tony Iommi side of Kirk's persona.
6. "Enter Sandman"
Ah yes, the curse of the advance single. The Metallica album, although on paper being what the fans were yearning for after the hippie math of Justice, turned out to over-correct, winding up too doomy and slow. But "Enter Sandman" was perfect, with the guys bringing the diabolus in musica, the tri-tone, the devil's note, but at a wakeful enough mid-paced tempo. It was the obvious single, and it's kind of cool that it's called "Enter Sandman" and not "Off to Never Neverland."
5. "Master of Puppets"
I've got this as Metallica's best long song and that's not random: all the parts here, although often recurring, are welcome and sensible wherever they show up across this song's eight-and-a-half minute journey. There are many flash features, including the dropped beat at the verses, the sublime, Maiden-like mellow renaissance music bit, and then the pounding, slow build up to a return to the earlier celebrated cinder block riffing. I did a book called The Top 500 Heavy Metal Albums of All Time back in 2004 where the results fell out of a massive poll, and Master of Puppets won the whole thing — and this is the flagship song on the album, indeed, a microcosm of the album as a whole.
4. "Creeping Death"
Is this Metallica's best riff? Maybe so. It's simple and crushing of rhythm but it's got that little diddle, don't it? And it's so caked in distortion that the ears play tricks on you with respect to picking out whether it's exactly in tune or not. The climactic "Die!" section came from Kirk back in his Exodus days; in fact there had been a song called "Die by His Hand." Then there's the ominous closing section, which sounds like Angel Witch. It's arguably the most universally beloved Metallica song, their "Raining Blood."
3. "For Whom the Bell Tolls"
In the way that "Metal Gods" and "Grinder" demonstrated a new, elevated level of songwriting in the Judas Priest camp (but the rest of the album was worse than the '70s stuff!), so to "For Whom the Bell Tolls" gave notice that Metallica were quickly outgrowing any notions that they would remain a paint-by-numbers thrash band. It took bravery to play this slow and this simply, as demonstrated at the verses, but then come chorus time (and briefly in the intro), they deliver to us their most crushing Black Sabbath-like riff yet. Plus, of course, there's all the drama of the introductory movements — the song is two-thirds over before we get singing — as well as the pounding, artful close. Sheer metal genius. At this point, it was only a matter of time before the wider metal community would realize that the objectively best heavy metal band in the world had arrived.
2. "Fight Fire with Fire"
Are you starting to get the notion that Ride the Lightning is my favorite Metallica album? Well, it definitely is, and I'll never forget dropping needle on the opening track, of course at this point not being fooled by the doddering acoustic intro, knowing something a little more aggressive was about to arrive. I had no idea it would be the heaviest heavy metal song ever written up until that point in time, which "Fight Fire with Fire" most definitely was. It's super-thrash, to be sure, but the recording is crushing and the songwriting is sophisticated, with Lars moving the beat from snare on two and four to snare on one and three, and then cutting it in half twice for the chorus structure. To my mind, they never wrote a thrash song this perfect and convincing — and yet violent and alcohol-fuelled — ever again.
1. "Ride the Lightning"
I'd venture to say that Ride the Lightning has at least two, if not three songs more famous than its own title track. But then again, I think this is the most interesting song on the album, beginning with the apocalyptic introduction and then verified by the utterly innovative verse section, where Lars brilliantly lays off the bass drum. The minimalism is then tempered — or contrasted — by some good ol' thrashing, but it's all quite fleeting, broken up by all these strong rhythmic segues. I also love how the guys tear into a final, unexpected verse after all the mayhem, and then close it out with the same killer idea used at the outset. All told, Master of Puppets may be the most universally heralded of Metallica albums, but the initial fire comes on Ride the Lightning. Furthermore the band felt strongly enough about this crushing classic song to make it the title track, high praise from the far-and-away conquerors of the "big four."
The Goldmine store is a music collector's one-stop shopping of vinyl, CDs, box sets, collectibles and Goldmine-only exclusives. Click HERE to visit!