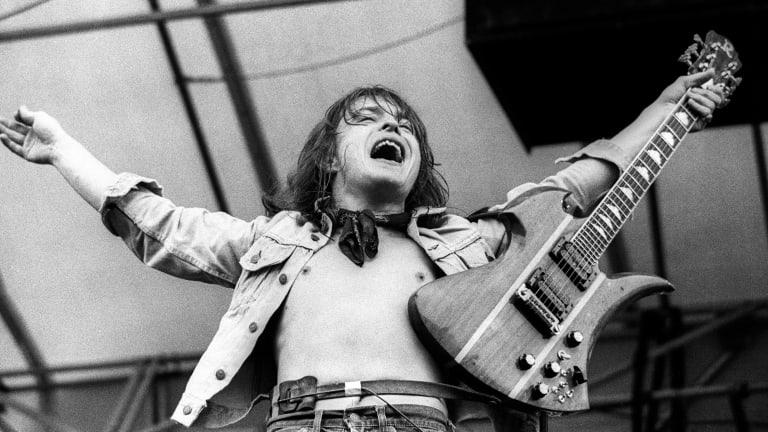 Top 20 Rick Derringer songs, ranked
Listen and learn the Top 20 songs by rock and roll gunslinger Rick Derringer
Get the latest compilation of Rick Derringer's hit songs on purple vinyl in the Goldmine shop
By Martin Popoff 
After making beautiful (hit-single) noise with the likes of The McCoys ("Hang On Sloopy") and Edgar Winter ("Frankenstein" and "Free Ride"), guitarist Rick Derringer went on to gain success with his own band. Of course you've heard the song "Rock and Roll, Hoochie Koo" (It reached the U.S. Top 30) and other rocking songs written and played by the gunslinger,
Below are hand-picked and ranked songs for Derringer's Top 20 songs. You might agree, you might not. But that's the fun of it.
20. "Keep on Makin' Love"
We start with the rock-solid Sweet Evil album, covered with interviews from all four dudes in my book Ye Olde Metal: 1977. Here's your basic slow-burning Aerosmith funk rocker, delivered with sass, Vinny Appice doing that slow yet muscular drum thing he does so well. Rick turns in a pretty noisy but wah wah-blessed guitar solo over the geometric pattern used for the verse, but there's a respite in what the band does for the chorus, where the guys throw in some high dynamic stadium rock chords. Not sure how sturdy the song stands up on its own, but it is perfectly integral to the album. In other words, Sweet Evil kinda needed one of these.
19. "Attitude"
If I Weren't So Romantic, I'd Shoot You is billed as a Derringer album, but Vinny and guitarist Danny Johnson are gone, with the band essentially being Rick and Kenny Aaronson from the previous incarnation, plus drummer Myron Grombacher, soon to achieve some level of stardom with the Pat Benatar band. Additional rhythm guitar is provided by Mark Cunningham and Dan Hartman, the latter also providing some piano and organ. Anyway, this acceptably heavy, almost punk rocker of a track is written by Kenny at the music end, and Myron for lyrics, and it's presumably Myron singing it, in an appropriately punk rock manner. I mean, the recording is so clean, and Rick's guitar chord choices so sophisticated, outside of the vocal, it doesn't really sound punk, but one could imagine this with dirtier production sounding like a considerably heavy punk rock song, perhaps not on the first Dead Boys album, but maybe the second, which came out in 1978, same year as this record.
18. "Monomania"
Speaking of punk rock, here's Derringer doing completely nerdy new wave, complete with slowed-down voices, sped-up voices and a bunch of futuristic ear candy. The music this time is by Rick, but again, Myron provides the lyrics, although he doesn't sing this one. It's an almost absurd novelty tune on a record that is lighthearted and action-packed often, thoroughly less serious than Sweet Evil, and so actually quite potentially hit-packed. Really, it's hard to believe that Columbia couldn't mine this for a bunch of radio singles, as Derringer executes probably the smartest, most viable and most user-friendly transition from the mid '70s rock to the new radio realities cased by The Cars, The Knack and The Romantics of any of the usual suspects in need of a haircut.
17. "Don't Stop Loving Me"
Not what you would expect as an opening track on an album like Sweet Evil, "Don't Stop Loving Me" is a syrupy sweet yet energetic pop song, kind of like "Let Me In" and dare I said, "Hang On Sloopy." It's the only song like this on the entire record, and something more akin to lighter moments on Guitars and Women and thoroughly light followup Face to Face. But because the band is so on fire, so assured by this point in terms of the lineup, it's easy to cheer this song on, aided and abetted by the fact that the capable Jack Douglas is at the helm producing.
16. "Sweet Evil"
Thoroughly uncharacteristic of the party rock band we know and love as Derringer, this is a creepy, dark blues ballad that gets heavier as the devilish story commences. Indeed, at the four-minute mark, the guys break into a speed metal section that features the most modern and Judas Priest-heavy riffing we'll ever hear out of this band. At one point, Rick mimics a police siren on his axe, as he solos his ass off before the song unwinds towards its uneasy close at which time it is presumed the band has sold its souls for rock 'n' roll. All told, the track adds dimension to an otherwise fairly straightforward album, and the fact that it's the title track lends it that extra bit of occult magic suggested by both the lyrics and the depressive music.
15. "Teenage Love Affair"
Here's an irresistible pop rocker rendered frantic and punky on the Derringer Live album from 1977, originally showing up on Rick's debut solo album, All American Boy circa 1973. The lyric is a bit of a mystery. We don't know what happened after this teenage love affair, but fortunately Rick finds out that "there's a lotta sexy girls out there." In any event, the music matches the lyric perfectly, being good ol' teenage rock and roll, nascent boogie with a polite nod toward a heavy metal future, just like any number of Kiss songs that were to arrive en masse beginning the following year.
14. "One Eyed Jack"
The verse on this mid-rocking Sweet Evil track ain't much to write home about, but the chorus is wonderfully atonal, like high-falutin' Aerosmith or Cheap Trick, inspired by The Beatles. The intro is maniacally jagged as well, and both of these parts compete with the sort of stripper rock verse throughout the song, dressed up with guitar soloing and propelled along lasciviously by a great groove out of Kenny and Vinnie. In fact, the song serves as a pretty cool history lesson in terms of hearing Vinny's signature ability to play slow, as we'll hear much more famously throughout the Dio, Black Sabbath and Heaven & Hell catalogs.
13. "Beyond the Universe"
This is by far the most progressive heavy metal song — in fact the most progressive song and the most heavy metal song — on the otherwise pretty poppy self-titled Derringer debut from 1976 (which looks like a country western record). It's also very much in the orbit of Jimi Hendrix and label mate Frank Marino, with the vocal twinned to a lead guitar lick. It's essentially a speedy showcase for both riffing and soloing, also including a bunch of machine gun stops and starts, and even a drum solo from Vinny. And the central riff is indeed otherworldly, beyond the universe. The sum total is a song that is probably the most eccentric of the catalog, and apparently beloved enough by the band to include on their live album. Why isn't it higher on my list? On paper it should be, because it sounds like a 1970s version of Voivod. I guess it's because its sort of acid rock vibe always kind of creeped me out.
12. "Sailor"
Here's what is perhaps the song on the self-titled debut that is easiest to love, although opener "Let Me In" takes no effort either, with its dependable "Hang On Sloopy" Kinks chords. "Sailor" is a little more uptown than that, into the note-dense funk rock realm of the Rick Derringer trifecta discussed at length further up this list. "Sailor" sounds like happy Aerosmith and happy Foghat, Rick, massaging in some nice details like wah-wah pedal and professionally executed rhythmic punctuations. Quite a lot to the construction of this one actually, with the chorus built of big hanging chords, which quickly transition into a tiny boogie placed delicately on top of a disco beat. Yes, I would say that's pretty much everything but the kitchen sink. Unsurprising that this one was included on the live album, because it definitely sounds like a hit single in waiting, hitting a lot of those marks Randy Bachman of BTO sez should be part of hit songwriting.
11. "Guitars and Women"
Breaking the rule ever so slightly here, but I've always considered the Guitars and Women album, credited to Rick Derringer rather than Derringer, pretty much a Derringer album for a couple of reasons. First, it's very similar stylistically to its predecessor, issued just the year before. Plus it's the same damn band: Rick, Kenny and Myron, with a few guest stars. So that's my story and I'm sticking to it. Anyway, the title track to this 1979 record is a smart, sassy, swiftly-moving power pop delight, which would've been an effortless fit to the last record. Todd Rundgren's production is nervous, high-strung, exactly what he would bring to Cheap Trick on Next Position Please. The melodies are exquisite here, recalling all your '60s favorites (and for some reason, Roy Orbison), and the lapse and collapse into halftime for the cheeky chorus is positively sublime. Of note, I was pretty close to including "Man in the Middle" as a second lighter song from this poptastic album.
10. "If I Weren't So Romantic, I'd Shoot You"
This gorgeous pop ballad is a collaboration, music by Rick with lyrics by Alice Cooper and Bernie Taupin. Which makes a lot of sense, because it's got that macabre but harmless humor we get from Alice. But what's strange is that the final result sounds like a Warren Zevon song, and of course on this record, Rick covers Warren's second biggest hit "Lawyers, Guns and Money." So, "beyond the universe," as it were, there's kind of two Warren Zevon songs on this record or… maybe a half dozen! Depending on how much Warren you ascribe to the likes of "It Ain't Funny," "Rocka Rolla," "EZ Action" and "Monomania." But yes, this is politely smart both musically and lyrically, but not particularly showy, just well-crafted.
9. "Let's Make It"
This is one of those interesting politely performed speed metal songs that barely sounds heavy, of a sort that we heard elsewhere around this time, definitely with Ted Nugent's "Turn It Up," Starz' "X-Ray Spex," but also with the likes of Montrose's "Jump on It," although that one came off comparatively a little heavier. However Derringer do heavy things up, interestingly with the pre-chorus as well as the chorus, each getting more progressively intense over the chicken scratch verse structure, until by the close of the song, the guys are pretty much slammin'. There's a lot of Aerosmith to this one as well, indeed, the narrative of the band at this point being that Columbia was having so much success with Aerosmith, that they wanted another one, and had Jack Douglas on the case producing the record. Rick Derringer somewhat resisted the ploy, as did Frank Marino. Fact is, however, Sweet Evil sounds very much like an Aerosmith album.
8. "EZ Action"
On a record full of polished jewels, this might be the shiniest, blessed with a smart ascending chord progression and artful transition between parts. Turns out Rick has the perfect skinny tie new wave voice (and kind of smarmy look, if you think about it), but then again, we knew that already back on All American Boy and Spring Fever. In fact, if you check out the cover of All American Boy, he's looking like a glam rock star from the U.K., circa 1972. Well, this album is produced by Mike Chapman, famous for his work with Sweet, Mud and Suzi Quatro, who Rick weirdly resembles on that shiny sleeve.
7. "Still Alive and Well"
This Rick Derringer composition first showed up on the Johnny Winter album of the same name, then Rick's second solo album Spring Fever. There's a direct throughput from it first toward "Rock and Roll, Hoochie Koo" all the way to "Sittin' by the Pool." The similarity is in the gleefully embrace-able funk metal of the thing, and really, as much as the Derringer Live album was a vehicle for the inclusion of "Rock and Roll, Hoochie Koo," it somewhat exists to reconstitute this song as well, and again, hearing both of them on one record stresses the similarity. It really is why the band could even justify a live album after only two records. A notable cover in our circles was by The Four Horsemen, who put the song as track No. 1 on their second album Gettin' Pretty Good… at Barely Gettin' By (an almost parallel situation saw Nashville Pussy cover "Rock and Roll, Hoochie Koo").
6. "It Ain't Funny"
Here's one of the heavier tracks on If I Weren't So Romantic, I Shoot You, but heavy is a relative thing on this record, which is just so beautifully filled up with deft nascent power pop that it charms its way past the more serious Sweet Evil into my heart as my favorite of the three Derringer albums proper. In any event, it's really only the chorus that is somewhat muscular, given how the verse is kind of goofy boogie rock. But we're faked out because the song actually starts with the chorus before we hear the first verse. Also, helping making the core sound heavy is that Rick's vocals are multi-tracked. And making the song seem perhaps more important than it is, is its placement as the first song on the record. How this wasn't issued as a single, I'll never know, but then again, there's a lot of competition on this album.
5. "Rocka Rolla"
I like a lot or love this record from start to finish, but late in the sequence comes this skinny pop confection, almost a novelty track given the elastic band riff and the little Devo synthesizer beeps and blurbs, not to mention the lyric, which is sort of in the tradition of songs about dance crazes. One of more than a few tracks on this album that sound like it could've been a hit for Cheap Trick or even Kiss, sung by Peter.
4. "Rock and Roll, Hoochie Koo"
This of course is the song that makes Rick Derringer, unfortunately, a one-hit wonder. The track hails originally from 1970's Johnny Winter And album or perhaps it's And by Johnny Winter. Next it shows up on Rick's solo debut 1973's All American Boy, and then occurs — completely necessarily — on the Derringer Live album. Part Pat Travers, part Foghat, part Aerosmith, the song is irresistible, gorgeously assembled, shameless with hooky action points. There's the chicken scratch guitar, the vampy lead into the verses, and the funk verse chords with the little heavy metal riff, between Rick's vocals. The bass line reinforces the funk, as does the loping, mid-paced beat, which kind of fakes the listener out: just like "Black Dog" there's so much excitement that the song sounds faster than it actually is. On Live, the three-minute song, despite being played faster, balloons out to nearly eight minutes, marbled by ear-scorching soloing, a whirling dervish bit of Yardbirds raga, a quick visit to "You Really Got Me" and then a bombastic close to wrap up the concert and the concert record.
3. "It Must Be Love"
Were you waiting for my contrarian nature to rear its head? Well, here we go. First off, again, this is from the album I technically consider a Derringer album, even though it's credited to Rick Derringer. What we have here is the heaviest song, pretty much from the entire Rick Derringer canon, and suprise, it's written by Rick Nielsen of Cheap Trick. If you know your stuff, you might notice the line, "I love you honey but I hate your friends," which is the name of a Cheap Trick song. What's more, Rick sounds pretty much like Robin Zander when he shouts it. But yes, this is a grinding, heavy rocker, astonishingly gritty for this record, or in fact any Rick Derringer record. Yes, Myron is drumming, but on bass, that's Kasim Sulton from Utopia.
2. "Need a Little Girl (Just Like You)"
And surprise again, like manna from Heaven, Guitars and Women includes another song written by Cheap Trick's Rick Nielsen, which is… precisely the second most heavy metal song in the entire Rick Derringer canon. And what's incredibly amusing is that the drums sound like Bun E. Carlos, Rick sings it like Robin Zander, the bass sounds like Tom Petersen in gnarly distortion mode, and the guitars, sure, they could pass for the work of Rick Nielsen, although that's the diminutive Derringer, of course, doing the guitars as well as the bass and vocals. On drums is Grombacher, who of course was there replacing Vinny on the previous album — Vin and Danny, from the original Derringer lineup (with Jay Davis) is off trying his luck with a new baby band called Axis, issuing It's a Circus World in 1978. But what a killer, pounding, heavy metal song this is, made all the more malevolent by a little bit of the devil's tritone to the thing, not to mention, again, Todd Rundgren decisively shifting to heavy metal production just for this song and the other Rick Nielsen belter on the record.
1. "Sittin' by the Pool"
Here's the Derringer band's epic achievement, "Rock and Roll, Hoochie Koo" on steroids, the swaggering king of kings throned upon the Derringer album that can pretty objectively be called a rock and roll classic. For the opening sequence, Rick impressively channels Jimmy Page before going sweetly jazzy and then exploding into the triumphant verses with the rest of the band, namely Danny Johnson, Vinny Appice and Kenny Aaronson. The chorus is arena rock at its cold beer best, with both the music and the lyrics evoking the same vibe as Joe Walsh classic "Life's Been Good." Late in the action there's a musical break that manages to be mathematical and effortlessly catchy at the same time. It's sort of a return to the plaintiff Middle Eastern strains of the introduction, but this time with a beat. The sum total of this, added to the other sturdy parts, as well as the smooth transitions between them, combines for a demonstration of songwriting prowess that should have made this song a massive heavy metal anthem for the ages.
Get the latest compilation of Rick Derringer's hit songs on purple vinyl (shown above) in the Goldmine shop