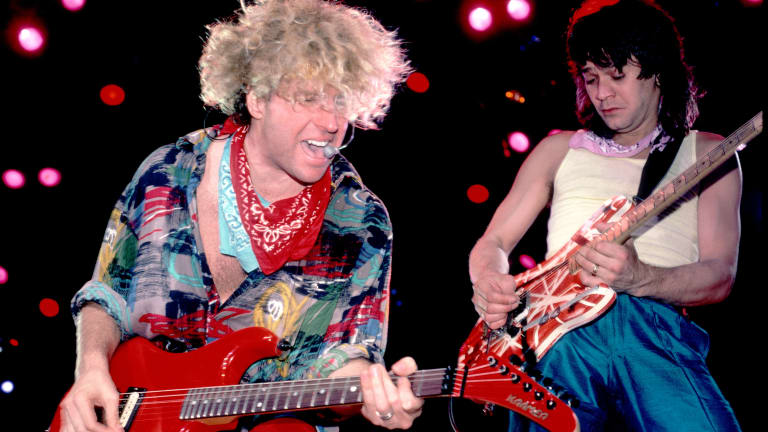 The Top 20 Sammy Hagar-Era Van Halen songs, ranked
As a pool for our picks we have four Sammy-era Van Halen studio albums and a few extras.
By Martin Popoff
Hot on the heels of our celebration of David Lee Roth's birthday comes another reason to party, and that's Sammy Hagar's birthday, with the Red Rocker turning 75. So here at Goldmine HQ, we figured we'd have long-time Goldmine writer and two-time Van Halen book author Martin Popoff whip up a reverse top 20 ranking of the tequila king's best songs conjured with Eddie, Alex and Mikey. Enjoy! —Pat Prince
Yes indeed, so as a pool for our picks we have four studio albums and a few extras. Common lore has it that Van Halen with Diamond Dave is the real deal but there are armies of fans who would argue to the death otherwise, that Sammy took the band to the next level. Helping you decide for yourself is the following list, which you then can put up against the Diamond Dave one from a few days previous. Compare, contrast, rinse, lather, repeat.—Martin Popoff
20. "Amsterdam"
The lyrics are kind of phoned-in, but "Amsterdam" is a great, later example of funky Van Halen chemistry, recorded exquisitely, with Alex mathematical and elliptical and Eddie matching him for creative fearlessness. What's more, it's got a nice, uplifting wall-of-sound chorus. As well, this is a prime example of a Van Halen song that is written short but you throw your hands up in the air like you just don't care because you want to hear these wizards jam.
19. "Crossing Over"
This epic and atmospheric Japanese bonus track was also used as the B-side to the "Can't Stop Lovin' You" single. Eddie wrote it in response to a friend who committed suicide, but after the death of manager Ed Leffler it was reworked with both versions Frankensteined together, including both electronic and acoustic drums. To my mind, this is the most experimental song the band did with vocals during the Sammy Hagar era, and I qualify it like that because there are a handful of songs as weird with Dave singing. Psychedelic, sombre, Zeppelin-esque and extremely rhythmic.
18. "Right Now"
I feel there's a sense of duty putting "Right Now" onto this list somewhere, but to be fair to myself, I've noticed lately that there are a lot of fans that don't like this song. So call this a sort of compromise including it but low in ranking, because I'm ambivalent as well (I kinda feel the same way about it as Aerosmith's "Living on the Edge"). Still, "Right Now" was a massive song for the band and the video is woven into the fabric of American pop culture, although, granted, these things fade. Personally, I think it's a well-written song and it's pretty brave and I love the way it sits on this otherwise relentless third record of the Sammy era. But my favorite part is not the socially conscious lyrics or the vocal or the piano, but the interplay between bass and drums.
17. "Runaround"
When I listen to "Runaround," I marvel at how strong and driving the beat is, then following up with the thought that as heavy and as groovy as Van Halen usually is, "driving" isn't a term that I would use for too many of their songs. I love the tempo as well and the extra Bonham-esque pound out of Alex at the chorus. All told, the song contributes toward making For Unlawful Carnal Knowledge my favorite album of the Red Rocker era, through the song's placement so close to the core heavy rock mission of the record.
16. "In 'n' Out"
There's a bluesy structure to this one, but with Eddie's abstract, chromatic, glancing chords it's far enough away that you barely notice. I love how the beat falls away for the first part of the verses and then picks up with the band collapsing into a joyous swing. Later Eddie makes amusing howling noises on the guitar as well as providing a bit of wah-wah while Alex throws in some non-obvious bass drum and cymbal accents. A massive groove is achieved, part "Poundcake" and part funky like "Amsterdam" and ""Dirty Movies.""
15. "The Dream Is Over"
Here's a serious For Unlawful Carnal Knowledge track like "Right Now," only this one is uptempo and pulverizing of beat. Eddie's unremarkable poppy picked intro riff converts to aggressive but spare licks once Sammy starts singing, and then the song gets even more intense for the elaborate pre-chorus. The guys hold back on the emotionally fraught actual chorus all the way to the mid-way mark, at which time we learn that indeed the dream is over and it's time to dream another dream. We are left in a sombre mood after this successful dark heavy rocker, another song that helps make the band's 1991 album the most ambitious and substantive since the 1978 debut.
14. "A.F.U. (Naturally Wired)"
It stands for "all fired up," and that's how the band sound on this pure heavy metal rocker, arguably the heaviest song on the OU812 album along with trashy shuffle "Source of Infection" and "Sucker in a 3 Piece," which almost made mt top 20. But I love the fluid Allan Holdsworth-type riff, and the way it drops out for the verse, only to explode again after Sammy's ruminative musings. There's some nutty jamming later on and Alex's bass drum work is a thing of beauty.
13. "Take Me Back (Deja Vu)"
So here's a Sammy-era Van Halen ballad that I can sidle up to, given the fact that it's based on acoustic guitar rather than maudlin, hammy keyboard chords. In fact there's a "Going to California" vibe to this, from the complicated extra acoustic lickery and trickery to the heavy, anthemic and yet still melodic chorus. It's also allowed to breathe and take its time, so there are a few unexpected and rewarding chord changes as we move through the song. Sort of a campfire thing, which is unusual for Van Halen, outside of maybe "Happy Trails."
12. "Aftershock"
You know, so here's the thing. I don't always particularly buy Sammy when he's acting all serious about saving the world, but I do definitely buy Sammy when he's writing a serious, hurtin' love song, because he went through hell to get to what has now been a happy place for a long time, fortunately. Plus put on top of that the turmoil that the band was going through in the mid-'90s with the power struggles between Sam and Ed and then Ray Danniels management on top of that. Add it all up and this dark hard rocker is fully believable, adding gravitas to the Balance album where the more striving "The Seventh Seal" falls flat.
11. "Don't Tell Me (What Love Can Do)"
Book-ending "Aftershock" and all the emotions wrapped up in that one, "Don't Tell Me (What Love Can Do)" is even more intense, with Van Halen hitting us right between the eyes with a simple, stomping structure and not much of a riff but then killing us dead with their torrid chemistry, dressing it up for the thoughtful chorus and with Eddie firing off explosive licks all over the place. This is the song that had Van Halen fans wondering if the phenomenon of Seattle grunge had finally had some effect on the band.
10. "Summer Nights"
Here's a swaggering Sunset strip hair metal kind of thing from Sam's and the band's first album together, the Mick Jones-produced 5150, which hit No. 1 on the charts and is currently certified at six times platinum in the States. It's probably the song from the record that one could imagine David Lee Roth singing the most, given its beach vibe. You gotta love Eddie's couple of riffs, fully happy at the intro but then a little more snarling when Sam sings. Then there's a charming but goofball jam and we're back into the fun in the sun chorus, over and out.
9. "Feelin'"
Pushing seven minutes, "Feelin'" is a sort of melancholic heavy ballad, with the guys uncommonly introspective and perhaps telegraphing the end of the collaboration, with the brothers shortly thereafter putting up a wall between themselves and Sammy, with Mikey soon to be placed on Sam's side of the divide as well. The fast "Sweet Home Alabama" jam seems a little forced but soon that is over as we collapse into the emotive original premise along with an intensification toward apocalyptic musical passages sent Zeppelin-esque by "Kashmir" keyboard washes.
8. "Up for Breakfast"
Yeah, yeah, weird choice here, but I gotta go with my heart because, in fact, after years of listening to every Van Halen song too many times, over the last decade or so, it's the two late-period greatest hits album bonus tracks "Up for Breakfast" and "It's About Time" (both from The Best of Both Worlds; there's also "Learning to See") that I've played the most and enjoyed the most. To be sure, the lyric of this one is typical Sammy silly, but I just marvel at the carnal, crazy brown sound of the thing, augmented by that crushing low-frequency synthesizer pulse. What's more, I think this is the most powerful the band was ever recorded, molten, indicative of the insane amount of chemistry that has had Sammy swearing up and down for years now that Van Halen is the best band that ever walked the earth.
7. ""5150""
Yes, like ""Dirty Movies"" this one arrives with Van Halen already helpfully putting on double quote marks. What's interesting is that you expect an instrumental with a title like that but ""5150"" is not only a vocals song but the most interesting and ambitious on the album, with different tempos, sophisticated chord changes and just a general uncommon emotional tone, almost metaphysical and pondering and yet always joyous. It's a welcome change of pace inside of a record with a fair dose of adolescent stupidity.
6. "Judgement Day"
Is this the most kick-ass Van Halen song of the Sammy era? I certainly think so, and I seem to recall one or two other folks that I've done various audio and video shows on Van Halen saying as much as well (in other words, the idea is ossifying as part of Van Halen lore). It's certainly quite the statement coming in as track two after "Poundcake," which in turn follows upon a couple somewhat fluffy records in 5150 and OU812. But yes, up-tempo and loaded for bear, "Judgment Day" is both deadly serious at the riff end of things and, for that matter, when it comes to Sammy in both the lyric and vocal department.
5. "Poundcake"
Pretty cool that Van Halen and their label and management pushed "Poundcake" as a single, because it's pretty uncompromising and indeed challenging of texture, making it potentially hard to sort out across radio waves. It also starts weird, with Eddie famously on power drill, before the band kicks in with an impressive reclining panorama of heaviness. The song admirably finds new higher gears as it progresses and what emerges is a muscular and yet still creatively challenging Van Halen anthem, something dearly needed for the sake of the band's reputation at this juncture.
4. "It's About Time"
I stated my case for this song back at the "Up for Breakfast" entry, and then it's only natural that the less casual song of the two has got to vault higher up the list. Again, like its mischievous brother track, the magic isn't in the writing; it's in the delivery. Or if some of it is in the writing, then the idea is that Eddie knows that what he's doing at the verses is unremarkable, so he'd better step it up at the chorus, which is positively heavenly. And then because it's Van Halen, he steps it up elsewhere as well and then sprinkles guitar pixie dust throughout just to show who's boss.
3. "Humans Being"
The guys went through all sorts of hell cobbling this song together, "Humans Being" being the last thing Sammy ever recorded for the band, up into October of 1996. It was not intended for an album, rather for the Twister soundtrack record, a suggestion to the boys for some extra work (and substantial pay) from manager Ray Danniels. Eddie was walking with a cane, Alex was in a neck brace and Sammy's new wife Kari was pregnant, with the two living now in Hawaii. On top of all this there were squabbles over the lyrics, the title and where to record. In the end, a killer, dark, heavy track emerged, with "Humans Being" representing the band's late-period brown sound at its most seismic.
2. "Mine All Mine"
Since the day I heard this record back in 1988, "Mine All Mine" was the top-to-tails winner on the record, as far as I was concerned. I love the way it's written heavy but essentially is framed upon wall-of-sound double bass drumming and sort of slanted and enchanted keyboards/synthesizers. So it's a heavy metal song with a synth pop arrangement, I suppose. But the chords are dark and Sammy is getting all metaphysical on us, which is a welcome change from "Good Enough," "Get Up," "Inside" and "Best of Both Worlds." I also love the cruising yet contemplative chorus and Eddie's dogs-howling guitar solo. Really, it's just the complete package but at the heart of it, there's a modern rock creativity there that reminds me of "One Foot Out the Door" and "I'll Wait."
1. "Why Can't This Be Love"
Yeah, well isn't this a trip? The deft reader will note the conspicuous absence of any of the smash hit ballads from the Sammy era anywhere on my list. But then again, "Why Can't This Be Love" (dimly, with no question mark) is sort of one of those, and here it is at the No. 1 slot, my pick for the greatest song ever from the Sammy Hagar Van Halen albums. Why I love it so much begins with the groove, but then extends to the funky synthesizer sound and yes, even the chorus which is pure hammy pedestrian pop (but I surrender, to quote Joe Lynn Turner quoting Russ Ballard). What puts it over the top is the sophisticated, non-obvious, passionate and yet ponderous chord structure at the verses. As with "Jump" from the previous record, I was thrilled to bits enjoying this song with the masses. The added dimension is that "Why Can't This Be Love" represented a communal celebration of Sammy as an important addition to this iconic American institution of a band.