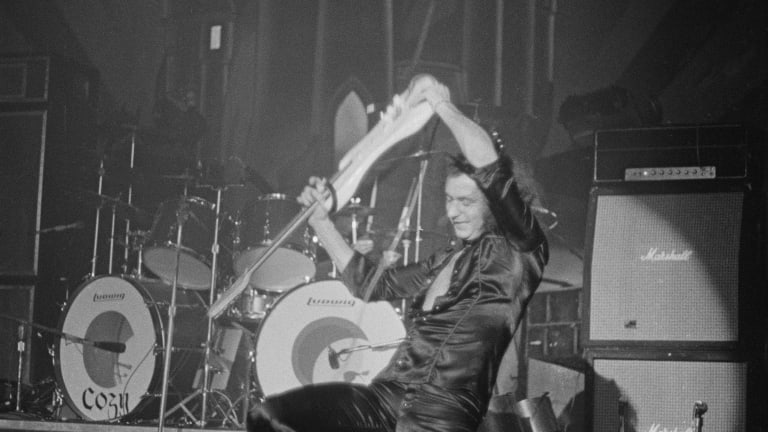 Top 20 songs by Ritchie Blackmore's Rainbow, ranked
20 songs are picked and ranked from each Rainbow album, classic tunes sung by the great frontmen Ronnie James Dio, Graham Bonnet and Joe Lynn Turner, and mastered by hard rock's Man In Black, Ritchie Blackmore.
Get Deep Purple and Ritchie Blackmore-related vinyl and collectibles in the Goldmine shop
By Martin Popoff
The following are the Top 20 songs by former Deep Purple guitarist Ritchie Blackmore's supergroup, Rainbow, which has been active on and off since 1975; beginning with immortal frontman Ronnie James Dio (1975–1979), then Graham Bonnet (1979–1980), Joe Lynn Turner (1980–1984), among others, including Blackmore's wife Candice Night. Besides the given vocalist, there have been numerous musicians representing the band throughout the years (too many to list).
For this specific article, it's the songs that are important — and here are the Top 20 Rainbow songs, ranked.
.
20. "Fire Dance"
Bent Out of Shape is the Joe Lynn Turner-era Rainbow album I buy into the most as a concept, indeed almost as a concept album, all regal, green, like its album cover. However, "Fire Dance" is a throwback to heavy metal tropes far beyond the reason I love this record so much. But that doesn't mean I don't thirst for songs like this, "Fire Dance" being bracingly up-tempo, evil of lyric and Middle Eastern of tonality. Also, at 2:21, it contains my favorite Ritchie flourish on the whole record, similar to a part on Judas Priest's "Freewheel Burning," which serves the same purpose and satisfies the same circuits. And after that, Ritchie goes crazy with a guitar solo, before we get that awesome lick again at the 2:59 mark. In any event, this is a heckuva headbanger, despite the prominent keyboards and despite Joe's mellifluous voice up top.
19. "Starstruck"
I've always said that for me, in terms of my own enjoyment, there's a glass ceiling on shuffles. Well, "Starstruck" is definitely a shuffle, but I love the theatrical chord changes, Ronnie's vocal and even Cozy Powell's aggression (specifically the double bass on the fills), despite the man's amusing inability to play a shuffle. For his solo, Ritchie goes with slide guitar, but even if you don't like that, he's firing off quite a few licks elsewhere in the song. Another funny thing about this one, I always thought that it would line up pretty good as part of the Heaven and Hell album, given an alignment of sorts with the likes of "Lady Evil."
18. "Self Portrait"
I always thought that this was the spookiest song on the 1975 debut, and it's also the proggiest and maybe even the most medieval, among a good four or five that lean that way. Not particularly heavy, this one lines up a bit with that idea that all of the ex-Deep Purple members seemed preoccupied at the time with this fussy sort of vaguely fusion rock. But "Self Portrait" is much more utilitarian than Paice, Ashton & Lord or God forbid, The Ian Gillan Band. There is an elegance to the song, through Ritchie's snaky riff, the three-four waltz structure, the tambourine accents and Ronnie's sorrowful repeated, "down, down, down" refrain. Best of all, it's not Elf-like, and like I say, quite scary. Not a fan of the guitar solo, but that's OK, because there's enough interesting Craig Gruber bass to keep any muso happy.
17. "Stone Cold"
Second record for Joe, but the first time we get to hear Ritchie writing like Foreigner, a band he was kinda jealous over, given their quick smash success. And he does a great job of it, interesting melodies, beautiful, subdued and tasteful guitar tone. Of course Joe can do Lou Gramm expertly, and is much more believable on this song versus, say "Eyes of Fire," although the ironic thing is, he actually got more into witchcraft than Ronnie ever did. Love the bluesy solo on this one as well, but it all would be for naught if the song didn't deliver some heft, which is certainly does come chorus time, where we get to hear Ritchie melding and welding to the keyboards of David Rosenthal, much like he did in days of yore with Jon Lord. Final nice touch to warm your cockles: when Bobby and Roger break into a polite trot for the outro choruses.
16. "Eyes of Fire"
I've always felt that both Straight Between the Eyes and Difficult to Cure felt fragmented, like Ritchie was trying to check off all the boxes. But "Eyes of Fire" is definitely one of those things you want on a Rainbow record, namely checking that "Gates of Babylon" box. As well, the reverse-fade intro is probably the most interesting music The Man Ray in Black would rayograph across the Joe Lynn Turner era, sweetly classical and Zeppelin-esque at the same time, before we calmly transition to the verses where Jersey Joe tries to sound all scary. But at 6:40 there's a lot to hold interest, including an insane amount of soloing, and indeed wanton noisemaking out of Ritchie across that ever-present almost flamenco rhythm from drummer Bobby Rondinelli and bassist Roger Glover, the latter of who also produces the album richly and correctly, much improved over the sound picture afforded Difficult to Cure.
15. "No Time to Lose"
Here's a raucous barroom rocker from my favorite Rainbow album, Down to Earth, from 1979. Graham Bonnet is a great match to this swaggering riff, one of Ritchie's circular things, last heard on "Sensitive to Light" from the previous record. The chorus is pretty much like the verses, but there's a break represented by the pre-chorus, and then at the two-minute mark, we get a solo section over an entirely new musical passage, first Ritchie, then Don Airey doing a sort of salon-rocking B3 thing. Also a nice touch rarely heard on Rainbow songs is the harmony background vocal refrain of the song's title while Graham vamps up top. Note: on the reissue, amongst a bunch of pointless instrumental outtakes, there's an amusing version of this song with alternate party rock lyrics entitled "Spark Don't Mean a Fire."
14. "Can't Happen Here"
I dunno, man, this always felt like one of the most grown-up Rainbow songs, certainly of the Joe Lynn Turner era. "Can't Happen Here" is actually an environmental protest song, filled up with all manner of descriptive travesty upon our planet, almost in list form. The band did a video for it, but a hit single it was not to be, the band having to wait one more record for some sort of response at radio. What's kind of cool is that the verse is a type of modern pop metal, but Joe sings gorgeously bluesy on top of it, almost as prompted by the odd bluesy intro to the song, an amusing sort of warm-up before it gets going. There's a strong chorus (with multi-tracked vocal), and Don Airey appropriately plays a sort of barrelhouse piano to the thing, as Bobby and Roger rock solidly and swiftly throughout.
13. "Desperate Heart"
Interesting, but this song predicts what much of Stranger in Us All would sound like, that being a "Ritchie Blackmore's Rainbow" album way up into 1995, from which I've picked no picks! But back in 1983, something like "Stranded," "Can't Let You Go" and "Desperate Heart" sounded fresh, novel, brave. This one's a sort of rarefied medieval pomp rock, with probably the best keyboard arrangement on a Rainbow album—most of the time we're hearing two sets of keys percolating along with what Ritchie is doing, which is a polite palm-muted rhythm track. Bass and drums are halting, again, creating a type of pomp rock rhythm bed. Up top, Joe is in his element as a vocalist, wrecked by love, singing over a dark blues, or more accurately, a bluesy sort of Renaissance music that we occasionally hear from Ritchie and no one else. Bonus 1: Ritchie's solo, at 2:49, is one of the most joyful examples of his occasional 'strangling the guitar" style. Bonus 2: check out Chuck's quick snare-to-high hat fill or lick or whatever at 3:11.
12. "Stranded"
Again, Bent Out of Shape is the album where Ritchie figured out this crazy idea of a commercial direction for himself, for which he could finally stake an identity. Placed as side one, track one, "Stranded" is a textbook lesson on leaving spaces, knowing when not to play. For example, the opening salvo in the verse is just guitar, bass and drums, and as we slide and sidle through time, keyboards are expertly woven into the affair, adding tension. By the time we get to the chorus everybody is a little more present, a little louder. In fact, there's kind of two choruses to this song, this one, plus a type of chorus "break," where the word "stranded" is shouted over and over again. Chuck Burgi's beat is always very simple, mid-paced, often four-on-the-floor, and it's only Ritchie as a soloist who gets to blow at any point. Basically it's this one, "Can't Let You Go" and "Desperate Heart" that define the album from the middle, with the rest of the songs being outlying variations on the theme.
11. "Sixteenth Century Greensleeves"
The title is confusing, causing one to think that this is the old folk tune of the same name. In fact "Sixteenth Century Greensleeves" is Son of "Man on the Silver Mountain," the second most directly heavy song on a record of confused, disparate directions. Ritchie's gorgeous, mournful, timeless yet antique melody is supported famously by Ronnie finding his dungeons and dragons purpose, with dancing around the fire and all that. It's weird, but the timid playing by the Elf band kind of works here to emphasize Ritchie and his power chords, which are put high in the mix, the sum total evoking a technique to which Bachman-Turner Overdrive ascribed, willing a song into heavy metal being by essentially erasing every performance except distorted electric guitar.
10. "Tarot Woman"
Side one, track one, and new guy, a young American as it were, Tony Carey was pleased as punch that Ritchie allowed him to open the record with a keyboard solo. But here comes Ritchie, reverse-fading into view with a machine gun riff, followed by a noisy Cozy Powell fill and into the song we go. At this point Cozy is drumming four-on-the-floor with Ronnie free to further build upon the world of wizardry he established on Ritchie Blackmore's Rainbow. Ask any ardent student of Rainbow, and after the two long songs on Rising, "Tarot Woman" is discussed as nearly as classic before enthusiasm gradually fades across tracks two, three and four of this record, an album generally considered the best by the band, although, against the tide, I've always gone with Down to Earth.
9. "Man on the Silver Mountain"
After the weird false start/genesis of the band marked by their cover of "Black Sheep of the Family," here's where it really begins—side one, track one, record one—with what is widely considered, by band and fan alike, as Rainbow's "Smoke on the Water." Note the weird keyboard sounds as well as the phase shifting at the beginning, both barely audible appointments that help put this quite simple song over, as does Craig Gruber's busy, old school bass playing on the track. All told, this is the most celebrated song on the debut, and undoubtedly one of early building blocks of a future genre called power metal.
8. "Kill the King"
This firecracker of a song first inflamed young heavy metal passions through its debut on the live On Stage album, but here it is opening side two of the band's third album, Long Live Rock 'n' Roll, exploding out of the gate after my favourite Cozy Powell fill of all time. Once the verses of this speed metal classic kick in, Cozy batters us with double bass while Ronnie sings aggressively another tale of medieval subterfuge, queens killing kings, possibly with the help of one of Ronnie's ever-present Merlins of mayhem. The solo section is a thing of heart attack madness, and then at the 3:10 mark, there's a modulation to another verse and high-energy chorus, before a dramatic snare drum-rifled lurch to conclusion.
7. "Gates of Babylon"
Replacing Tony Carey part way through, Canadian David Stone is the keyboardist of choice who gets to solo at the beginning of this late-completed track, when the band returned to the château in France to finish up. "Gates of Babylon" is Rainbow's "Kashmir," meaning that it's the closest they ever got to an epic steeped in Middle Eastern melodies. Everybody loves it, to be sure, but it's kind of bouncy, isn't it? Not particularly heavy, suffering a bit from the boxy, midrange production values across this record, courtesy of the late Martin Birch. Also pointing the compass toward "Kashmir," is the use of the Bavarian String Ensemble and at the lyric end, Ronnie's tale of mystical Egypt sung with actorly aplomb.
6. "Danger Zone"
Those who see me rail on about this on various YouTube videos know that it drives me nuts when people call Down to Earth some sort of poppy commercial album from the band. To my mind, it's heavy, Egypto-riffing tracks like this that people forget about, perhaps faked-out by the flashy title. But fact is, "Danger Zone" would've served as a highlight on Rising or Long Live Rock 'n' Roll, given its drama, given its whirling dervish melodies, especially come the solo section, where we are way beyond the "Gates of Babylon." To be sure, the lyric is more of a boy-girl thing, but it's obscure, poetic. And hey, put that aside, and you should be able to meet me at least half way in agreeing that this is one of the great Rainbow moat rockers of all thyme.
5. "Lady of the Lake"
Great song as this is, it's always denigrated as being derivative of Led Zeppelin's "The Wanton Song." And then up into 1992, Black Sabbath regenerated the riff for "Master of Insanity," but then again, Ronnie is back in the band at that point. Still, "Lady of the Lake" is a masterpiece of pregnant pauses, spaces, Cozy laying back and keeping it simple to the point where half the song is defined by Ronnie's vocal melody, which is supported by guitar sounds from Ritchie that can best be described as sighing, or in fact as articulated through the half dozen things that Ronnie says during the first third of the song. Then the band transition to a very melodic chorus, but melodic in a very classical sense, as Ronnie builds towards putting a name to the seducing siren of legend.
4. "Light in the Black"
Shockingly, Ronnie expressed to me once the distain he had for this song, considering it an excuse for gratuitous soloing from Ritchie and Tony, while Cozy thundered away on the double bass drums, somewhat pioneering the form. But of course, it's one of the very top Rainbow classics, and an early example of speed metal en route to being an influence on thrash. Originally titled "Coming Home," the final version is a relentless eight minutes long, and yes, it's got a massive stretch where Ritchie and Tony do legendary battle, leaving Ronnie to sip on a beer behind the amps. Indeed, are the lyrics about Ronnie wondering what he's doing here, "reaching for somebody's star?" Ian Gillan himself wrote about the Man in Black in veiled terms, so it's not out of the question.
3. "Eyes of the World"
Pounding and triumphant, "Eyes of the World" is further proof that Down to Earth isn't some sort of commercial sell-out from Rainbow, which way too many people seem to think, pretty much, I surmise, because of "All Night Long" and "Since You Been Gone." Nay, in fact, what we have here is a committed and creative heavy metal riff from Ritchie, and to boot, one that is wholly consistent with his mystical and Moroccan Man in Black nature. The foreboding lyric is kept vague and universal, albeit also worldly, societal and political, and Graham delivers it just as wizardly as Dio might. As the song trundles forward like tanks through the desert, Ritchie and Don Airey conspire to turn it into signature classical music-influenced Rainbow. What's also cool is that Don Airey adds to the tradition of a keyboardist crafting a dramatic intro to a Rainbow song, like Tony on "Tarot Woman" and David Stone on "Gates of Babylon" before him. This takes up the first minute of the song, and then after the band crashes in, well, it's very much relentless top-shelf Rainbow without much variation for the remaining near six minutes, before a shotgun crack of a close, similar to the ending of "Kill the King" on the last record.
2. "Stargazer"
Broadly agreed-upon out there as the greatest Rainbow song of all time, it's certainly got the coolest intro, with Cozy going nuts on the drum while Ritchie executes an elongated string-scrape. Then we're into the expansive, panoramic song proper, over eight minutes of it, the band creating the other composition cited as the band's "Kashmir," which we've previously discussed also applies to "Gates of Babylon." Reinforcing that idea is Ritchie playing extremely slippery and Arabic, while Tony Carey does his best John Paul Jones. Lyrically, this is a vague—as Ronnie puts it—"morality tale," from an Egyptian slave's point of view, concerning a tower that is built from which a wizard will attempt to fly. It's a surprisingly brief bank of lyrics, and in any event, who can concentrate given all the crashing and bashing from Cozy? Attempting to keep things civilized is the Munich Philharmonic Orchestra, in conjunction with a strange keyboard instrument called a Vako Orchestron which is good for making vaguely Turkish sounds.
1. "Lost in Hollywood"
I would hope by now that my constant raving and railing on across various YouTube shows and podcasts about "Lost in Hollywood" being the greatest Rainbow song of all time is starting to sink in, dammit. No amount of description about the peerless class of this tune can live up to actually going away and playing the damn thing. Yes, it's got a horrible title, and yes, that's not Ronnie James Dio singing it, but where do we start? This is probably Cozy Powell's classiest drum performance of his career, from those manic single-stroke snare rolls to open the proceedings right on through. The verses are probably the most elegant, sophisticatedly melodic and still yet perfectly heavy metal that Ritchie ever wrote, widdly and note-dense until Graham sings, and then after that, just exquisitely hummable. But the parts are all examples of squarely upper-crust old-school metal, and the transitions between them are seamless and sensible and cogent together, building a song that is an artful alloy of classical music and eminently British heavy metal, graced with an ever so slight touch of the blues. There's Graham howling away with that legendary level of power, occasionally multi-tracked, occasionally supported by background vocals. At 2:19, there's a dramatic classical music section, which gives way to a completely new backing track at 2:50 over which Ritchie turns in one of his great composed solos, all exacting and powerful and tuneful, finished with some blues before the band crashes into another manor house verse. And then if by this point you haven't realized that four or five of the greatest musical passages across the Rainbow catalog have swaggered by unselfconsciously, the last 25 seconds find the band impossibly elevated for a spirited yet descending round of the track's central riff before closing purposefully, stylish, sudden and stunning. "Lost in Hollywood" does much of the heavy lifting towards making Down to Earth, in my opinion, to reiterate, the greatest Rainbow album of all time. 
Please, I beg you, for the sake of the children, go play this song from start to finish, as well as the other tracks from the record on this list. I swear you will come away with a renewed appreciation of this often forgotten dark horse record from the reigning Mozart of moat metal and his merry men of medieval machinations.
Below, Rainbow vinyl value, courtesy of Goldmine's price guides (based on near mint condition).