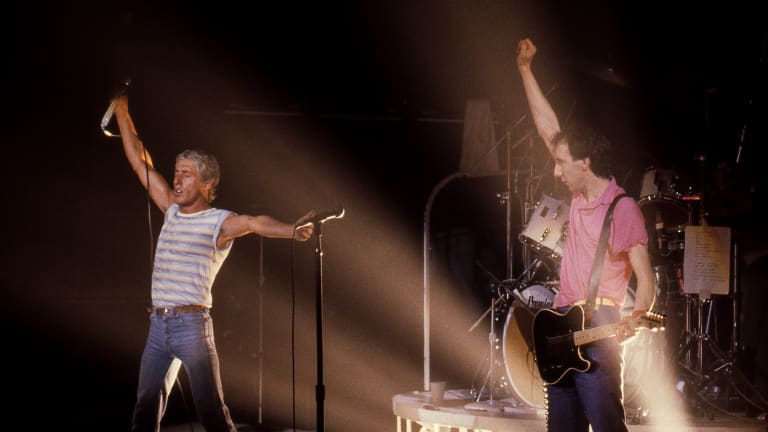 Top 20 songs by The Who, ranked
Goldmine contributor Martin Popoff presents his compelling yet (bound to be) controversial top 20 songs from The Who
Go to the Goldmine shop for The Who vinyl and collectibles
The following is longtime Goldmine contributor Martin Popoff's list of what he feels are the top 20 songs from The Who. We've noticed, by proxy, many big Who songs not included, but his arguments for these particular tracks are compelling enough. If not, time to smash some guitars!
Pretty, poppy early Who, "Sad About Us" hails from second album A Quick One and is a wistful and mature song for a band that were pretty much young punks when this responsibility-shirker of a home-wrecking record came out in 1966. One-half the reason I love this song so much is because The Jam covered it. But more so, it's the deeper connections with Mod culture while moving away from old rock and roll or R&B. It's in fact one of the band's most covered songs and it's a real stitch-up on both The Beatles and The Beach Boys, with Pete Townshend moving forward quickly like we knew he would.
19. "The Dirty Jobs"
So many Quadrophenia songs came close but they were generally just edged out — it's an album of such even high quality but not standout songs one at a time. This one's got the ensemble playing, with Keith Moon drumming a lot and Roger Daltrey bellowing, but also synths and strings and a certain resigned melancholy to the melody, perfect for the lyric, which is about having to take crap jobs. Augmenting the grousing are gorgeous steel guitar sounds on the break. In the end, this one presents itself like a Who Are You song, more '78 rather than '73.
I love the mix of garage rock, hepped-up snare on every beat and sweet harmonies on this Byrdsy song. It's an anthem, which is ironic given how delicate it is. It's a Kinks song as far as I'm concerned, which is high praise, because I much prefer The Kinks in the '60s to The Who in the '60s. From the My Generation debut, "The Kids Are Alright" wasn't issued as a single until months after the album came out. It's now considered part of Mod culture DNA.
17. "Happy Jack"
Even more Kinks in terms of pomp and circus pants, "Happy Jack" is goofy and giddy, featuring everybody singing except Keith, who distinguishes himself with a good dose of crazy-man drumming. It's famed for the "I saw you!" from Pete that can be heard at the end. This was directed at Keith, who was trying to weasel his way into the vocal on the song. As a side note, it's cool how the whole premise about sleeping on the beach links to Quadrophenia. But yes, my favorite thing about this is the establishment of the regal and formal British thing in terms of music structure and chord sequence that Pete would revisit regularly.
16. "Bargain"
I have to take this opportunity to explain that my inclusion of "Bargain" feels like a placeholder for the conspicuous absence of any tracks from Tommy. Indeed the song actually represents Tommy in some manner because the idea here is to celebrate that ragged separateness of the four personalities in The Who, exquisitely smashed together as a sort of drunken winner of a three-legged race or sack race, or even an egg-on-spoon race. For 1971, Who's Next is sod-bustingly and robustly recorded, with Keith captured exquisitely. Roger and John and Pete do their thing as well, and then at the lyrical end, we get a cool sort of double meaning: those who have ears might hear a love song, even though Pete was really talking about becoming one with God. But really, more than anything, it's one of a trinity with "Baba O'Riley" and "Won't Get Fooled Again" in aggressive construction of a record that is considered the greatest Who album of all time.
15. "Blue Red and Grey"
You would think the second most-played song on Spotify off of the slightly overlooked The Who by Numbers album would be "Slip Kid," but it's actually this song, with "Squeeze Box" far in the lead. Any day listening to Pete sing is a good day — he's the band's Randy Bachman to Roger Daltrey's Fred Turner — and as bonus we get Pete on ukulele with horn arrangement by John Entwistle mixed way back. To my mind, this is the start of the hallowed trinity Townshend gave us with Empty Glass, All the Best Cowboys Have Chinese Eyes and White City. Pete says it's about nothing, but the message that falls out of it seems to be about clarity through sobriety.
14. "Fragments"
This is the first track on a Who album I love to death, 2006's Endless Wire. It's a baffling record in composite, and "Fragments" is an enigma that serves as a microcosm of the confusion to come. There's echoes of "Baba O'Riley" along with progginess and rule-breaking when it comes to song structure. But it eventually breaks into a full-band song with Roger singing tenderly and one of the most magic moments across the entire Who catalog coming with the "snowflakes falling" passage. It's a beautiful, panoramic, ambitious opening to a record that is hard to understand and thus open to dismissal.
13. "All This Music Must Fade"
To let you in on a bit of a secret, "Beads on One String" from this 2019 WHO album was on the list near the bottom but got unceremoniously washed off by a flood of nostalgia by those non-contrary and early classics you see clinging to the back of our stack. But the opening track on the record, as well as the album's second single (I really didn't like first offering, Pete solo career retread "Ball and Chain") represents a sturdy inclusion. The lyric is cynical and honest with respect to the music industry, with the title hitting you right between the eyes. At the music and, it's an inspiring late example of Who chemistry, even if Keith and John aren't part of it. As the narrative goes, the WHO album is "comfort food," but really the guys are selling themselves short: this is a substantive album with all manner of surprising styles addressed.
12. "Won't Get Fooled Again"
Yeah, yeah, I know. On the one hand I'm being irresponsible putting the band's most explosive and culturally impactful anthem so far down the list, but at least I'm including it. Here's where I reveal myself as a very strange Who fan, more in tune with what came later than the cold and cranky stadium rock of the early days. I know Who's Next is unassailable as the greatest Who album according to them asses, but as an angry young metalhead throughout the '70s, The Who as hard rockers misfired for me in my very individual strange experience. Then again "Won't Get Fooled Again" is the quintessential example of the band as four distinct personalities making magic noise. It can't be ignored.
11. "Baba O'Riley"
I've got this absolute rock and roll milestone one notch higher than "Won't Get Fooled Again" in the battle of Who's Next songs because of its melody, its absolutely thrilling and innovative synthesizer loop and its freshness as an introduction to the record as the album's first track. Spotify numbers have it more than doubling "Behind Blue Eyes" and "Won't Get Fooled Again" and sure, with its "teenage wasteland" refrain, it possibly lunges above the album-closer as the greatest Who anthem of all time. In fact, impossibly, it might have more to do with the punk rock revolution of 1976 than "My Generation."
10. "It's Not Enough"
Back to the maligned Endless Wire album for a deep track, a tough, bitter love song with dark melodies and short phrases that are devastating daggers to the heart of love gone wrong. This powerful song is the most-played from this record, and perhaps that's an example of art winning out in the end. Or maybe it has to do with the fact that it's one of the longer and more traditionally structured songs on this labyrinth of a record. All told, Roger is exasperated as the actor of Pete's play, while the songsmith excels with layered acoustics and electrics across a plush palette of playing from God knows whoever else is involved.
9. "I've Known No War"
This strident and regal It's Hard track is another example of Roger passionately selling a Pete missive. This time the theme is plainly stated in the title, with Townshend explaining that life for him started after the last world war but the reality in the middle of the current cold war was that, in a flash, circumstances could be far worse than anything the "war pigs" managed in the past. Pete particularly likes is one still to this day, and indeed the presentation and progressive rock propulsion of the song recalls earlier anthems like "Won't Get Fooled Again," an effect hard won without Keith in the band.
8. "However Much I Booze"
Here's a great example of The Who playing full-band with all that full band chemistry but with the main guitar being acoustic, even if Pete fires off twangy licks in the background. Glyn Johns has mic'ed up Keith as good as he'd ever be, and the clarity and simplicity of everybody else (including no Roger bellowing), brings him up in the mix. At the lyric end, Pete skates across an ironically happy melody with an admission that his predilection for brandy creates a descent into hell. Again, it's the tender confessional things on this record that elevate The Who by Numbers at least as far as these ears are concerned, certainly over and above the reception I remember the record getting back in 1975.
7. "Imagine a Man"
Here's a gorgeous and strident acoustic song from Pete with spiritual lyrics sung tenderly by Roger. It's a lesser appreciated track from The Who By Numbers but it's a gem, tastefully recorded, with sort of symphonic "Bolero"-like drums from Keith mixed nicely in the distance. As for the literary substance, Pete bemoans the cycle of life of an ordinary man who is examining his back-story with some regret and learning something about his future in the process.
6. "Mike Post Theme"
Here's a joyous to the point of giddy number about rock and roll life at the top, where even at that level, problems with relationships threatened to bring down the whole house of cards. Roger is hilarious, expressing what that voice was built for —exasperation — while the band just keeps on keeping on. Pete provides charming backups and the overall delivery is equally sprightly and yet there are peaks and valleys. "Mike Post Theme" is just another irresistible piece of heart-on-sleeve writing from Pete that makes Endless Wire a record begging for a re-evaluation.
5. "Daily Records"
I've gone on record calling Face Dances my favorite Who album, and it's in large part due to songs like this, where Pete writes a lot and with meaning, much like he does on Empty Glass and All the Best Cowboys Have Chinese Eyes. But the beauty of "Daily Records" (beyond its sly and charmed alloy between pop and pomp and circumstance), is the fact that he involved Roger in the telling. As well, I'm a big fan of Kenney Jones' playing on this record, and very much on this song where we can hear both his sober use of tom-toms and his understated core rhythms. But again, bottom line, I'm won over here by Townshend's confessional, reflective lyrics applied to pretty — almost dainty — Who music, which, importantly, means that we get a dimension from Roger that is more thespian than when he's bellowing.
4. "It's Hard"
Like Face Dances, It's Hard has been rising fast in estimation in the hearts of anybody who gives a damn about The Who. Even the title of the record is pretty darn funny, and then, logically, so is the title of the title track, right? Then there's Pete's self-deprecating lyric, sung with a level head by Roger over chords that are in a dependable "Louie Louie" zone. But as you might have surmised from the entries you've read thus far, I love when The Who play very British, just like I do when The Kinks do this and when The Jam do this. So I well up with emotion when I hear the keyboard pageantry applied to the chorus of this song, Pete and Roger doing their thing together, telling us how very, very hard it is representing the upper echelon of British rock aristocracy.
At the lyric end, this song is amusingly inspired by Pete taking up a friendship with Steve Jones and Paul Cook from the Sex Pistols. In future reflections on this time, Townshend intimates that, pathetically, he turned out to be the worst mess of the three of them. In the song a policeman tells Pete, supposedly this big rock star, that he isn't going to arrest him if he could manage to walk his way down the street — "who are you" would become a central question for Pete as he soused his way into the next decade rudderless. On another level, as the last song on the album of the same name, it's Keith's parting shot, and indeed it's the song on the record where he's most Moon the Loon, fortunately captured vibrantly by Glyn Johns, even if Keith was half dead during the sessions. In fact the whole band is on fire, with "Who Are You" also serving as the last time we'll hear The Who and their legendary aggressive four-pronged chemistry tumbling down the elevator shaft. If all that isn't enough, there's the almost novelty refrain of the chorus as well as the anthemic dips and dives of the verse.
2. "You Better You Bet"
Previously immune to The Who's charms, I succumbed fully when I heard this exquisite piece of pop confection. "You Better You Bet" is the band's "Jump," meaning that it was shocking and irresistible at once. It's one of Roger's favorite Who songs because he likes the way the lilting vocal reminds him of Elvis Presley. Pete wrote it for a girl he was seeing on the side while his marriage wobbled, and there's a sense of transgressive, youthful excitement to the song. Adding to the high-strung nature is Kenney's beat, where the second expected snare whack is replaced by a tom. It was a big hit for the band, even while everybody complained, but again, like "Jump," it's an example of a band being bold and creative despite the howls of derision sure to come.
1. "Eminence Front"
Yeah, well, I'm as shocked as all of you, finding "Eminence Front" at the top of this list. What is, of course, gorgeous about the song is how completely un-Who like it is, especially with respect to its loping groove. More recognizable is the synthesizer loop, but applied here it sounds more modern than any time previous. And then I just had to have a song that Pete was singing as my top song, because I just adore his voice and really, truth be told, I worship his two solo albums during this period more than these two Who albums, which I also really like, although, again, more for the quantity and quality of the lyrics than anything else. As well, I'm pleased to put at the top of my list a song that features Pete as a guy who plays guitar solos. It's an odd thing, Pete and guitar, and what I like about what he does on" Eminence Front" is that when he solos, he's really being illustrative of what he's like as a rhythm guitarist at the same time. Finally, what I like about putting this song at the top of my list is the fact that "Eminence Front" is both a surprise and a smash single from a much derided album. It's also steadily risen in stature over time to become one of the band's most recognizable songs even though it's from an era in which any measure of the band's classic rock cachet was supposedly well behind them. Good art won in the end, which serves as an inspiration to anybody daring to serve the muse with as much dedication as exemplified by Pete Townshend.