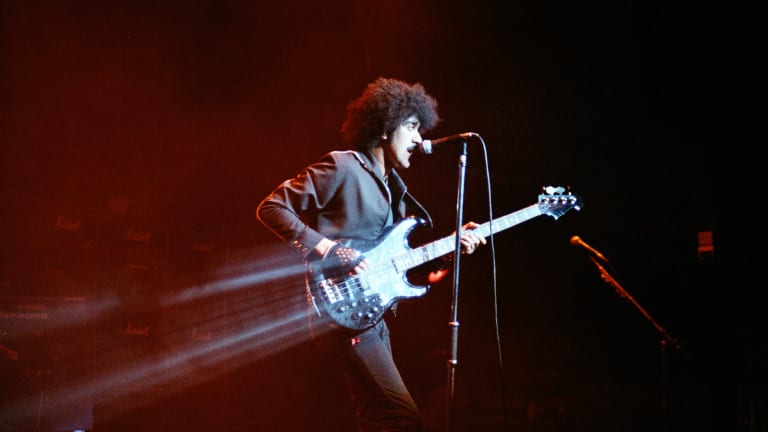 Top 20 songs by Thin Lizzy, ranked
A tip of the cap to Irish hard rock legend Phil Lynott and his band Thin Lizzy. Here are the band's best offerings, picked and ranked by author Martin Popoff.
Get Thin Lizzy vinyl, CDs and more at the Goldmine shop
In celebration of Irish hard rock legend Phil Lynott's birthday, Goldmine contributor (and six-time Thin Lizzy book author, depending how you count) Martin Popoff lists and then defends his 20 favorite Thin Lizzy songs.
Note: If it's anything like his ranking for The Who, well, fasten your seatbelts.
First, however, Martin does a straight ranking of the rest of the Thin Lizzy catalog —every last song including B-sides and a few demos (but not every demo) — from worst to 21st. Excuse the omission of double quote marks here. That would be a lot of quote marks!
— Pat Prince
Thin Lizzy's "Worst to 21st"
I Need You, I Don't Want to Forget How to Jive, Broken Dreams, The Farmer, Night Life, Blues Boy, Still in Love with You, Try a Little Harder, Me and the Boys, Eire, Old Moon Madness, Ray-Gun, Shades of a Blue Orphanage, Showdown, Memory Pain, Rockula, The Rise and Dear Demise of the Funky Nomadic, Sweet Marie, Mama Nature Said, Slow Blues, Sarah (Black Rose), Little Darling, Things Ain't Working Out Down at the Farm, Silver Dollar, Rosalie, Clifton Grange Hotel, Saga of the Ageing Orphan, Half Caste, The Hero and the Madman, Remembering Part 2, Sarah (Shades of a Blue Orphanage), Dear Heart, It's Only Money, She Knows, Blackmail, Borderline, Are You Ready, The Friendly Ranger at Clontarf Castle, Fanatical Fascists, Randolph's Tango, The Rocker, Dublin, Return of the Farmer's Son, Whiskey in the Jar, Call the Police, Frankie Carroll, Thunder and Lightning, Diddy Levine, A Song for While I'm Away, Philomena, Baby Face, Spirit Slips Away, Fats, Remembering Part 1, Romeo and the Lonely Girl, S&M, Downtown Sundown, Trouble Boys, Just the Two of Us, For Those Who Love to Live, Look What the Wind Blew In, Vagabond of the Western World, Ballad of a Hard Man, Fight or Fall, Having a Good Time, Sitamoia, Don't Play Around, Bad Habits, Honesty Is No Excuse, Black Boys on the Corner, Suicide, Angel From the Coast, Fighting My Way Back, Killer on the Loose, Dancing in the Moonlight, Sugar Blues, Boogie Woogie Dance, Chatting Today, Banshee, King's Vengeance, Gonna Creep Up on You, Sha La La, The Sun Goes Down, Johnny the Fox Meets Jimmy the Weed, Didn't I, Southbound, Holy War, Little Girl in Bloom, Don't Let Him Slip Away, Running Back, Dear Lord, That Woman's Gonna Break Your Heart, Killer Without a Cause, With Love, Heart Attack, Hey You, Opium Trail, Fools Gold, Soldier of Fortune, Hollywood (Down on Your Luck), Buffalo Gal, Leave This Town, Mexican Blood, Cold Sweat, Massacre, Don't Believe a Word, This Is the One, Someday She Is Going to Hit Back, Baby Please Don't Go, Freedom Song, Chinatown, Old Flame, Warriors, Sweetheart, Angel of Death and Cowboy Song.
20. "Rocky"
As the legend goes, most of Johnny the Fox was written by Phil Lynott in a hospital bed as he dealt with the misbehaving rock star version of hepatitis. But you'd never know it given how stadium rock the record is. "Rocky" is an interesting one because it's as much about the Brian Downey groove and Phil's marauding bass line as it is the band's celebrated guitars. It's also one of those where neither the verse chords nor the lyrics (about Brian Robertson) are particularly impressive, but you're won over by the transitions. Indeed the verses are overshadowed by both the intro riff and the heroic heavy metal bit we first hear halfway through. Soon we're back to another verse and we leave impressed at the totality of it, and then thrilled by the closing repeating guitar lick effect.
19. "Brought Down"
The earliest track in this top 20, "Brought Down" is from Thin Lizzy's second album, Shades of a Blue Orphanage. It's a gorgeous, gauzy progressive folk song — flamenco even — with somewhat of an explosion when we get to the electric chorus, although even when electric, the band is recorded so delicately and sympathetically we aren't shocked. The song is in pushed an' shoved 3/4 time (with added complication) and there's even a sort of proto-metal riff break, which dovetails with a solo that Eric Bell calls one of his favorites from his three records with the band. Consider this a placeholder or representer of the many fine folky songs spread across the first two records, notably "Chatting Today," also on this record of fine fettle.
18. "Johnny"
Brass on a Thin Lizzy rocker? Robbo was hesitant but was won over. In fact it's done tastefully, only briefly, perfectly placed in the mix, on a record that is arguably one of the best three sounding (along with Black Rose and Renegade) across the entire catalog. Speaking of "renegade," here's a classic story of a crime gone horribly wrong, with the protagonist robbing a drugstore for a fix only to get gunned down by the cops. Phil's tale is placed upon a musical presentation that is a prime example of the band's chemistry, wrapped up with a big red bow by Brian Downey and his Ian Paice-like grace and grace notes. You could put "Johnny" among the batch of Thin Lizzy songs that are more about bold open chords than tricky riffs. Whether a description like that sounds impressive or not, there are a pile of great ones like that, including, of course, "The Boys Are Back in Town." Finally, for the record, it has to be said somewhere in this article that a tale like this and a title like this put Phil squarely in that whole Bruce Springsteen oeuvre, one that includes Van Morrison, UFO, Elvis Costello, Graham Parker, John Mellencamp and — it pains me to say this — Bon Jovi.
17. "We Will Be Strong"
Pretty brave opening the Chinatown record of 1980 with a not particularly showy song like this, "We Will Be Strong" trundling on kind of melancholy, hard rocky but not riffy, subdued twin lead drifting in and out, Phil sounding more resigned to failure and worn down by mortality, with his inspiring lyrics ringing more like an empty threat. But everything we love about Phil in deep reflection is here, and set to a brisk beat, striving despite the turning of the tide. But this one is all about the vocal as well, with Phil putting on a clinic with respect to phrasing, articulation, syllables and the novel accenting thereof. Mournful chords give way to mournful twin leads and by the end of it we get a sense that Thin Lizzy is barely hanging on for dear life.
16. "Wild One"
If Nightlife's "Banshee" is Thin Lizzy's first great twin lead (and "Sha La La" the second), "Wild One" is surely a candidate for one of the first five or so as well, sent more sentimental due to its placement upon a stormy desperado ballad and also immediately upon the start of the song. Confirming my suspicion and anecdotal evidence that "Wild One" is steadily becoming a favorite among Lizzy fans is the fact that the Spotify numbers for this track are second only to "Rosalie" on the strong Fighting album, with the Bob Seger cover having the built-in advantage of being the first song on the album. Other nice features on the song are Phil's impassioned vocal, Brian's recurring wind-'em-up drum fill and then a later bubbly, burbly twin lead come solo time.
15. "Jailbreak"
"Jailbreak" is essentially Thin Lizzy's "Smoke on the Water," "Man on the Silver Mountain" and "Iron Man," in other words a famous song notable because of its riff. But it's faster than all three of those and it's got a chorus almost as heroic and inspiring as the band's other "Smoke on the Water," "The Boys Are Back in Town." The amusing part of the song that people tend to miss is Phil's warning that tonight there's going to be a jailbreak "somewhere in this town." But even if the location is sensibly predetermined, Thin Lizzy make sure that the soundtrack music to the bust-out itself is dramatic and violent, complete with sirens. Bottom line though, this is either the band's second or third most famous song, with all three contenders coming from the only gold record the band ever scored in America.
14. "Emerald"
Pretty cool that Thin Lizzy can craft and assemble an epic power metal masterpiece and the whole thing is over and out in four minutes, "Free Bird" jam included. "Emerald" is the heaviest song on Jailbreak and it's the most celebrated of Phil's Irish folklore stories. But it's the triumphant chord structure of the verse, along with two wicked later riffs that combine to make the headbangers happy. Aiding and abetting is the high cruise of Brian Downey's drumming, the signature being the rapid-fire work on the high-hat set against stuttering snare. Underscoring the epic feel is a dropout to a contemplative solo twin lead which gives way to a howling guitar duel that serves as a metaphor, one imagines, for the battle over the Emerald Isle.
13. "The Boys Are Back in Town"
Yeah, I know, I'm constantly getting heck for not tossing, as a rule, the big hits to the top of these lists, but I gotta go with my heart on these things. As much as I love "The Boys Are Back in Town," with its overt Bruce Springsteen vibe and its straight-between-the-eyes hanging chords come chorus time, a sober analysis of the song reveals jazzy verses not to my liking along with a reminder that I found the production of Jailbreak too trebly (see Caress of Steel and Sin After Sin). I just thought the band explored similar terrain with more creative success on a bunch of later songs. There are myriad reasons a song is a hit, but one of the meaningful ones here (i.e., less to do strictly with the music business) is indeed the song's polite straddling of pop hooks to hard rock, allowing the masses to walk on the wild side at the chorus, but then be placated with the happy and hummable twin lead as well as what happens in verses. Also, who can resist a lyric about the boys getting together and hitting the town?
12. "Genocide (The Killing of the Buffalo)"
Fans good-naturedly complain there are too many rounds of "killing of the buffalo" at the end of this song, but most admit it's a tour de force — when they think about it at all, given how Chinatown is somewhat overlooked, damaged by the narrative since the day it came out that it was only sorta average. Action-packed chords are set to a brisk chug as Phil delivers his words of lament, again distinguishing himself with his phrasing and cadence, as bonus, sticking in a second track of call and response and even harmonizing with himself. And that closing section folks grouse about? It's a carnal, rhythmic heavy thing that sounds like a clash of civilizations on the plain. And it's pretty proggy too, with dropped beats and key modulation, and even one of those false endings about a minute early.
11. "Toughest Street in Town"
"Toughest Street in Town" is one of the punkiest things Thin Lizzy ever did, evoking the Sex Pistols (mates of Phil's) with the slashing chords at the opening before everybody crashes in. In fact this one started with Gary Moore, who recalls writing the title, the main riff and a few lyrics in New York, with Phil chiming in at the lyric end and Scott coming up with the middle eight section. Brian plays punchy and punky while Phil spits lines out like a prizefighter after a big knockout win. Everybody gets together for a holler at the dependable "Louie Louie" chords of the chorus, and things get super heavy for the screeching solo section. There's a modulation for a later run at the chorus and Phil responds by being more frantic and exasperated during a surprise late verse.
10. "Bad Reputation"
As Phil said at the time, he had been enamored with the whole idea of bad reputations and he mused out loud that Thin Lizzy was getting one themselves, and so he was proud of his lyric on here and proud of the complexity of the song as well. "Bad Reputation" makes great use of the excellent drum sound the band managed to capture recording with Tony Visconti in Toronto in the spring of '77, with a credited Brian Downey getting to fill up all the pregnant pauses with his fluid snare, tom-tom and cymbal work. Outside of the drumming, this is the heaviest song on the album, nudging out "Opium Trail" and "Killer Without a Cause" because both of those have chewy centres. Not the case here as the band's all business, sounding as flash as Judas Priest was that same year.
9. "Do Anything You Want To"
If you think about it, Thin Lizzy didn't really have any sort of inspirational "The Boys Are Back in Town" anywhere on Bad Reputation or Johnny the Fox. But this opening track on Black Rose, sure. "Do Anything You Want To" has as its very subject motivation and inspiration, and the message is supported by chords, a twin lead and a perky drum beat that are each positively giddy. One additional accoutrement is the kettle drum part at the beginning, middle and end, at which point Phil tells us, "Elvis is dead, the king of rock 'n' roll is dead, Elvis is dead." As the music fades we (barely) hear, "I said one for the money, two for the show." Hitting the road, Scott Gorham and Gary Moore were called upon to play the kettle drum part, after which they had to smash straight into the opening twin lead with no time to spare. Both Gorham and Moore told me they were hugely relieved to see the song eventually get dropped from the set.
8. "The Pressure Will Blow"
Phil framed this heavy Renegade track as a love song, although he goes on to say that it's about a guy who catches his girlfriend cheating and then implores her to get the hell out before he gets violent. At the music end, "The Pressure Will Blow" is blessed by a gorgeous, swooping twin lead and a deft yet drama performance from Brian Downey that essentially finds him playing what is usually a high-hat part on the snare. In a general sense, what he does sounds a little bit like marching snare, but listen closely and you'll hear a constant metronomic high-hat part that is really Downey hitting the snare drum lightly. And then there's a typical snare whack along with snare grace notes. And of course all of this can be heard because Renegade is recorded with utmost high fidelity, muscular yet rounded and analog, with huge guitars, blobby, deep, rich bass and exquisite, strong drums. There's also a nice contrast between the spare chords and the geometric, half-time chorus, and then even more contrast between the threatening nature of the song in general and an embedded high, happy break where Gorham and Snowy White play a twin lead that sounds uncharacteristically prog.
7. "Roisin Dubh (Black Rose) A Rock Legend"
I've been won over more and more by this one with the passing years. It's always been up for debate whether Phil and the lads went over the top on this one, jumped the shark, as it were. At the music end, the idea was to include bits of folk songs (rendered on electric guitar) that represented all the nationalities in the band: Scottish for Brian Robertson, American for Scott and Irish for Phil, Gary and Brian Downey. But there's way more Irish than anything else and then the lyrics read like a shopping list of Irish legend. It's all set to some sort of heroic progressive, proto-power metal Irish thing with poor Brian Downey having to play his butt off pretty much nonstop. But the grousing continues: is it cool to flood us with so much information or was it somewhat classier for Lynott to reference his roots subtly whilst massaging in a bit more of a universal message, and then only here and there, once per album or so?
6. "Get Out of Here"
We've already talked about one fresh, vital, street-rocking song from this record, but here's another one. "Get Out of Here" opens with high-hat and stonking bass guitar, after which Brian hits a splashy crash and Scott and Gary enter the picture with the simplest of yawning chords. Phil hits us with a procession of lines that are all two syllables long before his musings become more strident. We are carried along into the chorus with the same wide-angled chords but there's no pre-chorus. Instead there's a post-chorus, which, just like the secondary part from "Toughest Street in Town," is as suitably punky as the main bit — different and yet complementary. These two songs are the roustabouts on the record, and Black Rose is infinitely better for their twinned inclusion. "Get Out of Here" is a co-write between Phil and Midge Ure, famed for Ultravox but briefly a touring member of Thin Lizzy.
5. "No One Told Him"
I feel I have to defend putting so much of the Renegade album on this list, and so I'll take the opportunity here to make a general point. Production kinda matters for me, and fortunately, most of the Thin Lizzy canon sound great. Conspicuously, however, Jailbreak, the album with all the hits, all those songs you expect to be at the top of this list, is the one I've spent my whole life finding lacking. I put it like that because the way these things work with technology and remixing, remastering, and reissuing, Jailbreak now has lots of bass compared to my original vinyl. But enough about that. Basically, I think Renegade sounded the best of the entire catalog right out of the shrink wrap and it has deeply introspective and yet easy-on-the-ears songs like "No One Told Him" that have stayed with me year in, year out, especially given the context that Phil's time with us would be limited and his time in Thin Lizzy, even more limited. Anyway, love this song to death, love the pert, new wave chords and the uncharacteristically poppy feel, the chorus, the emotional "Now when I'm down" break, as well as the joyous guitar soloing.
4. "It's Getting Dangerous"
The third book of my original biographical trilogy was called It's Getting Dangerous Thin Lizzy 81-12, and I continue to sign, variously, the books from the follow-up two-book version and/or the coffee table book, "It's getting dangerous" in homage to this song and just because that's such a cool title — and sadly prophetic when it comes to Phil. I mean, the long, last two minutes of this song represent the most glorious passage of Thin Lizzy music ever written and performed as far as I'm concerned, and I kind of wish it would have been the last thing we ever heard from the band (instead we got a whole extra record called Thunder and Lightning — not a bad deal). It's Phil at his most wistful, his voice worn down from drugs, and hey, the twin lead that we first hear at the 1:19 mark might be my favorite one of those, too.
3. "Got to Give It Up"
I guess I'm on record forever calling Renegade my favorite Thin Lizzy album, especially given that we did an episode of our The Contrarians YouTube channel saying as much. But the fact is, I've been known from time to time to call Black Rose my favorite, and as you can see, I've got five songs from that record in my Top 10! One of those is the immense and tragic "Got to Give It Up," set to strange, grinding, abrupt and almost untuneful chords for the verse and something almost directly opposite, blessed and sublime for the chorus. But it's those verse chords that have always transfixed me, and although this doesn't constitute much of an answer to the mystery, I'm going to quote the dearly departed Gary Moore, who told me, "There might have been some flanging on there. I know what you mean. And also the bass had a kind of flanging effect on it, nearly on the whole record. He always played through this particular effect, Phil, so sometimes things sounded a bit funny."
2. "Waiting for an Alibi"
Mirroring the punk pairing I talked about earlier, I've always viewed "Waiting for an Alibi" as a more melodic and accessible version of "Got to Give It Up." And it's the direct endorphin hit of its verse chords that tentatively put it a notch above for me, but then the magic pre-chorus goes ahead and settles it. Blessing the song further is the aggressive bass tone and performance at the beginning, the howling, clarion call twin leads that soon arrive, Phil's exactingly told tale about a gambling man called Valentino, and then the giddy closing jam, at which time Scott and Gary come up with a new, more cheerful twin lead. "Waiting for an Alibi" was issued as an advance single, arriving two months before the album. Sadly, it turned out to be the last song one could consider to be any measure of a hit for the band, with fully three records to follow unbothered by much success.
1. "Renegade"
Absolutely ridiculous, I know, but I'm going to have to hit you with this pithy thought: even though "Renegade" is my gosh-darn favorite Thin Lizzy song of all time, it's always reminded me of Kim Carnes' "Bette Davis Eyes," which had become a Billboard No. 1 hit by the time Renegade hit stores eight months after the Mistaken Identity album from Carnes. I'll try help you un-see that by extolling its godly virtues, beginning with the many tasteful, restrained but subtly varied tom/snare combination fills we get from Brian Downey. Dovetailed 'round Downey are regal, aristocratic twin leads that sound like paranormal ravens placing messages inside your brain. As frame to all this, simple, open-ended chords from mainstay Scott and thoughtful Snowy leave, in their wake, open-ended questions. There's a subtle reggae pulse at times, there are subtle keys from secret weapon Darren Wharton and there are epic, tumbling heavy parts and arrangements applied with genius. And if the closing strains of "It's Getting Dangerous" couldn't be the last we ever heard from Thin Lizzy, please let it have been the last approximately 1:15 of "Renegade," the greatest Thin Lizzy song of all time.