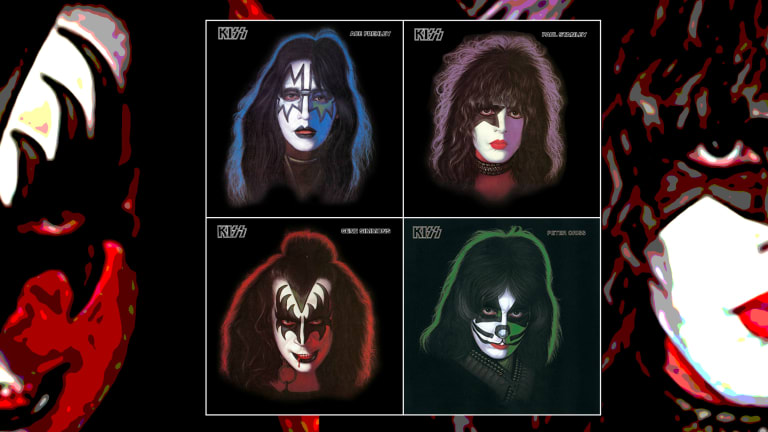 Top 20 songs from the Kiss' 1978 solo albums
Goldmine take you through the top 20 songs from the four Kiss solo albums, each one issued September 18, 1978.
Get KISS vinyl and collectibles in the Goldmine shop, including the Oct/Nov 2022 KISS issue, at select newsstands like Barnes & Noble and Books a Million, or in our Goldmine shop, HERE
To celebrate a Kiss occasion, long-time Goldmine writer Martin Popoff takes us through the top 20 songs from the four Kiss solo albums, each one issued September 18, 1978. Enjoy!
— Goldmine Editor Pat Prince
By Martin Popoff
On this day back in 1978, the Kiss kamp issued solo albums from each of the members of the band, namely Paul Stanley, Ace Frehley, Gene Simmons and Peter Criss. They had matching cover art and even posters inside that linked up like a jigsaw puzzle. Each of them is RIAA-certified platinum, but then again, they were promoted heavily and were the subject of all sorts of market manipulating shenanigans by Casablanca. The joke has gotten muddled over time, but it goes something like, "They shipped gold and came back platinum!"
Anyway, murky store return issues aside, it was a pretty cool idea and made a lot of noise at the time, which was just after Kiss Alive II en route to 1979's Dynasty, with its notorious disco hit "I Was Made for Loving You." So here we go: "You wanted the best, you got the best, the hottest songs of the plan… Kiss! (solo albums)."
20. Peter Criss – "I Can't Stop the Rain"
Last track on the most denigrated of the solo albums (and the only Peter Criss song on this list), "I Can't Stop the Rain" is in fact the second most-played song from the record on Spotify. I've picked it because it's a straight ballad with no R&B, rock 'n' rollsy nonsense added. There's real strings, and a chorus that improves it rather than makes it more maudlin. Cool George Harrison-like guitar solo too, courtesy of John Tropea. Oh, how it all could have been different. With a voice like that, had Peter made the heaviest solo album rather than the lightest, and then taken his drumming to the limit as well (i.e. beyond Kiss, garnering increased respect), he could have left the band and been a big star. I can see him prowling the stage like a cat as a front man, howling out vocals (again, like a cat) like he did on "Black Diamond" and "Hooligan."
19. Ace Frehley – "New York Groove"
The biggest hit across all four solo albums, "New York Groove" was written by Russ Ballard and first covered with moderate success by late-fer-dinner UK glamsters Hello, circa 1975. Against the other all-business songs on Ace Frehley, this constitutes a guilty pleasure and we're all guilty! It's pure T. Rex, and we're laughing with Ace not at him.
18. Gene Simmons – "Tunnel of Love"
Gene's album sold best of all of them but it's the third most loved by the base; as far as I'm concerned, it's due for a reassessment. "Tunnel of Love" is a nice example of an under-rated track, ambling along like an under-stated Kiss song, restrained at the drum end (like Peter) courtesy of Allan Schwartzberg. But the best part is the chorus, where we get female backing vocals weaving in and out of some nice harmonies. On guitars, we get Joe Perry from Aerosmith and Richie Ranno from Starz.
17. Gene Simmons – "Living in Sin"
Like "Tunnel of Love," "Living in Sin" starts ill-advised, but then we're into an uptempo rocker with a sturdy frame, nice bass line, Gene variously doubling himself on vocals and dueting with others. As well, the song proper begins with its Kiss-like chorus and then goes into the verses, which are a little more amusing, shall we say. There's also a long phone call sequence (featuring Cher!) and all sorts of attentive production touches, most zesty being the simple piano accompaniment from Eric Troyer and the complex vocal harmonies at the catchy chorus, with one of those voices being none other than Bob Seger.
16. Paul Stanley – "Move On"
Kinda cool that Paul used mostly lesser-knowns on his record—perhaps it makes for more of a band feel, certainly over and above Peter's and Gene's records. "Move On" sounds like a mid-league Starz song, a little hard rock, a little old rock 'n' roll. To be sure, there's piano and female backing vocals (Diana, Miriam, Maria), but otherwise it's a song that goes to work, with that pushing and shoving chorus sticking in the brain nicely and precisely.
15. Ace Frehley – "Speedin' Back to My Baby"
Here's the second silliest song on the beloved Ace album, second after "New York Groove" en route perhaps to "Wiped-Out." All told, it's an engaging combination between power pop and Foghat or ZZ Top, given the shuffle feel. Put Ace's holler-along voice up top, and then cramped drums underneath (Anton Fig does the whole album), and it's a bit punky too.
14. Gene Simmons – "Mr. Make Believe"
You couldn't say Gene missed his calling, because his calling turned out awesome, but man, on top of being a great singer in fourth and fifth gear, he's gorgeous of tone and persona in first and second gear. Plus he's got a knack for the Beatles-esque, as evidenced on this sincere and smart ballad, which, with these gratuitous production touches, is perhaps more Wings-esque.
13. Ace Frehley – "Wiped-Out"
Ace likes to write songs about being wasted and fortunately for the selling of them they are believable. This starts like surf classic "Wipe Out" before collapsing into a three-legged race of a verse, with Frehley getting goofy. It's hugely elevated with a shift in tone and rhythm to the pure metal chorus, first at halftime four-four and then an anxiety-inducing three-four.
12. Gene Simmons – "True Confessions"
This sounds like a heavy Eagles song, a nice sort of breezy California rock 'n' roll twist for Kiss solo or otherwise. And then come chorus time, I hear Blue Öyster Cult's "True Confessions" from 1976 and Mott the Hoople at the break. But anything with Gene singing is a joy to behold; here he's in a sort of middle gear, matching the meat-and-potatoes old-timey rock 'n' roll noise of this happy song.
11. Gene Simmons – "See You in Your Dreams"
We've already heard this one back on 1976's Rock and Roll Over, but we're in a happy place hearing it once again, given the song's bright and politely epic chorus refrain. At the verses, this one's illustrative of Kiss' past in boogie, which you also hear on the verses of "Strutter." Guesting on guitar is Cheap Trick's Rick Nielsen, and on backing vocals, Detective's Michael Des Barres.
10. Ace Frehley – "What's on Your Mind?"
"What's on Your Mind?" could have been a cozy hit for Kiss, given its easy-drinking verse chords, strong vocal melody and Byrdsy, descending chorus, which, oddly, is followed by a sort of post-chorus break. As well, Ace utilizes something he credits Eddie Kramer for teaching him, this idea of massaging in an acoustic guitar track to go along with the power chords. I would like to have seen an original like this in place of "Then She Kissed Me" on Love Gun or "Any Way You Want It" on the studio side of Alive II.
9. Paul Stanley – "Wouldn't You Like to Know"
This one's fun because it shows Paul in bubblegum power pop mode, full-on guitars, spirited vocal, heroic but traditional chords… an adorable song all around, with more New York to it than any other geographical touchstone. Which is nice when you find it, because New York under-punches when it comes to musical influence. But yeah, I hear the Dolls, the '60s girl groups, and maybe a little bit of post-punk CBGB new wave.
Related Article: The 5 things Kiss' Paul Stanley would like you to know about Led Zeppelin
8. Ace Frehley – "Rip It Out"
"Rip It Out" is one of the big contributors to Ace's album being far and away the most highly regarded of the four solo albums. It's both Kiss-like but fresh in that context, given the sort of tribal, clumpy, punky drumming, with the punk vibe heightened by Ace's bed-headed Dennis the Menace vocal. Also punky is the dumb fun of the chorus, with its dependable "Louie Louie" chords. At the polar opposite of punk is the drum break from Anton Fig, where he gets flashy like Steve Gadd on "Aja" (okay, let's not get carried away).
7. Paul Stanley – "Goodbye"
I hear top-shelf Starz in this one, classic '76 to '78 Kiss and, because it's Paul, some of that heart-throb passion at the melody end that for some reason I associate most with the Asylum album from 1985, specifically "Tears Are Falling" and "Who Wants to Be Lonely." As well, "Goodbye" is performed like a Kiss song, from the drums on up, so you can play those games of wishing (upon a star) that this would have replaced some dumb thing on Rock and Roll Over or Love Gun.
6. Ace Frehley – "Ozone"
There's a bunch of ambitious writing and arranging and playing on Ace Frehley, but "Ozone" contains the largest quantity of vaguely proggy parts and passages. It's interesting throughout and consistently loud and full-band, even beyond full-band, with Ace adding his signature acoustic guitar track to the sculpted sound. Also putting the listener in a familiar place is Ace talking about getting high. Call this one an instrumental with lyrics, which can only exist in Ace's ozone zone.
5. Ace Frehley – "I'm in Need of Love"
The hook in this one is that piercing, repeating, echoing guitar lick, but subconsciously we're invited in by the relaxed Anton Fig groove, augmented by big hanging chords. Not much of a chorus, but all told, the song serves a purpose in this sequence of tracks as something at a different speed and texture. Speaking of speed, there's a double-time lead break which finds Ace doing what he does best: simple old-school solos that are both musical and aggressive, like Ace is wringing hooky licks out of the neck.
4. Paul Stanley – "It's Alright"
Man, this one's got huge Kiss hit written all over it. The wall of glammy guitars is downright giddy-making, and then with Paul singing high and energetic with that huge, attention-getting voice—that was Kiss' secret weapon: three great singers across four great voices—"It's Alright" is much more than all right. What's more, I can see this one holding its own on Revenge or Sonic Boom or Monster as well, and it would've crushed the competition on Psycho Circus.
3. Paul Stanley – "Tonight You Belong to Me"
There's over a minute of acoustic intro to this one, which is pretty daring for an album opener. But the message is that Paul's serious here. Soon we're into an emotional hard rocker, highly melodic and signature Starchild. And at 4:40, Stanley is in no hurry to move on to "Move On," letting us marinate in these melancholy melodies, setting the tone for a record that will nicely reinforce our opinion of Paul as the (only) believable love song guy of the band.
2. Paul Stanley – "Love in Chains"
"Love in Chains" is the heaviest song on Paul Stanley, but despite the sort of recurring note-dense "Creatures of the Night" lick, Paul doesn't forget to make a sturdy song of it. This is accomplished by the Stanley-esque chord changes at the verse, with the sum total resulting in another song that could have become a popular Kiss anthem, even more so given a flashier title. Add in the tension of a sophisticated pop pre-chorus and a pregnant-pausing proto-hair metal chorus and this one's a winner all 'round.
1. Ace Frehley – "Snow Blind"
Here's the "Rocket Ride" of the entire four-record experiment, namely the most exciting and cockle-warming heavy metal song. Black Sabbath had "Snowblind" but Ace's "Snow Blind" has Black Sabbath, most recognizable in the devil's tritone/diabolus in musica of the chorus riff. But, hey, I think Tony Iommi would have been happy to come up with what Ace does at the verses as well. Plus Nashville Pussy covered the song on their 2005 Get Some! Album—how cool is that?