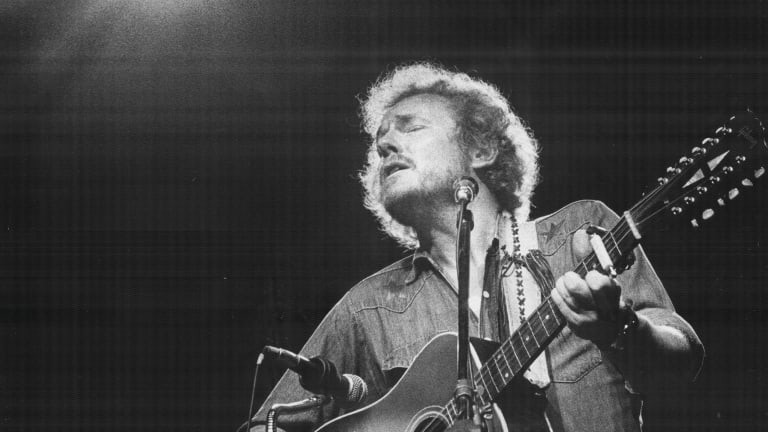 Where Are They Now? Gordon Lightfoot
Gordon Lightfoot, singer-songwriter of the 1970s hit "If You Could Read My Mind," goes into the 21st century 'Solo.'
By Bill Kopp
When Gordon Lightfoot soared to the top of the U.S. singles charts with 1970's "If You Could Read My Mind," most listeners considered him a new artist. But the Ontario-born singer-songwriter was a seasoned veteran of the music scene. Already in his 30s, Lightfoot had been releasing albums since early 1966. Sit Down Young Stranger (retitled If You Could Read My Mind to capitalize upon the single's runaway success) was his fifth studio long-player.
Though he was already successful at home in Canada, Lightfoot's breakthrough LP would signal the beginning of his career as an internationally-recognized artist. He would score 11 singles on the U.S. Adult Contemporary chart in the 1970s, and three more in the following decade. Two of his albums — Sit Down Young Stranger / If You Could Read My Mind and 1978's Endless Wire — went gold; Sundown (1974) and 1976's Summertime Dream went platinum. His 1975 best-of collection may have been titled Gord's Gold, but sales-wise it was double platinum. The folk-rocker was indeed a rock star.
And Gordon Lightfoot remains a persistent fixture on the touring circuit. When other artists of his age — he celebrated his 81 birthday last November — have ceased touring or at least scaled back their appearances, Lightfoot has maintained a vigorous touring schedule. Though it was stopped in its tracks by the worldwide COVID-19 pandemic, his extended "80 Years Strong" tour showcased the continued creative vitality of an artist nearing the completion of his sixth decade as a performer.
Lightfoot's pace of releasing new albums, however, is something that has decreased. Throughout all of the 1990s, he produced only two new albums. And after 2004's Harmony, he ceased the making of new studio albums altogether for more than 15 years. This March, he ended that quiet period with the release of Solo. As its title suggests, the new release features Gordon Lightfoot's voice and guitar, and nothing else.
In a recent interview with Lightfoot — at which time the pandemic had begun to spread, though widespread concert tour cancellations had not yet become the norm — we discussed that new album. We also discussed the planned (and inevitably postponed) tour in support of Solo, as well as reaching back into the past to explore his early success.
Going It Alone
Asked why he allowed 15 years to pass between album releases, Lightfoot chuckles. "Well, I don't know," he says. "Just the way it goes, I guess." But what was the motivation to make a new record? "I had quite a selection of material on hand," he explains, though he admits there wasn't enough for a new album. "I had started to work with it, but there was never enough time, because I have an extended family, and we tour, and we do all these things." Everything changed when he discovered an album's worth of long-lost (or at least long-forgotten) cache of tunes he had begun long ago. Those recordings were basic demo tapes, featuring Lightfoot on guitar and vocals; they seemed like a good starting point from which to build a new record of full-band performances. "I liked the sound of it," Lightfoot says. "So we went ahead and worked on it. We worked on it a lot."
Lightfoot and his production team took a tried-and-true approach, using the demo tapes as a guide or foundation for more layered arrangements. "We worked on orchestrating it for a few months," he recalls. "We worked at rewriting some of the songs for a few months. But by the time we got done working on it, we said, 'It sounds better the way it was, the virgin recordings that we did back in 1998!'"
Lightfoot looks back upon the late '90s — not long after the release of East of Midnight, a lushly orchestrated album that went gold in Canada — as a time when he was at his "peak of delivery. I hadn't had any serious health issues or anything like that," he says. In 2002, he faced serious illness, undergoing surgery for a ruptured abdominal aortic aneurysm. He fell into a coma for six months, and was subject to four surgeries and a tracheotomy. Requiring an extended convalescent period, he wouldn't return to the stage until 2004.
Lightfoot eventually made a full recovery, and has maintained a busy schedule of live dates ever since. But when it came time for a new record, he realized those stripped-down recordings from more than 22 years ago represented the best of what he had to offer.
He admits that there was some motivation to make all new recordings of those songs, using his band. "We're there to perform these days," he says. "We're here to tour." While the band is very busy, had they been able to make the time for recording sessions, Lightfoot is sure the results would have been very good. "But to waste all this wonderful-sounding virgin stuff required a lot of thought," he says.
And he had another fleeting concern. All those years had gone by, and then he returns with a simple, unadorned album? "I didn't want people to think I was getting lazy," he says with a laugh. Compared to the highly polished East of Midnight, Solo would represent a radical departure. "Boy, I made some slick albums in my time," Lightfoot says, laughing again. "East of Midnight was one of the best I ever did that way."
He had largely forgotten about the existence of the demos he recorded at home in 1998. "Here were these tunes; I didn't recognize them," he admits. "I had to play them to remember what they were all about." The sound and character of the shelved solo recordings truly appealed to Lightfoot. He says that Solo "was like a gift. It appeared out of nowhere, out of a mound of gifts that I've been moving around with for the last 59 years. But there it was. It got buried in there somewhere."
The contemplative "Why Not Give It a Try" is vintage Lightfoot; even in its spare voice-and-guitar arrangement, it echoes the gentle melodicism of his biggest hits. The breathy whistling that occupies the spaces where lead guitar breaks might go serves to underscore the you-are-there feel of the recording. "Why Not Give It a Try" and "Oh So Sweet" were both released as singles from Solo.
Lightfoot says that the austere, intimate quality of Solo is what makes it special. "What I like most about it," he muses, "is that I can actually hear one of my feet tapping on a couple of the takes." His acoustic guitar playing is solid and expressive, and though his vocals on the album have an offhand, homespun texture, they're right in line with the up close and personal feel of the record.
After more than a half century as a singer, Lightfoot has almost certainly developed a regimen to keep his baritone voice in shape. Right? Not so, it happens. "I do absolutely nothing," he admits. "It looks after itself."
Guitar? That's a different story. "I practice the guitar a lot,," he says. "I do that while I'm watching sports reruns on TV. I get set up, watch a sporting event — a hockey game or a basketball game — and then I'll sit there and practice and practice. Really, it's a great way to practice."
Reading His Mind
Gordon Lightfoot has had many years to figure out what works for him. And though to listeners in the U.S. he might have seemed an overnight success when "If You Could Read My Mind" became a hit, he had been a recording artist for some eight years. By 1968 he had landed seven songs on the Canadian Top 40, and even scored the No. 2 spot on Canada's Country singles chart with 1965's "I'm Not Sayin'." In those days, he was known as a songwriter more than a performer.
In the '60s, a wide array of artists — Chad & Jeremy, Judy Collins, Richie Havens, Ian and Sylvia, the Kingston Trio, Peter Paul and Mary, Elvis Presley and Marty Robbins among them — covered his material. Lightfoot did play high-profile festival dates, and earned a spot on The Tonight Show Starring Johnny Carson in 1965, but his success remained limited to Canada. As the '60s ended, success in the United States seemed out of reach.
That all changed suddenly with "If You Could Read My Mind," but no one was as surprised as Lightfoot. "We never had a feel about" it becoming a hit, he admits. "But we did have some interest in certain quarters." He enjoys telling the story of the one-woman focus group that unintentionally helped launch the single's stateside success. "I can't even believe it myself, how they got 'If You Could Read My Mind' going," he says.
Released in April 1970, Lightfoot's fifth studio album initially sold about 80,000 copies, but then it seemed to stall on the charts. "Out on the West Coast, where Warner Brothers' main promotion department was, one of the guys there had his younger brother play it for his girlfriend," Lightfoot recalls. "They were down for a weekend get-together down in Hermosa Beach or something like that. The kid came back and said, 'The girl likes "If You Could Read My Mind."'
He continues the story. "So the promotion guy called a person up in Seattle who could program the record, who could put it on the playlist." Released as a single in December of 1970, "If You Could Read My Mind" started its climb up the chart eight months after it had been released as an album track. "After the guy's young brother had the girlfriend pick out the single," Lightfoot says, the incredulity still evident in his voice. "The whole story was so insane!"
Lightfoot wasn't initially pleased when Warner Brothers changed the album's title from Sit Down Young Stranger to match the newly minted hit single's title, though. "I was so irate about it," he says, admitting that he "was a bit of a prima donna at that point." He recalls getting on a plane to Los Angeles.
"I flew to L.A. and said, 'Why are you changing the title of my album? What difference would it make?'" A representative from Warner/Reprise's accounting department quickly set him straight. "Gordon, did you take algebra in high school?" Lightfoot said yes. "OK," the accountant continued. "What's the difference between X and 7X?"
"I got on a plane and turned around and flew back here to Toronto," Lightfoot says. "And about two months later, they'd sold 600,000 copies. The record was up to number five or something like that."
Things took off from there. His long string of hits would include many highlights, among them "Sundown" and "Carefree Highway," both from 1974's Sundown LP, and the haunting "The Wreck of the Edmund Fitzgerald" from Summertime Dream in 1976. Canada's Juno Awards — that country's equivalent to the Grammys — are a tangible testament to Lightfoot's beloved status in his home country. He was named Best Folk Singer nine out of 13 consecutive years, Best Male Vocalist five times between 1967 and '73, and Composer of the Year twice.
Lightfoot has also earned five Grammy nominations and four ASCAP songwriting awards, and he was inducted into the Canadian Music Hall of Fame in 1986. More recently, a 2019 documentary film Gordon Lightfoot: If You Could Read My Mind chronicled his life and career.
The Tour That Isn't
Many songwriters frame their music and lyrics as self-expression; for them, music is primarily about getting across the things that they're thinking and feeling. For others, music is a means of forming a bond with their audience. Gordon Lightfoot is squarely in the latter camp. "I really enjoy the connection and the communication," he says.
When we spoke in mid-March, Lightfoot was looking forward to adding a selection of songs from Solo to his scheduled concert dates. But he seems intent on not tinkering too much with a successful formula. "I'm going to do a couple of them," he says. "Three, or something. We have a very strong show, and we're not going to mess with it. If I start to fit (the Solo songs) in — which I will — we're going to have to lose some stuff, because everything gets done in a time frame."
After decades playing to audiences, the man knows what they want to hear, and how they want to hear it. "This is not a solo tour," he says. "You need to get all this stuff packed into it, into the right length of time for people to sit and listen to you. We're lucky they're there in the first place."
While Lightfoot's an exemplar of the sensitive singer-songwriter model, he also recognizes that he's an entertainer. "Basically, we do what we do; that's what the people want," he says. "There are a certain number of tunes that we're doing every night, and the rest are in their own orbit around that." But even working within those parameters, he and his band don't churn out the same set every tour, every night. "It changes," he says. "I have to think about that each time: 'Well, what did we do last time?' We keep track of all that, too."
As much as he's proud of the Solo album, Lightfoot is pleased to be fronting a band when he performs. "I've always had a band, and I've still got a band, a five-piece band," he says with audible pride. "And we put out a heck of a big sound. We play in concert halls and casinos, and sometimes in sports complexes and at festivals. You know, I've been around for a long time in this business. In 59 years, I've covered some ground."
And while his "80 Years Strong" tour is on hold for the time being, it seems quite likely that as soon as he's able, Gordon Lightfoot will be back onstage. "I really enjoy the work," he says. "I love the sound. I like staying prepared, and I like being ready to play."