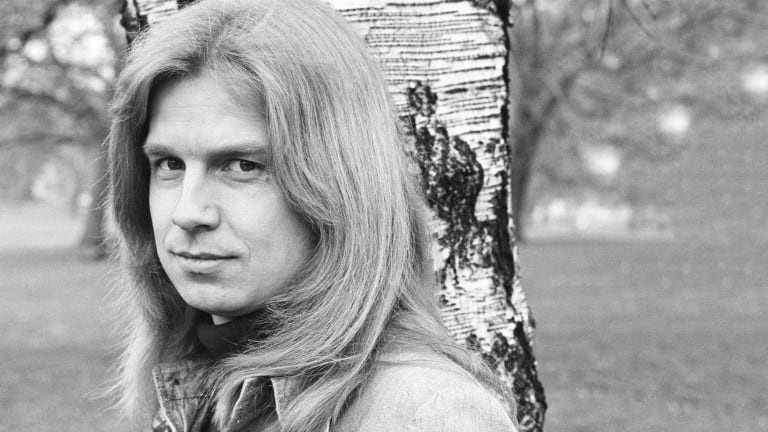 Where Are They Now: Janne Schaffer
Janne Schaffer remembers being in the studio as the ABBA guitarist.
By Joe Matera
Swedish pop fourpiece ABBA were one of the biggest acts in the world in the 1970s. They first came to prominence after winning the Eurovision Song Contest in 1974 with "Waterloo." The song was later released as their first official single, and it reached No. 6 on the Billboard Hot 100 singles chart. One of the musicians to appear on every ABBA album except for their final studio album, The Visitors in 1981, was guitarist Janne Schaffer.
Though he will forever remain connected to the ABBA story and music, Schaffer is also, and has been, a very successful session guitarist and solo artist in his own right. He began undertaking a studio session career in 1970; the following year, he received a call that would alter the course of his career. "I was called by Björn Ulvaeus and Benny Andersson to their office," Schaffer remembers today, speaking to me over the phone from his home in Stockholm, Sweden. "They asked me to come in to listen to a young 15-year-old cat called Ted Gärdestad. And they asked me what I thought about his talent. I told them it was fantastic, so they offered me to play on the recording sessions for his debut album, Undringar."
Just before the album was released in 1972, Ulvaeus and Andersson contacted Schaffer again. "I ended up getting another call from Björn and Benny telling me that they wanted to try and do their own thing," he says. "They didn't have the name ABBA at that time — at the time, they were known simply as Björn & Benny, Agnetha & Anni-Frid, so I ended (up) playing on their song they did together called 'People Need Love,' which was also released that same year. And from then on, I ended up playing with them all the time, on the ABBA records and also on the Ted Gärdestad records as well."
While continuing work on both projects, Schaffer also found time to record a solo album, the first of many. The album, titled Janne Schaffer, was released in 1973, and it garnered much acclaim and earned him his first No. 1. "It topped the Swedish charts for six weeks!" he exclaims. "And the ABBA album Ring Ring came in at second place. I actually sold more albums than ABBA did in Sweden in 1973."
In 1974, Schaffer released his second album, which didn't sell as well as the first one, but did lead him to receiving an offer to tour the United States for the first time.
"That same year I went on a tour of the United States with an American singer called Shawn Phillips," he says. "We did 42 concerts in 47 days, almost a solid two-month tour. And when I got back to Sweden after the tour, all of ABBA came to me and asked me about joining them on a promotional tour of the U.S. that they were going to do."
With his new son having just turned one at the time, and with the huge success he was having with his own albums, Schaffer had a difficult decision to make: "I told them I had to decline their offer. So I recommended Lasse Wellander, another guitar player, to them instead. But I also told them that I still wanted to go on recording with them, though I could not do a tour, as I wanted to concentrate on my own career."
Wellander would go on and play alongside Schaffer on all the ABBA albums. Schaffer has many fond memories of working with ABBA in the studio, particularly with Ulvaeus and Andersson. "It was mostly Benny who arranged the music," he reveals. "But Björn was sitting always as the producer, and he was an excellent producer. He knew exactly when it was a take, and when it was not a take. He was also a very good acoustic guitar player. They also together produced three albums with Ted, and so we all worked on both projects at the same time. One day it was ABBA, and the next day it would be Ted. We were like a session group."
All ABBA albums were recorded in numerous studios in Stockholm prior to 1978, when the group opened their own Polar Music Studios. This played a major role in the group's evolving sound. "We used to record at various different studios," Schaffer explains. "These included the Metronome Studio in Stockholm and Glen Studios just outside of Stockholm. If you listen to all the albums in order, you will immediately notice a change of sound when it came to the albums recorded at Polar Studios because that was a totally different sound, especially with the synthesizers that Benny was using a lot. It was also a much bigger sound."
At the start of the 1980s, Schaffer was finding himself increasingly busier, adhering to a hectic schedule of nonstop recording and performing with his newly formed Electric Banana Band. In 1981, ABBA recorded their final studio album, The Visitors — also the first in history to be pressed on the new CD format in 1982 — and in '82, the group split. "During the 1970s, I did so many recordings," Schaffer recalls. "I was doing one album of mine each year while working on many other sessions, too. Whenever ABBA was ready to record, it was always a matter of me finding time to record with them. On the last album — The Visitors (1981) — I didn't play on any tracks. I was just so busy with my own stuff around that same time. In 1980, I had started my own band, too, the Electric Banana Band, which achieved huge success in Sweden. And I was writing all the music for that band as well."
The final two songs Schaffer recorded with ABBA were "Cassandra" and "Under Attack" in 1981. "Cassandra" was used as the B-side to ABBA's 1982 single "The Day Before You Came," while "Under Attack" was released as one of ABBA's last U.K. singles.
Looking back, Schaffer is very proud of his guitar work with ABBA, and when asked to choose a favorite moment or song, he ponders for a while before saying, "When we were recording with ABBA, we could never have any guitar solos. We could do some introductions and some riffs, but there was one exception, and that was with 'My Mama Said,' where there was a small guitar solo. I must say the solo is OK, but not my best one. (laughs) It is not one of the big ABBA hits, but I like that song very much."
In 2017, ABBA returned to the studio to record two new songs, "I Still Have Faith in You" and "Don't Shut Me Down." It was the first time the band were in the studio together in 35 years. Schaffer wasn't involved in those sessions, though. "I didn't play on those tracks," he says. "Lasse is the guitarist on both of those tracks. And from what I've heard, they actually did more songs, but I'm not 100% sure on that fact."
These days, Schaffer still keeps to a hectic recording schedule, and at 75, he is showing no signs of slowing down anytime soon.