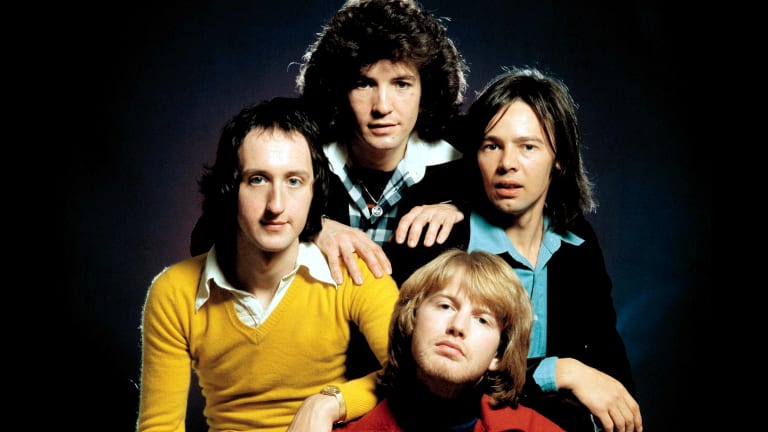 Where Are They Now? Pilot
Bassist David Paton attempts to be his own pilot when it comes to directing a reissue set of Pilot's albums.
By Joe Matera
For a few short years during the mid-1970s, Scottish pop-rockers Pilot ruled the airwaves. The group's first hit, "Magic," made it to No. 5 on the U.S. charts in 1974. Although the follow-up single, "January," only peaked at No. 87 in the U.S., it topped the charts in the U.K. and Australia in 1975. But success also brought management issues, which led to the band's early demise. For Pilot's main singer-songwriter and bassist David Paton it also brought a shift from being in front of the spotlight to moving behind the scenes as an in-demand session player after Pilot. Session work led Paton to joining the Alan Parsons Project, as well as working with such music heavyweights as Elton John. Forty-five years after the band's halcyon days, a new box set that collects every Pilot album recorded celebrates the band's glorious musical output.
"I received a phone call from the Cherry Red record company" explains Paton, down the line from his home in Scotland, on how the new box set came about. "They had put out Pilot albums in the past, the three EMI albums we had recorded. This time though, it's quite unusual, because they also have the Arista album that (Pilot guitarist) Ian Bairnson and I recorded called Two's a Crowd (1977) that's part of the box set, too. It's unusual that they would do that, as I don't think that will happen again. So I'm delighted with it all. They also had a journalist get in touch with me and I did an interview with him, and a lot of that interview appears in the sleeve notes."
The aforementioned Two's a Crowd was the album the duo re-recorded in 2002. "Ian and I rerecorded Two's a Crowd, and put it out as Blue Yonder (2002)," says Paton, "because the album was owned by Arista, and I tried to get in touch with Arista to ask if they could re-release it, but we couldn't get any joy with them. So Ian and I thought, 'Let's just rerecord the songs ourselves so the fans in the U.K. can get to finally hear these songs, because it hadn't been widely available before. After that, Cherry Red came on board and released it, and it was also released by a Japanese company, too, so it became a bit more available. But there are a lot of people who still can't get their hands on it, so it's great that it is now part of this box set."
Over the years, various demos from the band have surfaced, providing a fascinating insight into Paton's songwriting process. Many of the demos feature fully-formed arrangements and musical content rather than the usual scrappy ideas or brief song outlines. "When I write the songs I can hear the arrangement in my head," reveals Paton. "It's a lot easier nowadays because I have a studio of my own, so I can just go in there and spend time playing about. But back in the early days of Craighall Studios (in Edinburgh), when Billy (Lyall, keyboard player) and I were writing songs, it was kind of a competition between Billy and I. He would write a song and say, 'Have a song ready for next week as I have studio time for us.' Billy was the engineer at Craighall Studios, so we had a lot of down time to go in there and do our work. And it would usually be after 6 p.m., and we could stay there open-ended as long as we want, so we could spend time putting the arrangements together."
A signature mark of the band's sound were the harmony guitars, largely due in part to Bairnson. "Ian was such an asset to us, because EMI wanted to promote us as a teenybopper band and I knew that's what they wanted," says Paton. "They wanted a fourth member in the band after the first album was recorded. They wanted a pretty boy and didn't care what he played like. It bothered me and it bothered Billy, too, because we considered ourselves to be serious musicians at that time. So we got Ian involved because of his talent and it had nothing to do with the way he looked. I got a lot of opposition from EMI for that. But I'm really glad I stuck to my guns and said, 'No, he is the guitar player!'"
This chemistry between band members worked its own magic. "Yes, it worked, and when I look back now, I realize how good we really were," muses Paton. "When we recorded one of Billy's songs called Do Me Good, he had just presented it to us that day and so we recorded it, and when we listened back to it, every part was there. I don't think there are any overdubs on that song at all. It was just all there in the studio. We were really rocking that time and it was a real pleasure to be in a band where everybody was listening to everybody else instead of trying to put their stamp on it."
At the time of the release of "January," Pilot were label mates on EMI Records with Steve Harley & Cockney Rebel and Queen, who were all wanting to reach No. 1 first. This created a healthy competitive rivalry between all the acts. In the end, Pilot became the first to achieve the feat of reaching the top position. "Steve Harley & Cockney Rebel, Queen and Pilot were all signed to a new label that EMI had started," begins Paton. "So we were all vying to get to No. 1 first. Pilot did it first, certainly in the U.K. before Queen and before Steve Harley & Cockney Rebel. And then Cockney Rebel knocked us off No. 1, which was fine because we were pals. EMI made sure we got together and went to meals together and whatnot, and so it was all very friendly."
Though Paton was grateful for the success Pilot achieved, fame was something he never felt comfortable with. "I always wanted to be successful, but being famous is something different, and it wasn't something I really craved," says Paton. "I wanted success, I wanted to be a successful musician and songwriter, but unfortunately along with that comes, the fame. I didn't react to it very well. I didn't like the screaming girls, as I had been through all of that when I was in the Bay City Rollers. I actually hated it and didn't like it at all. It took away a lot of my freedom, because I was a quite a social guy and had friends in Edinburgh I liked to go out with to the pub and whatnot. And that was all taken away from me. I didn't like it and my wife didn't like it. I was told to deny I was married and all that stupidness that John Lennon went through as well. I didn't like being in the spotlight at all, but somebody had to sing the songs and I was the one that was picked."
Matters were made worse when the band, suffering from internal management issues, couldn't undertake any tours. This severely handicapped the band's potential to build on the markets where the songs were being most successful. In the end, the band only did two U.K. tours. "It was out of our hands and we were desperate to tour, especially to places where the songs were the most successful," explains Paton. "We all wanted to, but the management were too busy, and I think they were out of their depths, really. They wanted to build an empire, and they just wanted more money from the record company, like advances and the like. Two tours of the U.K. is nothing when you think of the audience we could have had. We could have gone to Japan, Australia. We were a bit naive at the time."
With the band now down to two members in Paton and Bairnson, an opportunity to venture forth into the world of session work presented itself, which finally allowed Paton some respite." I wanted away from it all, and just to get away from Pilot and the evil eye of the management," he says. "I didn't want to do anything for them. I resented doing any more interviews or television shows. I wasn't very well mentally, too, because of all that and the stress they had put me under. When Alan Parsons, Kate Bush and Chris Rea and Chris de Burgh all started to come along, it really felt like I found my niche. I was playing at not being the frontman, and it was such a load off my shoulders to be doing that."
Paton is proud of what he achieved with Pilot, and looking back today says that "January" going to No. 1 (in the U.K.) was the highlight of his time with Pilot. "I remember I was in a hired mini at that time when the chart was announced on a Friday," he recalls. "I was driving to Air Studios in Oxford Circus, so I didn't hear the announcement of that chart. I knew that 'January' was like at No. 11 or something the week before, so I was anxious to hear what was happening with 'January.' When I finally arrived at Air Studios, Alan Parsons walked towards me with his hand out and shook my hand and said, 'Congratulations, you're No. 1.' And that was an amazing feeling. You are kind of dumbstruck by it, and you're numbed when you achieve an ambition like that. But that was wonderful."
Until recently, Paton was also touring the world with legendary '60s singer-songwriter Albert Hammond. "Out of the blue one day an agent rang me and said that she was doing a tour with a guy called Albert Hammond," explains Paton on how he the landed the job. "She said that he wanted to put together a new band, so asked me if I could do it. At first, I said no and that I didn't really want to do it as I'd done a lot of touring for 40 odd years. But I met Albert and I liked him. But I'd kind of said to myself in October of last year that I would finish live touring, and so gave up working with Albert at the same time. But I don't know if I'll stick to that as musicians tend to say often, 'I've done that and want to retire' until something comes along that really appeals to you and you think, 'Yeah.' Some day if I got an offer to go back to Japan, I wouldn't say no to that."
Since leaving Hammond, Paton has kept busy, and with the current worldwide pandemic effectively putting an end to any kind of touring for the foreseeable future, he's working on a new album. "I am working with Andrew Powell," he reveals. "I first met Andrew when he came along to arrange the strings for the orchestra for the single release of 'Magic.' Andrew also went on to work with Alan Parsons, and produced the first two Kate Bush albums. He has a great pedigree. So Andrew and I are working on songs together, and hopefully it will end up as an album."