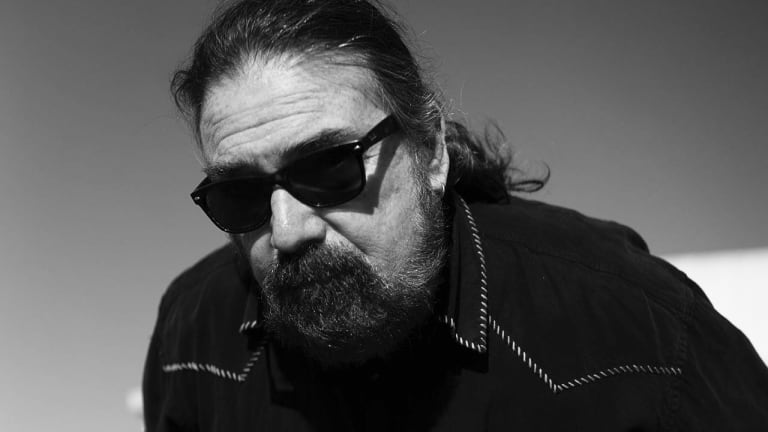 Where Are They Now? - T. Bear
Singer-songwriter T. Bear has reemerged from his heyday in the late 1970s with a new album called "Fresh Bear Tracks" and a determination to put his career back in full throttle.
By Lee Zimmerman
In a business where visibility equates with viability, T. Bear defies the odds. After initially attracting attention with a pair of albums released in the late '70s on RCA, he chose to go under the radar and subsequently abandoned the idea of making music entirely. Now, nearly 35 years later, he's reemerged with a new album, Fresh Bear Tracks, and a determination to renew his efforts and put his career back in full throttle.
The album was preceded last year by a single, tellingly titled "One Day at a Time." Written during the height of the pandemic, it offered a message of hope and reassurance for those dealing with the stress brought on by isolation and uncertainty.
Born Richard Gerstein in New York City and raised in the Caribbean, the artist now know as T Bear found his initial inspiration in the sounds of the British Invasion. At age 13 he was already writing his own songs. Taking his cues from the likes of Muddy Waters, Howlin' Wolf, Bob Dylan, Odetta, Fred Neil, and Sandy Bull, he began playing open mic nights in Greenwich Village while still in his teens. He was working at Manny's Music in New York City when Hot Tuna's Jorma Kaukonen and Jack Casady discovered him playing piano in the store, and, suitably impressed, asked him to sit in with them during an upcoming at the famed Fillmore East.
Later, after serving a stint as Carly Simon's road manager, he took off for London where he had opportunity to open for Jeff Beck, Richie Havens and Odetta, after which he found. Himself contributing to Havens' break-through Mixed Bag album. He eventually returned to New York and formed a group called The Phantom Band, a band that was made up of session players and touring musicians.
Recording sessions with former Rascals Gene Cornish and Dino Danelli and live dates at some of Manhattan's most upscale venues eventually led to a move to L.A. There, he was introduced to Pat Benatar and given an opportunity to contribute to some of the early demos that led her to sign to Chrysalis Records.
Soon after that, he landed a contract of his own with RCA, changing his professional name to "Richard T. Bear," a nickname that reflected the fact that he was prone to wearing big furry coats and keeping up a hairy appearance. His first album for the label, Red, Black and Blue, featured a number of notable contributors, among them, producer Jack Richardson (Bob Seger, the Guess Who), guitarists Les Dudek and Billy Squier, keyboardist players Paul Shaffer and Mike Finnigan, drummer Neil Jason and the Becker Brothers. The album spawned a disco hit, "Sunshine Hotel," and led to further opportunities as well. He began co-writing material with Squier, backing Kiss members Gene Simmons and Peter Criss on their respective solo albums, contributing to Toby Beau's hit single "My Angel Baby," and writing and co-writing songs for Cher. In addition, he toured with Stephen Stills, played on the Crosby, Stills and Nash song "Southern Cross," and opened for Dave Mason, Mick Fleetwood and the Doobie Brothers, among others.
Meanwhile, Bear recorded a second album for RCA, simply titled Bear. That was followed by a live album called Captured Alive, further work with Squier on his solo debut Tale of the Tape and an invitation to add his talents to the soundtrack of the Blues Brothers movie. He subsequently signed with a German label, Teldec Records, and released another studio album, The Bear Truth. That was followed by a compilation of his earlier work called The Best of Richard T. Bear, and a Giorgio Moroder-produced album dubbed The Runner. Another album was recorded and readied for release but was then shelved after Teldec was absorbed by Warner Bros. Records.
In 1983, Bear gained his sobriety and opted to take an extended hiatus from further recording. He didn't return to the studio until 2017 when, at the urging of his wife Nina, he began to conceive the songs that would eventually appear on Fresh Bear Tracks. Recording began at Horse Latitude Studios, the facility owned by Robby Krieger of The Doors along with participants that included Krieger, Edgar Winter, Stephen Stills, Benmont Tench, Walter Trout, Mike Finnegan, Laurence Juber, Walter Trout, Lenny Castro and Tom Scott.
In addition, Bear began to get back on the road with his band Route 66. He also initiated a podcast called "The Bear Facts," a one-on-one weekly interview program that finds him talking with musicians he's known as friends and colleagues.
Ultimately, Bear credits his late wife Nina for encouraging his comeback. After overcoming his issues with alcoholism and devoting his time to helping other artists to overcome their own addictions, he took her advice and began assembling the new songs.
GOLDMINE: Why did you step away from making music?
T BEAR: I had done music for a long time. Then I got married and raised three kids. My then-wife at the time said to me, "You know, it's, it's time for you to take a look at your life here with us and not anything else." So I got a job with a lighting company, selling specialty light bulbs. I worked for them for five years, and then after that, I opened my own company called Bear Lighting in April 1995. I also got involved with a musicians' assistance program that became known as MusicCares. I eventually got divorced and then afterwards, I met my second wife Nina. She was the one that said, "You should play music again, because you're a good musician." So I started playing some songs for her. She would sit at her desk, and I would kind of play the piano on the opposite side of the desk and eventually I started writing songs again. Then, when I had two or three songs done, she said, "You know, it's time for you to put a band together and play live. And it's also time for you to go back in the studio and make a record."
GM: Did you find that you were able to take off where you left with your earlier albums?
TB: I still get contacted by a lot of people around the globe that have those records. One of the songs on the first album had a big dance hit back in the day called "Sunshine Hotel." It went to number four in the World Dance charts at the time. And to this day, I get contacted by deejays around the world that do needle drops on it and ask me for permission to sample it. Wow. I've gotten calls from a guy in Germany, a guy from Moscow, a guy from Croatia, a guy from Rome, a guy in Paris, and seven different deejays in England. It happens all the time. It's still out there.
GM: What led to your return to recording?
TB: I connected with a guy named Tony Braunagel. He's now my manager and my producer. Tony is a great drummer as well as a really well respected blues producer. He's recieved nominations as Drummer of the Year several times during the International Blues Awards and he's won quite a few times. I met him because I was associated with Rickie Lee Jones for a while and I helped him out of a jam once when he was working with her as well. As a result, Tony told me anything you want to do, I'm your guy.
GM: Did you have a label when you began to record this latest album?
TB: There was no record company involvement. This was this was going to be a vanity project. I did this just to do a record. I had three or four songs, so we went in, and everybody that I called or Tony called that knew me all said they wanted to play on this record. Tony would tell them, "You know, it's coming out of Richard's pocket," so everybody did it for loose change. It was recorded at Robby Krieger's studio and he let me use the studio and the engineer. He said, "Just pay the engineer and you can have the studio." So after we cut four tracks, one or two of them really sounded pretty good. And the other two were kind of half done. So I said, "You know, I want to do more songs, but I still have to write." So I started writing songs from that moment on. And over the next two years, we cut 23 tracks and eventually finished it up. During the latter part of recording the album, Nina was diagnosed with stage four cancer, and we both knew it was terminal. She said, "I'll stick around as long as I can, and I'll fight like hell, but you've got to promise me that you'll finish this record." So I dedicated the record to her because she was the one that got me back into making music.
GM: Are there any particular songs on the album that were written with Nina in mind?
TB: The first song that I started to write while she sat at the desk across from me was a song called "Cradle to the Grave." It's all about being in love with somebody, and the journey that we take in the process. When she was dying, it was the last song that I recorded. I did it live, no overdubs on it, nothing. When I was playing it for her, she said, "Wouldn't it be cool if we had some strings on it? Then she showed me some string lines on the piano, and I thought they were beautiful, so we put the strings in. Ultimately, I could never refer to that song as "Cradle to the Grave," because it was way too real, and way too ironic. So I just called it "Nina's Song." It's the last song on the album. The album itself made for a great love story.
GM: Wow, that's very moving.
TB: I feel in my heart and in my soul that all that time I had off prepared me to make this record. I'm kind of spiritual, and making this album was, I think it was God, or whoever's in charge that said, "OK, now it's time for you to make a record. You've been out in the desert long enough, so now you get to come home to the Holy Land or whatever." And when I started to play, it was like pouring water on a seedling that started to grow. And everybody that I called was so delighted to participate. It was so much fun and I had such a good time.
GM: Tell us about the songs that ended up on the record.
TB: We ended up with 17 finished tracks out of the 23 we did. Two of them were original songs and two were covers. The two covers I did was Procol Harum's "A Salty Dog" and the other was the Zombies' song "She's Not There." We didn't put "A Salty Dog" on the album, but it could show up on the next one.
GM: You have a lot of notable people contributing to your album — Stephen Stills, Mike Finnegan, Laurence Juber, Benmont Tench… How did you come to recruit them?
TB: I have a band called Route 66 and several of them have been a part of that group over the years. I've known Lawrence for 40 years because we were in a band together while he was playing in Wings. I wanted to play electric piano, but I didn't want to play Hammond, so the two guys that I chose for the record were Mike Finnegan and Benmont Tench. Mike played on my first album with RCA. The bass players I used were Reggie McBride, who was with Rickie Lee Jones during the time I was working with her, and Hutch Hutchinson, who played with Bonnie Raitt for 30 years. I worked with Walter Trout on his album We're All In This Together, and, n fact, I wrote a song with him for it called "The Other Side of the Pillow," which also featured Charlie Musselwhite.
GM: You also go back a long way with Stills, don't you?
TB: Yes, I guested on the CSN song "Southern Cross" and Stephen still was nice enough to return the favor.
GM: The two of you co-wrote a song on this album. How did that come about?
TB: While I was preparing to make this record, I went through a whole bunch of cassette tapes I found. I had like 200 or 300 tapes, full of things that I had written but forgotten about. And in the process, I came across a couple of tapes from when I was playing with Crosby, Stills and Nash. They had a lot of mixes and stuff that that, stuff recorded during sessions. All of a sudden, I came across two cassettes that said "Stills." I remember that I was on a tour with Stephen, and we wound up in New Orleans, and Stills said, "Hey, man, let's you and me just get some hotel rooms and stay down here for a week." And I said OK, so we ended up writing a couple of songs, one of which was called "Give It Up." It's got like kind of a New Orleans influence in it. I listened to it and went "Oh sh*t, this is a good song!" So I cut it, and then I called Stills up and I said, Hey, man, "I need you to play guitar on that song that we wrote in 1982."
So I went up to his house and he said he wanted to record it up there. He got a couple of engineers and he laid down the guitar parts. He's got an amazing memory, and he said, "Do you know how that song originally went?" I said, "No, play it for me." He played it exactly like the demo tape. He actually remembered the song from when we had originally written it.