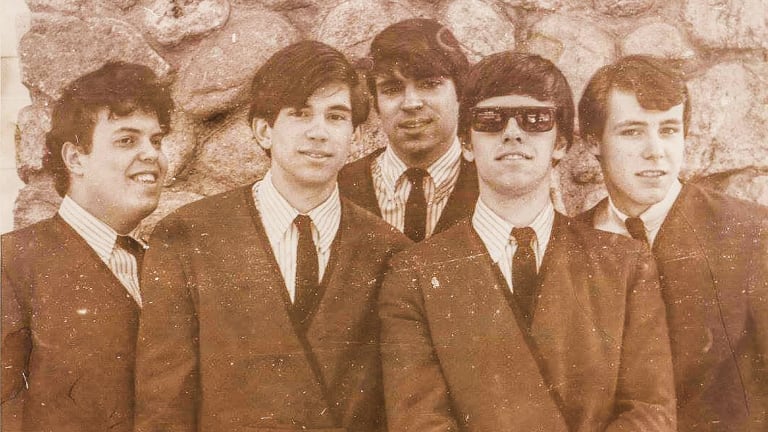 Where Are They Now? The Fifth Estate
In 1967, The Fifth Estate stormed the Top 40 with the fun, novelty-tinged cover "Ding, Dong! The Witch Is Dead," and today, the band continue recording, focusing on their garage roots.
By Daniel Coston
In 1967, The Fifth Estate stormed the Top 40 with "Ding, Dong! The Witch Is Dead," which peaked at No.11. Obscured by the fun, novelty-tinged cover of The Wizard of Oz classic was that the band were a versatile and powerful live act. Hailing from the Stamford, Connecticut area, the band played for months in the Northeast United States, before first landing on the television show Hullabaloo under their original name, The D-Men.
Today, the band are still recording, and they released Garunge Deluxe in 2020. Focusing on the band's garage roots, the release also features recordings of the band onstage in 1967. Drummer Ken Evans fills us in on the band's history and their biggest hit.
KEN EVANS: We were originally known as The Decadents, until we got involved with a record company, and they wanted us to change our name. It was just too decadent. No one had heard of The Kinks at that point, and they did OK with a name like that, and it probably would've been a better name for us.
We were the same five guys all the way through. Wayne Wadhams (vocals, keys) died about six years ago, and Bob Klein came in to take his part, but he had actually played in the band in the late 1960s and early 1970s in my place. That's the only change we've had to our lineup since those first shows.
What really helped us in getting going was going with the British Invasion flow. We really wanted to be our own band, unlike others that played a lot of covers. The first song we did at that show was "I Wanna Be Your Man," but we did The Rolling Stones' version, which is a whole lot more rock and rollier. We looked rather British at the time, and the crowds went nuts. We very quickly got gigs in New York City because of that. One place in the Village that I think is still there was called The Downtown. It was a big bar all around the back, but then sank in the front to a dance floor. We would sometimes play six sets a night, six nights a week. If you want to liken it to anything, this was like The Beatles in Germany, doing their thing in those clubs over there. You start at 9 p.m., and you played until 3 a.m. In fact, that's what our song "Morning, Morning" was all about. We lived a life where we barely ever saw the sunlight. The only daylight I saw for years was coming home from a gig; coming home and having a cup of coffee, trying to act like a human being for a couple of hours.
Those many, many hours of music lasted all through 1964 into 1965. We played at Trude Heller's, which is where Ed Sullivan used to get his acts from. That's where they came and looked at us for the Hullabaloo show. We jumped right into the national scene from that, because of all the hours we played, and how together we were. Plus, we were a little bit unusual in that we had a great keyboardist in Wayne. He knew all this classical music, and he worked some of that into the songs.
GOLDMINE: Brian Epstein was very impressed by the band when you played on Hullabaloo.
KE: He or his office had contact with us over the years, around 1965 and 1966. There was talk of them signing us. They had reached out of their office in New York, and that was right at a point when we were putting records out. We had a deal with Jubilee Records, and it was right before "Ding, Dong!" came out. Once that came out, and John Lennon's statements about The Beatles being bigger than Jesus Christ, which were misconstrued, we stopped hearing from them anymore. Brian sadly passed away shortly after that, but there was serious talk of working together with them.
GM: Later on, there was the Murray the K contest where your new single beat out both The Animals and The Dave Clark Five's new singles, but Murray the K disallowed it.
KE: I'm not going to claim that our single was better than the DC5 tune at the time and The Animals tune, but we were very well known in New York City, and Murray the K's show was based out of WINS, in New York City, and we had a huge fan club there. It did well. It was called, "Don't You Know," and it won by thousands of votes, from what I heard, but Murray was in charge, and very connected in the American music scene. The competition was very intense. I don't know what happened with Murray. There were lots of thoughts about what was bothering him at the time, but he claimed that we cheated. "Oh, there was something wrong. There weren't that many calls." And he refused to put us on the air with it anymore.
Murray was a funny guy. That happened with a lot of people. That hurt us quite a bit in New York, because we were doing really well, and really building and growing, at that point. That also played in the name change from The D-Men to The Fifth Estate. We were capable of playing a number of different genres, so we were out on a blues club tour out in the Midwest, doing a lot of things in Chicago, and we saw a magazine called The Fifth Estate. It was a little wild at the time, and we kind of liked it, and we said, "We need a name change. This could be it."
When we changed our name, we had a single out called "Love Is All a Game." It was a really nice record. You can't say it was a hit record, but it was a hit for us. It just didn't go big nationally. But the next single we did after the name change was "Ding, Dong! The Witch Is Dead," which we did on a bet from some people in New York City at a party. "I bet you couldn't make a hit out of this if you tried." So we went and did it, and Murray The K played the heck out of it, not knowing that we were The D-Men, and we weren't going to tell him that we had changed our name. He helped make it a hit in New York City and all over.
We recorded the song in five languages, and we didn't speak all of those languages. Most of the bands at the time were trying to be The Beatles. We were trying not to be The Beatles. We were trying to one-up them at whatever we could. They had done two languages, English and German, so we did five.
We had the Berlitz people from New York City come in, and they helped us phonetically sing it. Mostly they worked with Wayne, who was the lead singer on "Ding, Dong!" All of our background singing was still "oohs and ahhs." The Italian version is on one of our albums, and we have no idea where the other versions are. If anyone knows, please help us find them.
GM: You also featured a harpsichord in your band, as did The Left Banke, with whom you shared both producers and an arranger.
KE: We played many dates with The Left Banke. They were a great band, and we liked them. I helped Wayne build his harpsichord. It was a kit. You couldn't take the big ones around. All we could find was a small one that you had to build. Our "Ding, Dong!" video has that harpsichord on it. Wayne was a great keyboardist. He was playing the grand organ for movies when he was 12 or 13. We also liked a lot of other records where there might not be harpsichord but they had other renaissance instruments, because the renaissance music was really dance music. The piece in the middle of "Ding, Dong! The Witch Is Dead" is "Dance Terpsichore." That's a 300-year-old dance.
GM: What would you like people who haven't heard the band, or only heard "Ding, Dong!" to know about The Fifth Estate?
KE: A British writer asked me recently, "Look, we know over here that you were a good rock and roll band, but when you did 'Ding, Dong!' that was so far off in a different direction. Did that hurt you, or help you?" My answer was that it helped us very much. Anytime you have a record that is that huge, and you're playing national tours, it's great. We have a lot of rock and roll material which got ignored at the time, because of that. We were happy with "Ding, Dong!" the way it went, because it got us to a level that we would have never gotten to otherwise, or it might have taken 20 to 30 years to get there. There are bands who have done that. We weren't financially available to do that. We had to make a living off of this thing, and it's hard to do unless you have some recognition. The thing that we really like is that there is a new, younger group who really like the kind of rock and roll that we do. It's got some heft to it, so we have folks in their late teens and early 20s who are getting into us, and we really appreciate it.