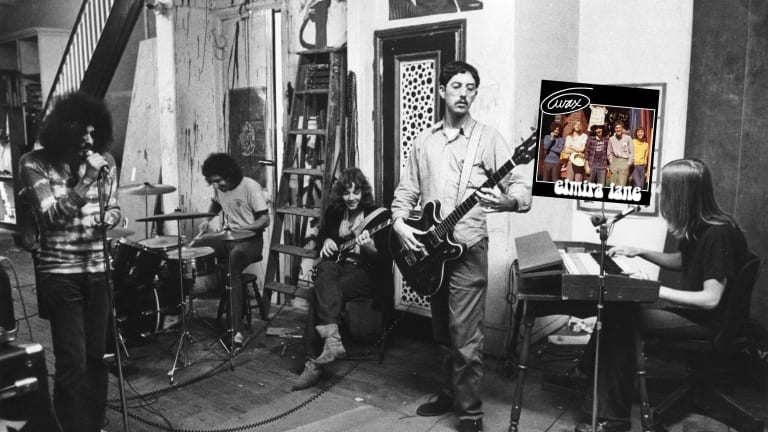 Where Are They Now? — Wax
Despite a vibrant sound well in keeping with the diverse stylistic spectrum of the late '60s, the band Wax mostly remained a secret until a master tape was released over four decades later.
By Lee Zimmerman
By most people's reckoning, Wax (not be confused with the Andrew Gold/Graham Gouldman group of the same name) could be considered a decidedly obscure ensemble, having little to show for their three years of activity, from 1969 to 1971. Yet given the talent they nurtured early on, that claim could be considered overstated.
Indeed, the members of that Philadelphia foursome went on to greater achievements, each on their own. Rob Hyman later helmed The Hooters and wrote the enduring hit "Time After Time" for Cyndi Lauper. Rick Chertoff loaned his producing skills to Lauper, as well as Joan Osborne and Sophie B. Hawkins. Rick Levy made a formidable impression in the music business and also played a role in revitalized versions of Herman's Hermits, Tommy Roe and The Box Tops. David Kagan and the late Beau Jones filled out the lineup.
Despite a vibrant sound well in keeping with the diverse stylistic spectrum of their hometown, Wax mostly remained a secret until a master tape that was recorded live as an audition for Vanguard Records was put on CD in 2010. Originally released a decade ago under the less-than-ironic title Melted, it's now getting a reboot courtesy of two recently discovered tracks and a new name, Elmira Lane. John Kalodner, a legendary A&R man for Atlantic Records whose production credits include such heavyweights as Aerosmith, Foreigner and Journey, oversaw the project while the group themselves assembled some old imagery and put together a music video for the heretofore unreleased recording "Nearer to God."
Even though the band's songs have gathered dust for the past 50 years, Elmira Lane is a remarkably vibrant outing, a freewheeling blend of pop and rock prog (think Yes in particular), replete with some jazzier inclinations and rich, robust harmonies. It's also catchy and compelling, offering the impression that it's aged remarkably well. "Nearer to God" is especially timely, given a lyric that reads like a testament to the troubling times we find ourselves immersed in these days: "Everything is wrong … we've left the golden tower … to know that we are there to breathe and feel alive, to cut out all the talking, cut out all the jive."
Goldmine recently had an opportunity to speak with two Wax alumni, singer-songwriter-guitarist Levy and keyboardist-singer-occasional guitarist Hyman, and asked them to share their memories of the band and the lessons they learned going forward.
GOLDMINE: What are your fondest memories of the time you spent with the band?
RICK LEVY: My greatest memories of Wax were the friendships, and intense rehearsals and amazing creative energy we all contributed. By creating a totally unique original sound, we had a very fast rise (and pretty quick fall), but became one of Philly's best, and favorite, bands. Opening for bands like Chicago, Alice Cooper, John Mayall, The Byrds, The Everly Brothers and more was pretty heady stuff for a young band. Beginning our sadly ill-fated record at the Record Plant was also amazing. Likewise, performing for over 25,000 people at the very first Earth Day, April 22, 1970, at Fairmount Park in Philadelphia was a real highlight.
GM: How did the band originally come together?
ROB HYMAN: It came together quickly. We jammed a bit, it felt great, and suddenly we had two very enthusiastic managers. John Kalodner and Bill Sisca were two local "mover and shaker" types who were right there from the start as our Svengali-type managers. Wow, we had "managers"! They had tremendous energy and vision, and I suppose they actually put us all together. Even though we were just a "college band," we suddenly found ourselves opening for a number of major acts, playing some pretty challenging and what you might call progressive music. Everyone was writing, singing, contributing, creating a real musical melting pot of all our various influences. I had come to the University of Pennsylvania in Philly in the late '60s from Meriden, Connecticut, for school, as well as to look for musicians — maybe more the latter! I just wanted to grow my hair and jam with likeminded souls. Unfortunately, my first Penn sightings were pretty much jocks and fraternities, and not really what I had in mind. That is until I met Rick Chertoff. Finally, I had a musical comrade! We bonded over John Mayall, British blues, Taj Mahal, Jethro Tull, Procol Harum and the like. Rick played drums, I was playing a Hohner Pianet electric piano, and we formed a band called Buckwheat with a guitarist and bass player Rick knew from New York City. We also had a cat of the same name. We basically did small college gigs — yes, fraternities were now our friend — and commuted up and down the Jersey Turnpike between Pennsylvania, West Philly and the Village in New York City. We had the musical jamming bug and Wax was born, rehearsing in the basement of a shoe store that Billy owned in downtown Philly, 3rd and Chestnut.
RL: Our bassist Beau Jones, who died in 2010, and I had played together in Allentown, Pennsylvania, in a group called The Limits. I went to the University of Pennsylvania in Philly, and Beau was stationed in the army in New Jersey. We formed the first version of Wax as a folk-rock group with Susan Hamlin on vocals and acoustic guitar, Ned Earley of The Limits on drums, and Steve Morris playing flute. We had a swirly psychedelic sound, but that version was short-lived. Our future managers, John Kalodner and Bill Sisca, saw the band and sensed we needed more of a rock sound. They recruited Rob Hyman on keys and Rick Chertoff on drums. They were also Penn students who had played together in a band called Buckwheat. I had worked with vocalist extraordinaire David Kagan — another Penn student — in a local blues band, and I recruited him as our singer. Even at the very first rehearsal, we knew we had something special.
GM: Why did the band decide to break up?
RL: I was devastated when Wax disbanded. We had a record deal with (record executive/record producer) Bob Crewe dissolve due to his label's financial difficulties, and it left us floundering. However, we continued to perform, and actually thought we might get another deal. Most of the tracks on the Elmira Lane album are from one totally live, no-overdub session at Vanguard Studios in New York City as an audition, but ultimately the members' different ideas and obligations led to the breakup. When I listen to the quality of the band and the songs, given my 50 years of touring experience, I truly believe Wax could have been a major force in the rock music scene. There was so much talent, as time has proven … Time after time, one might say!
RH: Well, we certainly had many pieces in place — cool interesting songs, great musicianship and chemistry, original arrangements, strong vocals and unique personalities — the whole package. Before we knew it, John and Bill had a record deal for us via Bob Crewe's CGC label. Also, somehow Hy Lit, a big local DJ in Philly, got involved in the deal, around 1970, I believe. The next thing you know, we had a budget, an advance to buy some gear, and we were recording at the famous Record Plant studios in New York City. We were all of 20 and 21… our heads were spinning for sure. It was all good until it wasn't. We showed up one day to find the studio locked and the sessions canceled. Apparently CGC Records went belly-up. Back we went to Philly, without even a cassette of our tunes. God knows what happened to the tapes but we didn't get 'em. It was very disappointing, of course.
GM: What happened then?
RH: We did soldier on after the New York City debacle. We tried picking up the pieces, kept playing and writing as I recall, with Kalodner and Sisca still looking for another record deal. There wasn't much action there, but they did manage to work out an "audition" tryout session at Vanguard Studios in New York. I believe we cut an album's worth of material live in the studio one day to shop for a deal. But again, there was no luck there. Unfortunately, though there was a ton of talent, drive and inspiration in Wax, but I guess we just didn't have that one magical three-minute "hit" song that might have launched the band beyond the local scene. We were more into extended jams, whiplash time changes, and somewhat experimental music that just might have been ahead of its time. Eventually John Kalodner went out to L.A. and on to great success cultivating big hits for the likes of Aerosmith and many other artists. He definitely had the "ears." Billy Sisca found success with a video company and producing some big infomercials. So they were both very talented and committed guys as well.
GM: How did these tapes come to be unearthed?
RL: The tracks on Elmira Lane are from three sources. Eleven of them are from a one-take, no-overdub session at Vanguard Studios in New York City recorded in May 1971. "It Don't Matter At All" was recorded at Sigma Sound in Philadelphia as a promotional single. The newly discovered "Nearer to God" and "Warehouse Eyes "were among a group of songs recorded in 1970 at Regent Sound in Philadelphia. These two songs were never before released.

RH: The Vanguard Studio tape sat in obscurity for many years until John sent it my way. It did catch the band at a creative and performance peak, perfectly suited for what would eventually become AOR (album oriented rock), but again, it probably lacked the one special song that might have really captured the band's essence for a wider radio audience.
GM: What were you involved in prior to joining Wax?
RL: I was already a performer when I joined Wax. The Limits started in '65 in Allentown, and I'd played many gigs with them, but it was almost all cover music. But I had already begun learning the business side of music, pitching The Limits to labels, managing the band. Wax was an entirely different level: all-original material, professional management, legal team, intense rehearsal schedule and laser focus on recording. Mostly, I feel, the experiences in both The Limits and Wax gave me the tools to never give up, regardless of the outcome. As it turned out, I was never the bride, but the bridesmaid, having made a career of working, managing, performing with numerous '60s pop/rock legends.
GM: Now that Elmira Lane has come out, has there been any thought given to a possible reunion?
RL: I don't know about reforming. I think it's highly doubtful, especially given Rob's involvement with The Hooters, mine with The Box Tops, and our geographical distance from one another. We did unite in 2010, when Beau Jones died, for a memorial Beaufest in Allentown. Rob's musical partner and bandmate Eric Bazilian assumed bass guitar duties, and we performed several of our best songs. I certainly wouldn't mind getting back together to play a few shows, although it would be even more exciting to possibility record some new songs. Rob has a fantastic studio outside Philadelphia. Our college pal Arnie Holland's Lightyear label is putting out the Elmira Lane album, so it's a real homecoming for all of us. I wouldn't mind if it would continue!

RH: We did have a reunion of sorts in 2010 when our beloved bass player and creative genius Beau Jones sadly passed away. We played a few songs up in Allentown at a musical memorial for Beau with my Hooter partner Eric Bazilian filling in on bass. I don't know if we'll do any more — it has been 50 years! — but it was certainly wonderful to get the band back together at least one more time in Beau's honor. We know he was smiling down on us as we revisited some of those classic Wax tunes. He was certainly missed that night. He was a wonderful generous soul.
GM: What have you been doing in the 50 years following your work with Wax?
RL: The '70s were a decade of change for me. I got married, had a son, and ultimately became a single dad, which was the best experience of my life. Beau and I also became instructors in Transcendental Meditation, which I still practice daily. In 1980, we regrouped as The Limits with some new people and started Luxury Records, which released several albums and singles. The Limits have had a bit of a resurgence since I licensed The Limits-Garage Nuggets 65-68 and Songs About Girls albums to L.A. based Cleopatra Records. So now we are gaining some new fans. However, my career really started happening when I got involved in managing, tour managing and performing with various legacy artists. I began with Jay and The Techniques, and then spent three years as Peter Noone's bandleader. I spent many years with Tommy Roe, and for the past five years, I've managed and played guitar with Memphis Music Hall of Fame artists The Box Tops. I also had my memoir High in the Mid 60s published in 2018 by Crossroads Press. Its available on Amazon and thru my website www.ricklevy.com. The Box Tops of course had many shows canceled due to COVID, but we can't wait to hit the road again.

RH: After the original group split up, another version of Wax played for a bit, with guitarist Eric Bazilian in the last incarnation. After Wax II disbanded, David Kagan and I formed Baby Grand. It was originally planned as a duo writing-studio concept with Eric Bazilian eventually joining to form a trio for our debut Arista album in the late '70s. Baby Grand did a second album called Ancient Medicine, and we became a fully formed band with Carmine Rojas on bass and David Prater on drums. It was a powerful band, but it was also challenging musically. Rick and I co-produced both albums. We did some touring, got some airplay, but again, as with Wax, even with all the talent, we couldn't land that elusive hit. Though we were attempting a third album for Arista, Baby Grand was dropped from the label.
GM: Rob, you found success with The Hooters and, subsequently, Cyndi Lauper. That must have felt like you had finally gotten your big break.
RH: Eric and I were giving it one more shot when we formed The Hooters and played our first gig in June 1980. We played a bunch of clubs, had some local radio hits, but even that original lineup disbanded in 1982. We had always kept in touch with Rick Chertoff, who was now working at Columbia Records and had a new artist he was producing for the Portrait/Epic label, a solo artist named Cyndi Lauper. With Rick at the helm, Eric and I became the band that played on most of her debut album, She's So Unusual. At our Philly rehearsal studio in Manayunk on the outskirts of Philly, we worked up arrangements for "Girls Just Want to Have Fun," "All Through the Night" and some of the other songs on that album. It seemed the planets were finally aligning.
GM: Indeed, they were at long last.
RH: In 1983, we all went back into the Record Plant to record. It was there that Cyndi and I co-wrote "Time After Time," and that's when Rick suggested we needed one more song for the album. That elusive hit emerged, after which Eric and I retooled The Hooters lineup and recorded an indie album called Amore, which found a larger local audience for us. The circle was complete a few years later in 1985, when The Hooters released Nervous Night on Columbia with Rick Chertoff producing. We did two more albums with him — One Way Home in 1987 and Zig Zag in 1989. We also undertook quite a bit of national and, eventually, international touring. We moved to MCA for a few more albums, then took a few years off for some other projects, including raising our respective kids. The Hooters have been playing and recording on our own label since the early 2000s. In fact, The Hooters had planned a big 40th anniversary tour in 2020, but COVID-19 had other plans. All concert dates have been rebooked for 2021, with fingers crossed we'll be able to do that.
GM: Did you feel like you had finally been vindicated?
RH: It's been a long and winding road indeed, but the beat goes on. In another music-biz twist, after Wax disbanded and we had finished school, Rick packed up his drums and moved back to New York City. Soon after, he got an A&R/producer gig at a new label called Arista Records with Clive Davis at the helm, and he started picking out hits as well. I guess it all just took a little time.
GM: What advice would you give a young band like Wax that's starting out in the music business and looking to carve out a career?
RL: My advice is simple. Either this is something you have to do, or its not! If "making it" is the benchmark, you should probably stop! On the other hand, having a steady job and playing on weekends can be a lot less stressful and more fun. But I knew from the first time that I played with The Limits that this was what I wanted for my career path. Well of course this was all about 50 years ago now, so I imagine you'll get various takes of the story here! But basically my recollections are that everything seemed to happen very fast for us.

RH: One thing I've learned is that all the planets have to align. It starts with some talent, obviously, but then there is the perseverance, the elusive chemistry, the "connections" and maybe and most importantly, the luck and timing. Then, at least you have a chance. Like any part of show business, there are trends, sounds, fads, etcetera, as you try to tap into the Zeitgeist. As far as rock and roll goes, some things never change: You just gotta get out there and play as much as you can unless you're one of the lucky few to be plucked out of obscurity. Basically you have to put in the work and keep those fingers crossed. Of course it's much more challenging these days, but live performance will certainly come back, probably stronger than ever, as it is such a life force for everyone, on both sides of the stage. It all still starts there.