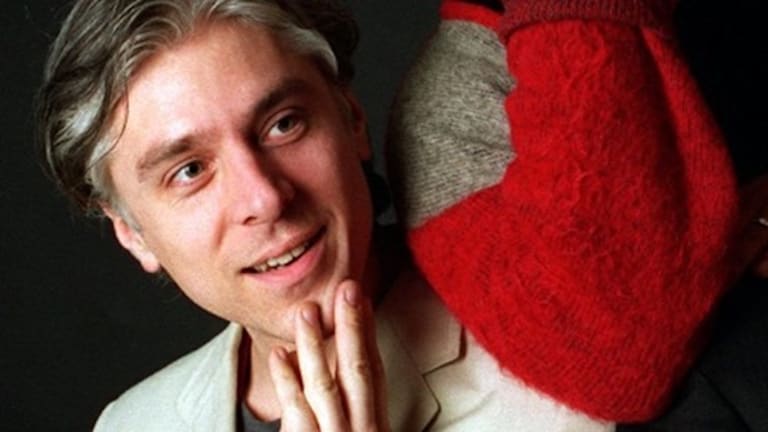 Bill Rieflin - September 29, 1960-March 25, 2020
Remembering Ministry/REM/King Crimson drummer and multi-instrumentalist Bill Rieflin
By Dave Thompson
Bill Rieflin was one of the gentlemen of '90s rock. Soft spoken, painstakingly polite, incredibly well-read and an absolute brute when it came to what he considered "good writing," we met in Seattle in the early 1990s, when he complimented me over a piece I'd written for Alternative Press — and then detailed all the things that were wrong with it.
We bonded over a mutual love of, in no particular order, John Cale… the first time I visited his home, he was thrilled to discover he had a B-side that I'd never heard, and gleefully refused to play it until just before it was time to leave… the first three Mike Oldfield albums (the Boxed quad mixes were a particular favroite) and King Crimson, and it's fitting that today, he is as well known for his lengthy eight year tenure in recent Crimson, as he was for stints in Ministry and REM before them.
The precision with which Bill played, the strength with which he drove the music, and the perfection that he expected from everyone around him were themselves perfect for Crimson, and though he admitted, the last time we talked (earlier this year) that he wasn't 100% crazy about the myriad KC live albums that document his work, now we can see them as perhaps the most fitting memorial to his talents.
Born September 30 1960, the Seattle native was present for the first wave of punk bands that swept out of the northwest as he reached his late teens, first as a member of the much-loved Telepaths, who then morphed into the Blackouts shortly before heading east to Boston in search of greener pastures.
Joined now by another Seattle-ite, Paul Barker, the Blackouts fell into the orbit of Al Jourgensen, as he tried to steer the then-infant Ministry away from the synthipop stylings of their debut album. And he succeeded, reconstituting the band (and its multitudinous spin-offs) around the newcomers and, as the eighties bled through the hour glass, effectively inventing all that so-called Industrial Music would become, and peaking with that savage stream of MTV favorites that soundtracked the early 1990s… "Jesus Built My Hot Rod," "Just One Fix" and "NWO."
To which can be added such cult delights as the Revolting Cocks' cover of "Do Ya Think I'm Sexy," Acid Horse's "No Name, No Slogan" and what is frankly the most terrifying cover of Black Sabbath's "Supernaut" ever schemed, by the wonderfully named 1000 Homo DJs.
Even from the drum stool of one of the biggest bands of the age, however, Bill - who had by now moved back to Seattle - never stopped going out to clubs, watching new bands, spending time with friends. I believe our first meeting came at an Ivan Kral gig, the former Patti Smith guitarist (who himself passed away so recently) now a Seattle resident in his own right.
We ran into one another constantly after that… Bill was a massive admirer of Ruby, when she emerged; he was in at the birth of Martin Atkins' Pigface, and the First World Music label that he formed with Chris Connolly, he played with KMFDM, the Swans and the Minus 5, and released a solo album, aptly titled Birth of a Giant, that introduced the world to his friendship with Crimson's Robert Fripp.  He may have been best-known as a drummer, but he was a skilled multi-instrumentalist and these side projects allowed him to revel in his abilities.
Departing Ministry in 1996, Bill remained active on the local scene, until he was recruited to REM in 2003 - Peter Buck also lived in Seattle, and had already been involved in several Rieflin side projects; ten years later, Bill was unveiled as one of the three drummers (and keyboard player too) who would be powering the latest incarnation of King Crimson.
Unfortunately, health problems would now begin interrupting his career, both his own and, shortly after, those of his wife, artist Francesca Sundsten. In the event, she predeceased him, passing away on March 9, 2019; Bill's nine year battle with cancer saw him survive that anniversary by little more than two weeks.
Sweet dreams, Bill