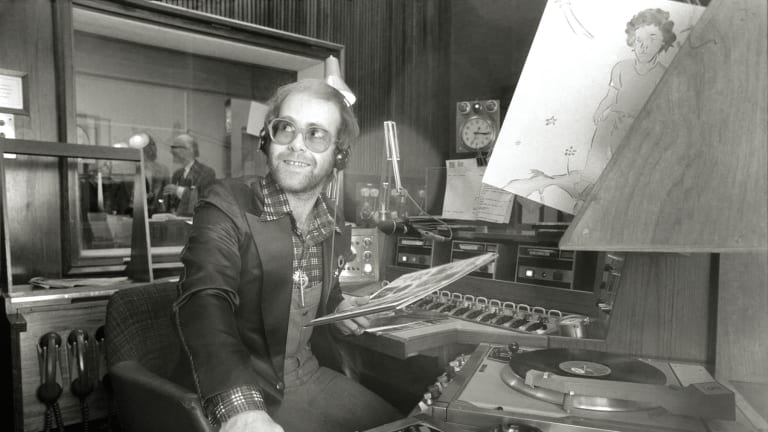 Elton John shares his love for music collecting with Goldmine
The legendary Elton John tells Goldmine that he owns a collection of 120,000 CDs and 15,000 vinyl records — and his love for collecting doesn't stop there.
The following is a snippet from the upcoming Elton John cover story/interview of Goldmine's January 2021 issue.
Goldmine talks to Elton about many things (i.e., his latest Elton John: Jewel Box release) but also his love for music collecting.
GOLDMINE: Elton, Goldmine is a record collecting magazine, so our readers would be very interested in hearing about your own record collection. How many records/recordings do you have in your collection? How are they stored?
ELTON JOHN: I have over 120,000 CDs and 15,000 pieces of vinyl. They are stored in my home shelves so I can access whatever I want, whenever I want.
GM: What was the first record you bought?
EJ: One of the first records I bought was "Secret Love"/"Deadwood Stage" by Doris Day. My mother bought it for me as a reward for going to the dentist to have a tooth pulled. 
I sold all of my very first vinyl collection in 1989/90 to raise money so I could set up the Elton John AIDS Foundation.
GM: What's the most valuable/unusual record/recording you own?
EJ: An original pressing of the very first Beatles album (Please Please Me) on the black and gold Parlophone label.
GM: What are some of the most unusual items in your collection?
EJ: My most unusual item of vinyl is called "Crepitation Contest" by Lord Windesphere & Mr. Paul Boomer.
GM: Do you have a preferred format? (45, LP, CD, tape, etc.)
EJ: I definitely prefer LPs.
GM: What's on your wish list?
EJ: Any vinyl by Lewis Taylor. There is nothing available from him on vinyl at the moment.
— Gillian G. Gaar
Read the entire Elton John interview in Goldmine's January 2021 issue, available now at select Barnes & Noble, Books A Million and record stores.