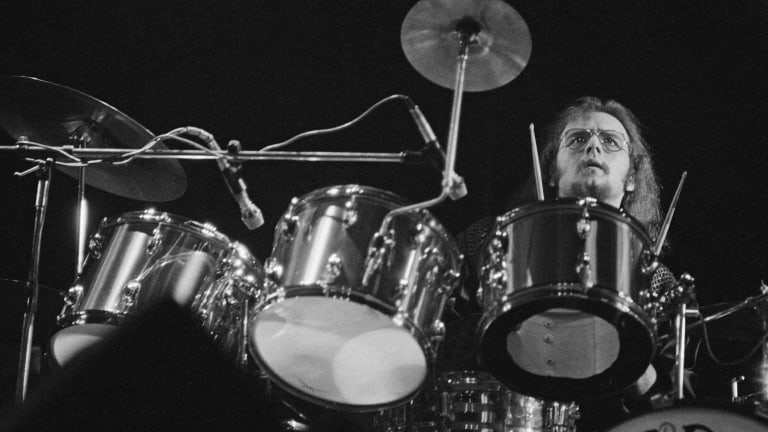 In Memoriam: Doobie Brothers drummer John Hartman, Janis Joplin's guitarist John Till and others
We remember drummer John Hartman, guitarist John Till, pianist Ramsey Lewis, singer-songwriter Jim Post of Friend and Lover and others
John Hartman The Doobie Brothers' founding drummer John Hartman passed away at age 71 (made public recently). Hartman played on all thirteen Top 40 hits for the group in the 1970s from "Listen to the Music" through "Dependin' on You," including the pair of No. 1 gold singles "Black Water" and "What a Fool Believes." After the first album, a second drummer was added to the group, first Mike Hossack in 1971 replaced by Keith Knudsen in 1973, doubling their percussive sound, especially on the Top 10 hit "Long Train Runnin'."
In 1974, when Steely Dan was reduced to a duo, The Doobie Brothers picked up Steely Dan's guitarist Jeff "Skunk" Baxter, who said, "John Hartman was a special combination of musician, drummer, percussionist, showman, innovator and fearless pursuer of knowledge. His energy and talent were major factors in the early success of the Doobie Brothers. His idiosyncratic sense of humor and driving drumming style made him the right person at the right time for the Doobies in particular and music in general." Baxter and Hartman, along with Patrick Simmons, co-wrote "Wheels of Fortune," the opening track on the Top 10 album Takin' it to the Streets.
In 1979, Baxter and Hartman left the band, but Hartman returned in 1989 through 1992, including playing on the classic rock band's Top 10 comeback hit "The Doctor."
In 2020, Hartman was among the members of The Doobie Brothers to be inducted in the Rock and Roll Hall of Fame.
John Till Canadian guitarist John Till, from Janis Joplin's Full Tilt Boogie Band, passed away September 4 at age 78. Till's playing was heard on Janis Joplin's final studio album Pearl, released after her passing and included the posthumous hit "Me and Bobby McGee." He can be seen playing an exciting solo on "Move Over" on the Festival Express film two-DVD set, a song which we recently featured in our Goldmine Fabulous Flip Sides series.
Plus, listen to biographer for John Till explain the guitarist's importance to the Full Tilt Boogie Band on a Goldmine Podcast episode HERE.  
Ramsey Lewis Chicago jazz pianist Ramsey Lewis passed away September 12 at age 87. The Ramsey Lewis Trio debuted in the Top 40 in 1965 with the live instrumental "The 'In' Crowd" which reached No. 5. Two covers immediately followed, "Hang on Sloopy" and "A Hard Day's Night," which also reached the Top 40 for the trio who included Eldee Young on bass and Isaac "Red" Holt on drums. The trio disbanded during this Top 40 run with Young and Holt forming Young-Holt Unlimited and reaching the Top 10 at the end of the decade with their gold single instrumental "Soulful Strut." After Holt and Young's departure, Lewis returned to the Top 40 for a final time with "Wade on the Water." He covered The Beatles two more times in the Top 100 that decade with "Day Tripper" and "Julia." His re-formed trio included Cleveland Eaton on bass and drummer Maurice White, who would become a founding member of Earth, Wind & Fire.
Jim Post Known best for the 1968 Top 10 hit "Reach Out of The Darkness" as half of the duo Friend and Lover, singer-songwriter Jim Post passed away September 14 at age 82. Post told Goldmine, "I kept a note pad. One page had 'I think it's so groovy now that people are finally getting together' and another page had 'reach out.' More pages of lyrics followed. There was not a repeated melodic verse in the song. It did well for us then and since then has been used in the Mad Men television show and a Target ad."
The album Reach Out of the Darkness was subsequently released, comprised of eleven of Post's compositions produced by Joe South, opening with "Boston Is a Lovely Town." Friend and Lover traveled as the opening act for Cream's 1968 farewell tour. Post said, "We flew over Boston, and it looked so beautiful from the sky, which was the inspiration for that opening number." The album also included the duo's second Top 100 single "If Love is in Your Heart" which Post said, "had a very nice melody."
After Friend and Lover disbanded, Post performed for years with a variety of shows including folk music, storytelling and children's music.
Coolio Rapper Coolio, born Artis Ivey, passed away September 28 at age 59. His first success arrived in 1994 with the Top 10 platinum single "Fantastic Voyage," a rap version of Lakeside's 1980 No. 1 R&B single of the same name. Coolio's biggest achievement happened the following year with his second platinum and sole No. 1 single "Gangsta's Paradise," a rap version of Stevie Wonder's "Pastime Paradise" from the movie Dangerous Minds. This Grammy winning recording was the inspiration for "Weird Al" Yankovic's 1996 parody and popular video "Amish Paradise" from his Bad Hair Day album. Coolio's success continued with three mid-1990s gold singles, "1,2,3,4 (Sumpin' New)," "It's All the Way Live (Now)" and "C U When U Get There."
Jesse Powell R&B singer-songwriter Jesse Powell passed away September 13 at age 51. His biggest hit was the beautiful ballad "You" which reached the Top 10 in 1999. Powell's sisters Trina & Tamara followed a few months later with "What'd You Come Here For?" which made the Top 100 and sampled Rose Royce's "Car Wash."
Marva Hicks R&B singer and actress Marva Hicks passed September 17 at age 66. Hicks' tender and soulful single "Never Been in Love Before" was a Top 10 R&B hit in 1991. Prior to her self-titled album, which contained this song and a duet with Stevie Wonder, "Our Strong Love," Hicks was a backing vocalist for Wonder.
Sonny West Rockabilly singer-songwriter and guitarist Sonny West passed away September 8 at age 85. Buddy Holly achieved success with two of West's compositions, "Oh Boy" which reached No. 10 in 1957 and "Rave On" which reached No. 37 in 1958.
Bobby Sutliff Guitarist Bobby Sutliff passed away August 29 at age 65. In the 1980s he was part of the duo The Windbreakers with Tim Lee. Most recently, his version of the song "Indiana Wants Me" by R. Dean Taylor, who passed away in January, was released on the pop-rock compilation We All Shine On, filled with 22 covers of songs originally from 1970, which we reviewed in Goldmine.
Pharoah Sanders Jazz tenor saxophonist Farrell "Pharoah" Sanders passed away September 24 at age 81. Sanders was a member of John Coltrane's mid-1960s groups and worked with keyboardist Alice Coltrane and vocalist Leon Thomas who also were featured on Santana's 1973 jazz fusion album Welcome. Sanders' best known album is his 1969 album Karma on Impulse!, the jazz label established by Creed Taylor who passed away in August.
Anton Fier Native Cleveland drummer Anton Fier passed away Sept 21 at age 66. Fier played with Mr. Stress Blues Band, Pere Ubu, The Feelies, The Lounge Lizards, The Golden Palominos and more. As an in-demand drummer, Fier played on recordings by Mick Jagger, Yoko Ono, Laurie Anderson, Herbie Hancock, Gil Scott-Heron and many others.