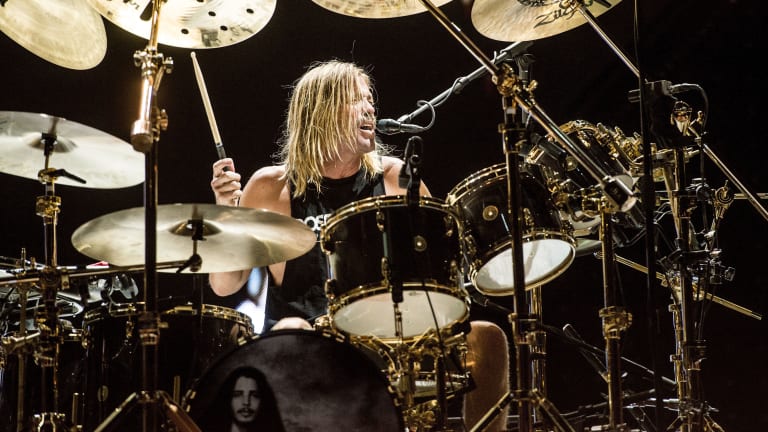 In Memoriam March 2022: Foo Fighters drummer Taylor Hawkins, producer Richard Polodor and others
KISS' Eric Singer remembers Foo Fighters' Taylor Hawkins and Steppenwolf's John Kay pays tribute to Richard Polodor. Also, a farewell to country music's Warner Mack and Jeff Carson, R&B's Timmy Thomas, Blue Magic's Richard Pratt and others.
Taylor Hawkins Foo Fighters drummer Oliver Taylor Hawkins passed away March 25 at age 50. KISS' drummer Eric Singer told Goldmine, "The loss of Taylor is very sad. I first met him at Orange County Drum as he was preparing for an audition with Sass Jordan. He had this infectious smile and aura and was kinetic energy personified. Taylor maintained that vibe throughout his life and career. He was always the humble and gracious person he was famously known for being. We both shared our intense love for the band Queen and for many drummers we mutually admired. R.I.P. Taylor, a true gem!"
Hawkins passed his audition with Canada's Sass Jordan and toured with her and then toured with Alanis Morissette, which is when Foo Fighters' leader Dave Grohl got to know him as Morissette was on the same tour as Foo Fighters in the mid-1990s. When Grohl sought to replace the group's initial drummer William Goldsmith, he asked Hawkins for recommendations and Hawkins offered himself, wanting to be part of a band versus drumming for a solo performer. He was first heard on the group's 1999 album There is Nothing Left to Lose, which included the Top 40 hit single "Learn to Fly," the first of several Foo Fighters hits co-written by Hawkins. At the time, David Lettermen called Foo Fighters his favorite band and used the song "Next Year" from the album as the theme for the television dramady show Ed, which Lettermen was an executive producer for, through his Worldwide Pants production company. "All My Life," "Times Like These," "Best of You," "The Pretender" and many more popular Foo Fighters songs were co-written by Hawkins, whose technical skill as a drummer enabled Grohl to focus on guitar and vocals, versus drums as Grohl did with Nirvana.
Hawkins was also the lead vocalist on Foo Fighters songs "Cold Day in the Sun," "Sunday Rain," and a wide array of covers the band performed including Pink Floyd's "Have a Cigar," Bee Gees songs as The Dee Gees and "Somebody to Love," from his favorite group growing up, Queen, inspired by their drummer Roger Taylor.
The Rock and Roll Hall of Fame Inductee also played in a variety of side projects when on break from his Foo Fighters activities including Taylor Hawkins and The Coattail Riders. In the 2020 film, The Doors: Break on Thru – A Celebration of Ray Manzarek, Hawkins sang lead on the opening number "Love Me Two Times" with surviving Doors members Robby Krieger on guitar and John Densmore on drums, along with Foo Fighters' Rami Jaffee on keyboards, Robert DeLeo from Stone Temple Pilots on bass and Stephen Perkins from Jane's Addiction on percussion. Hawkins and the other Foo Fighters star in the new music horror film Studio 666.
Richard Polodor Producer Richard Polodor passed away March 9 at age 86. In addition to producing several hit-filled albums for Three Dog Night, Polodor also produced albums for Iron Butterfly, Steppenwolf, The Souther-Hillman-Furay Band, Blues Image and many more. His singles production successes included "Fallin' in Love" for The Souther-Hillman-Furay Band, which reached No. 27, the gold single "Ride Captain Ride" by Blues Image, which reached No. 4, and several gold singles for Three Dog Night including the No. 1 hits "Mama Told Me (Not to Come)," "Joy to the World" and "Black & White."
In the mid-1970s, Three Dog Night's non-vocalist band members formed the band S.S. Fools, named after their 1972 album Seven Separate Fools which included the hits "Black & White" and "Pieces of April." Vocalist Bobby Kimball was asked if he would like to come from Louisiana to Los Angeles to be S.S. Fools' singer on the album produced by Polodor. In his 2017 Goldmine interview, Kimball shared his reply, "'Try to stop me!' So, I moved to L.A. during the S.S. Fools rehearsals." This became Kimball's national recording debut, before moving on to his founding role in Toto, getting his break courtesy of Richard Polodor's production.
Steppenwolf's John Kay said, "What makes the loss hard to contend with is that I lost an admired friend who enriched my life. Farewell Richard, it was a blessing knowing you."
Timmy Thomas R&B singer Timmy Thomas passed away March 11 at age 77. In the 1960s Thomas played organ on Stax/Volt recordings, sometimes filling in for Booker T. Jones. 1970, he moved from Tennessee to Florida where he taught at Florida Memorial College and opened a lounge in the Miami Beach area, often providing entertainment. His song "Why Can't We Live Together," a plea for brotherhood and compassion, received positive reaction and led him to recording and releasing the song on T.K. Records' subsidiary label Glades in 1972. The single reached No. 3 on Billboard's pop chart and spent two weeks at No. 1 on the soul chart in early 1973. This chart debut was followed by several singles through the mid-1980s including the R&B Top 40 hits "People Are Changin'," "What Can I Tell Her," "I've Got to See You Tonight" and "Gotta Give a Little Love (Ten Years After)."
Warner Mack Country music singer-songwriter Warner Mack, born Warner McPherson, passed away March 1 at age 86. Mack debuted in the country Top 10 in 1957 with his composition "Is It Wrong (For Loving You)." Ten more country Top 10 hits continued in the following decade, including "The Bridge Washed Out," which reached No. 1 in 1965.
Jeff Carson Country music singer-songwriter and guitarist Jeff Carson passed away March 26 at age 58. Carson's 1995 self-titled debut album produced three Top 10 country singles, "Not on Your Love," "The Car" and its flip side "Holdin' onto Somethin'," which charted separately in the Top 10 the following year. In 2001, Carson returned to country's Top 40 with "Real Life (I Was Never the Same Again)."
Richard Pratt Blue Magic's bass singer Richard Pratt passed away March 1. The Philadelphia vocal group charted three times in Billboard's pop Top 100 in 1974 beginning with "Stop to Start," echoing the smooth soul sound of The Stylistics. Their sole gold single "Sideshow" followed, which reached No. 8 on the pop chart and No. 1 on the R&B chart, both from their self-titled debut album. Their single "Three Ring Circus" followed from the group's second album The Magic of Blue, released at the end of the year.
Bobby Weinstein Songwriter and later BMI executive Bobby Weinstein passed away March 18 at age 83. Weinstein co-wrote a pair of back-to-back Top 10 hits for Little Anthony and The Imperials in the early 1960s, "Goin' Out of My Head" and "Hurt So Bad," with both songs covered by The Lettermen later that decade and returning to the Top 40. "Hurt So Bad" reached the Top 40 again in 1980 for Linda Ronstadt. Most recently, "Hurt So Bad" was released, Lettermen-style, by The Explorers Club.
Mike Cross 1990s alternative rock band Sponge's guitarist Mike Cross passed away March 6 at age 57. Sponge's highest charting single was "Plowed," which reached No. 41 in 1995, followed by "Molly (Sixteen Candles)" and "Wax Ecstatic (To Sell Argentina)."
Jim Miller Donna the Buffalo co-founder Jim Miller passed away March 24 at age 69. Miller was a key member of the band Donna the Buffalo for their first fifteen years. Most recently, he was part of the trio Western Centuries.