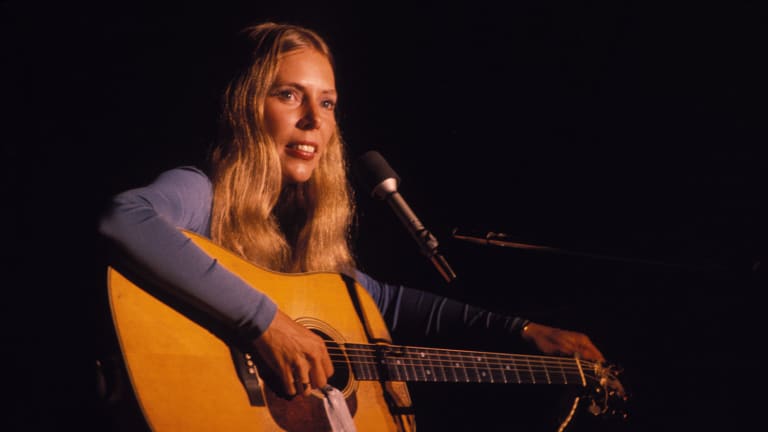 Joni Mitchell announces new box set 'The Asylum Albums (1972-1975)'
4-album set features remastered versions of 'For the Roses,' 'Court and Spark,' 'Miles of Aisles,' 'The Hissing of Summer Lawns'
Shop for Joni Mitchell vinyl at Goldmine's store.
It's been a big month for Joni Mitchell. The iconic 78-year-old folk singer recently appeared at the Newport Folk Festival, where she wowed attendees with a surprise performance. It was Mitchell's first time back at the festival in over 50 years, and her first full live set in more than two decades.
Today (July 28th), Rhino Records announced the release of a new Joni Mitchell box set: The Asylum Albums (1972-1975). The collection features new remastered versions of For The Roses (1972), Court And Spark (1974), the double live album Miles Of Aisles (1974), and The Hissing Of Summer Lawns (1975). All four albums were recently remastered by Bernie Grundman.
The Asylum Albums (1972-1975) arrives on September 23rd in multiple formats: 4-CD ($49.98) and 5-LP 180-gram vinyl ($124.98, Limited Edition Of 20,000) as well as digitally.
The box set announcement arrived with the premiere of the newly remastered "You Turn Me On I'm A Radio" from For The Roses. Listen to that above.
The cover art for box set features an original painting by Mitchell, an essay by Neil Young. "Joni's music is so deep and transporting," writes Young. "She comes right from the source. There is no mistaking it…For The Roses, Court And Spark, Miles Of Aisles, and The Hissing Of Summer Lawns…are all classics in my book. I listened to every album as it came out. The musicians she played with were always above my abilities. She had grown from folk to jazz and in between, creating a unique kind of sound that I loved to listen to over and over."
If you pre-order the CD or LP version of The Asylum Albums (1972-1975) from JoniMitchell.com will also receive an exclusive, limited edition 7" x 10" of the painting on the cover of the box.
THE ASYLUM ALBUMS (1972-1975)
Track Listing
For The Roses (1972)
1. "Banquet"
2. "Cold Blue Steel And Sweet Fire"
3. "Barangrill"
4. "Lesson In Survival"
5. "Let The Wind Carry Me"
6. "For The Roses"
7. "See You Sometime"
8. "Electricity"
9. "You Turn Me On I'm A Radio"
10. "Blonde In The Bleachers"
11. "Woman Of Heart And Mind"
12. "Judgement Of The Moon And Stars (Ludwig's Tune)"
Court And Spark (1974)
1. "Court And Spark"
2. "Help Me"
3. "Free Man In Paris"
4. "People's Parties"
5. "Same Situation"
6. "Car On A Hill"
7. "Down To You"
8. "Just Like This Train"
9. "Raised On Robbery"
10. "Trouble Child"
11. "Twisted"
Miles Of Aisles (1974)
1. "You Turn Me On I'm A Radio"
2. "Big Yellow Taxi"
3. "Rainy Night House"
4. "Woodstock"
5. "Cactus Tree"
6. "Cold Blue Steel And Sweet Fire"
7. "Woman Of Heart And Mind"
8. "A Case Of You"
9. "Blue"
10. "Circle Game"
11. "People's Parties"
12. "All I Want"
13. "Real Good For Free"
14. "Both Sides Now"
15. "Carey"
16. "The Last Time I Saw Richard"
17. "Jericho"
18. "Love Or Money"
The Hissing Of Summer Lawns (1975)
1. "In France They Kiss On Main Street"
2. "The Jungle Line"
3. "Edith And The Kingpin"
4. "Don't Interrupt The Sorrow"
5. "Shades Of Scarlett Conquering"
6. "The Hissing Of Summer Lawns"
7. "The Boho Dance"
8. "Harry's House/Centerpiece"
9. "Sweet Bird"
10. "Shadows And Light"