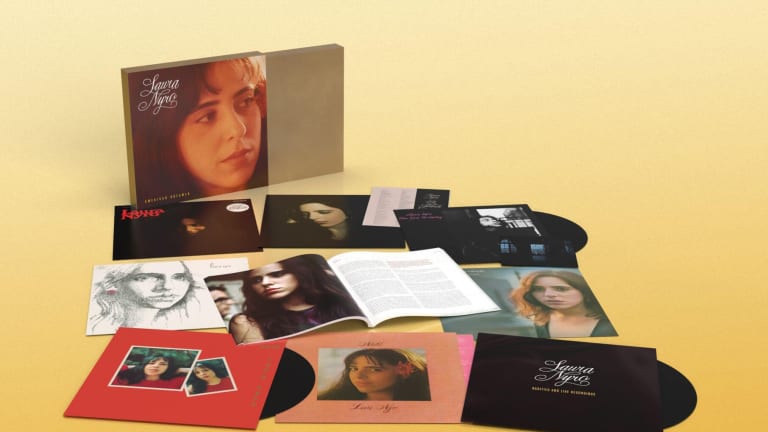 Laura Nyro 8-LP box set to be released end of July
On July 30th, Madfish Music celebrates the brilliance of singer-songwriter Laura Nyro with 'American Dreamer', a Limited Edition 8-LP vinyl box set.
On July 30th, Madfish Music celebrates the brilliance of singer-songwriter Laura Nyro with American Dreamer, a Limited Edition 8-LP vinyl Box Set featuring seven original studio albums from 1967 to 1978 and a bonus LP of rare demos & live recordings.
Including remasters of classic LPs such as 'Eli and the Thirteenth Confession', 'New York Tendaberry', 'Christmas and the Beads of Sweat' and 'Gonna Take a Miracle', this incredible body of work showcases just how special an artist Laura was before her tragic passing in 1997. In the words of Elton John:
"I idolized her. This is music so far ahead of its time that still sounds so unbelievable. The soul, the passion, just the out-and-out audacity of the way her rhythmic and melodic changes came, was like nothing I'd heard before. She influenced more songwriters that came out – successful songwriters – than probably anyone who came before her." 
This 8-LP Deluxe Vinyl Box Set will house the albums More Than A New Discovery, Eli And The Thirteenth Confession, New York Tendaberry, Christmas And The Beads Of Sweat, Gonna Take A Miracle, Smile & Nested, alongside an original LP of Rarities & Live Recordings.
During the singer/songwriter movement in the late '60s and early '70s, Laura Nyro was one of the most celebrated tunesmiths of her day. She penned soulful, literate songs that took the folky introspection of her peers and infused it with elements of soul, R&B, jazz, and gospel, giving them an emotional heat that set her apart. Nyro was a hugely respected recording artist, whose confident piano work and rich, expressive vocals made other sonic trailblazers such as Miles Davis and Alice Coltrane navigate towards her. She has influenced the greatest of songwriters – Bob Dylan, Joni Mitchell, Elton John, Neil Young, Carole King, Kate Bush and Elvis Costello among them. That influence continues today being heard in the works of Alicia Keys, Tori Amos, Suzanne Vega, Jenny Lewis and more. Nyro's wonderfully expressive and poetic songs – of which many became major hits by other artists, most notably The 5th Dimension, Three Dog Night and Barbra Streisand – remain hallmarks of outstanding quality. 'Eli's Comin', 'Gibsom Street', 'Wedding Bell Blues', 'And When I Die', 'Stoned Soul Picnic', 'Map To The Treasure', 'Sweet Blindness' and 'Stoney End' are magnificent examples. Nyro was 18 years old when she signed her first recording contract and wrote the songs for which she is likely to be best remembered. By the time she was 22, she had become one of the most successful composers in American popular music. But at the age of just 24, she drew back from her creativity and fame, battered and drained by the sheer energy and nerve required to sustain her career. 
Fortunately for those of us who loved her music, that was not the end of the story. She returned briefly to the fray for three turbulent years in the mid-to-late 1970s, and then enjoyed a final decade of artistic achievement and public acclaim, before illness took her from us at the tragically early age of 49 in 1997. Nyro found her early fame challenging yet despite living under an unrelenting spotlight, she was able to create this series of utterly beautiful and stunningly unique albums.