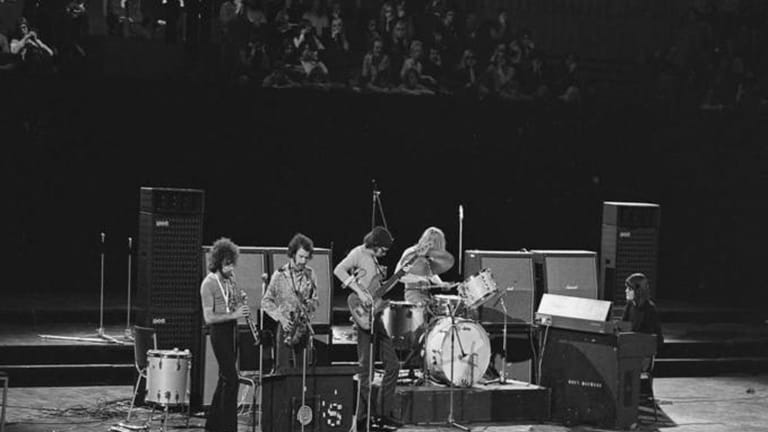 Soft Machine to release vintage performances as a CD/DVD set
Originators of electric Jazz/Rock, Britain's Soft Machine release "Facelift France and Holland," which captures them band at a pivotal moment in 1970 just before their breakthrough album "Third."
As broadcast on the French TV programme Pop 2, the film of Soft Machine's concert at Paris' Théâtre de la Musique, which constitutes the main course of the present release, stands as an exceptional document of the band at, arguably, its artistic peak. It is also the only video footage known to exist of the quintet line-up that was active from January to March 1970, and contains the only professionally-recorded performance of "Out-Bloody-Rageous" with Lyn Dobson on second sax, as well as the only professionally-recorded alternative performance by the quintet of "Facelift".

Until the release, nearly 30 years later, of Noisette (Cuneiform), "Facelift" on Third (itself edited to include segments from other studio and live tapes) had remained the quintet's sole recorded legacy. Noisette presented the rest of the Fairfield Halls concert of January 4, 1970 captured by sound engineer and band friend Bob Woolford, and has often been singled out as the best of the many Soft Machine archival releases. Another album, Breda Reactor, was taken from a poorly recorded Dutch gig later that same month, with an identical setlist save for the inclusion of a brief section of the future "Out-Bloody-Rageous" during "Esther's Nose Job." By the time of the Pop 2 performance, it had grown into the Ratledge tour-de-force that would later occupy the last side of Third.

Another new Ratledge composition—then untitled but soon to become the first half of "Slightly All the Time"—was unveiled on the French tour. Unfortunately, as the audience recording of the Théâtre de la Musique concert (included as a bonus on the DVD) reveals, this, along with nearly half of the second set, was left out of the edited broadcast (compared to just five minutes from the admittedly much-shorter first set, i.e., "Mousetrap" and "Noisette"). Because of its historical significance and despite its inferior sound quality, "Slightly All the Time" has been inserted back into the performance as presented on Disc 1, along with a brief excerpt of "Moon in June" which smoothens the transition to Robert Wyatt's vocal improvisation.

And to make this release an even more complete representation of Soft Machine's live set during this period, Disc 3 presents a previously unreleased performance at Amsterdam's Concertgebouw from January 1970 from a soundboard source. Heard in excellent sound are Hugh Hopper's "12/8 Theme" (never recorded in the studio, and save for Hugh's solo rendition on Monster Band, unheard until Noisette) and a complete "Esther's Nose Job," unlike the truncated version shown in Pop 2.

Pop 2, which aired from April 1970 to December 1973, was the brainchild of producer Maurice Dumay (a former program manager for Europe 1 radio), who chose to surround himself with a young team spearheaded by director Claude Ventura, whose innovative, reportage-like camera work had already been a trademark of Tous en Scène, recently taken off the air for blasphemy. That a French TV show about rock music should choose to devote its entire premiere, as well as another subsequent edition, to Soft Machine, may seem incredible in retrospect, and probably merits an explanation.

The band's love story with France had begun in the summer of 1967, when the original lineup had somehow found itself providing live musical accompaniment to happening artist Jean-Jacques Lebel's production of Picasso's Le Désir attrapé par la queue during its ill-fated sojourn on the French Riviera. The play became that summer's succès de scandale, and made "La Machine Molle" instant stars: Eddie Barclay hired Soft Machine for his ultra-hip Nuit Psychédélique in Saint-Tropez, and leading magazine Le Nouvel Observateur promptly dubbed them "the new Beatles." When they crossed the Channel again to perform at the Paris Biennale that autumn, they were duly invited to appear on several high-profile TV shows (Dim Dam Dom, Caméra III, Bouton Rouge), and by the time they played at La Fenêtre Rose—France's answer to London's 14-Hour Technicolor Dream—in November 1967, their status as one of the top British groups was established.

Despite disappearing for the whole of 1968, first touring America with the Jimi Hendrix Experience and then temporarily disbanding, when Soft Machine returned to Paris in June 1969 to headline a festival at the Bataclan showcasing the new generation of French bands, they had lost none of their popularity, and once again they appeared on French TV's rock programs of the day—Forum Musiques and the above-mentioned Tous en Scène.
The band's commercial potential seemed big enough to its French agent Norbert Gamsohn that he set about organizing a major tour of the country's new Maisons de la Culture circuit. Such was the scale of the eventual itinerary—over 30 dates, divided into two legs, the first in December 1969, the second in February–March 1970—that it allowed the trio to afford what they'd been contemplating for a while already: add a brass section, mostly borrowed from the Keith Tippett Group. Regrettably, that septet line-up was already history by the time the second leg took place: for practical as well as economic reasons, it had been trimmed down to a quintet.

The venue chosen for the Soft Machine's Paris concert was the Théâtre de la Musique, originally (and better) known as La Gaîté-Lyrique. A fine example of Second Empire architecture, it had been built in the early 1860s, soon becoming Paris' most popular showplace when it hosted Offenbach's most famous operettas. With some notable exceptions like the 1918 Ballets Russes season, the 20th century proved less sympathetic to the theatre, which by the early 1960s, lay virtually abandoned as a music venue. It was briefly revived in 1970, and in addition to the Softs, the venerable 1,500-capacity hall also hosted memorable concerts by Magma and Gong. Various attempts at reviving the venue, including as a museum, were short-lived, although recently, it began hosting concerts (and other events) again as La Gaîté-Lyrique.

In order to accommodate the program's 40-minute format, the edited concert was broadcast in two segments: the first on its April 30 premiere, and the second on July 23, ostensibly to coincide with the band's scheduled (but ultimately cancelled) midsummer appearances in several festivals in the South of France.

There is little to fault with either the sonics or visuals of the footage—the occasional, disconcerting and annoying outbursts of fake applause and cheers, mixed in at seemingly random intervals on the original broadcast, have been minimized here, thanks to the discovery in the INA archives of an earlier, work-in-progress edit of the first set and, wherever else the issue manifested itself, using the audience source as patches. All in all, no effort has been spared to ensure that this is the best this performance has ever sounded and looked.
Facelift France and Holland Track Listing:

Disc One (CD)
March 2, 1970
Théâtre de la Musique, Paris, France

Eamonn Andrews [Ratledge] (9:42)
Mousetrap [Hopper] (3:56)
Noisette [Hopper] (:36)
Backwards [Ratledge] (4:03)
Mousetrap (reprise) [Hopper] (:24)
Out-Bloody-Rageous [Ratledge] (15:11)
Facelift [Hopper] (18:34)
Slightly All The Time [Ratledge] (6:40)
Moon In June / vocal improvisation [Wyatt] (3:19)
Esther's Nose Job / Pigling Bland [Ratledge] (8:49)

Disc Two (DVD / NTSC – all region)
March 2, 1970
Théâtre de la Musique, Paris, France

Eamonn Andrews [Ratledge] (9:57)
Backwards [Ratledge] (3:46)
Mousetrap (reprise) [Hopper] (:24)
Out-Bloody-Rageous [Ratledge] (16:02)
Facelift [Hopper] (19:17)
Vocal improvisation [Wyatt] (3:01)
Esther's Nose Job / Pigling Bland [Ratledge] (9:27)
Audio bonus material:
Entire concert [audience recording], March 2, 1970

Disc Three (CD)
January 17, 1970
Concertgebouw, Amsterdam, The Netherlands
Facelift [Hopper] (9:57)
Moon In June [Wyatt] (6:27)
12/8 Theme [Hopper] (10:52)
Drum solo [Wyatt] (:48)
Esther's Nose Job / Pigling Bland [Ratledge] (16:31)
Soft Machine:
Elton Dean: alto sax, saxello

Lyn Dobson: soprano and tenor sax, flute, harmonica, vocals

Hugh Hopper: bass

Mike Ratledge: Hohner Pianet, Lowrey Holiday Deluxe organ

Robert Wyatt: drums, vocals
----

CD One: Recorded at Théâtre de la Musique, Paris, France, March 2, 1970.
Licensed from I.N.A.

CD Two Recorded at Concertgebouw, Amsterdam, The Netherlands, January 17, 1970.

Edited and mastered by Ian Beabout at ShedSounds Studio.

Video restoration and DVD authoring by Doug Moon  at Inner Pixels Studio, Sacramento, CA.