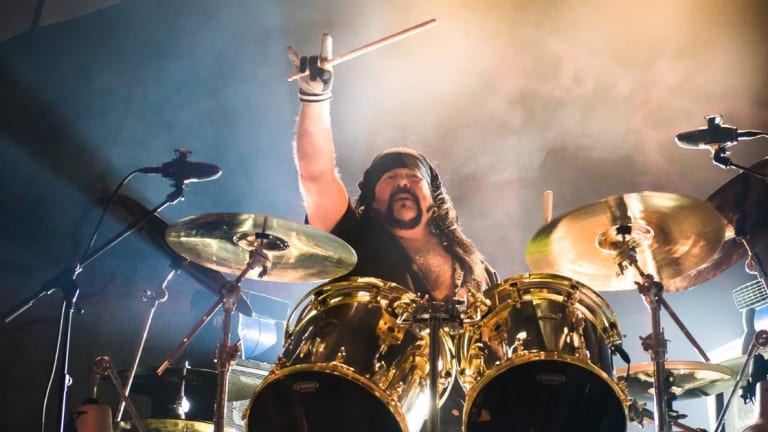 View auction highlights from 'the ultimate Vinnie Paul celebration'
The music auctioneer Backstage Auctions launched their latest online auction, The Vinnie Paul Estate Auction, featuring items and memorabilia from the personal collection of the Pantera drummer, Vinnie Paul (Abbott), who passed away in 2018. The auction launched on May 26, and bidding ends on June 5, 2022. Here are the highlights and details.
The music auctioneer Backstage Auctions launched their latest online auction, The Vinnie Paul Estate Auction, featuring items and memorabilia from the personal collection of the Pantera drummer, Vinnie Paul (Abbott), who passed away in 2018. The auction launched on May 26, and bidding ends on June 5, 2022. 
Pantera fans should be overjoyed at the lot of items up for bid, straight from the Abbott estate. Auction highlights are the last drum kit Vinnie Paul used, his first record award, a guitar gifted from his brother Dimebag Darrell Abbott and a personal neon house sign that blares "Vinyl Paul's Play House."
Backstage Auctions owner Jacques van Gool called this "the ultimate Vinnie Paul celebration." And with that, we had a few more questions to ask Van Gool.
How did this Vinnie Paul auction come together?
About a year ago I was talking to one of the long-time Pantera crew guys and Vinnie Paul came up. He mentioned that a lot of progress was made with settling his estate and that they soon would have to decide about all of his memorabilia and possessions. I suggested to do a full-on, all-out Vinnie Paul auction. This would be the best way to celebrate his legacy and to see that Vinnie's collectibles and belongings would end up in the hands of his fans. Together with the official Pantera organization we have made that a reality.
Pantera is pretty strong when it comes to auctions. Didn't your last Pantera auction do really well?
Yes, very strong indeed. As a matter of fact, we have been fortunate to do two Pantera-based auctions. First, we hosted an event for Walter O'Brien, the band's manager from the late 1980s (Cowboys From Hell era), all the way to 2003, when the band parted ways. A few years later we did an auction for Pantera bass player Rex Brown. Both auctions did very well, proving that Pantera still has a massive number of fans, and a strong appeal to collectors around the world.
In fact, speaking of strength, every year heavy metal memorabilia seems to be getting more and more in demand. Will Backstage Auctions eventually go in the direction of being an all metal auctioneer?
Well, I personally wouldn't mind. My love for metal goes back almost 50 years, and we certainly have hosted more and more heavy metal auctions as the years have gone by. Going forward, I do indeed see us continuing to service the metal community with exciting auctions, but I don't believe we will become an all-metal auction house. Or at least not anytime soon. There is so much great memorabilia related to non-metal artists and bands and I wouldn't want to pass up on that. But I do think that it is safe to say that we are primarily a "rock-oriented" auction house that is not afraid to embrace all genres.  
Let's go over some highlights of this Vinnie Paul auction. Please elaborate on:
1) His last used drum kit 
We have four drum kits in the auction, each of them special and with great history. I picked this one purely for sentimental reasons. Vinnie had been playing drums for almost 40 years and this is the kit he used last. And by 'last' I mean three days before his passing. I think there's always something unique about a 'first' or a 'last' and when I think about this kit, it's the one that closed the chapter of one of the greatest metal drummers. Besides that, this kit is a stunner. Simple but beautiful.
2) The very first record award that he ever received
There are dozens of record awards in this auction, all issued to Vinnie Paul. Similar to my comments about the drum kits, I also see the sentimental value of getting your very first record award. I like to think that for most musicians reaching that first milestone is something you'll never forget. Eventually you may lose count and awards become wall candy, but your first gold plaque… that's special!
3) The vintage Washburn guitar, gifted to him by his brother Dimebag
Dimebag rarely would give away any of his own guitars, and if he did, you were most likely a very close friend, or in this case, a brother. I spoke to one of Pantera's techs who said Dime would always play every guitar he owned. So, when you were so lucky to get one, you knew it had history. And on top of that, it has that thick layer of Abbott sauce. From one brother to another, and neither one here anymore. 
4) The neon sign that hung above the front door of his house in Arlington, Texas.
Yes, I had to pick at least one party item. The Abbott brothers loved to have a good time, something that has been well documented. Heck, they released their own home videos, which are nothing but a multi-hour long sequence of debauchery and out-of-control pranks. The sprawling manor in Arlington that Vinnie bought was the perfect pad for long nights, adult beverages and an abundance of fun. Dimebag had this eight feet long neon sign custom built as a housewarming gift, and for all the years following, it quite literally hung right above the two front doors of Vinnie's house. It's important to remember Vinnie – and Dimebag – as guys who just wanted to have fun and this neon sign is the perfect piece.
Vinnie Paul was a big KISS fan, what memorabilia did he own and is any of it up for auction?
Yes, both he and Dimebag were huge KISS fans, basically growing up. As kids – and adults – they wore the make-up and T-shirts. In 1997 they opened for KISS in South America as part of the Alive Worldwide Tour, which really was a dream come true for them. It so happened that it was also around the time of Vinnie's birthday and the band showered him with gifts, like Paul's Ibanez guitar, smashed during 'Rock 'n Roll All Nite,' a Peter Criss signed and used cymbal from the tour, and a book signed and personalized by all four members. All of those gifts are in the auction, in addition to a whole bunch more. 
Anything you'd like to add?
It is an honor to be selected by the Abbott estate and the official Pantera organization as the auction house to host this event. Vinnie was a collector, too, and just loved "stuff." But he also always wanted to be around people and celebrate life. There are nearly 700 lots in this auction and we see this as 700 opportunities to share a piece of Vinnie with his loyal fans, who he loved. I believe that we put together a great auction and I like to think that Vinnie is looking down on all of us, raising his glass and giving us a 'Hellyeah!'
To start bidding (or for even more information), go to backstageauctions.com.
Check out the Goldmine Store for exclusives and limited-edition items, like this: