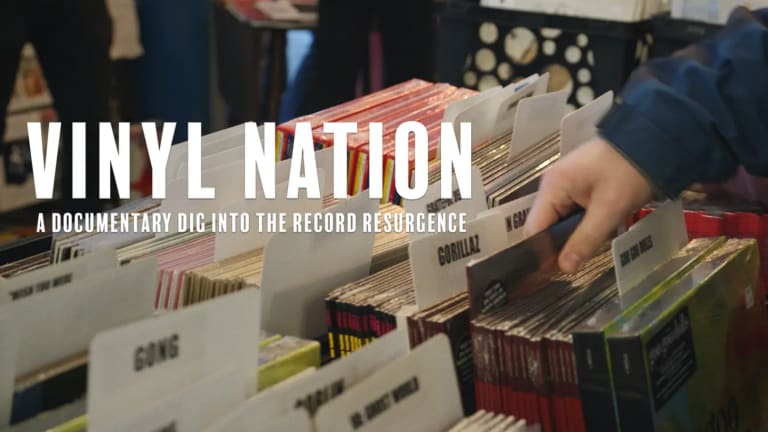 "Vinyl Nation" is a documentary dig into the resurgence of vinyl records
Filmed pre-COVID, "Vinyl Nation" is a documentary dig into the resurgence of vinyl records, the diversification of vinyl fans and what this all means for America today.
The vinyl record renaissance over the past decade has brought new fans to a classic format and transformed our idea of a record collector: younger, both male and female, multicultural. This same revival has made buying music more expensive, benefited established bands over independent artists and muddled the question of whether vinyl actually sounds better than other formats.
The documentary Vinyl Nation digs into the crates of the record resurgence in search of truths set in deep wax: Has the return of vinyl made music fandom more inclusive or divided? What does vinyl say about our past here in the present? How has the second life of vinyl changed how we hear music and how we listen to each other?
Vinyl Nation was filmed during pre-COVID spring 2019 at record conventions, record labels, record stores and pressing plants in 14 American cities. On April 18-19, 2020, on what would have been Record Store Day weekend, the documentary's creators (directors/producers Kevin Smokler and Christopher Boon) partnered with the Record Store Day (RSD) organization and 200 independent record stores in 46 states to offer the movie digitally for one weekend with 100% of the proceeds going to the record stores. The weekend event had raised $37,000 for independent record stores in their struggle to stay in business during a pandemic.
Vinyl Nation has not been available to the public in any form since that special Record Store Day one-weekend fundraising event until the film's official virtual cinema release on Friday, August 28, 2020, one day before the first of three Record Store Day Drops to bring customers back to record stores safely for exclusive vinyl releases.
The filmmaking team behind Vinyl Nation is now looking to doing more, not only for record stores but arthouse cinemas, live music venues, college radio stations, independent labels, and so much of the music and independent film universe derailed by the pandemic.
For more information on the documentary, go to vinylnationfilm.com
A LOOK AT THE FILMMAKING TEAM
Kevin Smokler — Director/Producer
Kevin Smokler is the author of three books about pop culture, including most recently Brat Pack America: A Love Letter to '80s Teen Movies. His essays and cultural criticism have appeared in the LA Times, Salon, Fast Company, BuzzFeed, Vulture, The San Francisco Chronicle, The Decider and on National Public Radio. Vinyl Nation is his first film.
Kevin has been fortunate to speak to and host events for venues and organizations across North America including SXSW, New York Comic Con, MIT, the LA Times Festival of Books and the Commonwealth Club of California.
A native of Ann Arbor, Michigan, he has lived for the last 20 years in his adopted home of San Francisco with his wife and far too many books and vinyl records.
Christopher Boone — Director/Producer
Christopher Boone is a screenwriter and filmmaker based in Albuquerque. Vinyl Nation is his first feature documentary. He previously directed the narrative feature Cents from his Nicholl Fellowship semifinalist script. He is a contributing writer to No Film School and a frequent panel moderator for Austin Film Festival and its On Story series.
Sherri Kauk — Director of Photography
Sherri Kauk is an Emmy-winning Director of Photography based in Los Angeles and Chicago. Her cinematography is fast and beautiful, shooting the Emmy-winning CBS single-camera series The Inspectors in three shoot days-per-episode and the Netflix narrative feature, LOEV, in 16 days.
Sherri's work is artistic and commercial, airing on HBO, Amazon, Snapchat and screening at SXSW, Frameline, Guadalajara, Jeonju, and Goa International Film Festivals.
She is a member of IATSE Local 600. Affiliations include: Women in Media, International Collective of Female Cinematographers and Glass Elevate.
David Fabelo and Jason Wehling — Editors
David Fabelo and Jason Wehling are much more than editors. They are storytellers, both having worn multiple hats as writers, producers and directors on several narrative and documentary films. Their newly formed company is aptly named Accordion Story Manufacturing as they collaborate with filmmakers to compress footage down to a story's bare essentials, then opening a story back up to give it just the right amount of breath.
David's work as both a narrative and documentary editor has screened at Cannes, Sundance, Toronto, SXSW and Los Angeles Film Festival. He has twice been invited to the Sundance Documentary Edit and Story Lab as an assistant editing fellow. His documentary editing credits include The Russian Five, The Sensitives, Sir Doug and the Genuine Texas Cosmic Groove, and Bright Shadow. His narrative editing credits include Slash, Good Night, Fourplay, and I'll Come Running. David has also directed two award-winning short films, Test Day and Do Over.
Jason spent several years as a producer at Arts + Labor, and has a long list of credits as a writer and producer on numerous documentaries, including J.R. "Bob" Dobbs and the Church of the SubGenius, The Russian Five, Sir Doug and the Genuine Texas Cosmic Groove, The Jones Family Will Make a Way, Bright Shadow, and America's Parking Lot. His feature producing credits include The Retrieval, Fourplay, and August Evening (winner of the Independent Spirit John Cassavetes Award).
Kathryn Bostic — Composer
Composer and singer/songwriter Kathryn Bostic is known for her work on film, TV and live theater. Her original song for the documentary Toni Morrison: The Pieces I Am was recently shortlisted for the Academy Award for Best Original Song. Kathryn's original film scores include Clemency, Toni Morrison: The Pieces I Am, Dear White People, Middle of Nowhere, and I Will Follow.
She is a recipient of many fellowships and awards including the prestigious Sundance Time Warner Fellowship, Sundance Fellowship for Feature Film Scoring, Sundance/ Skywalker Documentary Film Scoring and the BMI Conducting Fellowship. Kathryn was the Vice President of the Alliance for Women Film Composers from 2017-2019.
She is a member of the Academy of Motion Picture Arts & Sciences and Television Academy of Arts and Sciences.
Morgan Rhodes — Music Supervisor
Morgan Rhodes is an LA-based radio presenter-turned music supervisor. She is always in search of the perfect song and perfect conversation about music. Her credits as music supervisor include Selma (Oscar winner for Best Original Song), Middle of Nowhere, and Sundance 2020 hit Bad Hair, as well as the TV series Dear White People and Queen Sugar.
Morgan also co-hosts the podcast Heat Rocks with Oliver Wang, inviting a special guest each episode to talk about a heat rock – a hot album, a scorching record that shapes our lives.
Follow Vinyl Nation on Facebook:
Follow on Instagram:
DATA ON THE RESURGENCE OF VINYL RECORDS IN THE U.S.
• Vinyl album sales in the United States have increased every year since 2007, from 1 million total albums sold to 18.84 million total albums sold in 2019 (Statista).
• In 2019, during the week of Record Store Day, 827,000 vinyl albums were sold in the U.S. industry-wide, up from 733,000 albums (Statista). Independent record stores sold the vast majority of vinyl albums during the week of Record Store Day, racking up sales of 673,000 vinyl albums during the week in 2019. This was up from 580,000 vinyl albums sold during the same week in 2018 (Statista).