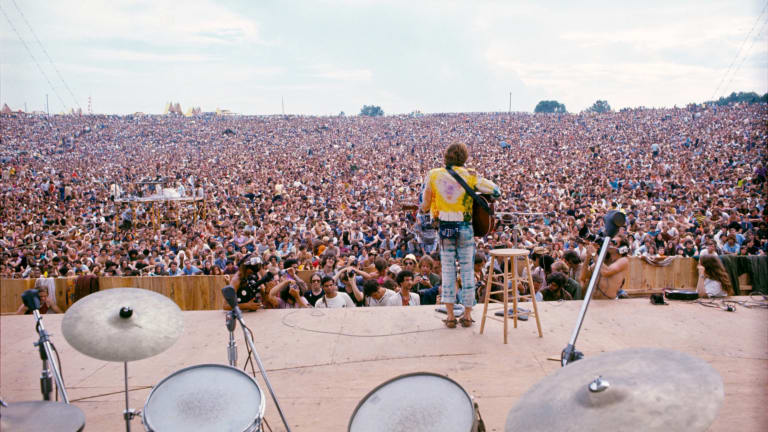 Woodstock, Def Leppard and Sex Pistols on covers of new issue
In the Aug/Sept 2022 print edition, famed photographer Henry Diltz shares his photos and diary entries from Woodstock; plus, in-depth interviews with Leppard singer Joe Elliott, Pistols guitarist Steve Jones, among others.
Go to the Goldmine shop for vinyl, CDs, books and collectibles
Summer is heating up and every August we light up a celebration of Woodstock, 1969's amazing festival. And one of the best ways to honor its iconic nature is famous music photographer Henry Diltz sharing his thoughts and images, before, during and after the event. Diltz documented the entire experience from set-up to aftermath. He even lost some film along the way. (Imagine what was captured in those images!)
That's not all. Def Leppard's singer Joe Elliott opens up to Goldmine about the magnitude of the band's new album while currently on a summer blockbuster tour. And Sex Pistols guitarist Steve Jones fills in all the details about the new Hulu series, Pistol, and what made him the perfect choice for the legendary band.
That's just a part of the issue. See full list of the issue's contents below.
You can order the issue now along with special limited-edition collector's bundles, featuring alternate covers (shown in the bottom row of the image above) and exclusive 8x10s, at our shop. 
Felix Cavaliere
CALL IT A FELIX CAVALIERE RENAISSANCE IF YOU WANT. THE FORMER (YOUNG) RASCAL IS READY TO GET BACK INTO THE SPOTLIGHT, POST-PANDEMIC, TO PROMOTE HIS MEMOIR AND NEW RECORD, AND TOUR WITH HIS PEERS. 
Robin Trower
ROBIN TROWER'S BEEN PLAYING MAGNIFICENT GUITAR FOR SIX DECADES, FROM PROCOL HARUM THROUGH A LONGTIME SOLO CAREER. HE LETS HIS LATEST ALBUM, NO MORE WORLDS TO CONQUER, DO ALL THE TALKING, AS HE STILL HAS RESERVATIONS ABOUT TOURING IN THE ERA OF COVID. 
Gerry Beckley 
SINGER-SONGWRITER GERRY BECKLEY SHIFTS GEARS BETWEEN THE BAND AMERICA AND HIS SOLO CAREER. 
Def Leppard 
JOE ELLIOTT SPEAKS WITH IMMENSE PRIDE WHEN IT COMES TO THE ONGOING SUCCESS OF THE BAND THAT HE FRONTS. HE'S PROUD OF DEF LEPPARD'S 45-YEAR RUN AND WHAT THE FUTURE HOLDS. WITH THEIR NEW ALBUM, DIAMOND STAR HALOS, THE BAND GIVE PROPS TO THE INFLUENCES THAT BIRTHED THEIR SOUND — THE MARC BOLAN-TYPE FIGURES OF ROCK HISTORY. AFTER ALL, THE ALBUM TITLE IS A REFERENCE TO THE BOLAN-FRONTED T. REX SMASH, "BANG A GONG (GET IT ON)." 
Sex Pistols
SEX PISTOLS GUITARIST STEVE JONES CELEBRATES A NEW RETROSPECTIVE VERSION OF THE INCENDIARY NEVER MIND THE BOLLOCKS ALBUM AS WELL AS PISTOL, A TV VERSION OF HIS AUTOBIOGRAPHY. 
Woodstock
IT'S ANOTHER WOODSTOCK ANNIVERSARY, BUT AS YOU ATTEMPT TO REMINISCE IT'S TIME TO HEAR THE BEST AND WORST EXPERIENCES FROM SOMEONE WHO WAS (ACTUALLY) THERE FOR THE ONCE-IN-A-LIFETIME EVENT IN 1969. BY AUTHOR MIKE GREENBLATT
HENRY DILTZ'S WOODSTOCK JOURNAL 
Photographer Henry Diltz remembers Woodstock experience through his Summer 1969 Journal.
Jack Casady & SVT
WITH AN ALL-NEW COMPILATION, A LESSER-KNOWN CHAPTER IN JACK CASADY'S CAREER, CALLED SVT, GETS ANOTHER LOOK. 
The Police
A NEWLY RESTORED DOCUMENTARY RECOUNTS THE POLICE'S FIRST WORLD TOUR. AN INTERVIEW WITH GUITARIST ANDY SUMMERS AND A '10 ALBUMS THAT CHANGED MY LIFE' WITH DRUMMER STEWART COPELAND
Plus much more!