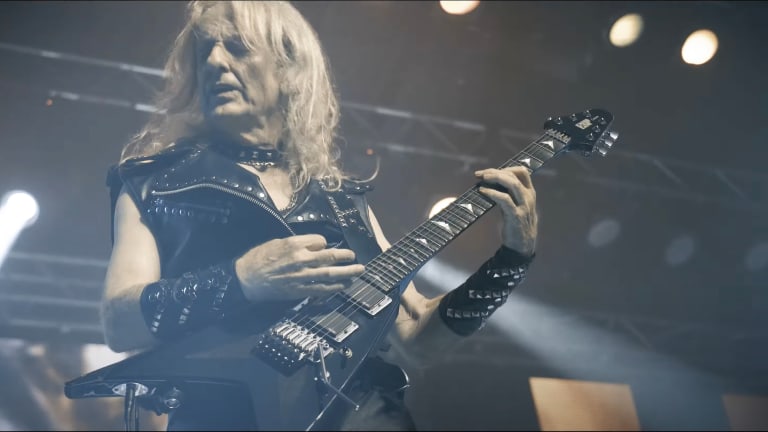 K.K. Downing covers everything from the legacy of Judas Priest to his latest KK's Priest venture
Listen to the Goldmine Podcast episode where guitarist K.K. Downing details everything about his Judas Priest career (from formation to departure) to the excitement he feels towards his latest band, KK's Priest.
On episode No. 164 of The Goldmine Podcast, guitarist K.K. Downing talks about his former band Judas Priest hitting the 50-year mark. Downing discusses the early days of Priest, since he was a co-founder of the band, and his departure. Then he goes on to discuss his new band, KK's Priest, and the future of his own legacy. 
Snippets from the episode are below (video and quotations) and the entire podcast player is below that to play the episode interview in its entirety.
K.K. Downing's initial thoughts on Rob Halford's appearance: "Because he had really short hair, I'm thinking, "I don't like the short hair." It was really, really short … I mean short! But then I'm thinking, "Who am I to discriminate? It's just hair, he can grow it, and he did. Then again, Rob was trying to keep down a job as well. So, I know the rules, you know, but I'm thinking, "Oh yeah, he'll grow his hair if he got in the band," and that was it. So then me and Rob would write together. And we did a lot of shows — an awful lot of shows — and the band was great, we were a four-piece and I was happy with that."
The birth of the twin guitar attack: "So having Glenn (Tipton), I had this crazy notion that we could create heavy guitar harmonies. OK, how the hell do you do that? Because when you harmonize, you know, suddenly you become the Allman Brothers or James Gang or Wishbone Ash, which was OK, you know, but I had this idea that if we did it, we could do it in a special way, and I was interested in trying to work that out. And also, when I played solos, it didn't sound so empty onstage. We could back each other up, and at the same time, when we play these heavy riffs and put them in stereo — not just on an album, but when we play live — I knew that that would sound good. And it did, and the twin guitar attack was born."
The podcast episode is a really nice addition to our recent Judas Priest coverage and the Priest print edition!
KK's Priest album Sermons of the Sinner (below) can be purchased in the Goldmine Store (on red vinyl!) at Shop.GoldmineMag.com.
PLUS: Read an interview with K.K. Downing in the Feb/Mar 2022 edition of Goldmine magazine (below) about the beginnings of Judas Priest. You can order a copy here.
Or get the Collector's Edition of the issue (below), which has an alternate cover in a slipcase and a rare, collectible 8x10. Only 200 made and it is almost sold out!