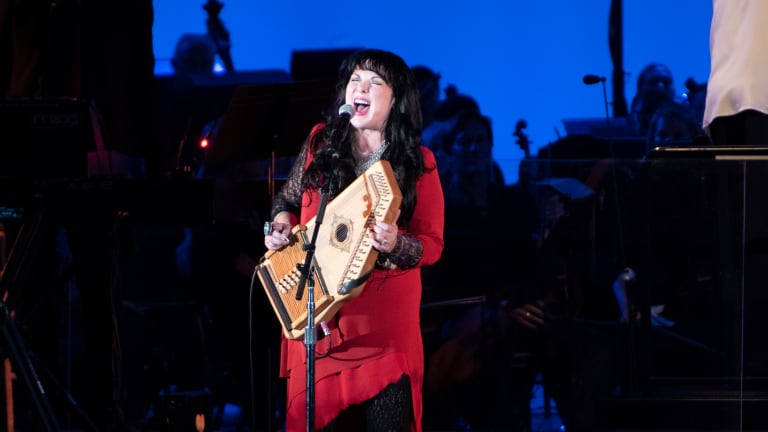 Listen to Ann Wilson discuss her solo work, Heart's legacy, Grunge and more
Vocalist Ann Wilson discusses songs on her latest solo album "Fierce Bliss," Heart's legacy, the music business, Seattle's creation of grunge and a lot more.
Vocalist Ann Wilson of Heart is the guest on the Goldmine Podcast to talk about her newest solo album Fierce Bliss, the band Heart's place in the classic rock pantheon, Grunge and a lot more. She covers a lot of topics!
Fierce Bliss Track Listing:
Greed
Black Wing
Bridge of Sighs (Pat Travers cover)
Fighten for Life
Love of My Life (Queen cover feat. Vince Gill)
Missionary Man (Eurythmics cover)
Gladiator
Forget Her
A Moment in Heaven
Angel's Blues*
As the World Turns
*Available on CD and digital formats only
Ann Wilson - Vocals
Tom Bukovac - Guitar
Tony Lucido - Bass
Sean T Lane - Drums, Percussion & Bike
Gordon Mote - Keyboards
Tim Lauer - Keyboards
Produced by Ann Wilson and Tom Bukovac
"Gladiator" and "Angel's Blues" produced by Ann Wilson and Warren Haynes
Mixed by Chuck Ainlay
Recorded by Chuck Ainlay at Fame Studios, Muscle Shoals, AL and Soundstage, Nashville, TN
"Gladiator" and "Angel's Blues" recorded by Joe Paterno at Power Station, Waterford, CT
"Black Wing" Recorded by Sean Walker at Uberbeatz, Lynnwood, WA
Mastered by Greg Calbi at Sterling Sound, Edgewater, NJ
Executive Producer Jim Zumwalt
Musicians who appear on Fierce Bliss:
Vocals - Vince Gill on "Love of My Life"
Lead Guitar - Kenny Wayne Shepherd on "Bridge of Sighs" and "Missionary Man"
Guitar - Warren Haynes on "Gladiator" and "Angel's Blues"
Guitar - Tyler Boley on "Black Wing"
Keyboards - Danny Louis on "Gladiator" and "Angel's Blues"
Keyboards - Dan Walker on "Black Wing"
Bass - Jorgen Carlsson on "Gladiator" and "Angel's Blues"
Bass - Andy Stoller on "Black Wing"
Drums - Matt Abts on "Gladiator" and "Angel's Blues"
Choir - The Rev Nathan Young Singers on "Missionary Man"
Get the ANN WILSON solo album Fierce Bliss in the Goldmine store