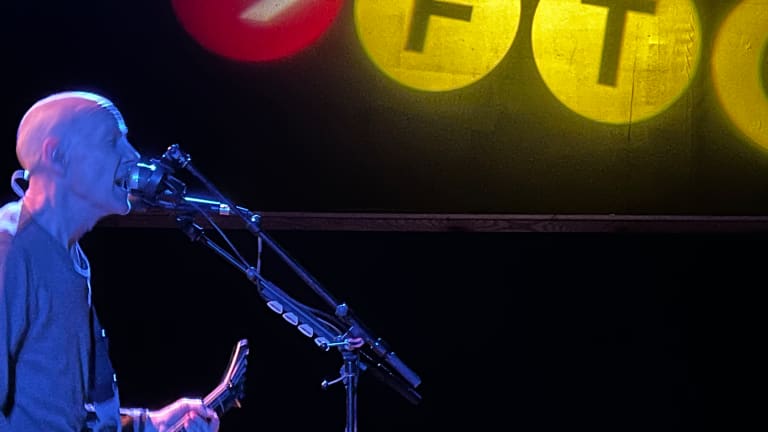 Alt-Metal pioneers Helmet deliver fierce set at powerful Connecticut show
Inside Page Hamilton and Company's monstrous guitar assault on The Warehouse at Fairfield Theatre Company, as the band prove to be as powerful as they were 30 years ago. Plus, view photo gallery of the show.
By Patrick Prince
Connecticut's Warehouse at Fairfield Theatre Company is one of the nicest club venues to experience a concert, for both sound quality and space, and luckily for those with a passion for alternative metal, the pioneer post-hardcore sound of Helmet made its presence felt on Sunday, June 5th.
Local favorites, The Hosemen, opened the show, performing an enjoyable set with an appealing sound that has an alternative rock/heavy rock fusion. Following the lead of guitarist/vocalist Anthony Quinn Carpanzano, The Hosemen have evolved into a band encompassing a Dinosaur Jr. grind with melancholic textures of The Cure and a punk attitude of The Ramones. It might seem like an odd cocktail to toss down but it works perfectly. You can hear more of The Hosemen HERE. The band's recent album, Saturday Nite Conformity (shown below), is too good to go unnoticed.
After The Hosemen's hour set, it wasn't long before Helmet appeared onstage. Sure, the lineup has changed over the years, but the Page Hamilton-led unit haven't lost a beat or a skip in their monstrous guitar riffage since their strong debut in the early '90s. 
Helmet began with the smooth jazz intro in "Beautiful Love" (off the 1994 Betty album), then exploded mid-song and took it from there into their classic alternative metal sound.
Temporary touring bassist Anthony Truglio filled in for Dave Case and cranked the bottom end powerfully, emphasizing the pounding grind of each tune (especially a driving song like "Milquetoast," or the opening punches of "High Visibility") with the already outstanding rhythm section of Dan Beeman (guitar) and Kyle Stevenson (drums). Truglio is a talented lead guitarist known for his work in the traditional heavy metal band Liege Lord, and has collaborated with Hamilton quite a bit over the last few decades. His adept switch to bass was interesting to note.
Highlights from the set were the sinister-sounding bohemoth "Unsung" with its start/stop skip of riffs with Page's Ozzy intonations on vocals (which aren't as prominent as in the studio version), and, of course, the gallop of the popular "In the Meantime" to put a bow on the show. Surprisingly — or maybe not so surprisingly — nothing from 2004's Size Matters was included on the setlist (it wasn't the most well-received album). But, as a fan, I did have slim hope to hear Helmet's version of Elvis Costello's "Green Shirt" (off of 2016's Dead to the World), but that deep cut was asking a little too much with so many other fan favorites to cover in the course of one night.
It's obvious that through the passage of time, Helmet has not relinquished an inch of their talented stroke of aggression and drive under Page Hamilton's leadership. Helmet might not have the flair or the gimmicky showmanship of many of the nu-metal bands they probably inspired, but overall they come out superior. If you have a chance to see their U.S. tour in the coming months, do so. For tour dates, go HERE.
Helmet Setlist:
Beautiful Love
Milquetoast
Life or Death 
Driving Nowhere 
(High) Visibility 
Birth Defect  
Distracted  
Blacktop  
In Person  
So Long  
Exactly What You Wanted 
Wilma's Rainbow 
Role Model 
Renovation  
Bury Me  
Ironhead  
Give It  
Unsung  
Bad Mood  
In the Meantime
Check out these items in the Goldmine store: