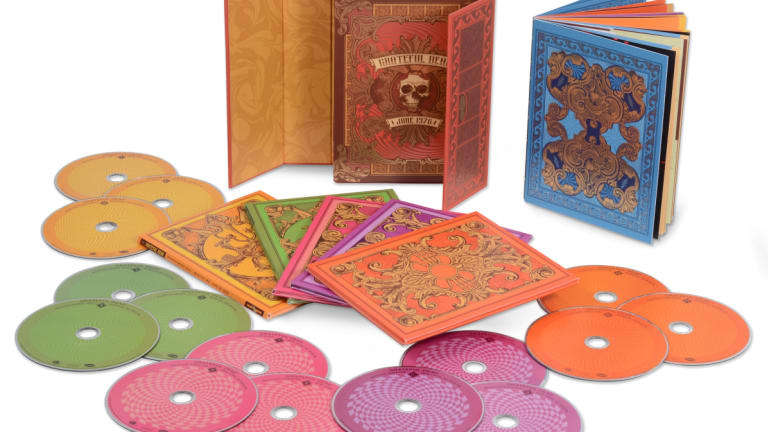 Box set of 1976 Grateful Dead performances worth the investment
Live recordings that Grateful Dead engineer Betty Cantor-Jackson captured from 1976 June shows are officially being released to the public, and are worth the investment.
GRATEFUL DEAD
JUNE 1976
Grateful Dead Records
(15-CD Box Set)
5 Stars
The year 1976 was one of the most important moments in the storied history of the Grateful Dead. Almost two years prior, they had announced that they would end touring, as playing arenas and stadiums proved to be a money-losing pursuit. Transporting the sound systems needed to fill these vast spaces was cost prohibitive and logistically fraught with problems. During their time away from the road they performed with their own bands, sometimes with each other, and these solo projects seemed to be just enough to occupy their varied interests. That was until the debt they had accrued became something they could no longer ignore.
Enter 25-year-old John Scher, who was quickly becoming the biggest concert promoter on the East Coast. His idea was to have the band walk away from stadiums and arenas and focus on theaters and concert halls. With the help of a Bay Area computer firm, they married this new approach to the road with the first mail order ticket system. A 78,000 person list was assembled and sorted alphabetically and by Zip code. Fans were to be notified by mail that they qualified for tickets. This automated approach to selling tickets and the smaller venues were sold to fans as a way to keep prices down, and ensure that the experience was more intimate and "hassle free." The smaller venues proved to be all that they were billed. The shows delivered an energy that was undeniable, and the reviews were arguably the best the band had ever received. The ticket-selling process didn't go as well. In fairness it was brand new and groundbreaking. It was also clunky. Procedural errors prompted scores of angry letters from fans who had felt like the band had let them down. Often the fans had almost no time at all to respond and mail back the form. That might have been the only miss in the entire 18-engagement tour, but it was a loud message to a band that had always put its fans first.
Now the two-track live recordings that Grateful Dead engineer Betty Cantor-Jackson captured from these June shows are officially being released to the public. They have been remastered by Jeffrey Norman, who has done great work for the band, especially with his recent revisit to the infamous Cornell '77 show. The sound is remarkable with a clarity that is studio fresh. The package is beautifully constructed with original artwork by exciting newcomer to album art Justin Helton, a fantastic historical read by Pitchfork contributor Jesse Jarnow, and photos from the tour by famed camera man Grant Gouldon. It's a limited edition (12,000 copies) individually numbered collector's set that's been very carefully assembled and curated. In short, it's stunning.
The package has 15 CDs, three for each of concerts included. There are two shows from the Boston Music Hall (6/10-11, 1976), two from the Beacon Theatre in New York City (6/14-15, 1976), and one show from the Capitol Theater in Passaic, NJ (6/19/76). While set lists varied from show to show, the songs they performed were largely the same night to night. "Cassidy" made a long overdue return to the live repertoire, and regulars like "St. Stephen" never disappoint. Funked-up versions of "Brown-Eyed Women" are arresting every night as is the addition of covers like Merle Haggard's "Mama Tried." More importantly the band sounds tighter than ever. This tour marked the return of Mickey Hart on drums, adding a distinct percussive clarity to Bill Kreutzmann's talents. Also the Godchauxs deliver their best work period in these recordings. Former Muscle Shoals singer Donna loses the vocal shrill that is sometimes evident on studio cuts, and Keith's piano work is insightful and crisp. He might actually be at his peak here in terms of total musicianship (he would die unexpectedly only four years later in a fatal crash).
The band would learn a lot from this tour and would decide to balance their locations moving forward, mixing large venues with more intimate settings — sometimes within the same market. Their business savvy improved, and the performing standard that these shows set would become the band's new baseline. That would later prompt lineup changes that brought Bob Weir bandmate Brent Mydland forward on keys. This truly was a pivotal moment for the Grateful Dead and one that was largely all good — for both the band and their fans. Fortunately Betty Cantor was there to capture it all on tape! This package presents her efforts with a little bit of magic and a whole lot of fun.
—Ray Chelstowski