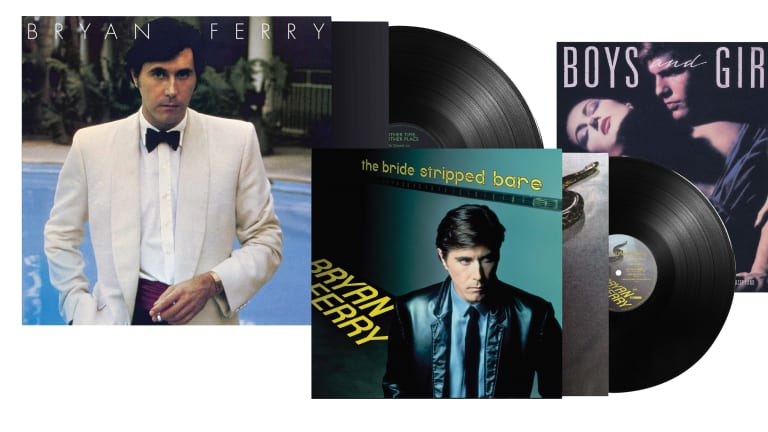 Bryan Ferry gets the respect he deserves ... on vinyl!
Six Bryan Ferry albums have approvingly reappeared this year, with "Boys and Girls" joined by "These Foolish Things" (1973), "Another Time, Another Place" (1974), "In Your Mind" (1977) and "The Bride Stripped Bare" (1978), plus 1976's "Let's Stick Together," a compilation of his non-LP U.K. B-sides and singles so far.
By Dave Thompson
If you were around in 1985, you'll doubtless recall just how great Bryan Ferry's Boys and Girls album sounded. His first release since the break up of Roxy Music, his first solo album since 1978's The Bride Stripped Bare, Boys and Girls built effortlessly upon the same lush sonic pastures in which Roxy's Avalon luxuriated, only more so.
The album is inextricably linked with the mainstream birth of the CD, and there were few albums that offered a more convincing introduction to the new technology. Which means it's both reassuring and gratifying to drop the needle onto its 2021 vinyl counterpart and discover it sounds just as good today as it ever did back then.
Six Ferry albums have reappeared this year, with Boys and Girls joined by These Foolish Things (1973), Another Time, Another Place (1974), In Your Mind (1977) and The Bride Stripped Bare (1978), plus 1976's Let's Stick Together, a compilation of his non-LP U.K. B-sides and singles so far.
All have been remastered from the original quarter-inch tapes, all faithfully restore the original artwork, all include a download card. It's a spectacular offering, with each of the albums boasting moment after moment where the remastering simply leaps out and grabs you by the ears: a super-eerie reinvention of "Sympathy for the Devil," the savage guitars that underpin "The 'In' Crowd," the instrumental-with-whooping break that gave "Let's Stick Together" its underlying frenzy; the dark Elvis swagger of "This is Tomorrow"…
In overall sonic terms, Boys and Girls still tops the list. The spaces between the beats seem louder, the bass is warmer, the mood is moodier, the Ferry voice could echo across the Mersey. And the slowburn title track — a performance, let us not forget, that many commentators declared was the runaway highlight of the Live Aid concert that same year — is as close to perfection as post-Roxy Ferry has ever come.
True, there's a couple of other songs on that second side that did not deserve to share wax with the album's highlights, although that's been an issue with every one of Ferry's solo releases — it's just amplified here by the heights attained by the rest. But nobody listens to Ferry with notebook in hand, grading this song A-plus, that one B-minus… or, at least, they shouldn't.
As the writer of his own songs, he located his sweet spot with the first Roxy album, and kept it sweet for a lot longer than most other artists can. As an interpreter of other people's compositions, he possessed the ability not simply to make them his own, he helps you forget every other version you've heard.
The typical "best of" Bryan would doubtless overflow with his own publishing credits. But it could as easily comprise nothing but covers of Dylan, Kristofferson, the Everlys, Jimmy Reed, Brian Wilson, a clutch of Motowners and greatest of all, Al Green. In one of those wonderfully inexplicable moments of synchronicity with which Ferry's history abounds, he appears to have recorded "Take Me to the River" at the exact same time as former bandmate Eno oversaw the Talking Heads cover of the same song. (They were even released just two months apart.)