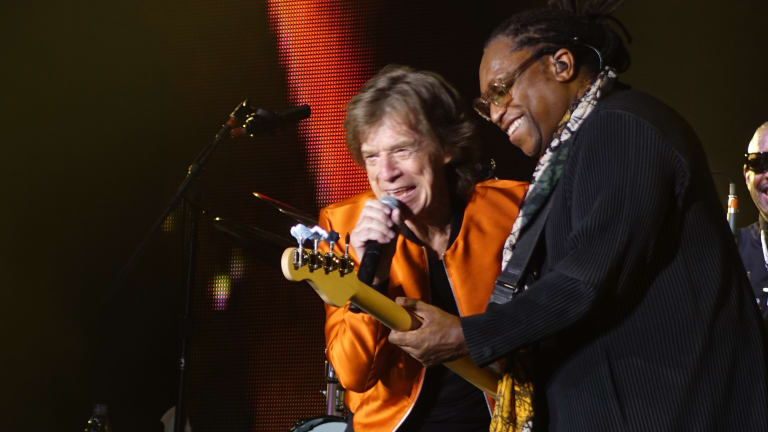 Darryl Jones hits the sweet spot with 'In The Blood' biopic
Rolling Stones bassist Darryl Jones' film is a sweet walk down memory lane.
Check out vinyl, box sets, collectibles and more in the Goldmine shop!
By Ivor Levene
If you were a product of the public school music programs, then this film is really going to speak to you. It's a heartwarming journey through the Chicago Vocational School, and the effect it had on Darryl Jones, one of the core members of The Rolling Stones. Not simply a "sideman", Darryl's contributions to The Rolling Stones cannot be overstated, there's simply no way that the band would have progressed past 1993 without him.

Could the band have found another bassist? Sure. Could they have found one with a resume that included playing in Miles Davis's band by the time he was twenty-one? No. Although some think of the Stones as a "rock band," they are an "everything band," with elements of Blues, Jazz, and Country in their DNA. And if you consider who remained in the rhythm section after Wyman's departure (Charlie Watts and Keith Richards), then Darryl Jones as Wyman's replacement was a natural. He went through the audition process, but when it came to selecting a bass player, Charlie had more to do with that choice than anyone. And as far as Charlie was concerned, if you came through Miles Davis's band, game over. 
I think the same thing with Darryl when it comes to bass playing. It's game over. In the documentary, Mick Jagger states that "playing bass in The Rolling Stones isn't the most difficult job in the world." That may be true, and I'm sure many people have picked up a bass and played along, but there are a handful of bass players on the planet with Jones' skills.
Forget your lists of top bass players in the world, there is a new crop of "world's greatest bass players", and Jones is in that list. Pino Palladino, Tony Franklin and Darryl Jones are in that list. Although he sometimes isn't referred to as "core", he is, and if you don't think this true, watch the documentary and listen to what the other bandmembers say about him. Does his Jazz background make him stand out a bit in The Rolling Stones? Yes, it does, which I think makes him even more perfectly placed, because his predecessor, Bill Wyman also stood alone on that stage, never really fitting into the group. It's kind of like having Picasso painting your house.
The film opens with members of The Rolling Stones, past and present all offering testimonials on him. Don Was, Lisa Fischer, and newest member Steve Jordan, who has been around Jones for some time. Keith Richards refers to him as "the third weaver," and if you know the Stones, that's probably the highest compliment that Keith could pay anyone. I don't think Keith could have put that more reverently and succinctly than that! It's obvious that Richards envies him, referring to himself as a "closet bass player," watching Darryl like a hawk. He also lovingly calls him his "left hand." You'll have to see the film to see what the others say about him, I don't want to give it all away, but this is probably going to be one of the last films where there's a testimonial by Charlie Watts, and what he has to say about Darryl is both poignant and hilarious.
I've had the pleasure of working with Darryl Jones over the years, going back to 2016, and I can absolutely attest to his warmth and friendliness when he's off the stage. I've done many, many interviews over the years with some pretty big notables, and it will always be Darryl Jones who stands out as one of the most decent, down-to-earth musicians I've ever met. I always tell people, "He may be in the world's greatest rock and roll band, but he sure doesn't act like it!" I first met him playing a club the size of my living room back in 2016, carrying his amp in. No roadies, no pretense, and as Lisa Fischer says, "no bullshit". He was doing what he loved, outside of The Stones, playing in a supergroup called "Stone Raiders" with Will Calhoun and Jean-Paul Bourelly. These guys were badasses, and if they ever decide to put together another show, I'll be first in line. The next time we crossed paths was in London in 2018, when The Rolling Stones were playing two shows there. He invited me over to his suite at The Savoy, an experience I will always cherish.
It's great to be able to talk about Darryl outside the context of The Rolling Stones, because he really is so much more than that. I just can't get past the fact that this guy first played for Miles F**king Davis at age 21. What were you doing at 21? I know what I was doing six years earlier, when I was fifteen, I was doing exactly the same thing Darryl was doing, only with a trumpet, and that's one of the reasons both this film, and Darryl's background speaks so strongly to me. We both had similar musical heroes, we both basically existed in high school only because there was a music program, and we were both dedicated. I sometimes wonder what would have happened if I'd stuck with it, and I always end up at Darryl Jones. 
At Goldmine, we did a "10 Albums That Changed My Life," and you'll have to read it. I always chuckle when Mick Jagger says, "I wanna play bass like Darryl Jones," thinking to myself, "No, you really don't, perhaps Keith and Ronnie do," but they have their jobs to do. I, on the other hand, would love to play bass like Darryl!
Here are some fun facts about Darryl you might not know:
-He can sing. He also writes, both music and lyrics.
-He practically slept with his bass as a kid.
-He started gigging on the north side of Chicago as a minor in bars, with his mother in attendance because he was underage.
-The night before he started high school at age 13, he gigged with professional jazz musicians until 1am, caught hell from his dad, and figured it was worth it.
-He made his first recording while still in high school.
-He teaches music to young musicians.
-He was still living at home when he first played with Miles Davis
-He left Miles' band to join Sting, wanting to come back afer that stint, in spite of Miles telling him, "It's difficult to have someone back once they've left".
-After joining The Stones, his biggest dream was to have his own band.
-One day, he will create a "bass record", after he's created a more "traditional" record.
-Bernard Fowler calls him "Munch" and he's a voracious reader, just like Keith.
And something else he doesn't mention in the film, but you will pick it up if you look closely; He has his own line of bass guitars (look at the headstock).
The film really does stand on it's own, regardless of The Rolling Stones connection. The film will be showing at the Laemmle Monica theater in Santa Monica, and at the Showplace Icon theater in Chicago on October 7th, and will be playing on Amazon Prime and Apple TV.
Get the Limited Edition Collector's Edition bundle of The Rolling Stones At 60 issue (click on image shown below) in the Goldmine shop! With professional print suitable for framing!