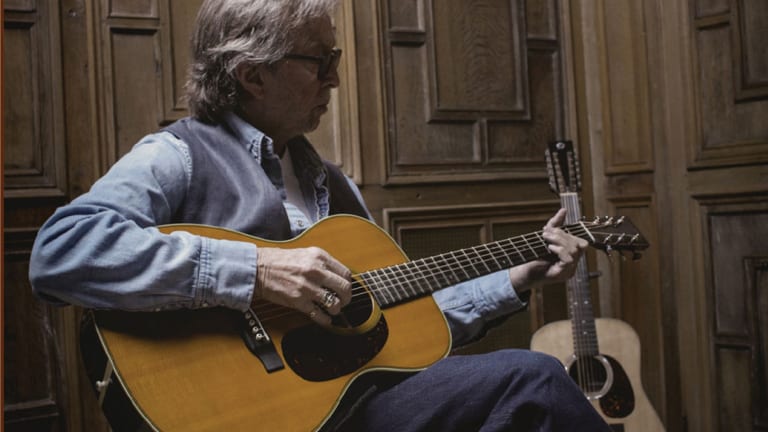 Eric Clapton - The Lady In The Balcony: Lockdown Sessions
Eric Clapton's release of "The Lady In The Balcony: Lockdown Sessions" shows us one way that the guitarist passed his time during lockdown.
By Ivor Levene
As we all start to emerge from more than a year of lockdown, so do all of our musical icons. The first question that pops up a lot is, "What did you do to pass the time during lockdown?" And like most of us, most of them did what we did. Most of them, but not Eric Clapton. The Lady In The Balcony: Lockdown Sessions (Mercury Studios) shows us one way that Clapton passed his time. Lady is essentially an invite into a warm English mansion to watch Clapton and three close friends (Steve Gadd, Nathan East and Chris Stainton) perform for an audience of one, Melia Clapton, Eric's wife.
It should come as no surprise that the artist who practically invented the "unplugged" genre should do a similarly acoustic set like this (it's not entirely acoustic, there are three electric songs). Indeed, the session was originally conceived as a kind of "Unplugged II," but it evolved into more than just a sequel. Why did EC revisit one of the 1990's seminal albums?
Clapton had originally planned to do his almost-yearly stand at The Royal Albert Hall in London, but with it's forced cancellation due to the Covid epidemic, Slowhand wanted to offer his fans something in place of those May 2021 dates. What he ended up delivering is an intimate look into his multi-faceted career, covering his hits; "After Midnight," "Layla," "Bell Bottom Blues," "Tears in Heaven," "Nobody Knows You When You're Down And Out" and "Key to the Highway." Clapton also gives a nod to some of the songs that influenced him, such as the Peter Green-era Fleetwood Mac songs "Black Magic Woman" and "Man of the World."
The sessions will be available in DVD+CD, Blu-ray+CD, 4K UHD+Blu-ray, 2 LPs pressed on yellow vinyl, and a Deluxe Edition containing the DVD, Blu-ray and CD packaged in a 40-page photo book, digital video and digital audio.
Clapton and his friends come across like a long, slow, sip of wine, in front of a warm fire in an old English manor. If you liked "Old Sock," you'll love The Lady In The Balcony. Sitting down and watching EC and his old gang is a great way to spend an evening, whether you're in lockdown or not. You'll be glad you did.
Track Listing:
Nobody Knows You When You're Down And Out
Golden Ring
Black Magic Woman
Man of the World
Kerry
After Midnight
Bell Bottom Blues
Key to the Highway
River of Tears
Rock Me Baby
Believe in Life
Going Down Slow
Layla
Tears in Heaven
Long Distance Call
Bad Boy
Got My Mojo Working
View the trailer below.