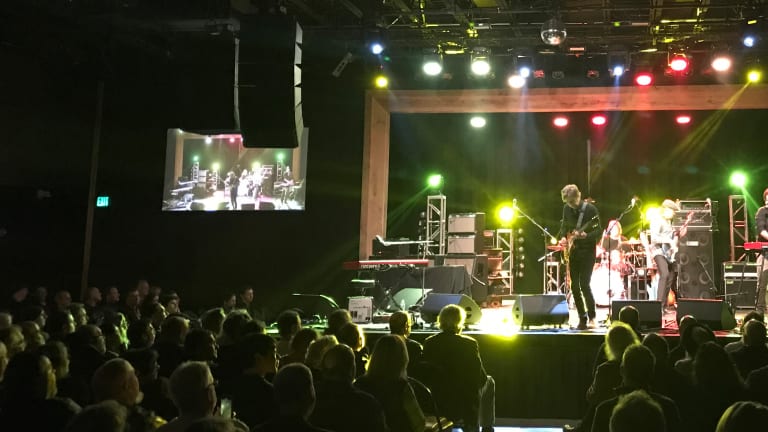 Eric Johnson talks about his current 'Classic' tour
The Eric Johnson Classic Tour powered through Connecticut on Wednesday, March 4, 2020 at The Warehouse at FTC, in Fairfield. After the show, Johnson shared his feelings about the performance (and the tour so far).
Photos and review by Ray Chelstowski
The Warehouse at FTC was almost at its 640-seat capacity as Eric Johnson brought his newly formed quartet to town in support of his brilliant new release EJll, a follow up to the critically acclaimed 2016 release EJ. The touring band features Roscoe Beck on bass (Leonard Cohen, Robben Ford, Dixie Chicks) and Tom Brechtlein on drums (Kenny Loggins, Chick Corea, Wayne Shorter, Robben Ford). Breaking from his trio band tradition Johnson has also added Dave Scher a rising star from the Austin music scene on keys and a second guitar.
Across almost three hours and two sets they held a captive audience in an almost trance-like state. There a never-ending guitar clinic was conducted as Eric Johnson, known for his attention to detail, moved though guitars, effects, and hand-driven nuances that ended up delivering one of the most riveting performances that this room at FTC has ever witnessed.
The addition of a fourth player added an energy to the music that more closely resembles the studio cuts of well-known tracks like "Desert Rose", "Cliffs of Dover" and the blues shuffle "Trademark". This was particularly evident even on the Jimi Hendrix song "Drifting" a ballad from Cry of Love, his first posthumus album. Scher's impact was extraordinary and he augmented the veterans output with precision, body, and fantastic form.
While most of Johnson's playing was delivered via his trademark sunburst Strat or a tobacco sunburst American Strat, his signature F-hole did make a few appearances along with his Gibson LP. However, perhaps the most stunning display happened when he pulled out his Australian-made Maton acoustic and delivered a short fiery set.
The show seamlessly wove new songs into the mix of classics and proved for all in attendance why Johnson is regarded as "one of the most respected guitarists on the planet." My colleague Christian DeGennaro (or Rio as he is more commonly known) and I got a chance to catch up with Eric after the show and talk a bit about the tour, guitars, the anniversary of friend Stevie Ray Vaughan's passing, and what's next.
GM: The new record, like its predecessor is very intimate and personal. So we weren't sure how you were going to work that material into the set tonight. It was seamless!
EJ: We're trying to not lose that energy but to supplement it. We wanted to put a bit more energy into the songs from the new record so they could thread into the other stuff but at the same time stay different. Roscoe and Tom both played on the new record and I knew that I wanted to get a fourth member. Dave is the perfect guy because he's a multi-instrumentalist.
GM: When we last spoke you were looking forward to taking your new Fender F-Hole on the road. We didn't see as much of it tonight.
EJ: Fender discontinued the guitar and I'm honestly not that disappointed that they did. I think that they are really building guitars for certain styles. For me trying to cover all of those bases with it was somewhat limiting. I have a brand new model that just came out. It's a solid body with special pick-ups and wood. If I redid the F-hole again I would do the construction very differently. It lost a lot of things about the solid body that I really like and that are hard to describe. They've talked about reintroducing it and if they did hopefully I could do it a little differently.
GM: Your drummers are so critical to your show. Tom Brechtlein was fun to watch because his style is a bit "splashier" than others you've worked with.
EJ: You learn to breathe, to inhale and exhale based upon who you are playing with. You get to have amazing moments that you wouldn't get to have with anyone else.
GM: Your friend Stevie Ray Vaughan passed away 30 years ago this October. As that milestone approaches any thoughts on his legacy?
EJ: He was the real deal — his blues playing,  his singing. He took the Albert King thing to another level. There are a lot of people who have copied him. But there'll never be another. Even the way he threads his strings, with 14 through 16's (gauges). But I really loved the way he sang, what a great singer.
GM: What's always set you apart is your songwriting, it's so melodic. So many prominent guitar virtuosos are now becoming producers for pop stars. In looking forward to what's next is this something that has ever crossed your mind?
EJ: Yeah you have to have a vehicle for it. You know Roscoe was the musical director for Leonard Cohen. He worked with him for about five years on all of those tours before he passed away. But yeah that is interesting. It'd be fun to try.
GM: After this tour, what's next?
EJ: I have a bunch of new songs so I want to get back in the studio. I just want to try and push the envelope, get to something new.