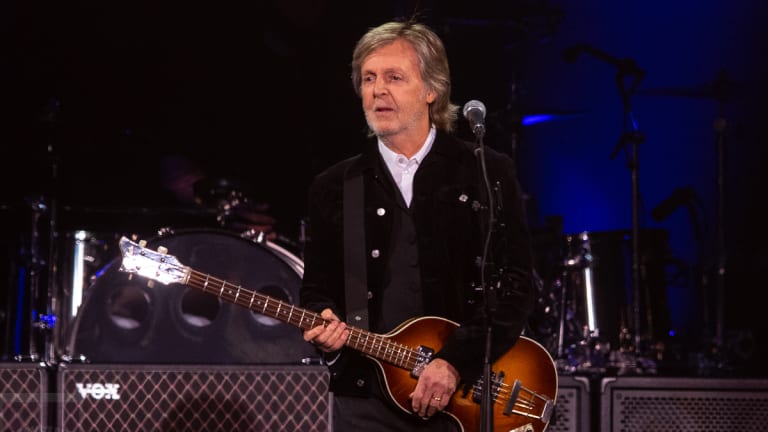 Following McCartney: The Beatle brings energized show as Got Back tour nears end
With a few dates left in Paul McCartney's Got Back tour, the Beatle only veers a little bit from the standard setlist.
Review and photos by Gus Griesinger
Here at Goldmine, we can honestly say you can never get enough of Sir Paul McCartney. So, when the opportunity presented itself for us to cover another show from the Got Back tour (this time at the JMA Wireless Dome in Syracuse, NY, June 4, 2022), we jumped at the chance. Plus, we wanted to see how much the Beatle changed up his setlist with only a handful of shows left for this particular tour. 
First and foremost, we showed up early to get a glimpse of McCartney entering the Dome. This has become a tradition before most shows that he does. His security sets it up so fans can view him driving in. It's quick and lasts only a few seconds but the window is rolled own and he will wave to the crowd. It's still a nice thrill for all the fans that get to see this. For a man who is about to turn 80 on June 18, McCartney seems to be in the same physical shape since he last performed in the area, back in 2017.
To eliminate the chance of duplication from our past Got Back reviews, we won't go into every detail of every song. We will just talk about the differences between the shows covered. And, actually, the differences in the setlist were minor from other dates on the tour. It seems Paul only tinkers with maybe three tracks. "Let 'Em In," "I've Just Seen a Face" and "New" were the ones we heard in Syracuse. These songs have been interchangeable with "Getting Better," "We Can Work It Out" and "Queenie Eye." For fans waiting to hear a hint of "Yesterday," it didn't appear in the set in Syracuse. Will it make an appearance in the last shows at Fenway, Oriole Park or MetLife Stadium? Who knows? But Beatles fans with tickets hope it does.
It was a close to sellout crowd if not sold out. It appears that some seats were released the day of, but you would have been hard pressed to find empty seats throughout the dome. And, of course, you find all kinds of fans at a McCartney show; ones that have seen Paul with The Beatles in the '60s to whole families sharing their love for the famed Beatle. Not many musicians are able to bring different groups of people like McCartney does.
McCartney's voice may not have the same strength as it did even a few years ago. However, it was still all live, with no additional tracks or anything else pumped in to cover or hide the flaws shown. What you see is what you get on the Got Back tour. A living legend who still breathes and sings amongst us. Paul McCartney is a world treasure and who knows how much longer he will choose to continue to do this kind of touring. We all know he doesn't need to. For that we applaud him!  
Paul McCartney Setlist:
Can't Buy Me Love 
Junior's Farm 
Letting Go 
Got to Get You Into My Life 
Come On to Me
Let Me Roll It (Wings song) w/ Foxy Lady jam
Getting Better 
Let 'Em In 
My Valentine
Nineteen Hundred and Eighty-Five 
Maybe I'm Amazed
I've Just Seen a Face 
In Spite of All the Danger (The Quarrymen song)
Love Me Do 
Dance Tonight
Blackbird 
Here Today (tribute to John Lennon)
New
Lady Madonna
Fuh You
Being for the Benefit of Mr. Kite
Something 
Ob-La-Di, Ob-La-Da 
You Never Give Me Your Money
She Came in Through the Bathroom Window
Get Back 
Band on the Run 
Let It Be 
Live and Let Die
Hey Jude
Encore:
I've Got a Feeling (virtual duet with John Lennon rooftop performance video from Get Back documentary)
Birthday 
Helter Skelter 
Golden Slumbers
Carry That Weight 
The End
[Paul McCartney's band is comprised of Paul 'Wix' Wickens, Abe Laboriel Jr., Rusty Anderson and Brian Ray.]